Originally from Kenya, Leona Dondi defied the odds to grow and nurture UZIMA, a hair care brand that celebrates Black women and empowers women from all walks of life to be their best selves. Her captivating journey resonates with the spirit of entrepreneurship that defines the proverbial "American Dream."
UZIMA, a Swahili word that directly translates to "full of life," was birthed from curiosity, grit, and an unrelenting longing to solve a nagging problem. Dondi first moved from Kenya to the Bay Area, California in 2001. During those years she suffered from dry skin, a problem that only exacerbated when she tried to find products. Nothing worked. In fact, not only didn't the products work, but they were causing her to break out. (As she got older she would later learn she was allergic to castor oil, which is a prominent ingredient in hair and skin products.)
"My journey to get here started really out of trying to solve my own skin issues and not finding anything on the market to be able to do this," Dondi told OkayAfrica. "I tried everything, and it didn't work, and I decided that I would try and figure out how to make my own lotion."
That first batch came while she was in graduate school in Seattle. Using Google, she made a "rudimentary" concoction, featuring shea butter, aloe, glycerine, and more. Success! Soon after, she became more curious about finding the products that would work for her skin, hitting the books at night while she was hitting the books during the day. (Dondi has a PHD in psychology.)
"After I was successful with that one product, I became really, really interested in making it more elegant and understanding why it works," Dondi said. "So I embarked on ingredient research, which included me reading cosmetic chemistry books and patents to understand how ingredients work."
Dondi eventually graduated from college and was able to break into the tech industry, working for places like Google, Dropbox, and Netflix (where she still works as a senior product researcher.) But she never stopped experimenting and researching different formulas. And after a trip to South Korea — where she saw how important skin care was to the community — she decided she had to go all in on her own brand. She wanted to center textured hair that was kinky or curly. "Skincare for hair," was the mantra she came up with.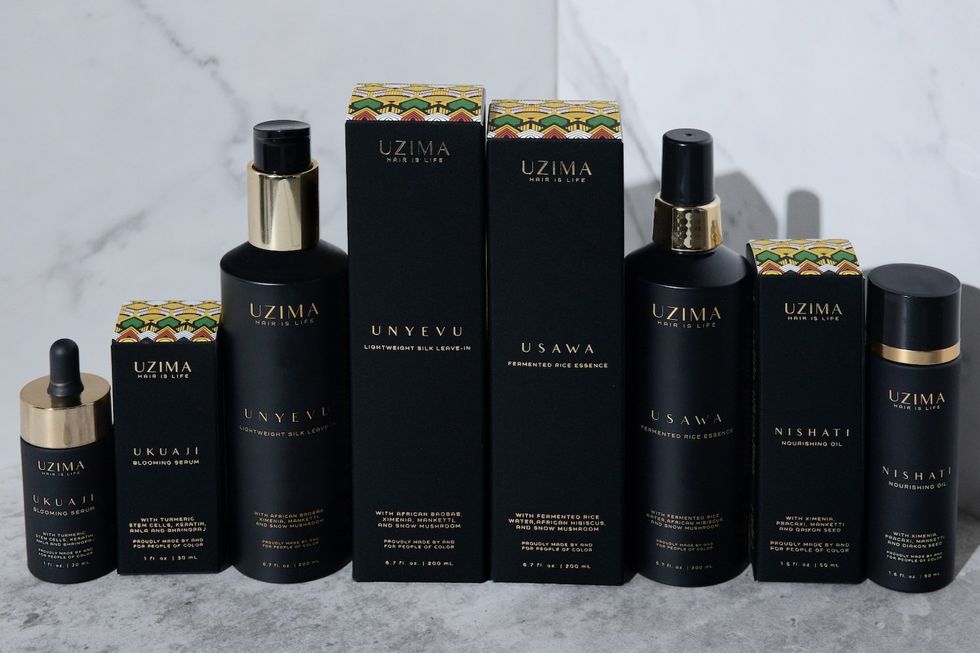 Photo Credit: Courtesy of Leona Dondi
The launch of UZIMA

UZIMA officially went to market at the beginning of this year (February to be exact.) And in an era where the beauty industry in the United States is often criticized for perpetuating unattainable standards of perfection, Dondi's UZIMA stands as a beacon of authenticity. Her brand celebrates the uniqueness of every individual, reminding us that true beauty lies in self-acceptance and embracing heritage. Beyond hair care, UZIMA represents a powerful movement that encourages Black women to reclaim their narratives, redefine beauty standards, and chart their paths.

Everything about Dondi's UZIMA is carefully and deliberately curated and carries a significant meaning that is both holistic and historically relevant. She also — she acknowledges — is still learning and tinkering.
"At first, when we started our brand, we had a different packaging that did not click with our audience," Dondi said. "After we learned that our visual design wasn't helping move the needle on that, we had to go back to the drawing board because it was really important to me for Black women and women of color to feel like this product is not just an extension of another line that just has curly hair products, but also one that centered their needs."
When you see UZIMA's packaging — Black with splashes of gold, with a touch of Pan-African pattern colors like yellow, black, green, and red on the box — it immediately stands out. It's bold yet understated.
"The idea to go with black and gold felt very fitting," Dondi said. "Black, for the land of Africa and the peoples of Africa around the world, and gold for our radiance."
Dondi's journey, at the core, exemplifies the quintessential immigrant narrative, capturing the audacity that defines the American Dream. Through her pursuit of excellence and commitment to empowering others, Dondi has transformed UZIMA into something that is not just a brand but also a clarion call for a more inclusive and compassionate world.