Manuel Mathieu is off to a great start. All the works in Truth To Power, his first major exhibition at Tiwani Contemporary in the UK, sold out and the closing date, originally slated for Dec. 22, has been pushed back through January.
In 2016, the Haitian painter was a 29-year-old MFA student at Goldsmiths University when he was chosen from a pool of 230 artists for a solo exhibition at the Institute of Contemporary Art in London. In 2017, the graduate who's based in Canada, is then represented in Europe by Belgium's Maruani Mercier and Tiwani. 2018 is shaping up to be an even busier year for Mathieu with two group shows: ARCO Madrid with Maruani Mercier and The Armory Show in New York where he has a solo booth with Tiwani, and a residency at Akademie Schloss Solitude in Germany.
Truth To Power functions as a study of trauma, as experienced by the Haitian populace under President François Duvalier—whose iron-fist rule lasted 15 years until his death in 1971 at the age of 64. He was succeeded by his son, Jean-Claude Duvalier, whose own dictatorship lasted another 15 years until 1986 when a popular uprising led to his departure to France. He was exiled for 35 years until 2011 when he returned, but succumbed to heart attack three years later, in 2014, at the age of 63.
---
Mathieu was born in 1986, the same year the younger Duvalier vacated office, closing the curtain on a thorny legacy of authoritarian rule which led to the exile of scores of Haitians and the death of an estimated 60,000 people. Those who have survived the Duvalier's rule could not fully escape the lasting manifestations of fear, distrust and poverty instilled over three decades.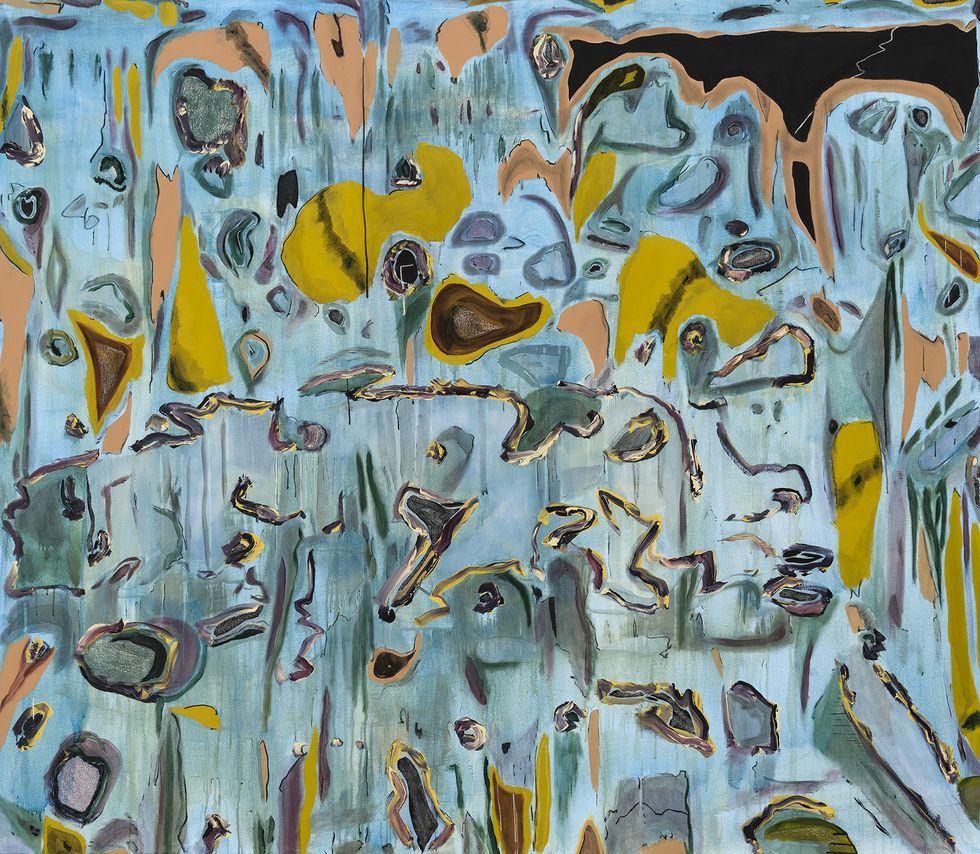 "Loyalty." Manuel Mathieu. Photo courtesy of artist.
"Loyalty," hung directly opposite the entrance at Tiwani and taking pride of place, is an unsettled accumulation of undefined shapes and indeterminate images harmonized by shades of blue, rendered in a most sensual manner. The source material was a video slide from footage taken at Francois Duvalier's funeral in 1971, in the country's capital of Port-au-Prince. Grains on the images, Mathieu says, gave them "a VHS feel and what's happening at the bottom of the painting [is that] there's something that looks like a halo, which were the flowers, that was in the car that was carrying the body."
I could not have known this before going into Tiwani to see "Loyalty" for the first time, but while there I found myself spending more time in front of it than I did the other hangings.
In simple, physical terms, the painting would seem to be composed of leaves and fruits, twigs and branches, fresh and sundried, engulfed in a blue flame that has begun to burn through the softer parts - and just as it does so. Emotionally, it was weighted with matters unclear but grave.
Mathieu was struck by how mournful many citizens were at the ruler's funeral despite his many atrocities, an observation that is complicated by Mathieu's own links with the dictatorship. Members of his family, on both sides of his parents, were either implicated in the dictator's machinations, or have been at its receiving end. His maternal grandfather, Clarel Clermont, was a colonel in the Haitian army at a time when many relatives on his father's side were killed, details of which Mathieu would rather not go into.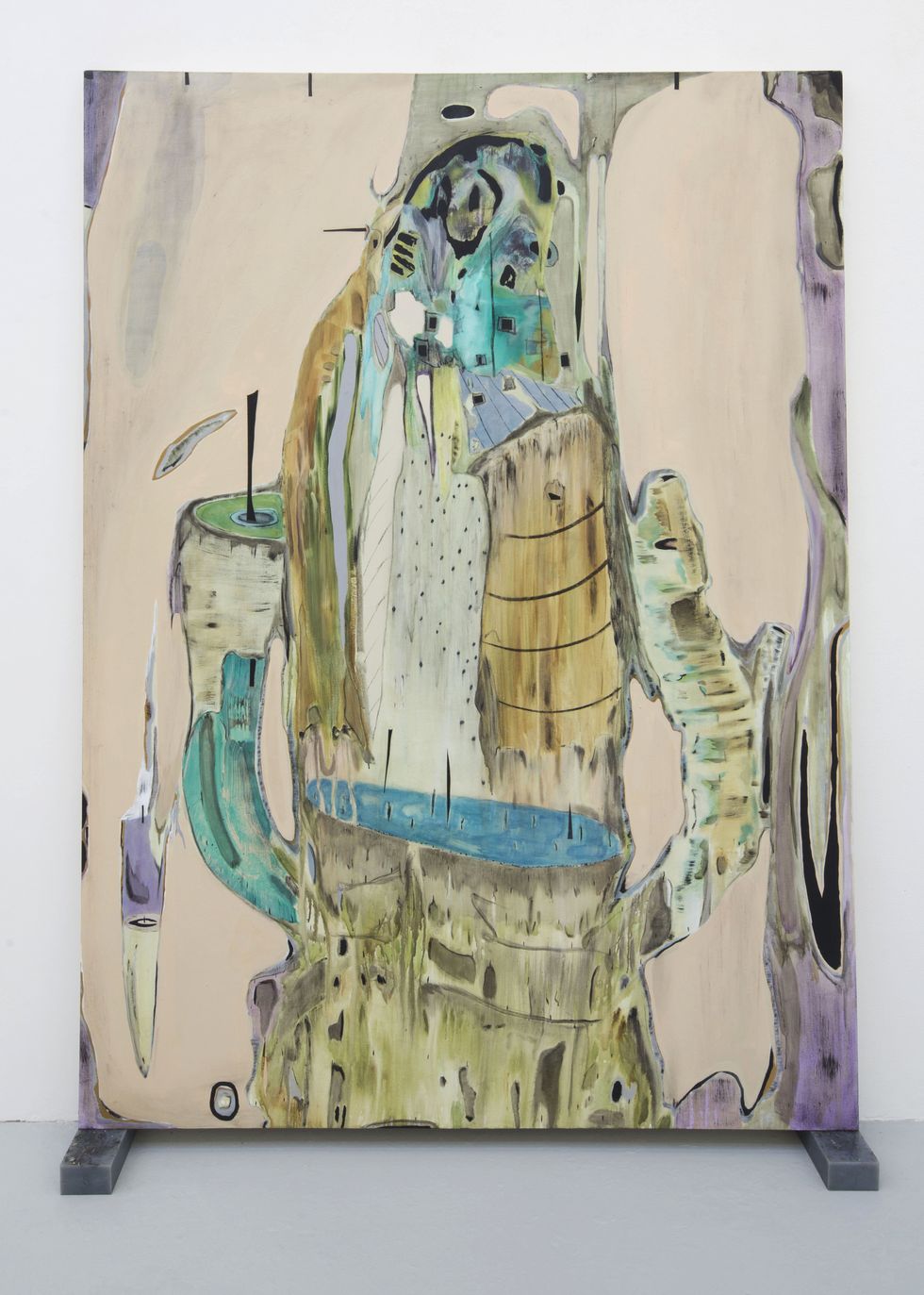 "Jacques Stephen Alexis." Manuel Mathieu. Photo courtesy of artist.
In the artist's own words, "everybody that grew up in that era has a certain tie with or was against the dictatorship. For you to be in the country at that time, you would have to be muted for part of it or you know…" The blank space he's left for me to fill is that punishment and possible death, the fear of which he is convinced has stained the country's consciousness.
Abstraction is the permission to invent at abundant will and when tasked with depicting the intangibles of love, loyalty, grief, loss, admiration, hate and curiosity, this freedom becomes not just a convenient technique but a needed tool. Mathieu, however, is not wholly convinced. "for me it rolls around to what painting is," he says. "It's a fundamental question in my work. I think the beauty of painting is the gap where you have something in mind and you are trying to navigate it with the language of painting and most of the time you fail. But when you manage to fall in to that area where you create 1,000 possibilities in one image, that's what the language of painting is."
Manuel's thinking comes closer to the bigger question of what exactly painting is, which to him is "when you're constantly asking yourself what it is that I'm representing and you're just brushing, and just answer it with your body. You've answered with your eyes. You've answered with your feelings, and the functionality that comes with painting. The trigger that comes with looking at things. That's when you're in the process of building a painting."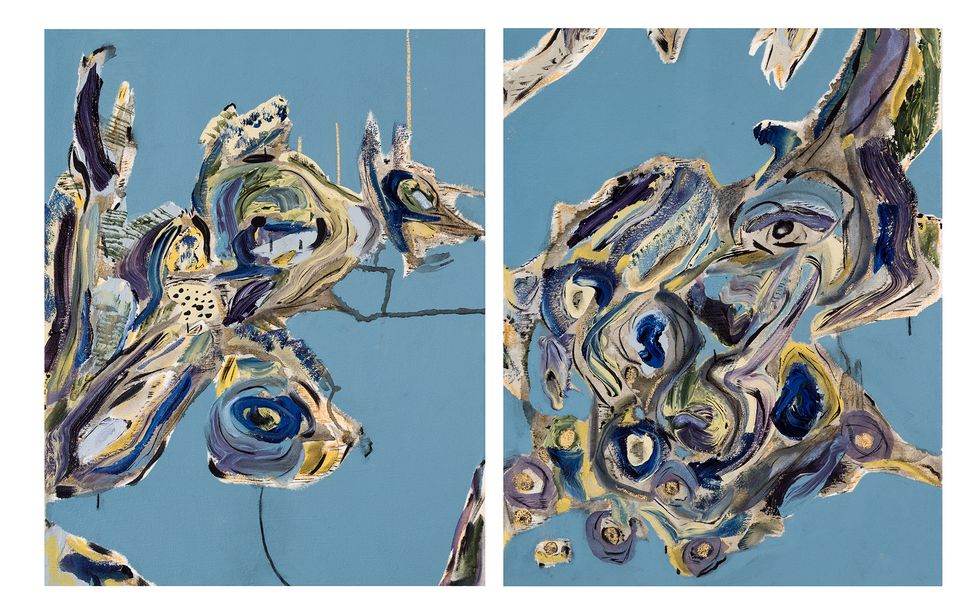 "Eternal Flowers." Manuel Mathieu. Photo courtesy of artist.
This precise moment of change and transformation is a defining feature in Mathieu's work, most evident in a two-part suite titled "Eternal Flowers." In each, pools of viscous paint in (again) shades of blue, as if caught in mid-flow, make for undefined shapes, offset by the calm and simplicity of the plain blue surface. It isn't clear if the painting is coming into being or vanishing, and this characteristic is what intrigues Mathieu.
This broader state of continuous change or "forever becoming," narrowly termed "Bergsonian" in philosophy circles after the work of Henri Bergson about the constant state of change, is one which Mathieu has inculcated into, not just "Eternal Flowers" but his practice as a whole. "I'm very touched man, because you understand the vision," offers Mathieu, "it's important for me, when you look at the work, that first of all I grasp your eye, and then I grasp your body, and then I take your soul."
The beauty of approach and resulting paintings fades next to its subject commemorating the 60,000 lives lost under the Duvalier's rule. Rather than gory or realist depictions, Mathieu has opted for beauty and elegance which, in poor hands, would be cosmetic. The entire exhibition is an elegiac tribute to the dead and also to the survivors, "I used to joke that I'm in the beauty business but it is important to underline it, especially in that context. It's not beauty that's medical, it's absolute."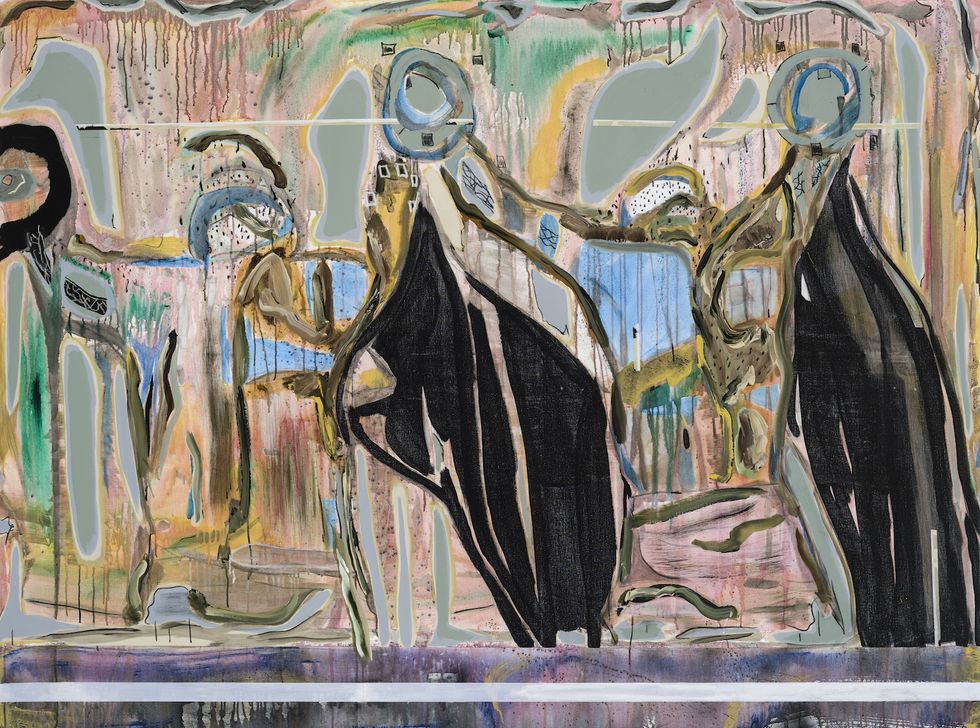 "The Search." Manuel Mathieu. Photo courtesy of artist.
"Eternal Flowers of the Sensual Mind" could well be another title for the work, as well as a theme for the eight paintings and 4 watercolors he's made for Truth To Power. The success of the show might impress for a first proper solo show, but many visitors to the gallery, if not told, would doubtful guess that the artist was under 30 when the works were completed. His studied elegance would suggest maturity, if not long experience, in an artist, but Mathieu is quick to rebuff this, "maturity comes with time. I think that as I'm going to live, I'm going to continue to make mistakes, learn about humanity, and what it is to be alive. I will sharpen these ideas."
I had not put the question to him properly. I was referring to the confidence which long experience brings, and not aging early, and the retrogression it may have implied. Having understood my question Mathieu amiably offers, "I think that growing up and being mature is to actually trust that intuition. Trust that sensibility. Trust who you are basically. That's really important. And it's that trust that will make you do things that other people are not capable of, or see but don't trust. And when you trust it, then you cultivate it."