PRIVILEGED DIASPORA—So, you want to go to Cuba? Fantastic. I just got back from Havana.
---
It was great. Very beautiful. Arguably the best trip of my life so far. I've been wanting to go there for a minute, particularly because of my interest in Cuban history, the Cuban Revolution, and because it's insanely beautiful.
Below you'll find what I hope will be useful information about traveling to the largest island in the Caribbean and enjoying your stay. As a U.S. citizen the following guide will address how one from Babylon may enter Cuba, though most of the information will be applicable to people entering from other countries.
A warning: The dictator of the United States, Donald Trump, may be re-enacting a decades long travel ban barring U.S. citizens from traveling to the island. The repressive country has been waging a covert war against Cuba since the country's 1959 revolution which deposed of the U.S. backed despot Fulgencio Batista. An announcement is expected this Friday. Stay tuned.
Aight, let's put politics aside (though politics are always present) and begin with the travel guide:
Once your money is right, go ahead and buy your ticket. I flew Jet Blue. If you are coming from the U.S. you'll be asked what your reason for traveling to Cuba is. There are twelve approved categories that will allow you to travel to the country that range from family visits, religious activities, journalism, to undermining the revolution. I chose People to People which falls under educational activities.
I was a bit anxious about being denied entry but passed through customs with no problems. Cubans fasho want you there spending money in their country. Tourism accounts for a large portion of the country's economy. Re-entering the country was also chill, no U.S. customs official asked me about my stay. So, you got your ticket and have your "official" reason of why you are going to Cuba. Now you going to need a place to stay.
Where you gonna lay your head:
I stayed at a Casa Particular, which is someone's home that has been approved to be rented out. They can be found on Airbnb. I went with three friends and we stayed for six nights. We paid about $250 each or around $40 a night. The spot was super pretty and spacious. From the balcony we had a view of the city and the water with the old fort La Cabana in the distance.
It was located in Habana Vieja, or Old Havana. I highly recommend getting a spot in this neighborhood. There are plenty of great restaurants and stores within walking distance. You can hail a cab easily. It's also gorgeous. The architecture is stunning. I mean the neighborhood is a UNESCO World Heritage Site. You can find cheaper accommodations in neighborhoods further out but I think it's absolutely worth it to pay a bit more to stay closer to the action. Especially if you calculate all the extra cab rides you'll be paying for. Make sure the place you book has an AC and fans. Staying at a hotel is another, albeit more expensive, option.
Money:
To make tourist pay their fair sure the Cuban government has created a separate currency specifically for tourists called the Cuban Convertible Peso (CUC). It's pronounced kook. The other currency, the one used by locals, is called CUP. It's worth significantly less than CUC. Make sure you don't get played and receive change in CUP. It rarely happens but keep an eye out. The two currencies have created a dual-economy in which CUC are, for obvious reasons, highly sought out. Taxi drivers will often make considerably more than doctors. Be generous and tip. It'll be appreciated.
Those of you who use U.S. dollars: make sure to swap your money to Euros before you head to Cuba. U.S. dollars will be penalized an additional ten percent fee. It's a considerable amount of money.
Cuba is not cheap.
Make sure to have enough cash on hand, especially if you are American. American credit/debit cards, for the most part, will not work in the country. I spent about $600 (not including lodging) over the course of six days. I also didn't buy many souvenirs. So plan accordingly.
What to pack:
Cuba is hot as fuck. It is, after all, in the Caribbean. It also rains a considerable amount. While I was there it rained nearly everyday in the late afternoon for about an hour or so. If you mind getting wet bring a small umbrella or a thin rain jacket. Again, it is very hot. You'll dry off quickly. Check the weather before you leave. Bring a travel pack of tissues and carry one with you when you go out. Sometimes there won't be toilet paper. Sunscreen. Bring that. Especially if you plan on going to the beach. Bring bug spray too. The mosquitos occasionally come out to bite. Some comfortable ass shoes. You'll probably be walking around a lot. Medicine, aspirin, band aids. Bar of soap. Your usual products. Conditioner, coconut oil, etc. Cuba for the most part uses the same type of outlets they do in the U.S. I also saw some European style ones. A universal outlet converter may come in handy depending on where you are coming from.
Language:
It'd be fantastic if you or someone in your group could speak Spanish as it will definitely make your trip go a lot smoother. A lot of people in Havana can speak English, particularly in the more touristy parts of the city, but a lot of people also don't. If you or no-one you're traveling with can speak Spanish, definitely brush up and/or learn the basics. How to order, exchange pleasantries, ask for directions, etc. Overall you'll be fine.
How to get around:
Walk! Then walk some more. After all this is why your boots were made. Definitely don't bring boots though. It's too hot. There are plenty of cabs in the city that you can take to get to places that are further. Do yourself a favor and download an offline map. It'll come in handy. For iPhone users: I downloaded an app called Cuba and maps.me. They both have offline maps of Havana and other cities in addition to some useful information about places to see such as museums, parks, and other notable landmarks to info and reviews on restaurants, bars, and the like.
Safety:
Havana is a safe city. Crime is low. It is however a city and you as a tourist should take the standard precautions, as you would in any other big city. Cubans are pretty chill and nice. However they don't make much money when compared to dollars or euros. So, naturally they gonna hustle. It's not that big of an issue when compared to other countries in my experience (S.F. might actually be worse) but be ready for folks asking where you're from, how long you are here for, if it's your first time and then transition into letting you know that today is thier birthday, they need x,y,z, can you spare some money/get them a gift. Again, it's a city. Give away, if you can. Cuba is also very black! So you'll feel safer around cops there than any city in the U.S. All in all you should be good.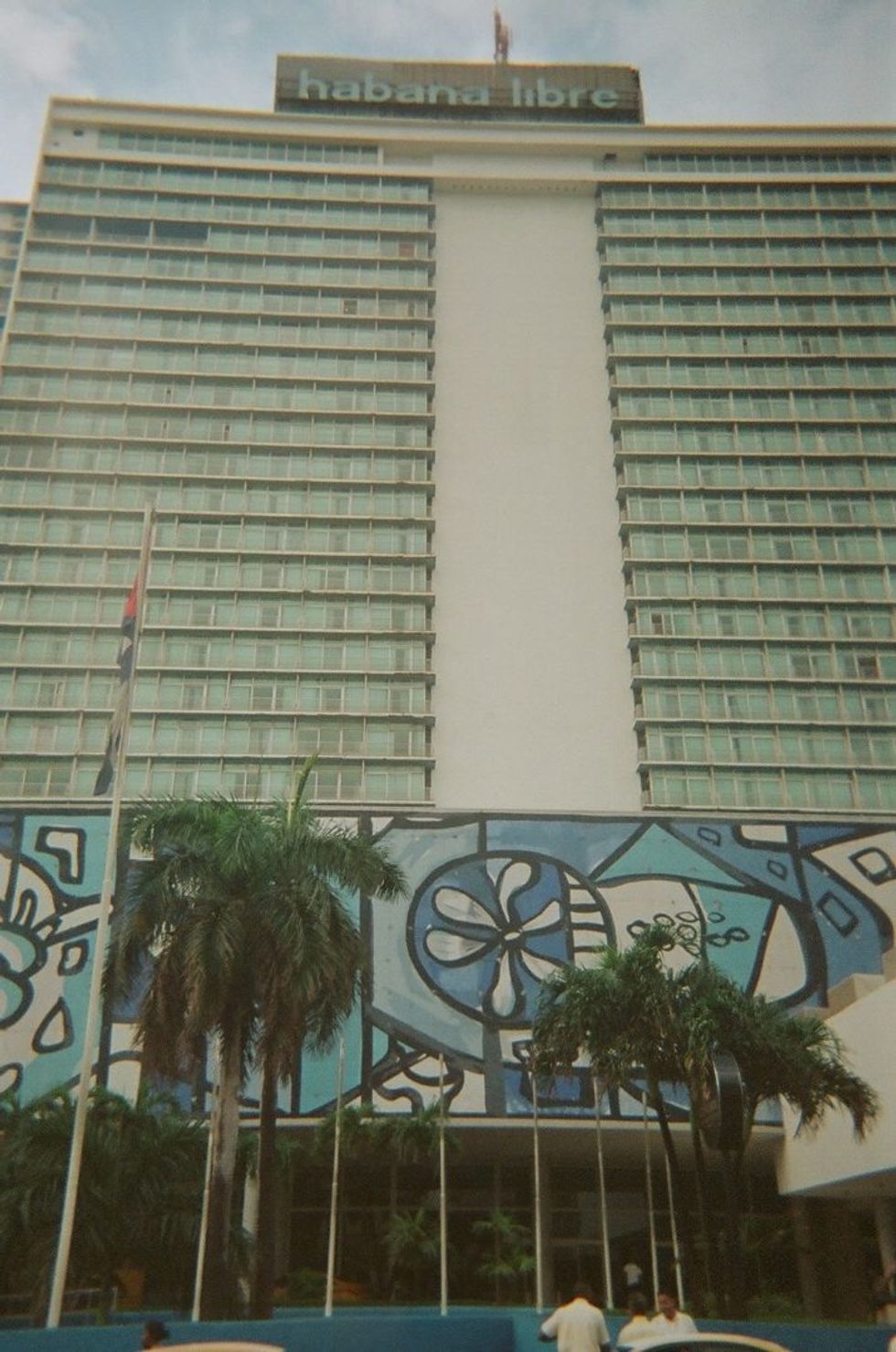 Food:
Hit or miss seems to be the consensus. There are some amazing restaurants throughout Havana and there are some spots that serve up some bland ass tasting food.
Paladars are your best bet. They're privately run restaurants. Ask for a menu before you sit down. Look around. Peep the food on people's plates. Definitely read up on restaurants before you get there, check out the reviews and make a list. Print it out. It'll come in handy when you're there and are hungry and have limited access to the internet. To help you get started with that list here are a few good restaurants that I hit up:
Al Carbon. Oh my god. This place is amazing. Easily the best food I had while Cuba. It was so nice, I ate there twice. Prices are up there. Comparable to NYC but when considering what you are getting, a meal this fancy in NYC could easily be double the cost. Also check out Habana 61, Cha Cha Cha, and Chacon 162.
The code for the Wifi so that you may talk about your timeline:
A lot of hotels in Havana will have wi-fi. The wifi is not free, you'll need to purchase a card to use it. Head to a participating wifi hotel bar, grab a cup of coffee or some water (again, it is very hot and you should stay hydrated) and ask to purchase a wifi card. They'll cost you a few bucks. Some restaurants and parks will also have wi-fi. Head here for a list.
What to see and do:
So let's say you're staying in Habana Vieja. You just got in, passed through customs, and grabbed your bags. You'll need to head over to the currency exchange and swap your money. A cab from the airport should run you about 25-30 CUC. You check in to your spot and get all settled. Maybe grab a quick bite to eat. If you arrive a little later in the day, spend your first afternoon just walking around. Take it all in. A fantastic way to see the city and hit up a few sites is to take a classic car tour of the city. It's a bit pricey around $40-50 CUC - but worth it. Think of all the beautiful photos you'll take in a shiny red car from 1956! They won't be hard to find as you'll constantly be asked if you want to take a tour.
Head to the old fort La Cabana, which also acted as Che Guevara's headquarters for a while. You'll catch beautiful views of Havana from here. Make your way to El Capitolio, or the National Capitol Building. The building is currently being restored. Nearby is The Central Park of Havana or Parque Central. It's not as big as its NYC counterpart but it's still beautiful. There's also a bunch of hotels in the vicinity and some great architecture. Walk down Calle Obispo, a famous street with a bunch of shops. It's a good spot to pick up souvenirs. Definitely check out the Museum of the Revolution/ Museo de la Revolución for some history. It used to be the presidential palace. If you're so inclined head over to Hemingway's house Finca Vigía. Go to the Plaza de la Revolución to see big ass portraits of Che Guevara, Camilo Cienfuegos, and a monument to Cuban hero, writer, poet, and revolutionary José Martí.
Walk around the Vedado district to see a different part of the city and some stunning architecture. Go to the Hotel Tryp Habana Libre, a hotel that Fidel Castro stayed at after winning the revolution. If you make reservations you can even get a tour of his room. Grab some ice cream from the massive modernist complex that houses Coppelia. The dairy venture was spearheaded by Castro himself. The man loved him some ice cream and wanted to share his love of it with Cubans.
As the sun lowers head over to the Malecón, a long esplanade that Cubans love to chill at. Grab a few beers or a bottle of Habana Club, maybe a cigar, and enjoy the beautiful views.
The Nightlife:
Havana's bars will usually have food. Drinks are abundant throughout the city. First, head to Floridita. It's a tourist trap but that's okay. Ernest Hemingway used to chill there. There's even a statue of the writer-bro at the edge of the bar. Writers Ezra Pound and Graham Greene also used frequented the bar-restaurant. There's usually live music. Also, there's wi-fi. Make sure to have their famous Daiquiris.
Check out Sloppy Joe's, a historic bar that's been recently restored and reopened after being closed for decades. It used to be a hotspot for the rich and famous previous to the revolution. The bar is featured in the film Our Man in Havana. Head to the alleged birthplace of the Mojito, La Bodeguita del Medio. It's a famous bar-restaurant that was patronized by some very important figures such as Salvador Allende, Pablo Neruda, and many others. It's a cute spot. Make sure to head upstairs.
Fábrica de Arte Cubano. Absolutely head here. It's this massive old cooking oil plant that's been converted into art gallery/event/party space. It is popping. It gets packed. There'll probably be a line to get in. It's a place to hang out with young, hip Cubans and other tourists. There's music, dancing, drinks, food, and art. It's very Brooklyn-esque. The cover is only 2 CUC. Upon entry you'll be given a card. When you buy drinks you won't pay at the bar but instead hand the bartender your card on which they will mark what drinks you have ordered. Upon your exit from the place you'll present the card and close out then. Make sure you close out earlier at one of the check out spots located throughout the space to avoid the long lines that form at closing time.
Leaving Havana:
Depending on how much time you are going to spend in Cuba you might want to leave Havana and venture out. You're in the Caribbean so a beach day is lightweight mandatory. There are beaches nearby, about a thirty minute drive, that you can go to. You can also venture out further to Varadero.
You can also head to Santa Clara, a city about three hours from Havana. It's the site of a famous battle led by national heroes Che Guevara and Camilo Cienfuegos. Go west to Viñales for some stunning nature and tobacco.
Weed:
It's a no go. Don't even try. Not worth it. Sorry.
Queer friendly or nah?
From what I saw it was decent, ahead of most other countries. The Cuban Revolution, which came into power in 1959 was initially homophobic. Since then strides have been made. Fidel Castro personally apologized for many of the cruel injustices queer people faced from his administration. The government recently began offering sex reassignment surgeries free of charge. The United States in comparison, legalized sexual activity between consenting same sex adults in 2003. Cuba legalized it in 1979. The attitudes of the people often differ from the government. There are undoubtedly homophobic and transphobic Cubans. Your status as a tourist will afford you a buffer though. To read more head here, here, here, or here.
Cigars and Alcohol:
Cuba is known for their cigars, the best in the world many argue. Though I'm not a cigar smoker I did bring a few back, for special occasions I reasoned. Cigars are not cheap. They are sold in state approved shops which will be relatively easy to find and to spot as legit. People will approach you on the street and whisper "cigar, cigar." Tell them you are good and have already bought some. These cigars will be much cheaper than what you find in the official shops but will often be fakes.
The hustle includes: photocopying the labels for sought after brands like Cohiba and filling it with cheaper tobacco and sometimes things like banana leaves. I purchased a pack of ten Montecristo No. 4 cigars, they were allegedly the cigar of choice for Che Guevara and are considered to be the perfect introduction to Cuban tobacco for new smokers. A pack of ten cost me about $55 CUC, if I remember correctly. I also got single cigars of Cohiba and Romeo y Julieta. Remember that cigars must be stored properly or they will go bad. Either buy a humidor or head here to learn how to store them without one.
Alcohol is relatively cheap compared to NYC prices. Cristal, a Cuban beer, is on average about 1.50-2.00 CUC while cocktails are around 4.00 CUC. A bottle of Habana Club from a store will run you about 6.00 CUC. Technically you can only bring back $100 worth of tobacco and alcohol. U.S. customs seemed pretty lax so feel free to go a bit above.
If you bring alcohol back please make sure you wrap it safely within your luggage, shit breaks sometimes and it would suck to have your first experience back home after a beautiful vacation being seeing your suitcase roll by on the conveyor belt drenched in rum.
So that concludes this guide on things you need to know about travelling to Havana, Cuba. Make sure to take lots of pictures but not too many because it gets kinda annoying and you should be enjoying your trip. And don't spend too much time on the wifi. Also, don't drink the tap water. Bottled water is the only way to go. Get that Acqua Panna if you feeling bougie.
Ok, have a fantastic time! Love you! Hasta la victoria siempre!
All photograps by Abel Shifferaw.
[oka-gallery]