The following excerpt appears on pages 138-141 of Heavy Metal Africa: Life, Passion, and Heavy Metal in the Forgotten Continent. This section marks the point where the reader is introduced to the musicians who first performed punk and heavy metal in Nairobi, Kenya.
---
March From The Underground
"It is a medium to transcend yourself, to redefine yourself on your own terms. The main thing for me was having that transition of energy," commented the Nairobi-based Xenostate. Without realizing it, during the early part of the 2000s Xenostate and his bandmates in Class Suicide were beginning to construct a piece of history in the East African musical landscape; they had formed one of the first original heavy bands in the region.
Though he never describes the music as metal—opting instead for a tag of mostly punk/hardcore—he was extremely modest in his explanation of his band's history and his role in laying the foundation for what was to come. "I got an interest as soon as I got into high school. Nirvana, whatever was playing on the radio in the States, is what we heard. We were just playing Nirvana and just wanted to be loud, but then we shifted to punk and hardcore." Though other bands were active at this time—Point of Vertigo, Haggis, Impish (also featuring Xenostate), Navarone, Bloodshed, UETA and M2O—it was Class Suicide who many credited as the band that was the catalyst for launching heavy music into Nairobi.
Born and raised in Nairobi to American parents, Xenostate would divide his time between Kenya and the United States to attend university. "I was so determined to come back and keep feeding this thing. It got to the point where I was obsessed over it—always returning to Kenya with suitcases full of musical equipment (and other accessories that were easily at his disposal in the United States), instead of clothes. I was always worried it would die out," he explained in his quiet home in the Western suburbs of Nairobi. "A lot of people thought I was crazy."
He was often told that "there is no way people were going to listen this music," yet this pessimism was the springboard his bandmates needed to push forward. Much to their delight, and to those who were there to be a part of the first Class Suicide show, "There was a massive response! It was like we were taken over by spirits. It took on a life of its own from that point!" Class Suicide drummer Kwame Bonsu also spoke of the lift that his band helped provide for those seeking more. "We had a very faithful following. Even people who didn't love or even know what rock is were actually very excited about it, because it was the first time to see what they were hearing on TV and on the radio." Recalling many of the early performances, "We were playing a lot of gigs in local bars, clubs and a couple of gigs at an underground parking lot," Kwame said. "The difficulty was getting people to come to the shows. You had problems going to the 'white' bars, people two generations older saying, 'What the fuck are you doing?'" Xenostate recalled with laughter.
"The young folk were puzzled, and the old folk were horrified," added Bloodshed's Wanjiru Gichaga, speaking of that early period. UETA's Jaaz Odongo recalled, "It wasn't very 'Kenyan.' Most people were surprised a scene actually existed and were more fascinated by the culture around it."
"The biggest challenge was ourselves," Ross Patel remembered of that time. As the leader of the band Navarone, he and his bandmates were also coming into the scene just at the early stages of this movement in East Africa. "There weren't many rock shows, so it was hard to get a reference for what to do. The first rock show I ever went to was also the first time we performed. We got to know the other bands and there were regular Kenya-punk shows." Detailing their rehearsal schedule, Ross continued, "We worked hard daily for a show that happened maybe once a month. It never felt like too little. Getting from crap to decent" was the ultimate goal. It was this nostalgia that prompted an emotional and honest recollection from Ross. "That was the happiest time of my youth, the Kenya-punk scene, discovering and playing music with my friends."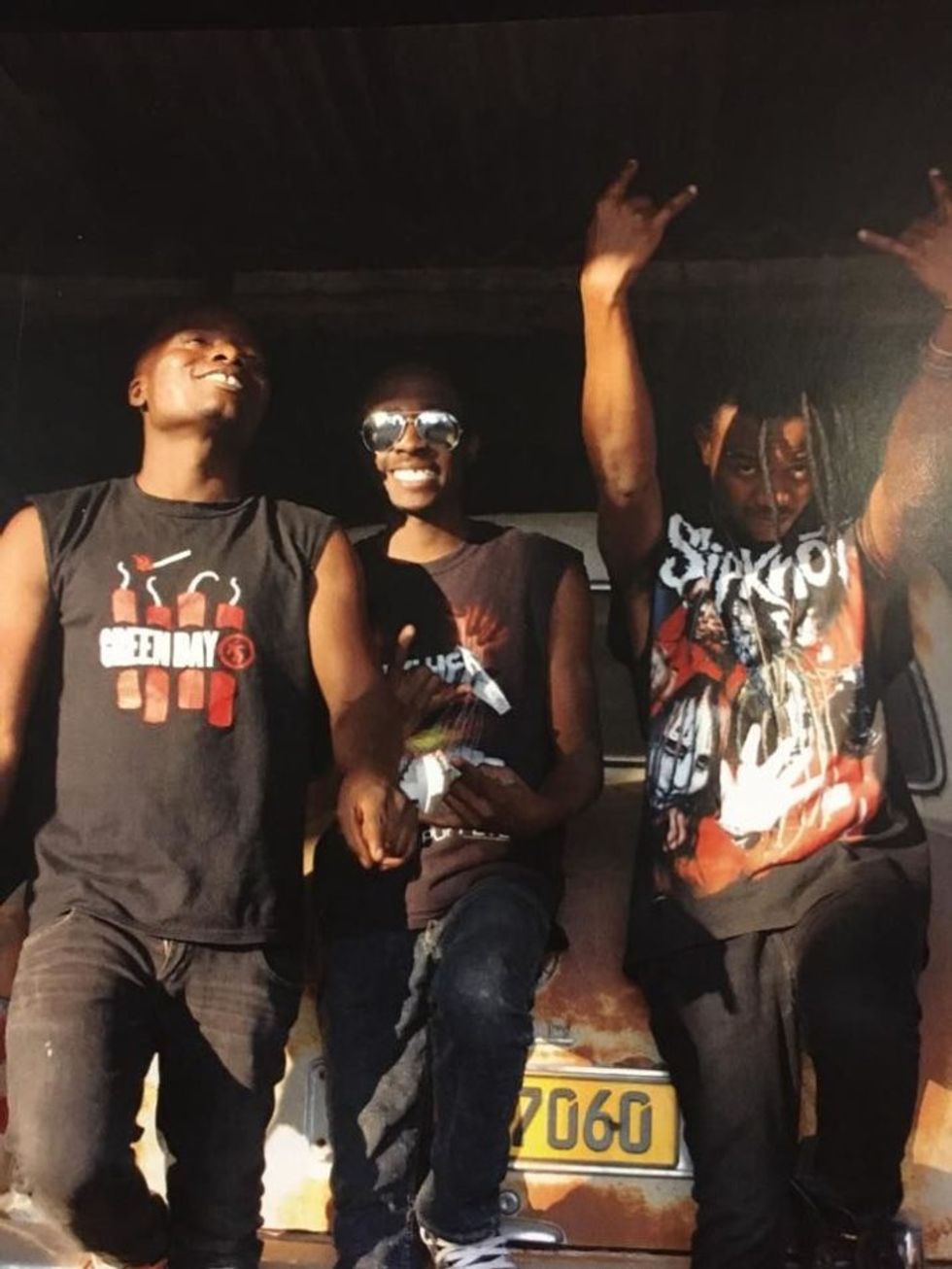 Photo via Heavy Metal Africa's Facebook page.
For Ross, like Xenostate, the effort was not something from which they would realize results immediately. "Slowly, more and more people started to come. I think this kind of thing appealed to people. It was a community. It was Kenya, and that spirit in the scene that was half of it," explained Ross. He would later move to Los Angeles, unsure of what was happening back home, if anything was happening at all. "I think something was going on that maybe I didn't notice. By the time I got back [2013], there was a rock radio station, an entire frequency on the FM devoted to rock music in Kenya! The scene didn't die, it expanded! It's a validation. If nothing else, we did something worthwhile. Maybe we never got famous. But if we inspired anyone, that is the best."
"A lot of it is owed to the first generation of rockers who made that effort when there really was nothing to stand on," said Mukasa Namulanda, bassist for the band M2O. "We were not aware of any rock scene, and all we wanted to do was to jam on songs, learn new songs, improve on our guitar skills. The principal motivation was just to play rock songs we liked for fun," he said, unaware that an underground metal scene was kicking up in Nairobi during those years. As his band entered the scene, they would learn that others also shared the same passion and energy. "After our formation in 2005, we got an invitation to attend a rock concert—probably in August 2006—and we were surprised that there actually were other rock bands in Nairobi. At that concert, we discovered that there were quite a number of bands well advanced in their music, even with albums out."
The foundation was now laid for the small and intimate Kenyan rock and metal community. The realization that this music could be written, recorded and performed in Kenya became very, very real for a new group of aspiring musicians able to build from this foundation and carve a niche into their Nairobi—a blossoming and exciting city.