Arts + Culture
Here's What Went Down at the Third Edition of ART X Lagos
ART X Lagos founder and director with BOJ, Odunsi The Engine and Amaarae at the ART X Live! event. Photo courtesy of ART X Lagos.
We revisit what made West Africa's premier international art fair the place to be in November.
The third edition of ART X Lagos was a meaningful celebration of African art. Held one more at The Civic Centre in Victoria Island, it attracted thousands of guests from all over the African continent and the world. The three-day event kicked off typically, with an elaborate VIP preview evening full of African royalty, dignitaries, people of public interest and art enthusiasts in attendance.
There was a great amount of care taken to enhance the experience with a Tuareg-inspired VIP room designed by Alara Lagos, another Nigerian trailblazer in the realm of African arts and culture. The room, which would later host artist talks, was filled with intricately decorated chests, drapery and furniture that resembled a North African sultan's palace, complete with a 10-foot poster of the nomadic herdsmen in their typical setting: on camels, riding through the desert with no signs of life around. The alluring and mystical nature of the Tuareg lifestyle was realized and contrasted by cocktails, champagne, high fashion tastes, and guests from a wide range of fields who all congregated for this enhanced ART X Lagos experience.
---
Photo courtesy of ART X Lagos.
Photo courtesy of ART X Lagos.
The art fair followed suit in terms of range and the eclectic nature of the weekend. Ben Enwonwu's Tutu—which was recently auctioned for $1.2 million, making it the most expensive piece of contemporary African art to be sold at auction—was a highlight of the fair. Yinka Shonibare MBE was this year's 2018 ART X Lagos keynote artist, who gave a talk and curated works, selecting an array of mixed media sculptures, video and books for viewing. During his talk, he provided his take on art-related matters relating to Nigeria and his practice, which are inseparable in the context of his artistry. He also announced that he would be opening a creative living, working and public space in Lekki.

"This being our third edition, the turnout was hugely exciting for us because we brought more Pan-African diversity to Lagos and Nigeria than ever before. What we saw was Lagos attract the best of its city, the continent and even visitors from all over the world," Tokini Peterside, founder and director of ART X Lagos, says.
Yinka Shonibare MBE. Photo courtesy of ART X Lagos.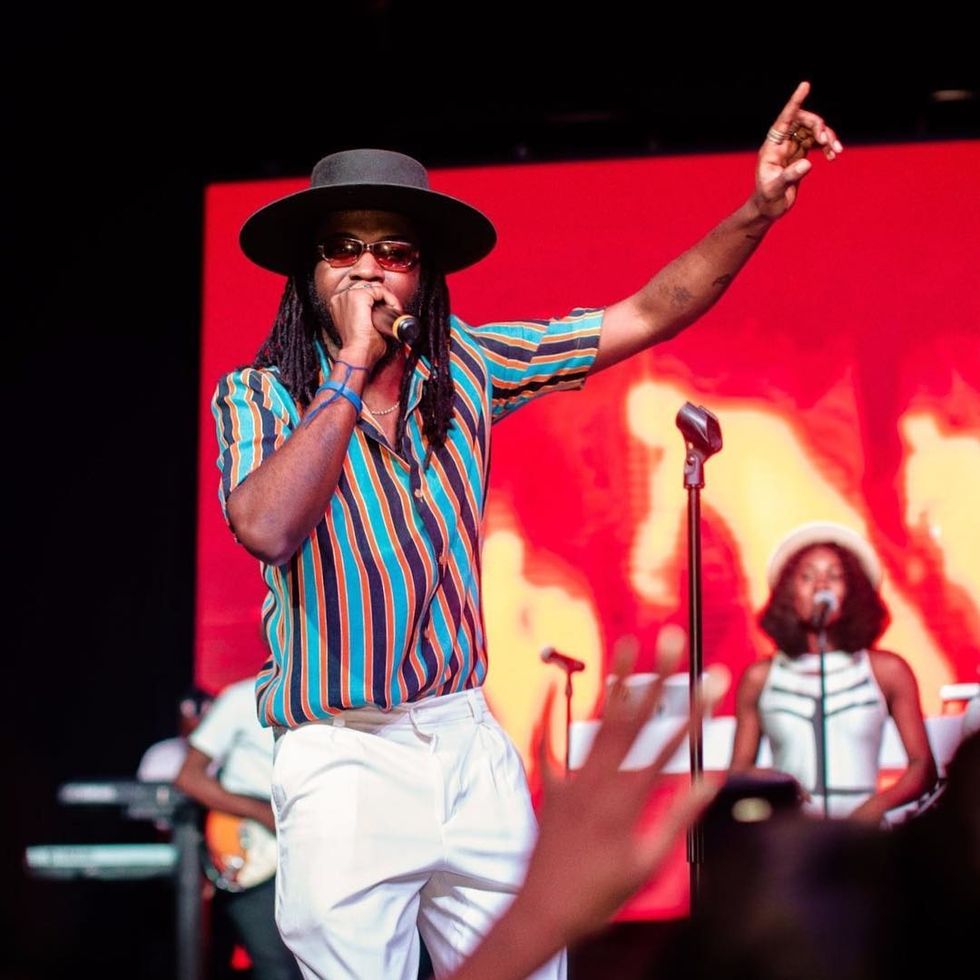 Photo courtesy of ART X Lagos.
The ART X Live! event went down at the end of day two of the fair. The program was truly a celebration of African youth while fusing the old and the new. Odunsi The Engine was tapped to be the creative director of the shindig by Lanre Masha of Trace TV. The audio visual experience was lively with performances by Boj, Amaarae hailing from Ghana and Teni the Entertainer—who closed the show with her typical part-freestyle, part-rehearsed performance—where she used interludes to talk about millennial takes on life, as well as promoting Nigerian unity. A Yoruba performer using an Igbo call and response to greet the crowd, welcoming and acknowledging the different tribes of Nigerians that could have been in attendance before ending with the words, "We are all one Nigeria."
Joiné aka BaiLikeDubai opened up the night and DJ Aye! ended the musical festivities with an eclectic set of old Nigerian hits, contemporary afro soul and afrobeats, hip-hop, R&B and house music. Guests were dripping with sweat as they danced the night away typical Lagos fashion—by doing the most. The ART X Lagos team and even the guests invaded the stage—a sight to see. There was also visual art by artists Chukwuka Nwobi, Fadekemi Ogunsanya and Tomisin Akinwunmi where their work centered around the theme of "Old Nollywood." Photographer Stephen Tayo was on ground, taking portraits of guests against a backdrop designed by Nwobi.

Photo courtesy of ART X Lagos.
Photo courtesy of ART X Lagos.
By day three of the fair, red dots (signifying an item has been sold) scattered across the exhibition space. Nigerian painter and sculptor Gerald Chukwuma of Accra's Gallery 1957 sold an impressive 12-foot installation to the Nigerian Stock Exchange. "Gerald Chuckwuma and Gallery 1957's situation is emblematic of what ArtX Lagos is and what we stand for, which is this idea of collaboration across the continent to celebrate African excellence," Peterside adds. "The situation of Gerald—working with a Ghanaian gallery and a British gallerist as an Igbo-Nigerian artist selling in Lagos—just shows the extent to which this is an all-embracing platform."

And she is right in saying so. There have been rave reviews from the exhibiting galleries, some of which are first-time participants and other galleries that have been around right from the very beginning. "All our galleries were very excited about the response to the work that they brought and the new connections made," Peterside sayd. "For example, one of our new galleries from Ethiopia completely sold out the work they brought to the fair. And we had another gallery from Spain that brought work by Aboudia, Evans Mbugua and Sadikou Oukpedjo that did very well at the fair as well—and these are just two [galleries] to name about the sales made and connections they forged."
Nike Davies-Okundaye and Tola Wewe of Nike Art Gallery exhibited a collaboration of paintings done in traditional Nigerian style. Lemi Ghariokwu, who is represented by Bloom Art, was a repeat exhibitor and personal stand out artist. His pair of paintings titled, brain drain and repatriation, depicted scenes of a Nigerian flag with people running away from it as it fell in the former, while having the same multitude of people rushing towards it, helping others hold it up in the latter. A comical take on Nigerian current affairs in typical Lemi Ghariokwu fashion.
Photo courtesy of ART X Lagos.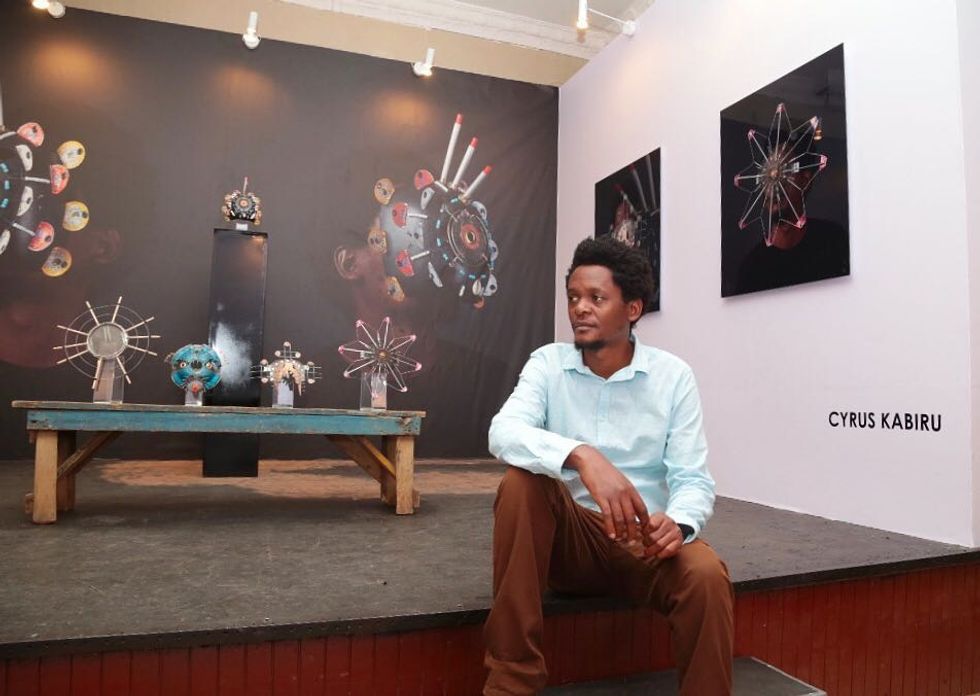 Kenyan artist Cyrus Kabiru. Photo courtesy of ART X Lagos.
Cyrus Kabiru of Kenya was another standout artist at the fair. His afrofuturistic sculptures made from found materials were on display against an all-black exhibition space and was one of the most unique installations at ART X Lagos. Speaking with the artist, one would get a sense of the importance of ART X Lagos for African art and artists. "I have a lot of fans out here in Lagos," Kabiru says. "Many direct message me on Instagram to send messages of appreciation and it's important for me to be here because this creates the opportunity to connect with people who love my art."

African artists and galleries from Uganda, Sudan, Côte d'Ivoire, Kenya, Ghana, South Africa, the USA, Zimbabwe, the UK, France and St. Maarten all congregated in Lagos for this year's fair. Speaking with Joost Bosland, director of Stevenson in Cape Town and Johannesburg, he touches on the international significance of the fair. "It is so easy to use London, Paris and New York as points of reference when thinking about the international presence of our artists" he says. "But Lagos, Dakar and Nairobi are equally important coordinates."
Photo courtesy of ART X Lagos.
The interactive project curated by A Whitespace Creative Agency included Mad Horse City, a multimedia experience of the futuristic imagination of Lagos in 2115. It comprised a graphic novella, a series of evocative vignettes and a set of virtual reality environments by artists Olalekan Jeyifous and Wale Lawal. The animated film was only a testament in itself to the burgeoning animation space in Nigeria. Lagos Drawings was also an immersive and interactive exhibit that combined touch, digital technology and sound as an artistic representation of Lagos. Four installations by Karo Akpokiere, G. Rizo, Toba Oyefeso and Desmond Okeke were featured where the artists were called to make four illustrations that will play a sonic scape relating to the scenes being depicted, bringing all the elements into an immersive experience.

"Ultimately, as what we aim to do is position Lagos as a cultural capital globally, this year's fair shows more than ever that ArtX Lagos is that essential catalyst for the positioning of Lagos as a global cultural capital," Peterside concludes.
"We created ART X Lagos to position Lagos at the forefront of this cultural explosion that is happening across Africa, and in doing so I felt it was important to embrace and involve the rest of the continent in that conversation. The fact that the continent, country and city are responding is hugely exciting. This is our third edition, but for many people, ART X Lagos has become an unshakeable institution. All we can do is get set for our fourth fair in 2019. We have many projects we want to launch between now and then, because we see ourselves as the ultimate catalysts and that's the role we want to play."