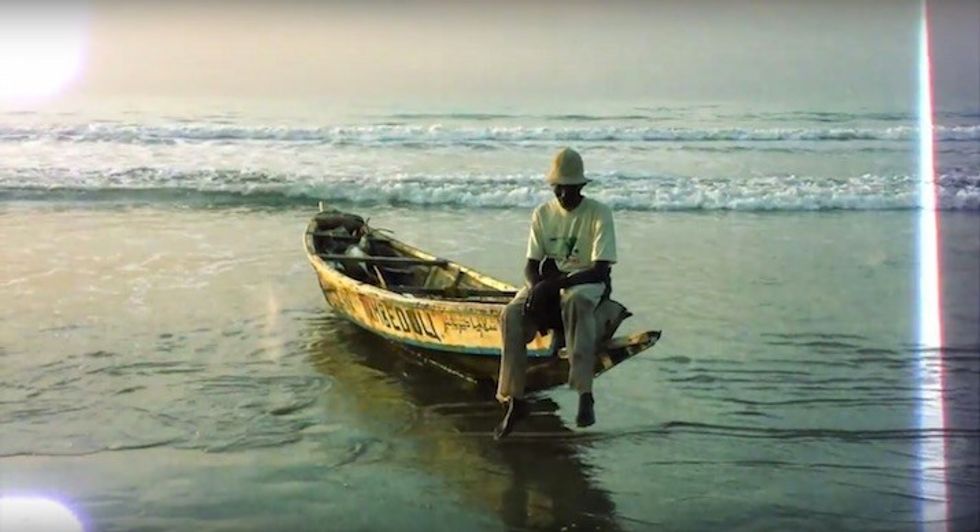 ---
Holy Forest is the brainchild of songwriter & documentary filmmaker Jon Fine (Bill Withers' Still Bill, Herbie Hancock's Possibilities). The project's self-titled debut album, which took over four years to complete, was recorded across the Gambia and the U.S. and features collaborations with griot Tata Din Din Jobarteh (aka the Jimi Hendrix of the kora), rapper ST Da Gambian Dream, Harlem-based Ed "Preachermann" Holley, members of Antibalas, and many others.
The Holy Forest LP has been gaining traction after the album's lead single  "Africa Calling"  was picked up for BBC 6 rotation by Gilles Peterson. Today we're premiering the music video for "Nyokonole - We Are Together," the album's second single, which was shot in the Gambia and Senegal. Read our interview with Jon Fine about the kora influences behind the album and the making of the video below. The 11-track Holy Forest LP is out today in vinyl and digital formats through Bandcamp & iTunes.
Okayafrica: How did you connect with ST Da Gambian Dream & Tata Din Din Jobarteh to record this track?
Jon Fine: My wife's from the Gambia and this album began on a trip to visit her family with our two young kids. I brought along my laptop and some mics with hopes of making music while we were staying in the town of Sukuta. I was told by a friend to "go to Birkama and ask around for Tata Din Din Jobarteh." I'd heard of Tata while in NY and had hopes of reaching out to him and learning more about the kora while in the Gambia. One afternoon, as luck would have it, on a ride home from the Makasutu Forest, our taxi driver, who coincidentally knew Tata, pulled us up to his gate. Serendipitously, Tata was home, invited us in for tea and welcomed us like family. We talked about kids, travels and I mentioned I'd brought a hard drive with some sketches of music I'd begun recording in NYC.
The next week, he invited me back to record in his studio. The first sessions with Tata planted the seed for the record and became the song "Africa Calling." The next song we recorded together was "Nyokonole - We Are Together." S.T. Da Gambian Dream, an incredibly talented young artist also from Birkama, was introduced to me by our friend Gass. S.T. had just finished his own album and we made a video together for his song "Njunku." When he heard one of the instrumentals I had, he came up with "Nyokonole." It translates from Mandinka as "We Are Together" and is a song about friendship, about making music and making friends. Jamal who also sings on the song is a friend for nearly 20 years.
Tell us about the video.
The video was filmed while spending a month in Gambia and, in part, on a short family trip to Senegal with my wife's family. Like the record, the video is a bit of a collage, layered and re-imagined. The album took me four years to complete and gets into memory and travel so this video felt like a reflection of that feeling.
What sparked the idea to record an album in Gambia?
Loving the kora… and wanting to find a way to make new music with such a beautiful and traditional instrument. And it was my wife's first trip home in many years. After coming home with the recordings with Tata and S.T. I was on a mission to complete an album in the spirit of the recordings we'd done. I reached out to friends Martin Perna, Jordan Mclean from Antibalas, Preachermann, Sparlha, Morley, all friends who know me through filmmaking as well as music, and I kept recording. When I was introduced to Youssoupha Sidibe, he added kora to a number of rough songs and the record came together. The song with Morley is the last one I recorded for the album.
What would you say are the main musical influences on "Nyokonole" and the rest of the Holy Forest LP?
In "Nyokonole" I like the repetition, I love the melodic feeling of soukous guitar, the repeating lines. The album was recorded in parts and in lots of different places. In a way my background as a film editor played a role in the way I approached the music production. I recorded layers and layers and then reduced and thickened. A lot of the writing happened in the studio after recording, kind of like a documentary film: finding the story in hours of material.
The whole album is a blend of a lot of places and inspirations. It's definitely influenced by my travels in Brazil, Ethiopia and Jamaica where I've made films. Sonically it's reggae, soul music, afrobeat, blues... maybe call it cross-continental roots music…diasporic funk? There are a lot of influences in this record for me — it's full of a nostalgic feeling — in Brazil they call it saudade. Thematically, it's pretty much a collection of love songs, about longing for love or remembering a deep connection. I hope it expresses the feeling of a journey.