When you think of the shittiest people in the world, Steven Anderson very much fits the bill. Anderson is the founder and "pastor" of the Faithful Word Baptist Church, a fundamentalist Baptist church (read: anti-gay hate group) in Tempe, Arizona, that, while not as famous as their Westboro counterparts, have their own list of accolades.
---
In 2009, Anderson made headlines with his "Why I Hate Barack Obama" sermon, in which the Arizona pastor prayed for the death of the U.S. president.
More recently, the day after the Orlando nightclub shooting Anderson said "the good news is that there's 50 less pedophiles in this world."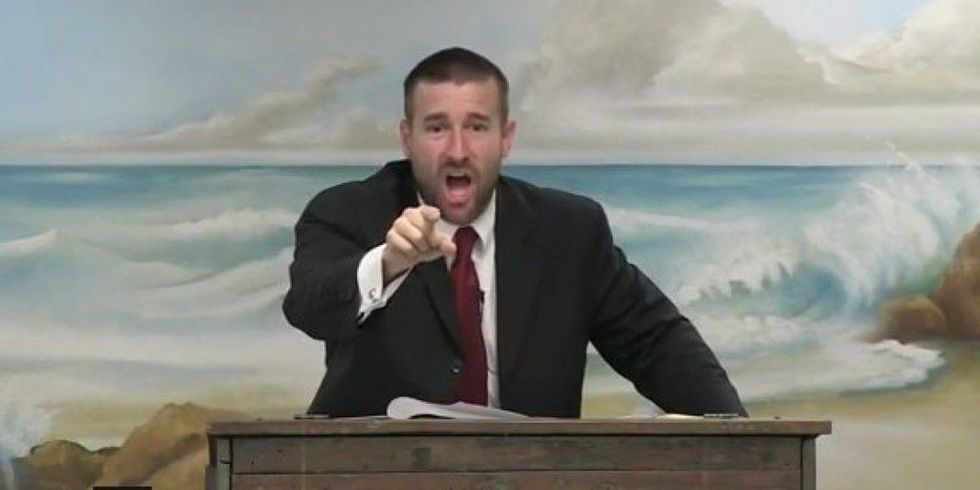 Homophobic American pastor Steven Anderson
And while he's perhaps best known for his homophobia, Anderson's hate spreads to women as well. He's said women should be banned from voting and shouldn't read, talk or leave the house.
Instances of the pastor's hate speech run deep.
"Anderson is the embodiment of hate and makes the late Fred Phelps of the Westboro Baptist Church look like Ghandi," Michelangelo Signorile, Editor-at-large of Huffington Post's Queer Voices, once wrote in a post titled "Meet the Pastor Who Told Me He Hoped I Got Brain Cancer and Died." Signorile called the pastor more dangerous than Westboro founder Fred Phelps.
The good news is Anderson won't be bringing his bible-thumping fuckery to South Africa anytime soon. On Tuesday, the South African Home Affairs department officially refused to grant Anderson, who they called an "undesirable person," a visa to visit the country.
"Mr. Steven Anderson and members and/or associates of his church are prohibited from entering the Republic of South Africa," Home Affairs Minister Malusi Gigaba announced in Parliament.
Gigaba said that Anderson will need to publicly repent before his application to enter the country can be reconsidered. The pastor, who has zero intentions of doing so, has called Gigaba a "vile wicked sinner."
Anderson had been planning to visit SA in September on some sort of "soul winning" mission. The South African Human Rights Commission received complaints for months, although Gigaba initially said his department cannot legally prohibit the pastor from entering the country. Multiple petitions went around calling on Home Affairs to put a stop to Anderson's hate speech. One on All Out reached over 53,000 signatures.
Today's decision is undoubtedly a victory for South Africa's LGBT communities. Although same-sex marriage has been legal since 2006 (nine years before the U.S.), homophobia, anti-gay violence and corrective rape continue to plague communities within the country.
Unfortunately, Anderson doesn't seem to be done with the region. In a Facebook post on the Faithful Word Baptist Church page, he wrote: "I feel sorry for people who live in South Africa, but thank God we still have a wide open door in Botswana. Stand by for reports of MULTITUDES saved in Botswana, where religious freedom still exists."