In Questlove's magnificent documentary, Summer of Soul, he captures a forgotten part of Black American music history. But in telling the tale of the 1969 Harlem Cultural Festival, the longtime musician and first-time filmmaker also captures a part of lost South African music history too.

Among the line-up of blossoming all-stars who played the Harlem festival, from a 19-year-old Stevie Wonder to a transcendent Mavis Staples, was a youngHugh Masekela. 30 years old at the time, he was riding the wave of success that came from releasing Grazing in the Grass the year before. To watch Masekela in that moment on that stage is to see him at the height of his time in New York City — a firecracker musician who entertained his audiences as much as he educated them about the political situation in his home country of South Africa.
The legacy Masekela sowed in New York City during the 1960s remains in the walls of the venues where he played, and in the dust of those that are no longer standing. It's in the records he made in studios and jazz clubs, and on the Manhattan streets where he once posed with a giant stuffed zebra for an album cover. It's a legacy that still lives on in tangible form, too, in the Hugh Masekela Heritage Scholarship at the Manhattan School of Music.
The school is the place where Masekela received his education and met some of the people that would go on to be life-long bandmates and friends, from Larry Willis (who, as the story goes, Masekela convinced to give up opera for piano) to Morris Goldberg, Herbie Hancock and Stewart Levine, "his brother and musical compadre," as Mabusha Masekela, Bra Hugh's nephew says.
---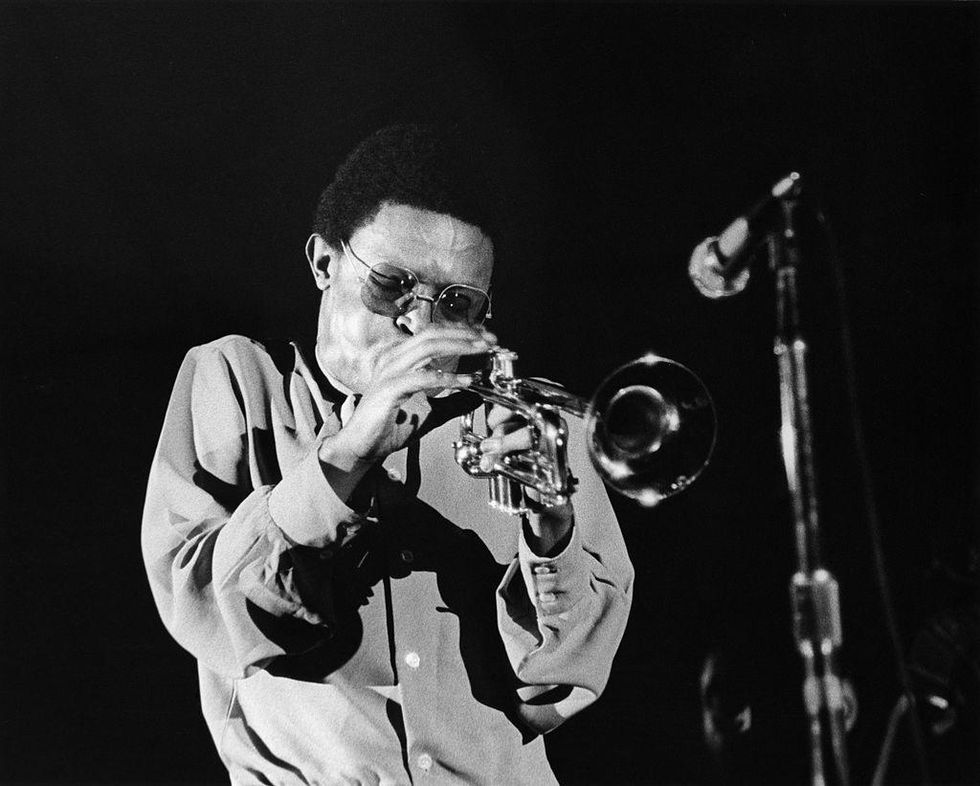 Hugh Masekela performs live on August 18, 1968 in New York City.Photo by Michael Ochs Archives/Getty Images
When he arrived in New York, Masekela had brought with him the famed trumpet that he'd received from Louis Armstrong, via Father Trevor Huddleston, as detailed in his autobiography, Still Grazing: The Musical Journey of Hugh Masekela. "Hughie," as he was affectionately called in the US, came to New York in 1960, encouraged by Miriam Makeba and Harry Belafonte. Shortly after the Sharpeville Massacre, he'd left South Africa and headed to London. But New York offered more — not least of all, the chance to learn from and interact with his boyhood music heroes.
"The astonishing thing about my uncle is the breadth of the relationships he had," says Mabusha. Indeed, from his very first night in New York, when Dizzy Gillespie took him under his wing, Masekela was meeting and seeing the likes of Thelonious Monk, Charlie Mingus, Max Roach and John Coltrane. He was hearing the songs he and the Jazz Epistles would cover in South Africa played by their original composers. When he became more settled in the city, he'd travel uptown, to the Apollo, where he would watch and get to know artists who'd had a huge influence on the jazz and mbaqanga groups he'd play with back home, as well as his own music.
But perhaps the greatest influence on Masekela at that time was the traditional songs he'd sing with Makeba and her daughter Bongi, in their New Jersey home; songs that helped him deal with the grief of missing home and fanned the story-telling elements of his music.
Masekela's musical education in New York shaped him into the musician he became, continuing in a more formal manner, at the Manhattan School of Music. It's believed Belafonte helped with his tuition to attend the school, while Makeba made sure he had a new trumpet to meet the standards he'd be required to play at. And he set about finding his sound.
"He had this idea that he'd come to New York and maybe be a sideman for Max Roach or Miles [Davis]," says Mabusha. "And those cats, especially Miles, would just tell him, 'What are you talking about? Rather just be you, 'cause we already got people here who can do this what we're doing.'"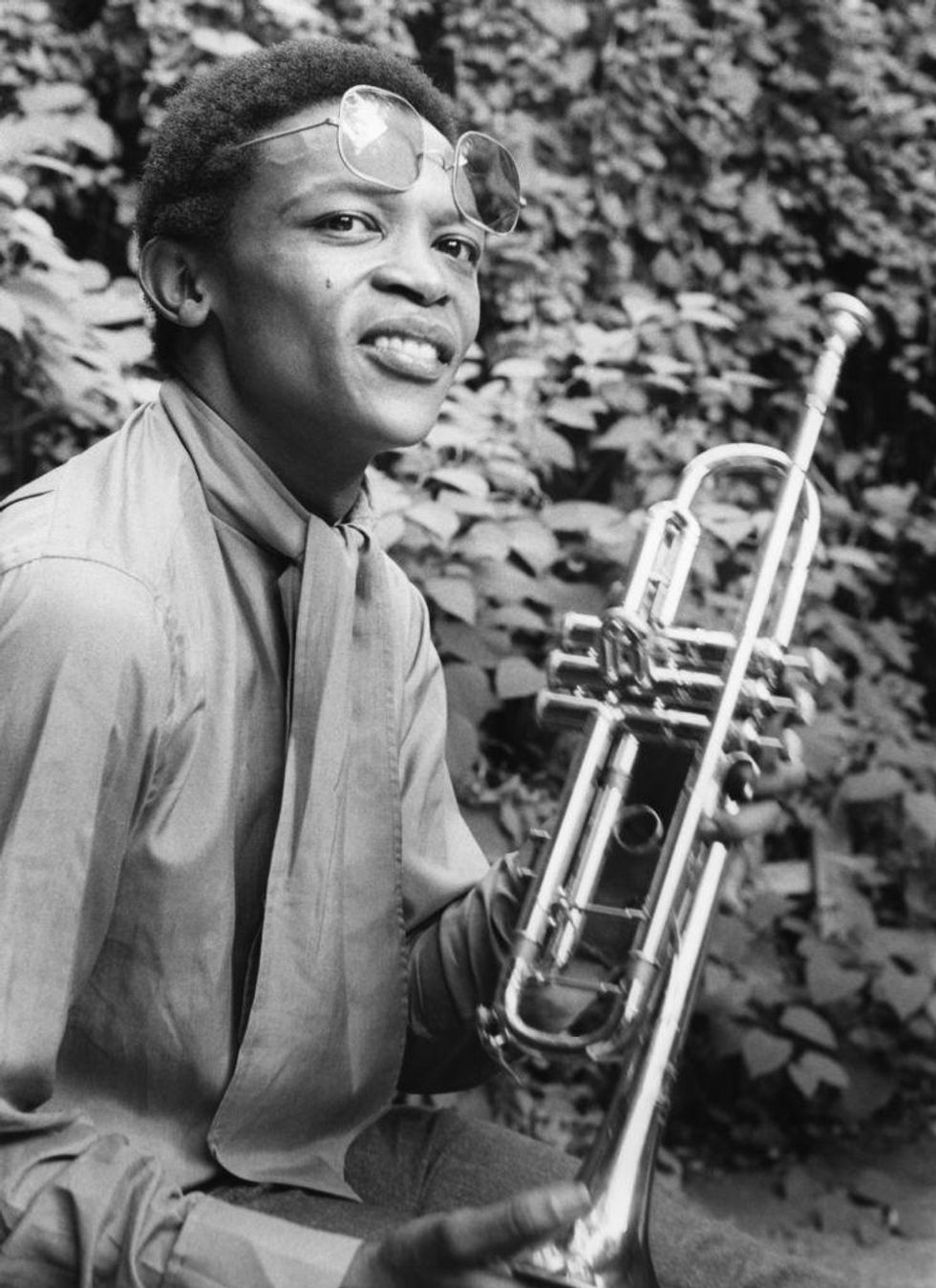 Hugh Masekela, 1968 in New York City.Photo by Don Paulsen/Michael Ochs Archives/Getty Images
They were words Masekela ran with. He and Levine formed a production company and together began to make music, sometimes with other South Africans who were in town. Mabusha saw his uncle as a folk musician with jazz chops who influenced those around him. "My uncle Hugh and my uncle Stew opened up this lane, subtly and without anyone even being aware of it, where jazz cats could not only play popular standards and popular music, but he opened up a lane for the Steely Dans of the world, American pop groups that were more jazzified, who were working with a more complicated musical language."
To hear Mabusha speak of his late uncle is to hear snippets of the late musician himself — slow at first and then all at once. Mabusha grew up with Masekela in New Jersey, in a home he shared with mother, his uncle and Makeba in the mid-60s. "I knew him from the beginning of my life to the end of his," says Mabusha.
Masekela had planned to go back to South Africa after he'd finished studying. But as he recalls in an interview with Carnegie Hall, Belafonte set him straight. "Harry pulled me aside, and said, 'Man, nobody knows you there. You've been hanging out with us. You're such a firebrand when you talk about South Africa, but you're not known there. They'll just consume you if you go back. But if you stay here and try make a name for yourself and then talk about your country, people will listen.' And I went with that."
Besides, Masekela never ended up finishing his studies anyway. He left just a few days before he was due to graduate — "impatient to begin life," as Mabusha puts it. But the school still thinks of him proudly. Current president, James Gandre, says: "We have always talked about him as a graduate of this institution because of his greatness, particularly as a jazz musician, but, also, as a whole person. He was a giant, and I know he was very fond of the institution, all the way 'til the end of his life."
To that end, on what would have been Masekela's 80th birthday, the Hugh Masekela Heritage Foundation announced scholarships that would be handed out to the Manhattan School of Music, to carry on Masekela's name at the institution, and provide deserving South African students with the same opportunity to further their music passion. Two students, saxophonist Simon Nyivana and pianist Lifa Arosi are among the 6 students who will have all their expenses paid for the duration of their music degrees.
"They carry the name of Hugh Masekela with them, and that's monumental," says Gandre. But there is a greater impact too. "We have students from 50 countries around the world attending our school, and usually every continent is well represented. But Africa is not a continent that is usually represented. So to have more interest from Africa, and to have these students here, is beneficial to our entire student body, and ultimately, to the whole institution."
This would, no doubt, please Masekela were he still alive today. "He was always a global musician, regardless of where he was, and he always carried South Africa with him," says Mabusha. "In a lot of ways, Hughie kind of introduced New York to South Africa, because, for many years, even after leaving and going to California and coming back, he always had a strong relationship to New York." He may never return again to the city in physical form, but his spirit certainly lives on in it.