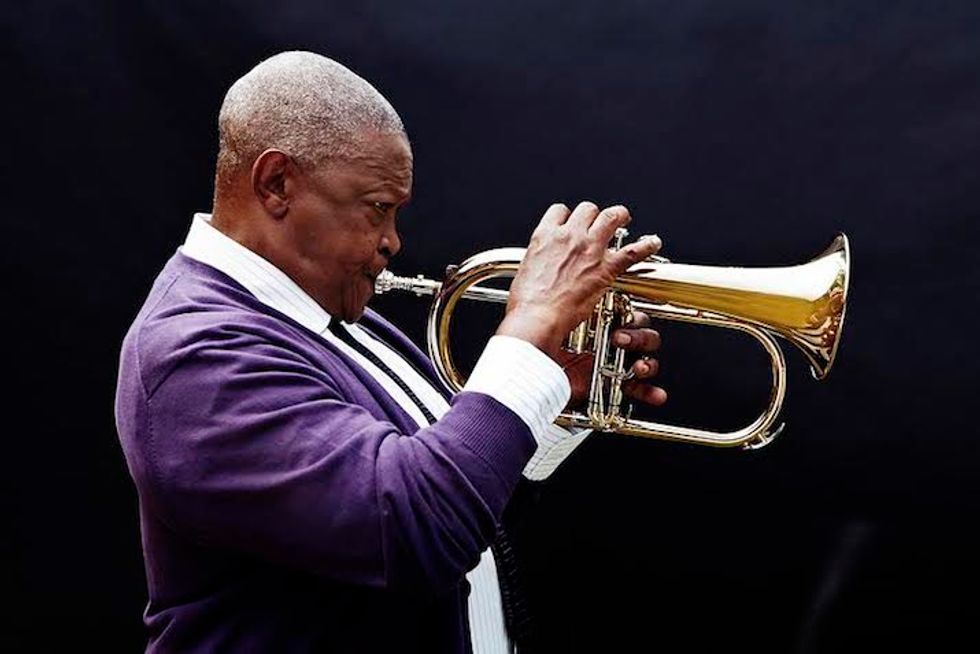 ---
Our channel partners at Revive Music have been sharing some gems from Hugh Masekela ahead of his April 4 and April 5 retrospective at Jazz at Lincoln Center in celebration of his 75th birthday. In the clip below, Hugh and "jazz master/CBS News cultural correspondent Wynton Marsalis... sit down to explore the essential and compelling role music played during the brutal era of apartheid." As Revive writes,
When asked by Marsalis if music can change the minds and hearts of people, Masekela notes with insightful wisdom that South Africa is the "only country historically where music was a major catalyst for it's freedom."  Through music, Masekela, together with Miriam Makeba, Vuyisile Mini, and countless others, responded to injustice and inequalities in a way that propelled a nation towards social change and grabbed the world's attention in unprecedented magnitude.

Masekela recalls when the late Nelson Mandela, during his time of exile in Botswana, sent Masekela a letter on his birthday. "Here is a guy who has been in jail for 20 years but he is writing to me giving me encouragement," says Masekela. He then took to the piano to write "Bring Him Back Home," the song that became the anthem for Nelson Mandala's world tour following his release from prison.
Don't miss out on Hugh Masekela's JALC shows this Friday (4/4) and Saturday (4/5) in NYC. "Each night will offer a fascinating live exploration of American jazz together with Masekela's rich heritage in Zulu folkloric styles that are masterfully infused with the mbaqanga township dance band music of his homeland."  Grab 25% off tickets with the discount code REVIVE here.