Idris Elba appeared on Tuesday's episode of The Tonight Show in support of his new movie, Star Trek Beyond. If you haven't heard, he plays a lizard-like dictator by the name of Krall.
---
The British star had a chance to show off his musical prowess in a game of "Box of Microphones" with Tonight Show host Jimmy Fallon, in which contestants are assigned random pop songs to sing using microphones with weird vocal effects.
Elba went first with Desiigner's "Panda." His chipmunk rendition of the young Bed-Stuy rapper's hit song did not disappoint. Next up was Fallon with "One Dance." And finally, a friendship bloomed as Elba and Fallon performed a touching duet of Lionel Richie and Diana Ross' "Endless Love."
Watch below.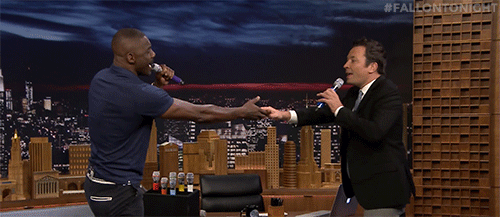 He also showed off his impressive top rock b-boy moves before slipping in a James Brown shuffle, as Fallon looked on.
One thing is for sure—Idris has loads of talent, onscreen and off.