There are bands that open up a spiritual world through their music. ÌFÉ is one example. An electro-futurist band that fuses Afro-Cuban rhythms and Jamaican dancehall with Yoruba mystical voices. With the success of their 2017 debut album "IIII+IIII" (pronounced Eji-Ogbe), ÌFÉ has reached an audience that is looking for Caribbean and contemporary sounds.

The Puerto Rican-based band just released a new EP, The Living Dead- Ashé Bogbo Egun, that aims to heal and honor those who have died during this pandemic.Otura Mun, the band leader, is an African-American producer and percussionist, who began a personal journey about a decade ago, when he landed in San Juan, and decided to move there. He learned Spanish, dug deep into his African ancestry and started to practice the Yoruba-Caribbean religion of Santería.
ÌFÉ, which means "love and expansion" in Yoruba, ties two worlds, music and religion, artistically. This new EP modernized prayer songs to hopefully make them more accessible to a younger generation. OkayAfrica spoke with Otura Mun on his latest work.
---
Tell us about how this pandemic has challenged you to create music?
It was not so challenging for me, because I've been making music, recording people and producing it for about 20 years. When the doors closed on live music and we went into a national lockdown, I was in a four-bedroom house by myself, I had a room full of musical instruments and a studio that I've been building for the last 15 years.
When the pandemic started, I had been working on a new album for about six months, but I didn't want to go into the studio because I couldn't come up with a reason why I should go in. I've been a diabetic for a long time, so it took me a little while to climb back there. I'm also not interested in being a one-man band, so the idea of me going live on Facebook is not interesting to me. I'm not interested in not playing with other people, but I am interested in playing at the highest level that I could do.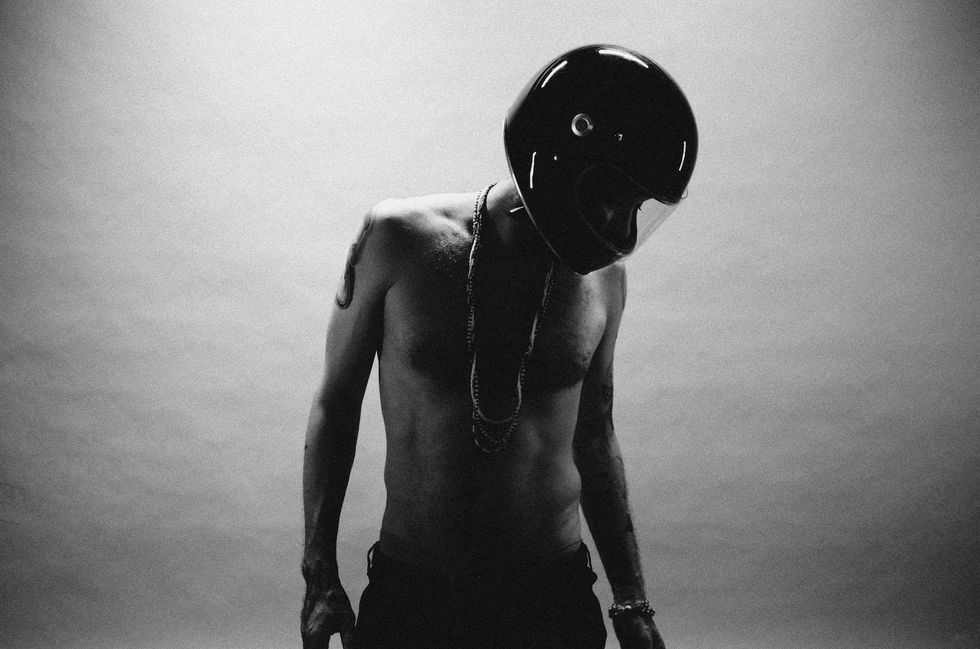 Photo: Mariela Alvarez.
How did you end up going back into the studio?

One of the things that I dug deeper was into Batá music. This is something that I have initiated before, but I knew very little about this style. I took it upon myself to start learning songs that I use in rituals in my practice. That led me back into the studio, with a different mindset and also with new abilities. I'm a way better player than I was before this whole thing happened.
When I finally decided to go back into the studio, I already had an LP, because it was like 85% percent done. That was a good position to be because it allows me to have a body of work that I could add before releasing it as opposed to having one that is sealed and delivered. I put that LP on the shelf and I tried to see what else I could do. During that time, I came up with what became the EP that I just released, which is "The Living Dead".
What brought you to this new EP?

The pandemic itself and the difficult year we've had in terms of facing mortality and people's deaths around us led me to make things that can be of service to the people. The music is also something that I use as a religious practitioner in rituals to honor my ancestors and the people that I have admired. Basically, every Saturday I would be practicing religious songs to honor our ancestors and other people as well. These ceremonies are opportunities for us to commune with the divine through possessions. In these rituals, you have a set of drummers that are playing instruments called Batá that play rhythms for specific deities.
Tell us more about the songs featured in this EP.

This EP is composed of three songs. I basically took the sequence for the time (ceremony), when you play for the dead or ancestors and took that and electrified it. I took three main songs and the three main drums patterns that call toques and stock with those. As the drums are atonal, they're like two heads of drums that will give you three sounds, but they're not sounds on a scale. I took those drums and changed their ability to a certain extent, but not necessarily their function. So now, instead of a drummer being strictly percussive, it's also melodic. And when you put those melodic instruments together, you can create harmony as well.
These songs have been recorded in Cuba, Puerto Rico and in all over the diaspora for the last hundred years. But this would be the first time where instead of taking the songs themselves and adding a keyboard or a bass and getting rid of the drums, I kept the same drums, something that I never did before. In traditional ceremonial drummers, we will hear this music and it is exactly what they play. What I'm hoping to do is take the music and open it to some new place, using sounds that might make the music accessible to kids or more like a modern generation.
How was the process of recording it?
The Living Dead is an EP recorded entirely by myself in my apartment. The only real collaborator musically is a woman named Lavoski, who was actually set to go on tour with us in May 2020, but then everything shut down. I did two live shows with Lavoski and also recorded this EP with her.
What about the African influences in this EP?
The EP The Living Dead is a traditional ceremony for Egun which in our religious practice are the spirits, including your ancestors. I'm part of an Afro-Cuban lineage that practices Yoruban diaspora religion. In West Africa, there is a cult called Egungun which is responsible for everything having to do with the dead. That cult did not survive the transatlantic slave trade in Cuba.
In Cuba, we venerate our ancestors through Egun, which are sacred objects. But there are no Egungun cults in Cuba because it was replaced by a European practice that is called Espiritismo, and the Congo ritual practice called Palo. Both of those practices came together to replace the Egungun. What I'm doing is I'm singing songs for Egungun as part of our spiritual corpus of songs that we sing in Cuba, that we called Lucumi, which is sort of a creolized version. The entire record is completely in Lucumi and Batá drumming.
ÌFÉ - Fuck The Police (Live J-Dilla Cover)youtu.be
What can you tell us about the recent online performance that featured the song "Fuck the Police"?

I'm African-American and, as Ahmaud Arbery was hunted down and killed and as George Floyd was strangled to death, I was in a place where I felt that I didn't have political peers to talk about this. I was desperate to connect and to be able to voice my opinion politically. I definitely wanted to do something because I don't believe that there will be justice for Ahmaud Arbery or for George Floyd, so I just started to write a little bit about this.
When it came time to perform, I thought to do something that addressed the moment. I just felt like going back to the rapper and producer J-Dilla's "Fuck the Police" was the right thing to do. I tried to sort of take his version and meld it with percussion and add another Dilla classic, "Rico Suave Bossa Nova." The rhythm used here as a backing track is called Oriza, popularized by Cortijo y Su Combo in their hit song by the same name. I wanted to put something out that would keep up the message of fight and work to defund, defeat and completely dismantle the policing system in the United States.
And what about the upcoming new record that you are working on?
If you look at the first album by itself, the first sign indicates open roads, the beginnings of things, masculine energy, the father of the sons. The second side, which is the story arc and the name of the second album which is 0000+0000 (Yekun Meji) indicates death, darkness, that the night is born. This upcoming record is about embracing death and everything that moves in the night. If in the first one was the day, this new album is the night. And they couldn't be understood without each other. They need to be understood as one piece.