Music
Oga Boss Illbliss Tells the Secrets Behind Lasting Success in the Nigerian Music Industry
A conversation with Nigerian rapper and businessman Illbliss about his continued success and new album 'Illygaty:7057.'
"Understanding is the last thing. Get the feel."
---
Illbliss' 2015 album Powerful won the Best Rap Album category at the 2016 Headies, Nigeria's equivalent to the Grammys, an award he wasn't able to collect as he was away in another city promoting his latest album Illygaty:7057.
The first single "Jawon Laya" features Reekado Banks and Mr Eazi, two of the leaders of the new school of Nigerian and African pop. I tell Illbliss that the mid-tempo on the single's beat is Bank's perfect range, and this has been evident since he first came out with "Chop Am" in 2014.
Always curious to know which came first, the beat or idea for the song, it was a surprise to hear that "Jawon Laya" came from a brainstorming session. Illbliss wanted to record a song with Reekado Banks and so recruited a producer called Tunex. Together they created a beat to suit Banks as well as Illbliss.
Banks was sent the beat and, soon after, he called Illbliss saying, "Boss, this is sick. Come to the studio later, I'll come and record something."
The next day, Banks shows up with his manager and an acolyte. The beat was played and different ideas were tried out after which Illbliss says Banks called him to a side and said, "this one is not going to be heavy on lyrics. You drop the lyrics one by one, because you're going to ride this beat. I know you and I know what you can do, but we're not going to waste this one" to which Illbliss agreed.
So if Mr Eazi wasn't in the original line up, how then did he get involved? "I sent it to a very good friend of mine called DJ Edu," the foremost DJ of African pop at BBC Radio One Extra who dug the song, but said it was incomplete after which he suggested to Illbliss to reach out to "a kid called Mr Eazi. You're going to kill this record."
And sure enough, Mr Eazi's closing verse adds a different colour to "Jawon Laya." Another advantage to this feature is that Mr Eazi was in early ascendancy to afrobeats stardom with a strong following in Ghana and the UK, a clever piece of A&R no doubt.
Photographer: Oluwaremilekun Haastrup (RemiGrapher). Art direction- Ugo Mordi
Of the 17 songs on Illgaty:7057 only two are free of features, a cast that includes Runtown, Mayorkun, Vector, Del B and Koker amongst others—not all heavy-hitters but each of them notable and with a strong following.
There are the club jams "Pamper You," "Jawon Laya", there's the reflective "Judge," the religiously reflective "Dear God," "Chukwu Agozigo Gi," the trap song "Ayakata" and the one about regional alliance "east to west."
In covering as many subject matters and featuring as many artists, some of whom are sure bankers, Illgaty is that big studio album that is too big to fail. If it doesn't survive on the strength of the artist alone, it'll survive on the features or their combined power.
Winning the Best Rap Album at the 2016 Headies came as a surprise says Illbliss. He hadn't even attended the awards night, as if expecting to lose, he'd committed himself to performing in another city in Enugu on the same night as the awards.
I ask if the 7057 in the title is his illuminati registration number to which he laughs and says he's been asked the same question time again. I wasn't too far off. "7057" is a registration number after all, but for the Nigerian Youth Service Corps, a compulsory year of service to the country for every university graduate. Not doing so could make one ineligible for employment in the country.
Most of Illgaty was recorded at Capital Studios in Lagos, also called Illy's Studio because that's where he records, but it actually belongs to his business partner Clarence Peters.
As well as him, Chidinma, Phyno and Mz Kiss have all recorded there. He also wants all his work to pass through the studio where the in-house engineer The Suspect works.
Clarence Peters and The Suspect are founding members of Capital Dreams, who grew up together in Ikeja, Lagos. Both made a pact to study cinematography and sound engineering, respectively, after which they would return to Nigeria and run a studio together—a bold decision to tie one's faith with another's that I personally couldn't possibly fathom.
Suspect, I tell Illbliss, is the one studio engineer who gets a shout out from rappers other than Guru, Jay Z's engineer. "We all have a clear understanding of what we're doing. In the eight years we've been together, we've never had issues," he says of himself, Peters and Suspect.
He credits Suspect for helping him build his confidence while re-evaluating what type of rapper he truly is, as opposed to the type of rapper he believes he ought to be—whether storyteller, 'matter-of-fact' type or 'all about the metaphors,' "just show dynamism and diversity in your thematic range," he mentions.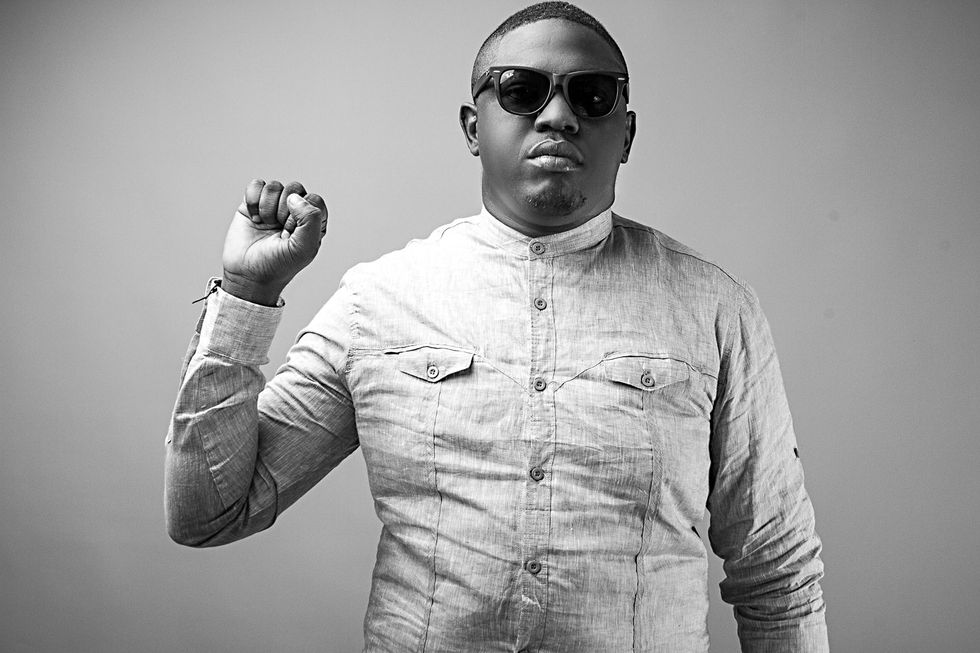 Photographer: Oluwaremilekun Haastrup (RemiGrapher). Art direction- Ugo Mordi
On Early Days with Thoroughbreds
Growing up in Kaduna in northern Nigeria, the Thoroughbreds were the most credible hip-hop group in the country other than Swat Roots, which had Terry Tha Rapman, Mode 9, OD, Ruleclean and Six Foot Plus.
"It was always like, okay, you guys are holding down the north, we are holding down Lagos and some parts of the east," says Illbliss of the Abuja-based collective. "We were kind of bound together by the kind of music that influenced us"
We in the north, especially Kaduna, and I'm sure Jos, were snobbish towards the pop factory that was Lagos when Kennis Music gave us Tony Tetuila, Eedris Abdulkareem and later 2Face. "KD and Jos built the soundscape of hip-hop in Nigeria. It's just that we don't document our history. We don't know the roots. Some people think today think hip-hop in Nigeria started with Chocolate City, when they are clear cut descendants of Swat Roots".
After Swat Roots disbanded, another group, 
KD World
, took over. They were led by
Dollar Sign
and
El Dot
and their artists included
Naydo
,
Pherowshuz
&
OD
.
KD World had a very strong presence in Abuja, Kaduna and many areas in the north, but failed to make their presence felt in Lagos where there was already an active market for concerts, endorsements, and a larger pool of artists to collaborate with.
Illbliss emphasises that "a lot of people fought to put the structure down for MI to land properly, for Ice Prince to land properly. What Swat Roots and Thoroughbreds lacked was PR. There was no belief in hip-hop at the time, it was too much of an acquired taste like decaffeinated coffee."
OD was at one point the one rapper not to fuck with (other than Mode 9) in the north, and by our own, no doubt partial estimation, the entire country, "I think OD does voiceovers for radio now. He uses his voice for other means. That's how he earned his living all this time."
I clearly remember being at Federal University of Technology in Niger State, less than an hour from Abuja, where Illbliss worked as a banker and Mode 9 had a show on Rhythm FM. As it was Mode 9, there was every trust that he would only play what was dope.
There are many reasons why OD never blew up to match his skill levels, but pledging fidelity to a 'purer' form of hip-hop didn't help. He hasn't quite reached the heights his talent promised.
Illbliss continues saying, "everybody from my generation, they're all gone. Either they are gone or they are near extinct."
By Illbliss' own admission he's not as "celebrated" as many of the MCs whose stars never fully shined and he's been criticised for recording a song with Terry G. An imprecise equivalent would be a Scarface and Young Thug collabo, an attempt at populism, reasons for which are simple and frank, "I wanted to make money and feed myself and my family".
I ask Illbliss why he thinks many rappers didn't progress beyond their initial fan base, to which he says "it's just about redefining yourself, but never losing your efforts and direct definition."
To the questions on rappers who sing, he says "you better know how to do it. Don't touch it if you can't kill it."
The current indigenous rap wave spearheaded by the likes of Phyno, an Illbliss protege, and Olamide is still growing and going strong. Just over ten years ago, rapping in any Nigerian language, including pidgin, could invite ridicule from hip-hop fans and 'true MCs' who rapped in American-accented English, a gold standard of sorts at the time.
Today, Phyno whose Igbo some will tell you is even thicker than what's commonly spoken (he's from Anambra but raised in Enugu), is one of Nigeria's most celebrated MCs. "Abulo" off his sophomore album, The Playmaker, is one the hardest Afro-trap songs I've yet heard.
Illbliss recalls telling friends early on that these indigenous rappers or "dialectical boys" have a "market that will last because their market is organic". That remains to be seen but it is true, the momentum of indigenous rap keeps increasing.
III
A lot has changed in music and video production. IllBliss agrees and adds "hip-hop is the all-powerful genre. Corporates are embracing it and rappers are on billboards."
IllBliss' business interests range from real estate to TV content production, one of which struck me as odd and unlike many deals that are made in Nigerian pop: his partnering with Clarence Peters, a famed music video and son of Sir Shina Peters, to start Capital Hill Records (home to Chidimma before she left, Fefe and Mz Kiss) and Capital Dream Pictures, the filmmaking arm.
It came as a surprise to hear that Clarence Peters, the famed music director started out as a feature length filmmaker but, short of funds, he had to "recalibrate his mind," a decision that has since paid off huge dividends as Peters is in demand as well as prolific, like Hype Williams. "There's always more artistry in his videos," he adds taking an unintended swipe at his contemporaries.
IllBliss's enterprising spirit and years as a banker have helped to sharpen his business acumen. "I put my back into banking because it taught me. It taught me a lot of lessons about businesses, how to structure a business, how to destroy your business. I was working in credit and risk management".
As well as being instructive, the experience was also peripatetic "I moved from that bank to another bank to another bank. I worked for four different banks, so within a space of three years, I moved up to assistant manager, because I was always moving. I would just work for four or five months, take all my customers with me and move to another bank."
IllBliss and Peters met after the latter had just returned from film school in Cape Town, South Africa and IllBliss, for his part, had returned to Nigeria after a three year stay in London where he tried to build a new life after the last bank he worked for folded up.
It couldn't have come at a worse time for Illbliss. He'd been given a place to do a masters at a U.K. university and was close to transferring the tuition from his savings when the bank collapsed.
So he figured he'd start over in London. The change in geography, needed as it was, physical as well as mental, brought no immediate respite, "when you get here, you find out that people can't really keep you in their houses indefinitely."
"People wanted to know when you were moving, what do you really want to do, what's your plan? My plan was just to stay in England for about two, three months, to rest a bit, then go back to Nigeria. Man, I couldn't go back again though."
By now some of his old friends who were bankers back in Nigeria had become online fraudsters. This is an option many young bright Nigerians, university educated or not, are often faced with.
It's high stakes and high risks that, when it goes wrong could lead to imprisonment, and when it goes well, near-instant riches, "I couldn't do it. I'd never done it. Didn't know where to start at that point."
He found a job at a coffee factory and another one operating, "I didn't know how to drive a forklift and I applied for that job. I learned how to drive it in the premises. It was survival. You need to survive. From there, I joined an industrial cleaning company. They were paying three pounds above what the forklifting company was paying."
There he found a network of Africans from Kenyans to Zimbabweans, each with personal and existential issues like his, and with whom he later bonded, "we became brothers." It is this period of this life he's turning into a TV series under the working title BBC.
As for his plans for the future, he might drop an EP later this year while readying the next album, songs for which have all been recorded, but that "right now I'm just trying to breathe more life into this project, push until the same point next year."
Sabo Kpade is an Associate Writer with Spread The Word. His short story Chibok was shortlisted for the London Short Story Prize 2015. His first play, Have Mercy on Liverpool Street was longlisted for the Alfred Fagon Award. He lives in London. You can reach him at sabo.kpade@gmail.com