Akwasi Frimpong is set to carry the Black Star on his back as his first race at the Winter Games approaches tomorrow (we hope he busts out this victory dance at the end of it, too).
The Ghanaian-born skeleton athlete has had his fair share of challenges and setbacks that ultimately prepared him for this historic moment. Frimpong grew up in the Netherlands and represented the country in the 100 and 200 meter track and field events, but he unfortunately missed competing at the 2012 Summer Olympics due to a tendon injury. He gave his dream of being an Olympian another go in 2014, transitioning to bobsled, but Frimpong was forced to sit out as an alternate since only one sled qualified.
He took a step back, and understandably so, to take what he calls a "sabbatical" to get back in the groove of everyday life. However, after two years of working a nine to five, he still had that itch of going for his Olympic dream. His one last shot led up to this point of becoming Ghana's first skeleton athlete to compete at the Winter Olympics.
We caught up with Frimpong to learn more about his journey, what this moment means for Africans and why we shouldn't be afraid of failing.
---
Read our conversation below.
This interview has been edited and condensed for length and clarity.
Antoinette Isama for OkayAfrica: What was it like growing up in the Netherlands as a Ghanaian?
Growing up in the Netherlands, there were a lot of Ghanaians there, so it's awesome. There are Ghanaian churches and Ghanaian food around me as well. What was really hard was that I was considered illegal in the Netherlands up until the age of 13, which was really tough because the government had made a lot of mistakes [with my citizenship process]. During those 13 years, no school would accept me when I was trying to go to high school. Because of my status, no doctor wanted to help me when I got injured and I broke my ankle as a sprinter due to no insurance.
A lot of people don't understand what it means to be illegal unless you're in that position. For those people who do have legal status, they don't really know what it feels like because people treat you like a criminal—people treat you like a bad person. And that's not true, obviously. My parents had to work two, three jobs to pay different lawyers to help us out. It was really hard. I still have a little bit of, I'll say, internal scars of how I was treated by the Dutch government. They took pretty much 13 years of my childhood away from me.
But I kept my head above water and kept working really hard. Thank God I received a scholarship in the States so I was able to show my God-given talent in track and field.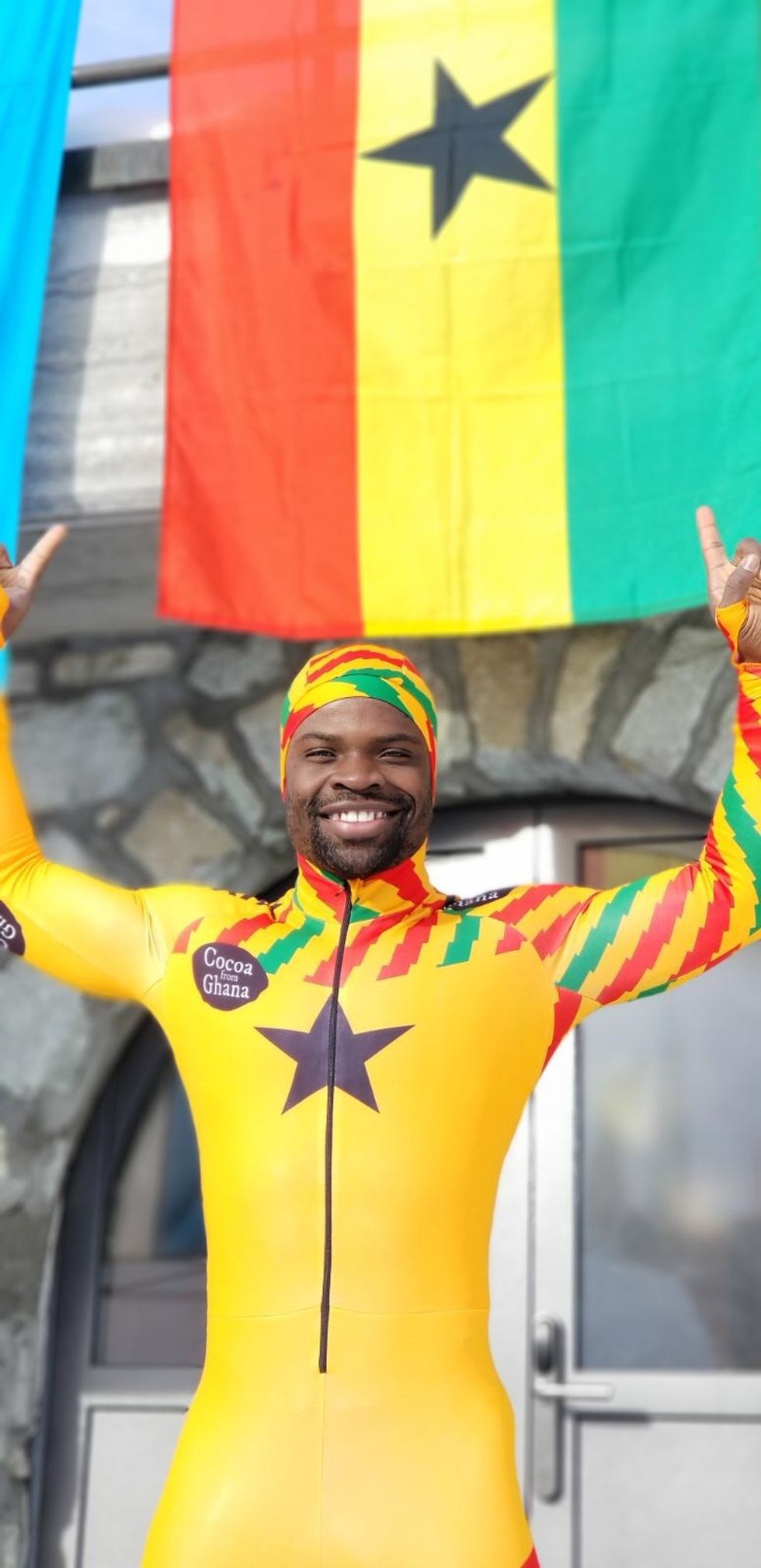 Photo courtesy of Akwasi Frimpong.
One thing that I've noticed with the many Africans athletes who are going to be participating in the Winter Games is that a lot of you all have track backgrounds. Is there something similar between the two sports like training? Why do you think there's this transition from track to skeleton and bobsled?
The transition is very obvious when it comes to sprinting. There are other people that transitioned through different sports, but mainly, a lot of the really good ones come from a track and field background. The reason why is because the sled is pretty heavy. You have to be able to push it but you still have to be able to use a sprinting technique to be able to push the sled really fast.
Because once all athletes are equal in sliding and steering the sled, either in bobsled or skeleton, then it comes to who can push the fastest. But, just like the Nigerian Bobsled Team and myself, we're learning how to slide because we're still new at it.
At the end of the day, it's all about technique. Once you get a technique under control, you can do it. It doesn't matter if you're doing skeleton or bobsled, but it's easier to transition from track and field because you already have the speed and the technique.
What drew you to the sport aside from the easy transition?
In 2012 I was the third fastest guy in the Netherlands, so I was part of the pre-Olympic team but I had a tendon injury, so I was not able to make the final cut of the team. Shortly after, I was grabbed by the former Dutch bobsled coach, and she said, "Hey, your dream is to go to the Olympics, there's another road. There's another way for you to use your speed. We would love to join the Dutch team."
For the first six months or so, I was like, "Ah, I don't know if I wanna do this. It's not really what I want. It's not my goal. My goal is to be a sprinter, an Olympian on the sprint team." But I thought about it for a little bit. Then, I did a tryout and I made the Dutch team. That's where it all started. So yeah, black man on ice and snow, it's not really obvious. It doesn't happen that often. But, here we are, showing that it is actually possible.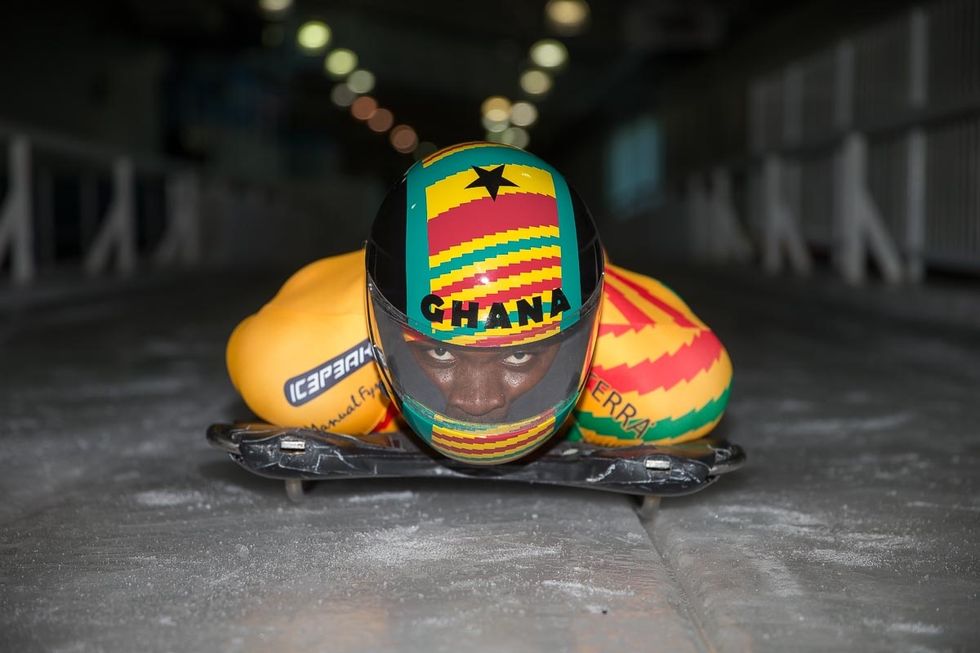 Photo courtesy of Akwasi Frimpong.
From what I understand with skeleton as a sport, you're on the sled by yourself. You're not really pushing the sleigh with people. So, what's it been like having to do that on your own?
After I missed the Sochi Olympics, my bobsled coach who was the same one that recruited me for bobsledding actually stayed in touch with me and she said, "I think skeleton would be great fit for you because it's not a team sport. And now you can really rely on your own strength. You basically got your own life in control going about 80 to 90 miles per hour with your head first."
I didn't even know if that's something I wanted do again. But, I gave it a shot. I went again 2015, to a tryout, or a skeleton experience thing. That's where I figured out I really loved it. I really liked it because now, with bobsled as a brakeman, I couldn't see. Because if you're a brakeman, you're behind and your head is tucked underneath so you don't see. Only the driver can see. But with skeleton, I could see. Even though it was very, very, very scary, when you're done, you just want to go back on top and do it again and make less mistakes. The way I gained interest was somebody told me I could do it. I tried it out. I liked it. I love the adrenaline rush and the fact that I had my own life in control.
How are you feeling leading up to the Olympics ? How are you mentally preparing yourself for your races?
I [still] feel a sense of shock that I made it and I qualified. I'm just staying humble and working hard because my main goal is 2022—which is the Winter Olympics in Beijing. I wanted to go to the 2022 [games] because I wanted it to be something realistic. I was going make it this time, for the third time, so I gave myself enough years to learn the sport. Because it takes about four to six years to actually learn how to steer the sled.
When I came in, I never thought about 2018. I was always thinking 2022 is when I want to win the first Winter Olympic medal for Africa or the first gold medal for Ghana in Winter Olympics. That would always be my goal and my dream and I'm still working towards that.nSo, 2018 is for the experience. It's to go out there and break barriers, write history for my country, Ghana, and gain experience for 2022.
How I prepare myself is to keep training; keep doing what I would have done normally. The only difference is that I'm pushing it to a certain limit where I'm not going to hurt myself, that I stay injury-free, that I make sure that I get a lot of recovery than normal after training. I listen to a lot of motivational talks and songs and just keep my head clear because it's a mental thing. When you get to the Olympic level of athleticism, we all learn how to jump, we all learn how to sprint, we all learn how to slide, but the difference between us as athletes is the mental game.
So, I'm trying to stay positive, listen to motivational speeches, pray to God, and just chill.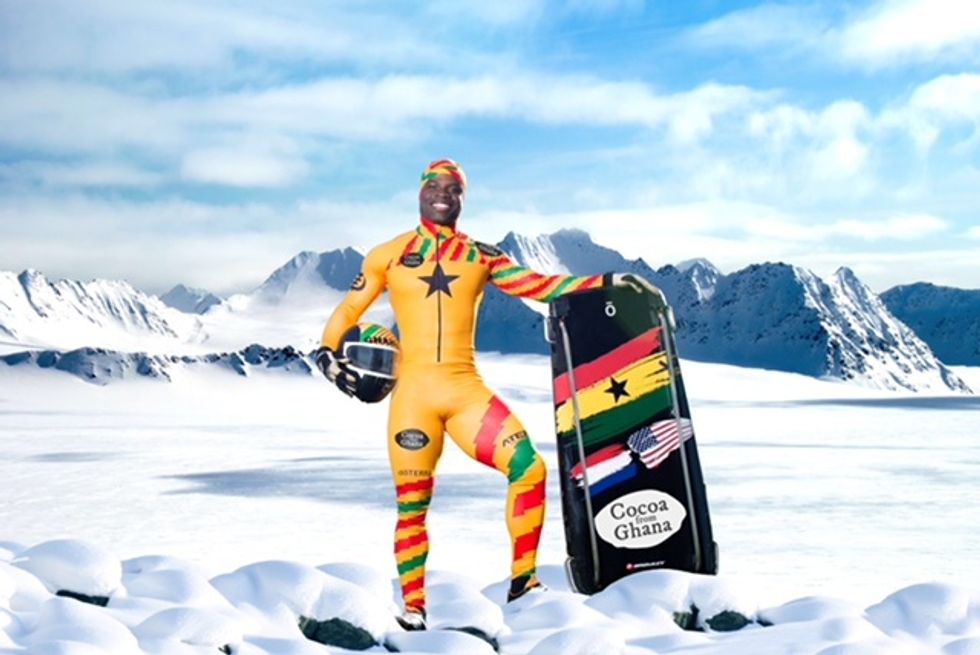 Photo courtesy of Akwasi Frimpong.
To you, what does it mean to be the first Ghanaian representing your country at the Winter Games?
It's such a blessing. I think that if I became a Summer Olympian for the Netherlands in track and field or a Winter Olympian in bobsledding, that would have been a personal achievement of becoming an Olympian, which is cool for myself, right? But, disappointments lead us where we need to be at. God puts the heaviest things on the shoulders of people that can handle it. And God's time is the best time. I truly believe that God made me go through all these things to get me where I am today. Because now I'm not only going to fulfill my personal dream of becoming an Olympian, but now I'm gonna impact millions of people out there, especially Africans, to dare to dream and to go after their wildest dreams and come out of their comfort zone. Knowing that we Africans have what it takes to be one of the best in the world and how there are so many misconceptions about Africa, we're closing that gap and showing that there is a lot of great success from Africa.
What's one takeaway you want those who are getting to know your story to have?
One of the things that I always say is that if failure was the only last step, there wouldn't be something called success. There's been so many people in this world who have achieved the greatest things, but they all had to fail. They all had to through obstacles. My dream took 15 years. What if I gave up? I wouldn't be able to inspire millions of people. And even if it doesn't work out all the time, at least if you push yourself and try the best that you can, so you don't say, "what if."
I just want to tell the people out there that failure is part of our journey. It's okay to fail—but as long as you get up, keep your head up, and just keep moving forward, that it's unbelievable what you can achieve if you just keep moving forward.