SOUTH AFRICA—"Back To The Beach," the collaboration between two Durban singers Kyle Deutsch and Shekhinah and the producer Sketchy Bongo, was a serious summer hit in 2015. 
---
It was a perfect summer song, about taking a break from the hustle and bustle of city life, and taking to the beach. It merged soul, pop, R&B and electronic music without even trying. The song won the artists a Best Pop/Alternative award at the 2016 MTV Africa Music Awards. 
When we meet, the 23-year-old Shekhinah is on her phone and sipping a cup of tea in her apartment in Bryanston, in the north side of Johannesburg, during a studio break. She tells me how she feels her breakout single came too soon.
"I thought maybe this year, when I finish my degree I will get that one song on radio that will be great," says the AFDA arts and live performance graduate, who goes on to explain how her life changed in college after the song became big. "But it happened before I was ready. That's why everything has been so delayed," she continues.
Shekhinah and her band listen to a playback of her take. Photo by Sabelo Mkhabela
Shekhinah is currently holed up in her apartment, where her studio is, working on her debut album. She's currently six songs deep and needs to submit the master to SONY, the label which is releasing it, soon.
"We don't have a lot of time," she says, taking a sip of tea as she enjoys the afternoon sun rays which proliferate through her living room window. "There are a lot of breaks in between, as we have to sometimes stop to work and make money. Just like this weekend, starting from Friday, we have gigs, so we can't really do any studio. I'm also going to Kenya for a week, so I just try to lay down as much vocals as I can, so the boys can do work without me."
Shekhinah takes a tea break. Photo by Sabelo Mkhabela
Even though she has exactly a month to record six more songs, and a hectic schedule, she is determined to not have any delays, because she wants to strike while the iron's still hot. "If I push it back, the demand will become irrelevant," she notes.
Even though she has no album out, Shekhinah's been able to headline shows all over the country. "Studying performance allowed me to be able to structure my shows cleverly around 'Back To The Beach' when I still didn't have many songs out," she says.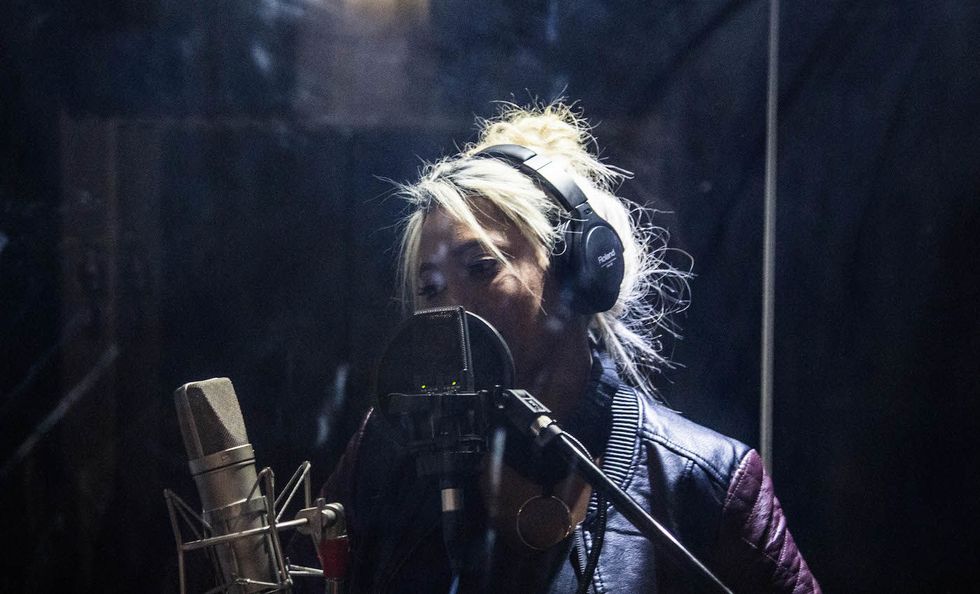 Angelique Anthony records backing vocals. Photo by Sabelo Mkhabela
With serious hits like "Let You Know," which she worked on with Sketchy Bongo, and "On It," on which she's featured by DJ Sliqe, the singer has successfully eluded the dreaded one-hit wonder label. Her versatility, alongside her natural voice, is one of her strongest traits. While "Back To The Beach" was more laid back, "Let You Know" is a festival-ready EDM banger. On "On It" she sings over a cloud trap instrumental with sinewy synth and pad squelches. "Your Eyes," her collaboration with Black Coffee, sees her give your favorite house vocalist a run for their money.
Shekhinah and Michale Morare cheerAngelique on. Photo by Sabelo MKhabela
Asked if the success of "Back To The Beach" initially exerted pressure on her, her answer is a resounding "yes."  "We had pressure to deliver—me, Sketchy and Kyle," she says, "when that was just an organic collaboration. Then we had to go back into studio and think about the white kids, black kids, coloured kids, Indian kids... that were effected by the song, and try and include them in the next single, which became difficult, but not so difficult because we had to do what we felt."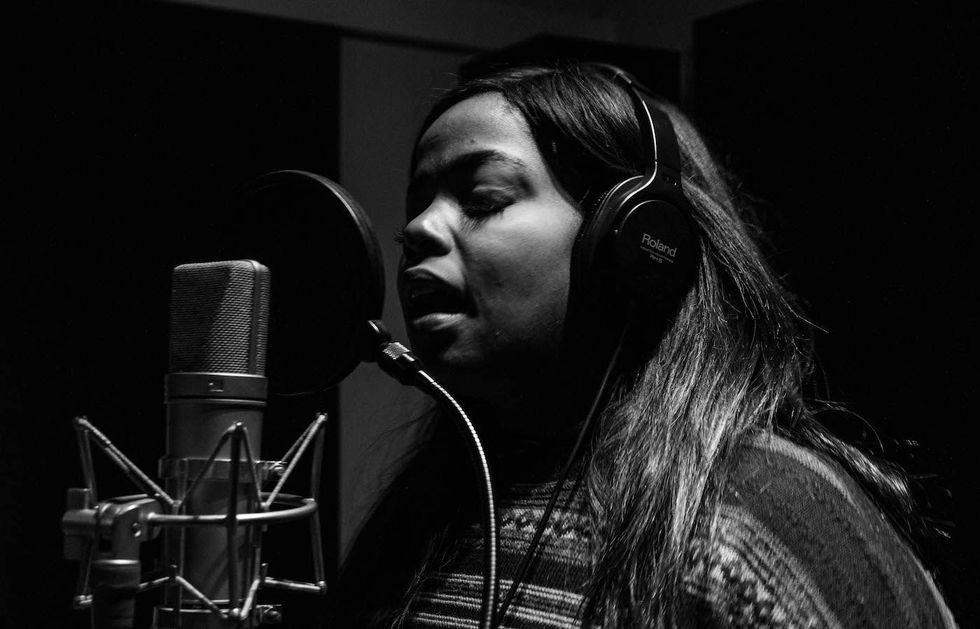 Shekhinah in the booth. Photo by Sabelo Mkhabela
If what the songs she's working on with her band right now are anything to go by, those kids are in for a treat when her album drops. I watch her producer, Theo Seretse, go through vocals Shekhinah just recorded. "I need to add more vocals," she says, getting closer to the microphone, which is next to the window. "We are just stacking up these vocals, it's more work for you when you mix," says Theo to Luthando Phihlela, the sound engineer. "It's fine," Luthando chuckles. They are all huddled around Luthando's computer where all the work is taking place.  
Shekhinah and Mfundo Mbuli share a moment of laughter. Photo by Sabelo Mkhabela
Mfundo Mbuli, who plays the piano, but doesn't have much to do in this session, is going through his Instagram feed, and is discussing with his mates why blocking your partner on Instagram is a good idea.
"They are wanted by everyone," Shekhinah says about her band, "Their phones are being blown up by your favorite celebrities." The singer met the band while she was still studying at AFDA. The guys were studying at the SABC College. "It's been a great synergy ever since. It's been interesting watching it grow from it just being a school thing to being a real thing."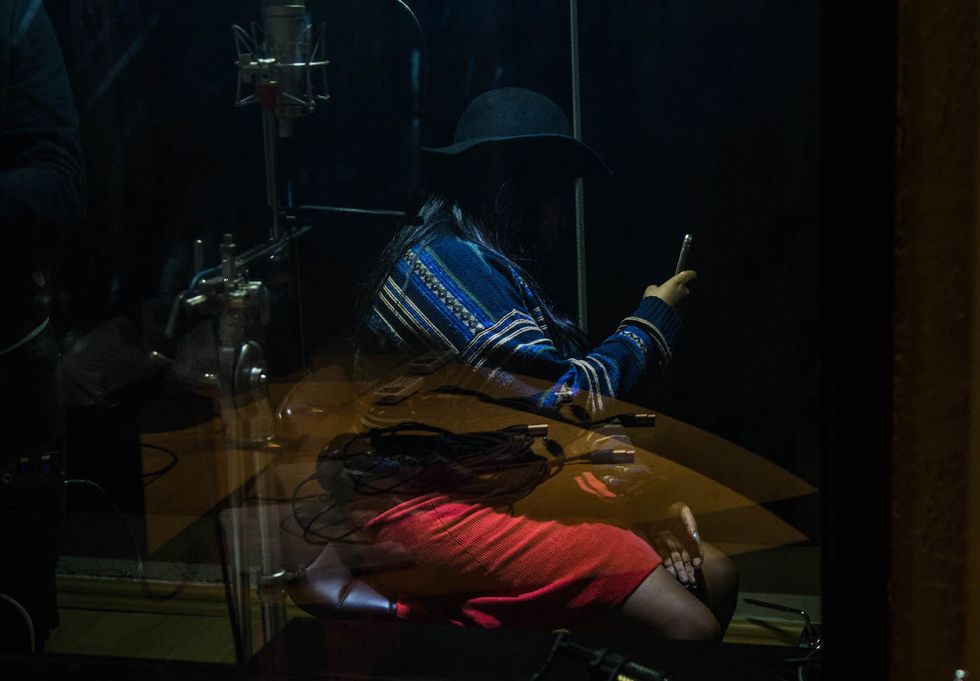 Shekhinah takes a selfie in the booth. Photo by Sabelo Mkhabela
Apart from her band, Shekhinah is working with different producers for her upcoming album. She has enlisted the likes of Sketchy Bongo, Main Major (Tinashe, Rouge, Da L.E.S), DJ Maphorisa (Kwesta "Ngud'," Drake "One Dance"), Lunatik (K.O. "CaraCara"), among others. She's also producing one song, which she will be recording in a separate studio this evening. Even though she's keeping collaborations to a minimum, she has interesting features such as singers Amanda Black and Mariechan from the group Jamali, and a fellow Durbanite, the rapper Nasty C. "I've tried to avoid collaborations on this album because that's what I'm known for," she says.
The full band: Michael Morare (lead), Mfundo Mbuli (piano), Shekhinah Donnell, Angelique Anthony (backing vocals), Luthando Phihlela (sound engineer), and Theo Seretse (producer). Photo by Sabelo Mkhabela
"It's very special," she says when asked about the name of the album, which she can't share yet. "I'm hoping it can be an R&B/pop album from Africa that actually stands out everywhere. I'm just trying to do everything as systematically as I can. If I'm not recording at Sketchy's then it's here, and I want to do everything at home so that I'm most comfortable."
But even when she's working away from home, Shekhinah is still comfortable, as she is always in the company of her bandmates, who she has enviable chemistry with. There are a lot of chuckles and laughter in-between takes and playbacks. A serious conversation can ensue in-between the jokes, too.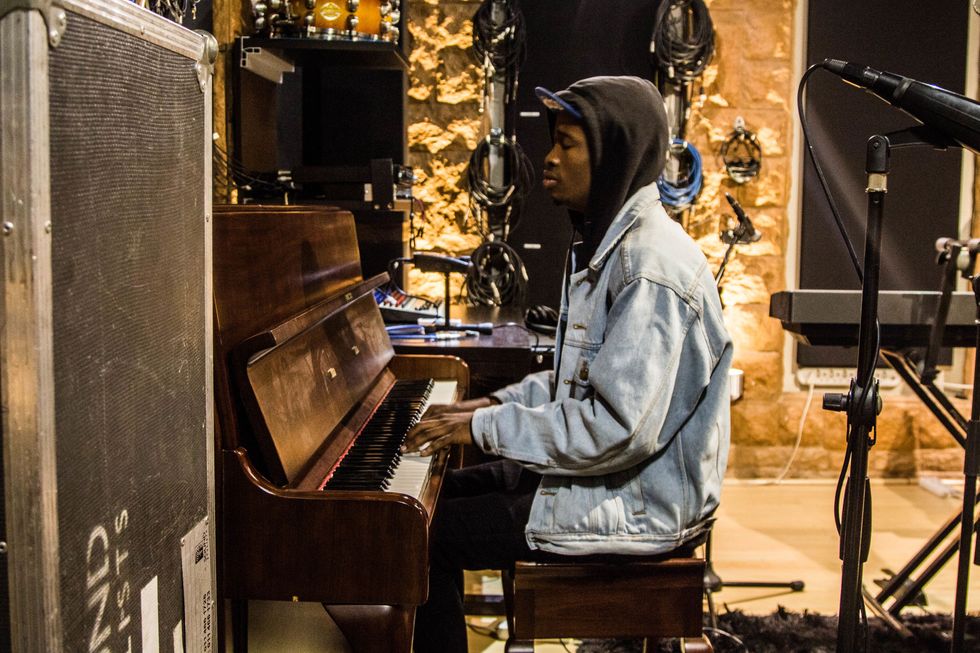 Mfundo Mbuli messing around on the piano. Photo by Sabelo Mkhabela
The crew's second studio session for the day, which takes place at a studio in Randburg, is for the only song that was recorded with full live instrumentation. There are also two backing vocalists—Angelique Anthony and pianist Mfundo Mbuli. Reno Zeelie, who runs the studio which doubles as a rehearsal space for bands, is the recording engineer for the session.  
And the studio selfie. Photo by Sabelo Mkhabela
Shekhinah and the rest of the band are giving tips and cheering Angelique on as she lays down her backing vocals. Michael Morare, who plays the lead guitar, is improvising on a ukulele, on the mixing desk side of the studio as the vocals are being recorded. It's all an easy and fun process. Shekhinah high-fives Angelique upon leaving the recording booth.
The song has a jazz influence, but is still not far off from the pop and R&B sound Shekhinah is gunning for. She tells me earlier: "I managed to incorporate the working sound, the one that's familiar to the people that know me. It exists, and the first single is definitely like that. But I kind of, like, want to cater for everyone. So if you like one song on the album, I'm happy with that. I'm just hoping that there's a song for every emotion."
With the two songs she's working on today, you are guaranteed to have at least one favorite.
Listen to some of Shekhinah's hits below, and follow her on Twitter, Facebook and Instagram.