Captain_FS wants to make a meaningful contribution to hip-hop with his debut album, The Ape Tape. The project is a culmination of years of building that required patience and painstaking work, resulting in a body of work that's characteristic of most complexities of the human spirit—a composite of self-discovery, companionship, legacy, grief, overcoming, triumph and tenacity.
While he is by no means a newcomer (with more than 10 years in the game), The Ape Tape is the Free State-born and Pretoria-based emcee's first solo album. It is much needed and anticipated proof that he can step out on his own, since he was under the tutelage of one of the greatest and most celebrated South African emcees, the late PRO(Kid), for most of his career. He is also mostly known for being part of two hip-hop entities, The Skool of Hip Hop collective and the group The Assembly, which he has done extensive work with.
---
For Captain_FS, representing who he is, where he comes from and what makes him, is a self-imposed obligation that is never lost on him. His beginnings date back to the formation of The Skool of Hip Hop in 2005, with founding members Lebo Mochudi and Sega T, where they roped in fellow members Melly Mel, Marcus, Kwon, Leleme and Slim Zulu. The collective began as an earnest attempt to have a collective of the illest emcees represent the Free State. The Assembly would be born from this collective, consisting of him, Melly Mel and Lebo Mochudi.
Captain_FS's placing in South African hip-hop is among a bevy of immensely skilled lyricists such as N'Veigh, JimmyWiz, Ginger Trill, PDotO, Blaklez and a host of others in that crop. He, however, sets himself apart by approaching his music with the precision of a marksman and the fluidity of a great prose writer. He weaves and constructs stories of espousing what he perceives to be real hip-hop. He is as brash as he is humble, as confident as he is vulnerable, but more than anything, one gets a sense of a man who is profoundly proud of who he is and what he stands for.
OkayAfrica caught up with Captain_FS and delved deep into the journey he took in making The Ape Tape.
This interview has been edited for lenght and clarity.
When was The Ape Tape conceived?
Initially, The Ape Tape was not named that. It was named Free State of Rhyme. It was conceived right after I signed to Money First Entertainment, PRO's label, in 2011/2012. After I released a song called "Go Away", my dude PRO (may he rest in peace) heard it on the radio and he managed to track my number down. I don't know how he did it. He called me early this one morning, asking me to meet up with him at the club Moloko in Pretoria later on that night. We had the meeting and that's when I was knighted and became part of MFE. We literally started work on the album after that. Red Button was already working on his debut album Finally (2011), and the first ever feature verse I did for the label was for that album, on the remix of a song called "Shikisha," which also featured sFs, Ntukza, PRO and Brickz. The conversation after that was done became about my own project and that's when we started with it, in late 2012.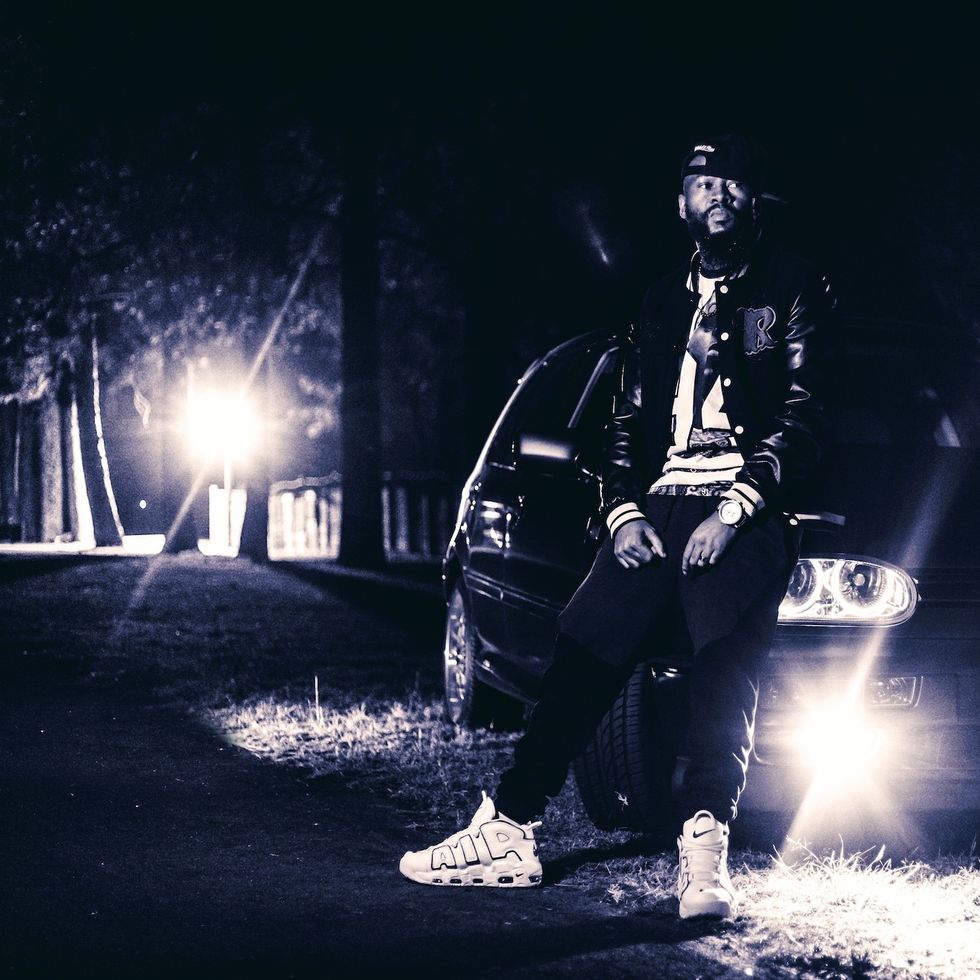 Captain_FS's recently released debut album The Ape Tape started taking shape circa 2011/2012.Image supplied.
Did you keep all of the material you started with when the album was still conceptualized as Free State of Rhyme?
No. There's a bunch of other songs that were scrapped. I felt that I had to update the project, sonically because it was sounding dated. But I kept the heart of it, man, because Linda (PRO)'s hand was all over it. On every single track, he was integral in helping select beats and was also influential in terms of the direction the music took, you know? He told me what he expected of me and that helped shape the project. He was very hands-on but also gave us enough room to find our own way. This is why it was important for me to keep a bulk of the stuff that I did with him involved, which is a large portion of what you ended up hearing on The Ape Tape.
By your own declaration, your solo album has been highly anticipated and despite the length of time it took for it to be released, you have been noticeably confident that it would have a positive reception. To what would you credit the cultish following you seemingly have?
(Sighs) I don't know, man. I guess people still love to hear words put together beautifully. People still love the respect one commands with their ability to be an alchemist with words. It's not for everybody. But I know enough to know that I'm fairly decent with the craft (laughs), you know? I got signed by one of the greatest pens and minds of our generation. That on its own is nothing to sneeze at. And being around him, I got to see just how hard people will fight for you if they believe in you. They believe in you so much because you speak to them and for them. In a language that they need to hear and can digest well. You speak life to them. Being around Linda, that was the staple. He is probably one of the best to have ever done that. And to be around that kind of energy, bro, even if it's just a smidge that rubs off on you, I've noticed that, in the way people approach me, it's almost like they understand that this guy was around a celestial being. He's tuned into that realm. You could hear it on songs I was on with him ("Aces", "Oh Yeah" etc.) that this is a strong crop of emcees. I had to earn that. One just doesn't rap next to Linda Mkhize if they're not of a certain cloth, you know what I mean? And people know that. I mean, who am I? I'm just a dude from the Free State, how the hell did I get next to him? There's got to be something that I did that was right, in my journey here. So, those that know respect that.
Throughout your music, you have alluded a lot to the motif of the ape, especially the gorilla. The album was also re-titled The Ape Tape and the cover is an interesting illustration that centres the said animal. Why is this symbolism meaningful to you?
The ape is my clan totem. We are the Bakhatla tribe. So that is really who I am. Our clan praise goes (in part): Ke Mokhatla, moana-nong! Motho oa Mankoane, Motho oa ma-Molise oa Setabele, Ke motho oa ma-Nalane oa Khabo, moana nonyana e holimo, nkholi-nkholi, Ha tuka khabo, Ha tuka lelakabe, Ha tuka khabo e khubelu. This definitely educated the direction which the project took and spoke to who I wanted to present in my debut. I wanted it to allow people in and to give them more insight on my person. The album cover is symbolic of my tribe's past and present. The present in this instance is represented by me, the voice, with the mic in my hand. The past, which is my ancestors, is represented by the skull shining light on those who are torchbearers today. It is also interwoven with the art-piece, Affe mit Schädel (Ape with Skull) by sculptor Hugo Rheinhold, in which he depicts a scene from the Shakespearean tragedy, Hamlet, when the Prince of Denmark mourns Yorick. In the sculpture, the ape sits atop a pile of books, one of which reads "Darwin" on its spine. The ape holds the skull in its hand in a contemplative manner—this is me on the album cover holding my lineage proud.
The producer mananz was an integral cog in the The Ape Tape. He is the producer with the most placements on the album. With your access to a wide array of producers, why did you choose to work with the producers you worked with?
mananz is lil' bro. I don't think there is a producer who can cater to Cap like he does. That's my mans. He has the cheat code. He's been with us since The Skool of Hip Hop. His production is versatile and more than anything, he understands me. Rarely have I charged him with a task and he didn't deliver. He gets me every single time and I don't remember ever turning down a beat from him. That's how much he gets me. The risk is there that if you work with one producer, the music might be monotonous but that's not the case with mananz. He is very diverse. This is why he was the sound architect of The Ape Tape. Bona V is another talented bro of mine. I have worked with him on numerous occasions and he is one of my favorite producers. His work-ethic is unreal. I can't sing enough praises about Bona V. He also gets me so I value that. He fit right in into the tapestry of the album with that "Duck Sauce" joint.
But yeah, man, I am very fortunate that I have these guys a phone call away at any moment and they are always willing to help with the canvas for me to create my work on. Same with Thapelo Mashiane whom I made the acquaintance of quite recently. It is not lost on me on how fortunate I am that he walked into my life when he did because he ended up producing one of the most important songs on the album, "The Unlearning." It's a song that has helped me deal with my own baggage and I have had many people hit me up about it, who tell me that it really resonates with them, and they thank me for it because it has helped them come to terms with their own losses. It's a heavy record. That explains why I can't listen to that song, man. I don't even recall recording it. It's just a blur. But it's a very important song nonetheless. I'm immensely thankful to Thaps. He also co-produced the critically acclaimed "Darwin'' with my wife, Phogane. The other producer on there is my man C-Bleech. That's my Zim connec'. I was out in Zimbabwe for a holiday one time, and I managed to link up with him. We knocked out the joint that would eventually become "Gorilla War, Fair". All in all, I have been fortunate to work with this incredible group of talented producers.