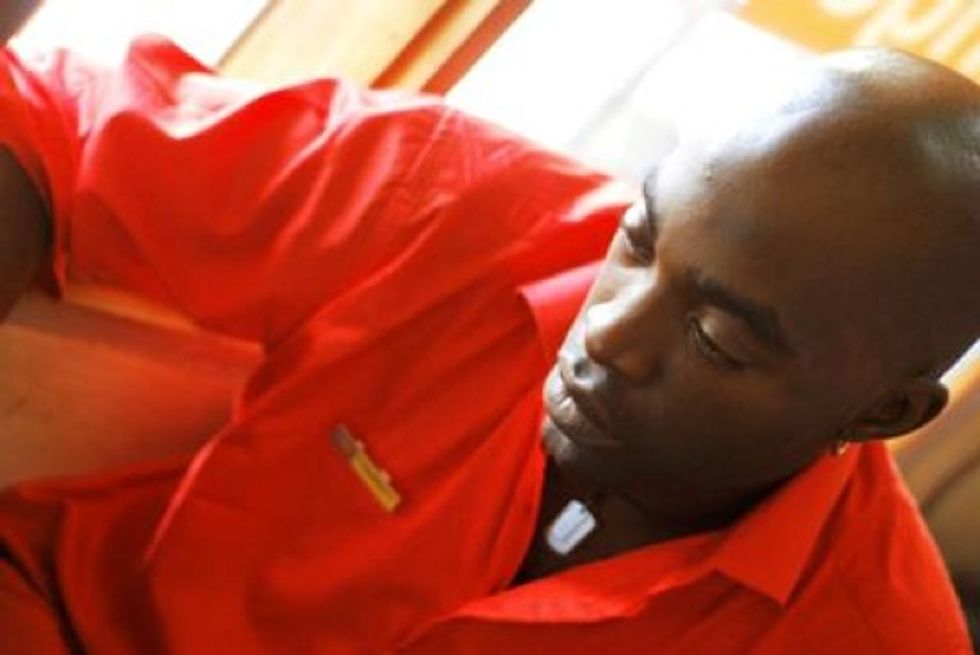 ---
Junior Chavez (above), a Cameroonian musician who spent much of his life in the United States, is now back in Cameroon making a big impact on the fledgling music scene. Recognizing that there was an overwhelming amount of talent in the youth but few professional-level ways of getting it out there, Chavez opened up BURN'M Records and got to work. Now he's helping a new generation of artists come up and make an impact, and he's working hard to get the music he loves out to the wider world. Okayafrica contributor Dan Cwirka [of Humanitarian Notes] interviewed the Cameroonian rapper.
You were born in Cameroon, grew up in the US, and you're now back in Cameroon. How long have you been back? What was the transition like from one music scene to another?
This is the beginning of my fifth year in Cameroon. The transition was huge. It was different first of all because the music scene in Cameroon is practically nonexistent. There is no governing body and no structure or route for an artist/musician to follow in order to make a living from his art. Artists in general are pretty low on the totem pole as far as support is concerned. What I found in Cameroon is that there are a lot of talented young people with no direction and not much union. Cameroonian musicians are now starting to understand the importance of teamwork and research in this business.
Was there a particular moment of inspiration when you decided to start working with young artists?
Can't say I remember exactly but, I came to Cameroon because my father was not feeling well and I had not visited Cameroon in well over 10 years. When I arrived I realized something was going on in Cameroon and in Africa in general. There was a certain buzz amongst the young musicians. The Nigerians began to explode onto the hip hop scene. I started to imagine in what context I could realistically live in Cameroon. I started to tour the cabarets to see how I could infiltrate the music scene maybe play the sax in my spare time and in looking how to infiltrate myself, I found that there was a big talent pool that was very passionate about developing their art. It was maybe at this moment that I realized that I could be helpful in guiding these budding artists in a direction that would help them move forward in their careers and move our country in general.
It must be exciting to be in Cameroon while the hip-hop scene is young and coming into its own. What does Cameroonian hip-hop bring to the table? Do you foresee a particularly Cameroonian style?
It is so exciting because it's rare in life to not only have the opportunity to be present at the birth of this type of industry, but also play a part in its development. Cameroon is made up of over 250 dialects and we are rich in culture. We have rhythms, instruments and compositions unique to our country. Due to no real distribution network, we have sounds that have rarely been heard outside of our borders. The fusion of our traditional sounds with modern hip hop and electric dance music brings out a mix of grooves and percussion the world has never heard. Cameroonians are exceptional entertainers, they are naturals on stage. We just need to refine our art, both on and off stage.
[embed width="600"][/embed]
Sine "Koh Koh"
How involved are you in finding which artists you bring in to record and promote? How involved are you in the recording itself? Do you get to flex your musical muscles much anymore?
I am very involved in the process, I scout a lot. I have an insight into what the markets abroad are looking for and that's important. My input keeps us unique in that we don't want to sound like or copy what's being done already, while also understanding what makes the public "jump" abroad, but I believe each post in our structure must be occupied by someone who is passionate about what they're doing. That's what makes our team efficient; everyone wants to be the best in the world at what he or she does. We have our promoters, our engineers, our cameramen, our publicists and our artists.
My main function though involves helping (financially) to refine each artist's craft, whether it is vocal direction or extra studio time and then finding them investors. I like working in the NGO circles because I grew up in them and the NGOs are beginning to understand that they must adapt new ways of delivering their messages to their target audiences and artists are a big part of that.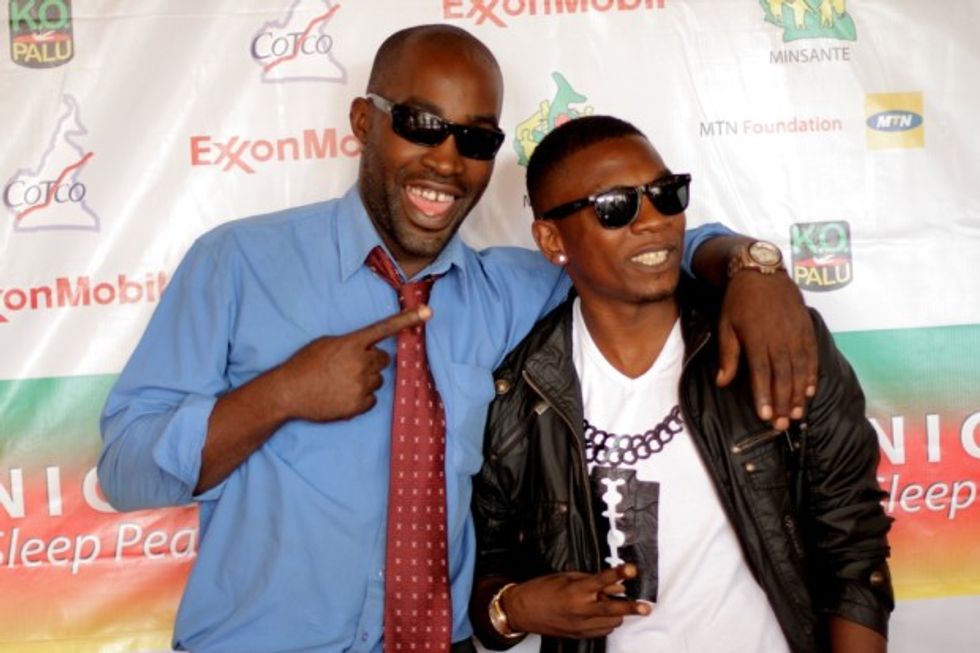 It's is also good for the artist because he will be positively looked on by his public because he takes care of his social responsibility. Our work with Malaria No More was good promotion for both the artist and the charity. I compose music myself but, I keep it for my guys at BURN'M, I have an alias for my beats and creations as not to draw attention away from my task which is getting my guys out there. I flex my musical muscles from time to time but my value is in the direction of each artist as well as increasing their online presence and hopefully helping them become better people in the process.
DJ Chuucs "Take a Leaf Like a Leaf"
Sine (pronounced Syd-ney) is the first artist you've produced, and based on what I've heard, the guy can sing. So you find a great singer and you set him up with some professional level production, and now he has his debut on the way... what comes next for him?
Sine is the ultimate pro. He is passionate about singing and loves to perform. We were lucky to find each other. He was actually on his way out of the country to follow his dream elsewhere, because the government in Cameroon, until this point, has done nothing for its young artists. So together we decided we would change that.
Sine is releasing his album First Born in early 2012. He has one of the most anticipated albums in Cameroon, since he was the 2008 winner of AfricaStar. Sine is preparing for his promo tour. He is currently in Morocco finishing up a two month contract with Le Blok a hotspot in Marrakech. We are also building his stage show, so we are ready when he gets called for concerts and events of that nature. One thing I tell Sine (and all my artists) is for them to imagine life after the mic. I ask them to look for successors, people they can help lift up this will help sustain our industry. Having said that, Sine is my partner in Buy Cameroon Music - a site aimed at selling music from home to our diaspora throughout the world. I give shares to whoever is signed with me. I want them to be able to walk away from the microphone on their own terms.
Bisha – Fik Fok Anthem (feat. Jovi & DJ Chuucs)
What's in the works from your studio? What are you excited about and what can we look forward to?
I am working with two new upcoming artists. The first is DJ Chuucs. He is a unique talent in that he is a sound engineer. He was a dancehall artist who wanted to take it to the next level. He studied for 6 years in India and to earn money while in school, he doubled as a DJ. So in one guy you have a sound engineer who understands what a crowd wants to hear. He can compose on the spot, in the club. He can build beats with the crowd while on stage. He specializes in dancehall electric hip-hop beats, mixed with the original percussion from Cameroon, makes for some crazy dance music.
Our secret weapon at BURN'M is Bisha. He is Cameroonian rapper who went to China to become a teacher of English because he felt music in Cameroon was a lost cause. Long story short, in China, he was not making enough teaching and so he returned to the stage and three years later had built quite the following. He saw some of what we were doing back home online and decided to move back home to become a "pioneer in the hip-hop game" as he put it. He's a lyrical genius, fluent in English, French and Chinese and is a beatmaker's best friend, because not only can he rap on anything, he is very talented when it comes to choruses for different types of songs.
You can check out more of what's happening in Cameroon by checking out STM Studio's youtube page.