Michaela Coel knows how to tell her story her way. With I May Destroy You, her latest series, she doubles down on that creative impulse, validating not only her story, but those of others to come. Bravely using her real-life experience of sexual assault at a London club as a springboard, Coel, already beloved for Chewing Gum, created a game-changing series challenging our society to adapt to the 21st century realities of sexual assault amid a hookup and drug culture. And she is being widely recognized and celebrated for it on both sides of the pond.
---
Typically when shows center issues like sexual assault, Black people are rarely even in the picture, let alone driving the storyline. Not in the U.S. and certainly not in the UK. Yet Coel's I May Destroy You aired in the UK in June on BBC One and in the US throughout the summer on HBO with Coel herself starring, along with two Black co-stars. That we know only happens as a result of Coel having complete creative control amplified by also directing and producing the series. It's a control she received accidentally when she famously turned down Netflix for not giving her a small percentage of her own copyright. So I May Destroy You is her story and her vision. There are no intermediaries. And as more people begin to discover I May Destroy You through binging, appreciation for Coel's influence and impact will only grow.
In the series, Arabella is a writer who has cultivated a strong social following and is now making a leap to published author. When we first meet Arabella, she is tagging along with a friend and partying. The next day she gets these disturbing images in her head and, over time, realizes she was raped. As she is processing what happened and, more importantly, dealing with it, legally and personally, she leans on her longtime friends Terry and Kwame. But the beauty of I May Destroy You is that the trauma unfolds as Arabella continues to live her life. Because, unfortunately, life doesn't just standstill because something traumatic happened to you.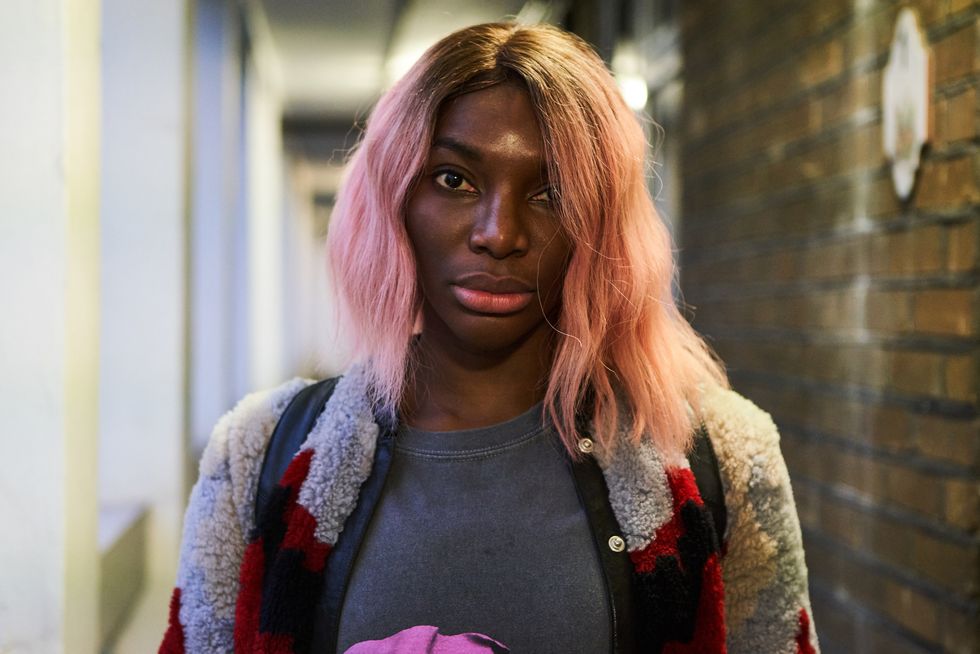 Michaela Coel as Arabella in 'I May Destroy You,' streaming on HBO and BBC One.Photo Courtesy of HBO
Unlike many series of this profile from a Black creator, I May Destroy You does not revolve around racism, even as a sub-theme. There are, of course, instances where a racial context is unavoidable, but it never drives the narrative. In addition to Arabella's story, the series explores Kwame's experiences as a gay man, as well as friendship and loyalty, particularly as it relates to Terry and Arabella who have been close chums since they were schoolgirls. It's a three-dimensional portrait of life centered around the aftermath of Arabella's sexual assault delivered with both drama and humor.

That aftermath affects Arabella's work. It certainly affects her sex and dating life. Going forward she becomes way more sensitive to issues of sex and consent. Finding her rapist even takes on a life of its own, with the investigation revealing ugly truths about some of the men in her life. In addition, she is moved to share her story, in ways not so convenient for her career or, at times, her friendships, as well as use her voice, particularly through social media, to champion other survivors in a way that is intended to give them a voice of their own. All of this intersects with her personal friendships with Terry and Kwame. So it's within the context of Arabella's story that we gain insight into theirs.
Focusing internally does not mean ignoring racial realities. I May Destroy You is far from whitewashed. One of the series' triumphs is its ability to highlight the Black immigrant experience in England, as well as the Black experience overall in the way that it matters most—as regular, everyday life. What we see in Arabella's story is a universal experience that is usually reflected through a white lens only, when, in reality, no woman is immune to the scourge of sexual violence.
Michaela Coel on being both African and British
When asked if, in her own life, she feels the twoness or double consciousness for which the Black American and Pan Africanist W.E.B. DuBois is most-identified, Coel tells OkayAfrica, "Yes there is a twoness there in that, here, obviously, we are a minority in the UK. And then when I go to Ghana, people can tell by the way I walk alone that I am not living in Ghana or born in Ghana; they can tell. So, it's an interesting hybrid. But I also think there are so many people within the UK that are in that same twoness that it creates a oneness because we are each a tribe of diaspora and, within that, we've made our own oneness. So, it's quite interesting."
That twoness is embedded in her character Arabella's name. "I liked the hybrid of Araba, which is a Ghanaian name, and Bella which is a European word and there was a previous version of the script that was cut where a character was asking Arabella 'where is your name from?' and she says that her mom wanted to give her a Ghanaian name but also give her a European flurry to it so that she might get further in British society than she did."
Because I May Destroy You doesn't confront racial issues head on, the spotlight on race shines through Arabella's alliance with a problematic white woman classmate, who is also a survivor, and, most notably, through Terry's experiences as an aspiring actress. While auditioning for a beauty gig, the two white women producers whimsically ask Terry to reveal her natural hair. In that moment, Terry's fear is so palpable, forcing us to see how unseen her experiences as a Black woman, a woman of color, are.
"I think, especially for Black women, our hair plays quite a role for us. Some people attach a lot of importance to it. But I think that moment [reveals] the micro-aggressions rooted in ignorance of not knowing Black women's hair to ask a question like that. It's interesting to see and hopefully a learning curve for a lot of people to know when it's appropriate and when it's not in terms of a Black woman and her hair," explains Weruche Opia, who plays Terry.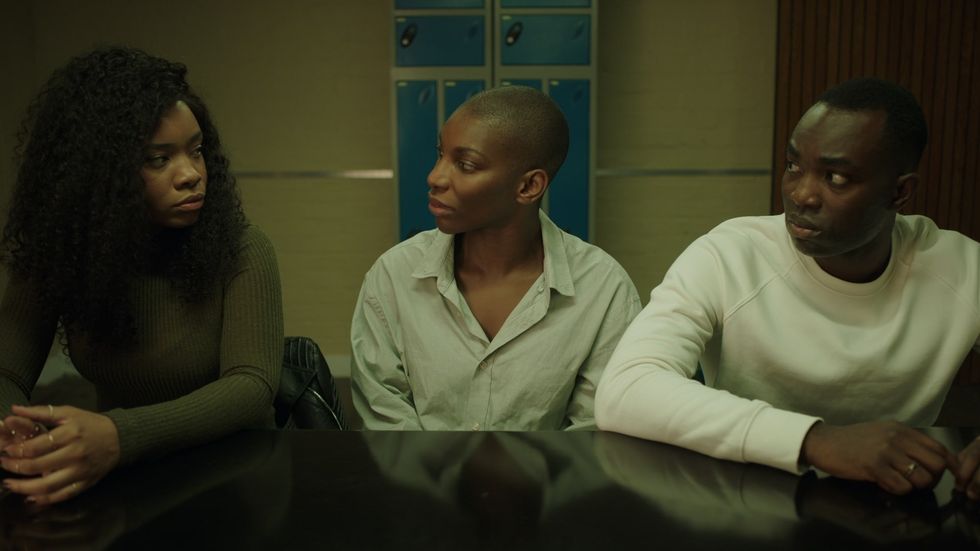 Terry, Arabella and Kwame from a scene in 'I May Destroy You'Photo courtesy of HBO.
Opia on Black women's hairstyles and talking honestly about female sexuality
The ease of which both Terry and Arabella change their hairstyles is one of the many refreshing elements of the series. Arabella changes her hair far more often but, whether it's pink, bald, head-wrapped or just straight, it's never a big deal among her friends. And, for TV, that is a big deal. "It's a reflection of reality," says Opia, who moved from Nigeria to England as a teen. "I love the fact that we enjoy changing our hair up. I mean I know I get bored every couple of weeks and, to see it reflected on TV, I think a lot of Black women [are] able to relate to that and appreciate the versatility of Black women's hair."

Another thing they appreciate is seeing Arabella and Terry explore sexuality in a way not typically reserved for women of African descent. "It's always kind of been kinda hush, Black women being so open [sexually]. So it's interesting to see. And the reactions have been quite interesting to see a lot of Black women happy that these things are being shown because it's a reflection of some people's realities," Opia shares.
Essiedu on the depth and imperfection of his character Kwame
Same goes for Paapa Essiedu's character Kwame. As a Black gay man, Kwame makes a statement, particularly as he explores sexual boundaries in his own life that bear a similarity to Arabella's in that they cross the line between consent and assault. It's a reminder that Black gay men also have interior lives. Essiedu, who is also of Ghanaian descent and is a longtime friend of Coel's, found that depth appealing.
"I was attracted I suppose just by his three dimensions, his richness of character, the vibrancy of his voice and yeah the imperfection of his journey. Something big happens to him and he responds to his trauma in a lot of ways, some of which is kind of predictable and some really unpredictable, and there's something really human in that and it's not often that you get characters that double down on humanity," he explains. "It's hard enough being a Black man in this world, and I imagine it's hard enough being a gay man in this world and, when you put the two together, the prejudice has doubled."
Coel says that she does not think of the impact her work will have on representation as she is creating it because the story is of foremost importance. Afterwards, it's a different scenario and she does not take her success or impact for granted. Instead, she uses it to empower others to soar even higher. "Yes, I'm definitely aware as I move that I want to leave the space for other people to even surpass what I have done," she says. "I'm aware that I'm trying to create space when I leave that allows other creators to have even more power than I have had."