Saul Williams and Anisia Uzeyman's Neptune Frost has many currents. Pulsing with a neon fever of greens and blues, the film is passionately Afro-futuristic in its constitution. This distinction from Afrofuturism as a throwaway buzzword is important. Mainly because of the story's roots, a Burundian village where hackers in a tech scrapyard throw off the yoke of capitalist, neocolonial powers to stage a cyber revolution. Crucial to this takeover is the titular Neptune, an intersex runaway, and Matalusa, a coltan miner. They are both fleeing something. For Neptune, it is the dangerous calculus of the gender binary. For Matalusa, it is from the duress of labor exploitation and resource pillaging.
Their union empowers the resistance, forging a manifesto for technological freedom, wealth redistribution, decolonization, gender autonomy, and so on. But Neptune Frost won't be without its eccentric DIY costumes. From the enigmatic, breaking-the-fourth-wall opening of Neptune wearing a colorful, twisty, head enclosure that looks like planetary rings, the gardening women in floaty white frocks and sculptural head cones to Matalusa's potentially covetable jacket, made from a swarming amalgamation of black keyboard letters. Responsible for these sartorial quirks is Cedric Mizero, a Rwandan multidisciplinary artist whose creative stylings and philosophies are already getting recognition in international spaces.
Though not formally trained, Cedric has always felt art chose him as a teenager. Combining painting, fashion design, textures, objects, and mediums, Cedric is more inspired by the rural life around him. Those marginalized by class politics are usually in his creative tableau, including nuanced political themes from his home country. In 2018, Cedric was selected to participate in the International Fashion Showcase 2019, as one of 16 finalists out of more than 200 applications from young fashion designers around the world. Designing costumes for Neptune Frost isn't his first rodeo. There is Atiq Rahimi's Notre Dame du Nil (2019), a coming-of-age story about a group of Rwandan schoolgirls at a Belgian-run Catholic school.
There is also Eric Barbier's Petit Pays (2018), which leans into the tensions in neighboring Rwanda that threaten the peaceful existence of a Burundi boy and his family. Further, in Baloji's short film Never Look At the Sun (2019), a commentary on skin bleaching, Cedric is credited as a collaborating costume designer.
Neptune Frost, which made its debut last summer at the Cannes Film Festival, continues to receive international praise. Last month, it was announced that Kino Lorber will distribute Neptune Frost throughout the world this year. On the heels of that news, OkayAfrica spoke with Cedric, who delved into the film's costumes and his work as an artist.
Walk us through how you conceptualized the costume design for Neptune Frost and how much creative freedom did you have?
The director Saul and I have met before in Rwanda before the film was shot, and it was through the deep conversations we had that I got the first freedom. He said, "go ahead and do anything you want." He did paint a picture of sci-fi and futuristic themes but I still did things my way based on the environment I was in and the materials I had at my disposal.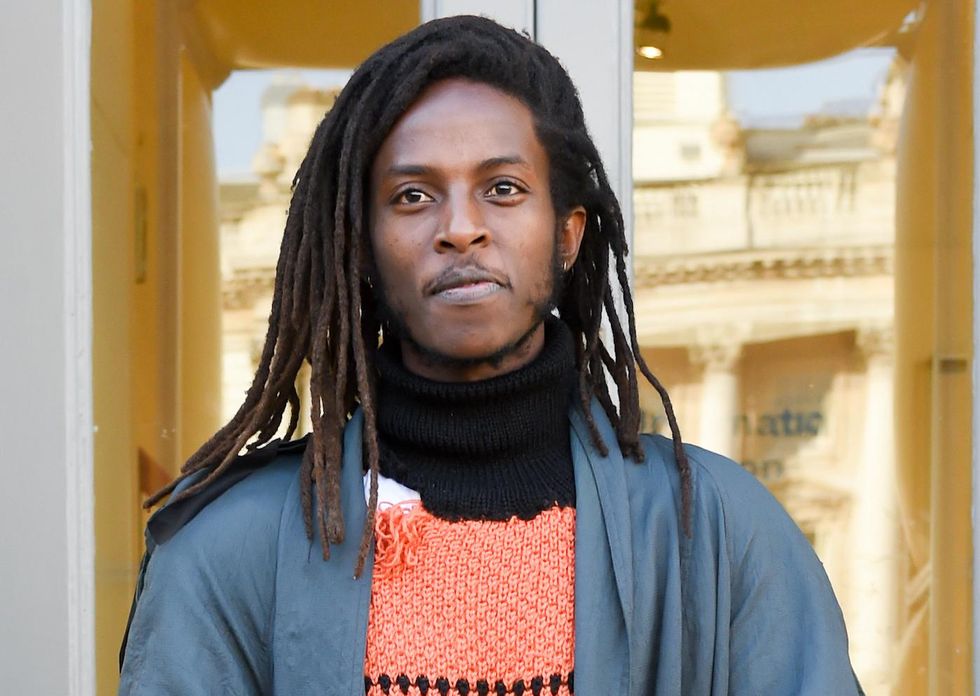 Cedric Mizero, a Rwandan multidisciplinary artist, is responsible for the styling behind Saul Williams and Anisia Uzeyman's Neptune Frost.Photo by Tabatha Fireman/BFC/Getty Images
Your work is routinely inclusive of those on the margins of class - women in rural Rwanda, and those in poor communities. Neptune Frost shows overlaps with these creative inclinations of yours. How significant is this connection for you?
In my work, I have always tried to elevate the voices of people who aren't visible and that was how Neptune Frost was to me as the costume designer. It was also the director's desire to amplify voices and so it was easy for me to find that connection. While filming, there was a general mindset of breaking barriers that had to do with status, age, influence, etc. Everyone was important, from the cast members to the person that contributed the smallest.
Let's discuss Neptune, one of the film's main characters, and their sartorial transformations in respect to their intersex identity. When they manifest as female, the costume choices are creative, especially the colorful, cage-like headpiece they adorn in the opening shot. What was going through your mind when fleshing out Neptune's costume presence?
I have known about intersex persons since I was young because I grew up in a village around them, which gave me some insights into their identities. In the costumes though for the character, there wasn't much of a specific direction. Everything still goes back to the freedom that I had received from the director. It was a chance for me to do art and invite people to see new images. It was also based on the composition that I was shown, there was a theme of color that I had to look into and flesh out.
What was the most challenging aspect of designing the film's costume?
It was the imaginary world that I had to create which projected into the future but also rooted in the present. This was the challenge in designing.
The film's makeup was stunning and dreamlike. How did you ensure a seamless blend with costume and the makeup department?
We had this amazing, amazing artist from LA who was doing makeup and it was a beautiful combination when we met. It was all about communication.
Do you feel inclined to pursue a spinoff exhibition or showroom installment that displays the costumes for the public?
It's actually something I'm thinking about and would like to do in the future. It's a question of where and when. After we finished shooting the film, I wanted to create more costumes for the film even though I knew it wasn't going to be used. So I have been sketching and writing more about the dreams for the extension of Neptune Frost. What I see is the possibility of building a museum because the film has an impact on how we understand who we are, where people can come in and see the costumes. This is a bigger dream.
Your creative mantra is that fashion should never be limited to a certain age, size, social or economic status, which led to your creation of the Fashion for All project that draws inspiration from Rwanda. Do you see the project embracing other narratives and perspectives from other African countries?
Fashion For All was the first idea I had as an artist which was to break beauty barriers and other things. So yes, it's my dream to make the project bigger by going to other countries and capture the realities there. The challenge I would face is financial because I don't make money from fashion because I don't have a brand, and I don't have anything to sell.
NEPTUNE FROST (2021) - Sci-Fi, Musical - HD Trailer - English Subtitleswww.youtube.com
As a multidisciplinary artist, you are open to a large creative pool of materials, mediums, and expressions. Do you have a particular preference of expressing art?
I entered the arts without knowing what I was doing, so I was trying everything to express myself. In terms of preference, I don't want to separate myself from any medium and I would like to combine everything into motion picture. Which is why I have been interested in films.
Are you working on any current project?
I am working on a project called Rain Season and it's a love letter to people that I love and people that are interested in my work. For now it's still in writing but I intend to shoot it as a film. There's so much memories that rain brings to me and I have always wanted to move to another place and I think I have reached that state of mind but in my thoughts.