Sha Sha, the South African/Zimbabwean vocalist whose voice is so syrupy sweet that you can almost taste it when you hear it, has been working on taking centre stage for most of her career.
She became a household name in South Africa, thanks, in part, to the mainstream radio airplay enjoyed by a string of singles she featured in alongside popular singer Samthing Soweto and amapiano hitmaking producer duo DJ Maphorisa and Kabza de Small.
---
With an EP out, a BET Best International ACT nomination and an album in the making, her efforts are paying off handsomely.
On her debut eight-track EP, Blossom, released at the end of 2019, she takes tentative steps into the limelight. Half of the tracks on the project are safe bets, featuring already popular collaborators (Samthing Soweto, Maphorisa and Kabza).
The remaining four tracks give a glimpse of her rare ability to make herself native in a variety of styles. "You" is the uptempo pop hit almost made for daytime radio and pairs well with "Emazulwini," which holds a slightly slower tempo and allows for her yearning soprano to become prominent.
"Water" combines afrobeats and EDM, with Sha Sha riding the rhythm and teasing the synths intermittently.
"Mutare," named from the Zimbabwean city where she lived when her artistic path became clear, is the sharpest look at Sha Sha as an artist on the EP. The mix of Shona and English lyrics, a catchy chorus and almost pared down verses point towards a creative and musical depth beyond the hitmaker status Sha Sha has earned.
Being born to a South African mother and Zimbabwean father who separated early in her life made for an itinerant upbringing between the two countries for her. "I moved a lot," she explains over the phone from her apartment in Johannesburg. "There's a point where I stayed with my mom, that was in South Africa when I was younger. Then I went back and stayed with my dad, in primary (school) in Bulawayo, Zimbabwe. From my dad's place, my mom came and took me and I went back to SA for high school. I went to nine different schools, five primary and four high schools. From that point I remember I moved and I stayed with my aunt in Mutare for a while. That's when I started trying to get something to do. I was actually supposed to do nursing."
Music, choirs especially, played an important anchoring role for her. Joining her first choir at around 12 years old, Sha Sha sang soprano, seldom leading songs and realised early on that she was a talented singer. But it was only when one of her home recordings found its way onto ZiFM, the most popular radio station in Zimbabwe, that she decided to make a go for a career in music.
OkayAfrica caught up with the musician about growing up, her rise as a musician and plans for the future.
This interview has been edited for length and clarity.
How has moving around as much as you did as a child influenced the person that you are as an adult?
It helped me to adapt to new environments quickly, that's for sure. And also to understand people, understand their perspectives and their views, always open to hear what other people are saying or thinking or feeling. It's helped me a lot as a person. My mom always wanted me to speak English, but as I moved, I started speaking Ndebele and then Shona. Having to stay with my mom in the Vaal, in Vereeniging, that's when I picked up seSotho. If you understand Ndebele, it's similar to Zulu, if you understand Sesotho, it's similar to Setswana. I started picking up languages as I went. I put it all in my music, I'm showing that I'm diverse.
When and how was your vocal talent first affirmed?
What's funny is that I grew up knowing that I could sing, but I never took it seriously. I always thought it was not good enough, I couldn't be that person out there. The time when it finally hit me was when I had gone to Mutare and was on my way back to Harare. One of my friends took one of my songs because at some point I had just started recording and took it to ZiFM, one of the big radio stations in Harare. I was actually on my way to an interview to be a receptionist and then I heard my song. I was going crazy, I remember that day. That was in 2014. The ZiFM CEO was blown away and he wanted me to come down to Harare to meet him. He directed me to August Mtawarira who is very respected in Zimbabwe and I started working with him and his team.
Sha Sha - Tender Love (Official Video) ft. DJ Maphorisa, Kabza De Smallwww.youtube.com
What was your first hit and how did it come about?

"Miss Independent" with Cal_Vin was my first real hit. I remember doing my part and then we heard about Cal_Vin who was popping at the time, everyone was talking about him. Besides, he was really dope. We sent the song to him, he laced his words and then we dropped it. Everyone went crazy about it.
How did you break into the South African market?
I had gone to an artist development programme run by a company called Blind Faith Group that my producer Audius owned. I worked with their team, got my management and focused on getting me out of my shell and my bubble. I was really shy so I had to work on being out there, recording more, vocal coaching and just preparing myself for having to step out there and be that artist. That period of time was just recording, dropping, performing here and there. In the third year, I landed this really dope performance at Haifa festival, one of the big festivals in Zim, where I headlined my own show on the main stage. That was super exciting for me. We wanted to break into the South African market so Blind Faith spoke to Anashe, another company based in the States and they helped us link up with a couple of producers in South Africa. I would travel in and out from Zim and SA to go and work with a couple of producers. The one time when I got to South Africa, I remember my flight had been delayed and there was a friend on the plane who I knew from home. We arrived late so my friend said, "You can use my guy."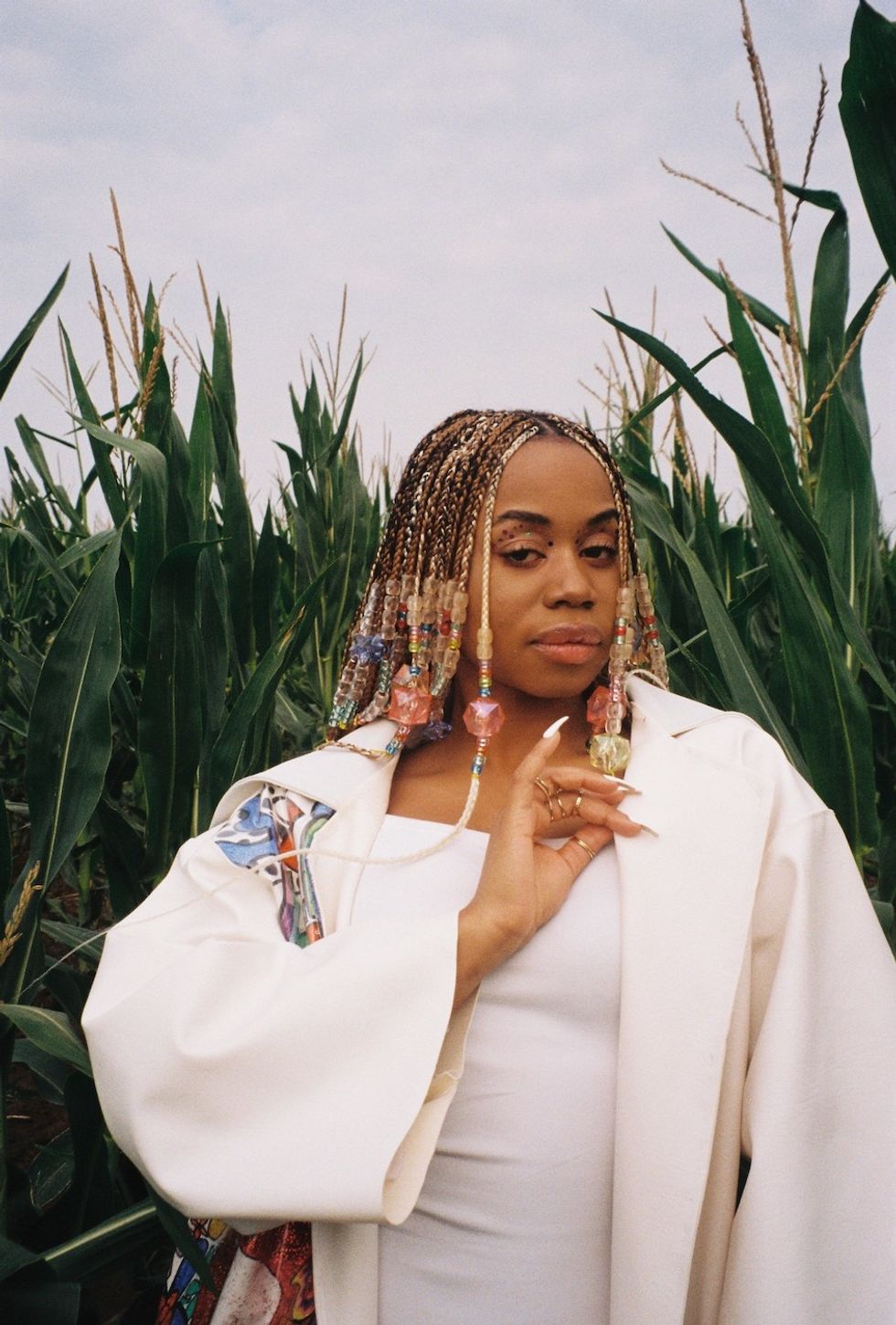 "I was mainly trying to collaborate with artists but the plan was to end up being full front, I was building towards that," says Sha Sha. Image courtesy of artist.
The cab driver who would change your career completely?
In the midst of all of that happening, the cab driver, Blessing, who was also from home and speaks Shona happens to know DJ Maphorisa. Blessing started transporting me to my recording sessions. You know when you meet someone for the first time, you're still gravitating towards them and then you get more and more comfortable with them? Blessing eventually asked me what I did and what I was about and I told him I was an artist. That's when he was like, "I know this guy." I met Maphorisa in 2017, I sang him one of my ballads. We have been working together since. From then on, everything just started changing.
When would you say was the first time you felt that you had cracked the SA market?
I was working with artists, mostly featuring on people's songs to be honest. I knew that at some point one of those songs was going to make it somehow. I was mainly trying to collaborate with artists but the plan was to end up being full front, I was building towards that. That was with "Akulaleki" (by Samthing Soweto and produced by DJ Maphorisa and Kabza De Small) mid-2019. That December was insane, it's when I realised that people were really vibing with that song, hearing mad crowds sing my song back to me. And also when all my other songs came up, I dropped my single, "Tender Love," then there was "Love You Tonight."
Samthing Soweto - "Akulaleki" ft. Sha Sha, DJ Maphorisa & Kabza De Small (Official Video)www.youtube.com
What has it been like moving into the centre stage from choirs, backup singing and featuring to who you are now?

Honestly, in the beginning it was overwhelming, but exciting at the same time. Then reality hit me and I thought there's also my family that I also need to give time to because everything was so busy, things coming at you quick. You can get lost in the craze, so I had to really dig a little bit more into who I am, where I'm from to stay level-headed and grounded. It's been an exciting roller-coaster, I'm grateful it has gotten to this point. It seemed so far-fetched when I was in Mutare, telling my parents I wanted to do music.
And then the national lockdown was announced as you were gaining momentum.
In the beginning, I was bummed and thought that the situation was bad. But being home, I started to reflect, looking around my apartment and being grateful for the little things that I have, seeing things differently. It cut me out of the noise. It's helped me so much because I've been able to tap into myself more and appreciate certain things a little bit more. It's been very spiritual for me. It has also given me more time to work on my album which I'm dropping soon. I write and record from home, sometimes I get producers to help me make things sound the way I hear them in my head. Other times, producers send me beats and I write onto them and then record myself.
Pray tell.
I don't want to say anything yet, I like surprising people. The only thing I can share with you is to expect diversity.
Stream Sha Sha's 2019 EP Blossom on Apple Music and Spotify.