Music
Interview: Xplosive DJ Calls Many Places Home With His Debut Release 'Plan B'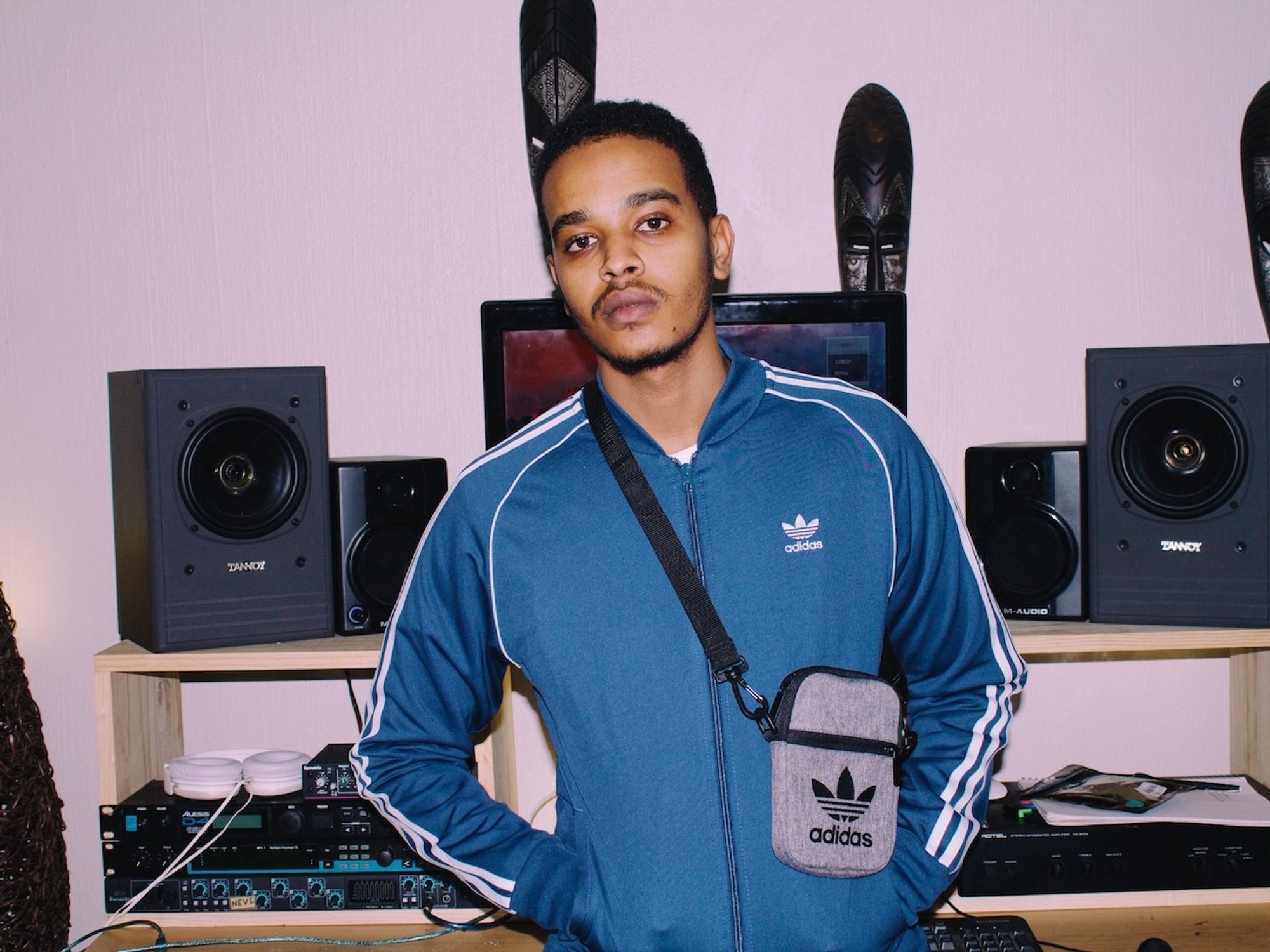 Xplosive's version of pop music takes the musical and technical chops he earned while producing boom bap, trap, Afrobeats and other styles, squeezing the best out of those skills and making something that can appeal to the masses.
After years of working with other artists, South African-based producer Xplosive DJ shares his sound in his new project 'Plan B'.
It is difficult to place the producer/sound engineer Xplosive DJ when he talks. His tempered drawl could be from any East African country. His slang is distinctly Joburg, but a typically hood phrase falls out of his mouth before a suburbanism when he speaks. His accent fuses English, Arabic and Nubian intonations.
Xplosive DJ's recently released five-track debut project, Plan B, was produced and recorded over four years and makes the producer behind it even more difficult to locate, geographically and musically.
Born Ahmed Khaled Dahab in the Congo, raised in Sudan and living in South Africa since 2007, Xplosive grew up in a home where all four compass points of African music were familiar. He was drawn to reggae, hip-hop and dancehall on street sound systems as he grew up to develop his own musical taste.
---
Boom bap and trap are dominant on Plan B, these being the styles Xplosive has produced the most work in as a member of Cape Town rap group Contra Gang circa 2017.
Producing a string of career-changing tracks for Uno July (2015's "Skelem" among them) and engineering for motswako icon HHP are some highlights of his eight-year producing catalogue.
I'm super proud to present to you my Debut Project "Plan B" . Music straight from the producers studio ,It's a coll… https://t.co/gzepL698zP

— Xplosive (@Xplosive) 1597393205.0
But it's his long-standing pursuit of mastering the pop music format that mostly influences the delivery of each track on Plan B and the project as a whole. The first moments of each track are built to hook the listener and effortless complexity is what keeps their attention from then on.

Xplosive's version of pop music takes the musical and technical chops he earned while producing boom bap, trap, Afrobeats and other styles, squeezing the best out of those skills and making something that can appeal to the masses.
The first three tracks on Plan B continue from where the producer left off when he moved from Cape Town to Johannesburg and changed his moniker from Psychedelic AK to Xplosive DJ in the process.
"Ghetto Memoirs / War" is a track built from two cuts; the first half ("Ghetto Memoirs") uniquely South African and the second half imported. The two are joined by their similarly dark, moody basslines and high-pitched melodic chords.
The first half has a kwaito feel to it, one well-matched with Maglera Doe Boy's raps. Doe Boy embodies kwaito references lyrically, finding a middle ground between the underground hip-hop sound and mainstream kwaito lyricism which thrived during the early 2000s.

The second half ("War") is a trap beat that relies heavily on off kilter drums to drive the song. Respected lyricist Ginger Trill offers12 bars that meet Xplosive's casual but layered production with simply constructed rhymes that make the delivery accessible.
"Verses"'s East Coast rap bounce allows room for Maglera, Ginger Trill and Banxx to deliver introspective and insightful lyrics.
Throughout Plan B's recording, Xplosive encouraged the featured rappers and singers to dig deep lyrically and sonically to show parts of themselves that they wouldn't regularly do in their own solo projects.
"Hey Now" with Indigo Stella singing and rapping could have been better placed as the bridge between the first and last two pairs of songs on Plan B because it delivers the best of hip-hop and pop, two genres most dominant in Xplosive's repertoire.
"Mary Jane" offers pared down funk with Capetonian Ethan Young on leading vocals. But it's Plan B's closing track, "Surround Me", that is deepest in pop territory with Indigo Stella's syrupy vocals coupled with a high-pitched keyboard melody on the chorus.
The work's greatest achievement is balancing accessibility with complexity. For Xplosive, South African hip-hop has suffered from the weight of insularity, with the genre once an obscure subculture now a mainstream staple.
Plan B is not preaching to the hip-hop choir. Instead, it makes accessible to outsiders what insiders of the genre have long defended, perhaps to a fault.
OkayAfrica spoke to Xplosive DJ about his musical beginnings, command of pop production, changing his moniker and distributing music during a national lockdown.
When did you start producing music and what did you start out making?
I started producing around 2012. Not to say I was producing professionally, I was getting into the thing of making music. Prior to that, I was always playing music, practising keyboards, piano and marimba. That's what I initially thought I would end up doing; becoming a player. Instruments were always fascinating for me. When I first started producing, all I wanted was to produce Dr. Dre-type music. I think that every hip-hop producer at some point in their lives tries to emulate Dr. Dre. It moved from that type of sound into what was current because I still didn't feel I had my own sound. That's been my biggest challenge, I could mimic all of these different producers very well, but I was striving to create my own signature sound.
You're known for your work with hip-hop acts, why give your fascination with pop music so much breathing space on your first solo project?
That's because I work with a lot of hip-hop artists. And that's why this tape is so different because that's the shit that I make. It's with the same artists, but it's the shit that I want to listen to. When I'm working with other artists, it's not necessarily what I want, I might just happen to be good at doing it.
Making pop music is the biggest challenge in the world. Being effortless is not easy, it's hard and that's honestly what pop music is; it's so effortless that it grabs you, you either hate it or you love it. But even if you hate it or love it, you're going to catch on to that in the first two or three seconds of you hearing a pop song. There's a challenge in that, it's not easy to make someone be like, "Yoh (snaps fingers) I fuck with this." It just grabs the attention.
"This tape is so different because that's the shit that I make. It's with the same artists, but it's the shit that I want to listen to," says Xplosive DJ about his latest release. Photo by Tiisetso Moabi.
How did you choose the artists to feature on the project and select the tracks to include in it?

It's different for every song. "Mary Jane" is the oldest joint. It was Eathen's song but it just ended up sitting on my computer for so long and he hasn't been releasing music. I hit him up and said that I'll put it out on his behalf. Maglera and Ginger Trill, I commissioned specifically for their tracks. Actually, I've been working with Ginger Trill since Cape Town days and I heard about Maglera from Uno July a while back, but only started working with him last year.
What brought about changing your moniker from Psychedelic AK to Xplosive DJ?
In January 2019, I remember I was sitting with a music manager who happens to be a close friend of mine as well. I was frustrated with where I was at. I felt like I had hit a ceiling somewhere along the journey. His advice was to start from scratch. It didn't make sense to me at the time. But I act very fast so I decided to change my name. Changing meant that, although I knew the same people and the same people knew me, it felt like there was certain groundwork that I felt I needed to put in. That built where I'm at today.
You've released a project when touring is all but impossible because of the strict lockdown imposed on South Africa and the rest of the world. Why not live stream performances like your peers in the industry have been doing?
That's not going to get me paid and there's no point to it. And maybe I haven't figured it out, maybe I'm ignorant, but I don't see how it's helping. I just see that as us devaluing our music. If you want to listen to the music, you're already subscribed to Apple Music or Spotify or Joox or wherever, you can still help the artist that way. Especially for us here in SA. It's not small money. A million streams is not that unachievable, it's sure easier than trying to sell a million CDs. It's not a pipe dream. You don't have to get a million streams on one platform, you can get them across all these DSPs.
Your album has just come out, sure, but are you working on any new material we can expect to be released soon?
As a producer and engineer, I get called on to mix and master projects and to produce artists. As much as I make beats, I know my strength lies in being able to produce artists. So I'm constantly working on that. I'm putting together a new project in my free time. It will actually be coming out sooner than expected.
Stream Xplosive DJ's Plan B on Apple Music and Spotify.