Audio
Irene Mawela: South Africa's 'Unknown' Legend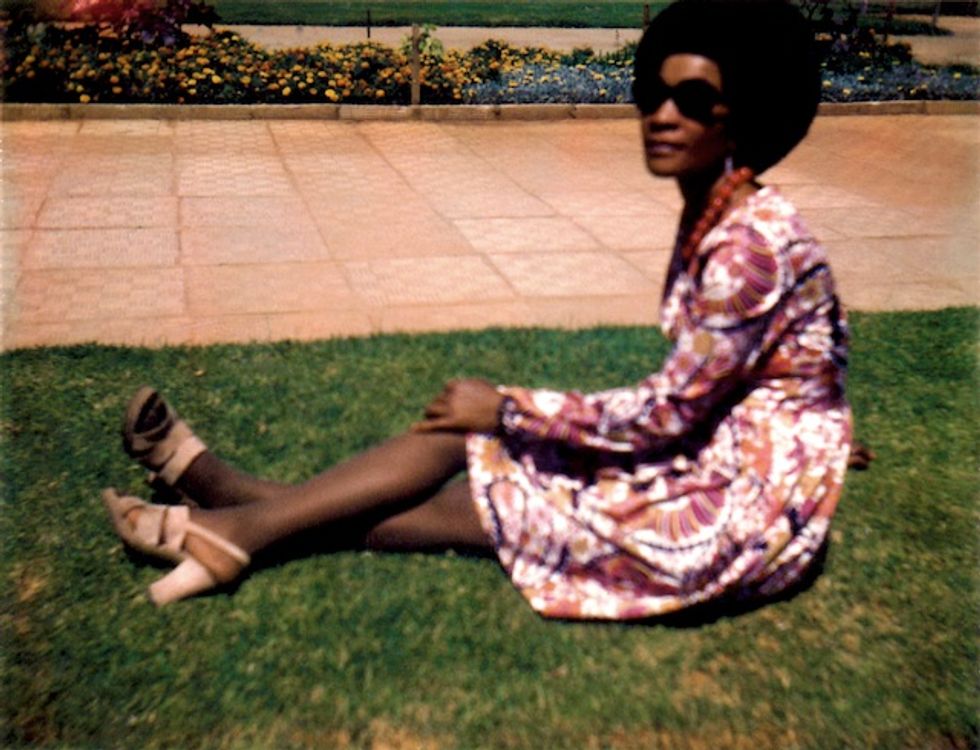 Electric Jive features Irene Mawela, a South African girl group vocal legend.
---
Electric Jive, purveyors of classic South African sounds from the 50s to the 80s, recently put together an in-depth account on the musical career of Irene Mawela, one of the country's most prolific recording artists whose distinctively sweet voice is more famous than her own name. After her first songs in 1957, Irene recorded a frankly astonishing amount of material as part of some of the most famous girl groups in South African music from days gone by. These include the Dark City Sisters, The Sweet Sixteens, Mahotella Queens, Irene & The Sweet Melodians and a whole host of others, as well as several tunes under her own name during the 80s and 90s.
A gifted songwriter as well as songstress, Irene also generously wrote hit tunes for top artists with whom she rubbed shoulders. Electric Jive's comprehensive biography of Irene details every inch of her musical life, from her first steps towards the recording studio, to the challenges she faced within it, to the distinctive characters she met along the way (all drawn from conversations with the lady herself) – and includes an extended compilation of 30 tunes from across her career. Head on over to Electric Jive to read Irene's fascinating story and download the mixtape featuring her very best work.
>>>Read the full story + download a 30-track mixtape at Electric Jive
IRENE MAWELA THE 'UNKNOWN' LEGEND
1. NDIALA – THE SWEET SIXTEENS (1972)
2. SELEMO SEKENE – THE ZEBRAS (1976)
3. INSIZWA – THE TELEGRAM SPECIALS (c.1962)
4. ARIYENI MURALENI – IRENE MAWELA (1982)
5. LALA KAHLE – THE SWEET SIXTEENS (1971)
6. ABAKHULU – IRENE AND THE SWEET MELODIANS (1974)
7. MME ANGA KHOTSI ANGA – IRENE MAWELA (1983)
8. BAJIKA BEJIKILE – IRENE AND THE SWEET MELODIANS (c.1976)
9. ANGILALA – MGABABA QUEENS (c.1973)
10. JULY HANDICAP – KILLINGSTONE STARS (c.1957)
11. TAP TAP NTSHEBE – DARK CITY SISTERS (c.1961)
12. MAMORWESI – KILLINGSTONE STARS (c.1961)
13. BUYA KUNZIMA – THE SWEET SIXTEENS (c.1962)
14. OUR LOVE SO GREAT – THE PRETTY DOLLS (c.1962)
15. ROSE – DARK CITY SISTERS (1962)
16. THULA THULA – THE ZEBRAS (1976)
17. MALUME LEBELLA – IRENE AND THE SWEET MELODIANS (c.1976)
18. SIDL'IMALI ZETHU – MGABABA QUEENS (1973)
19. TSHIWANYANA – IZINTOMBI ZOMOYA (1974)
20. MOGADIBO – IZINTOMBI ZOMOYA (1974)
21. UZWILE NA? – MGABABA QUEENS (1972)
22. NTSHWARELE NTATE – MAHOTELLA QUEENS (1975)
23. LOVA NGIYEKELA – IZINTOMBI ZOMOYA (c.1975)
24. RE BASADI KAOFELA – MAHOTELLA QUEENS (1979)
25. EMARABINI – IZINTOMBI ZOMOYA (c.1975)
26. YOU PROMISE – IRENE AND THE SWEET MELODIANS (1978)
27. THABA TSWEU – IRENE AND THE SWEET MELODIANS (1982)
28. MPULELE – MAHOTELLA QUEENS (1979)
29. HAO NKARABE – IRENE MAWELA (1983)
30. OITSHWARE HANTLE – IRENE MAWELA (1983)