Moments after the Tribeca Festival world premiere of Stylebender, the documentary feature that profiles the incredible life and accomplished career so far of Israel Adesanya, the mixed martial artist and UFC middleweight champion tweeted these words: "@Netflix please be the highest bidder for my documentary. Young men need to see this film." It would be tempting to dismiss the Nigerian-born, New Zealand-raised fighter's tweet as another sales pitch coming from a guy who is in the habit of making sales pitches all the time, not just as a UFC ambassador, but as a bonafide superstar capable of triggering the culture with as little as a tweet.
But he does have a point. Stylebender would benefit from a release that makes it appointment viewing, ensuring viewers can all gather around to watch it at more or less at the same time. New Zealand filmmaker Zoe McIntosh scored remarkable access to Adesanya and his core team, led by coach Eugene Bareman. Following her multiyear immersion into Adesanya's life and headspace, McIntosh emerged with a portrait that is as revealing as it is dynamic. Adesanya, who scored his middleweight title win in 2019, gamely entered into some incredibly vulnerable spaces, and, in the documentary, offers up instructive insights about the price of fame, the toll that success takes on his mental health, and the addictive and often disruptive nature of social media.
In an earlier June appearance on the ImPaulsive podcast with Logan Paul while promoting the film, Adesanya–who has since resumed training and could not be reached for this interview– spoke about the duality of his personality, "We are men, we still have a feminine side and a masculine side, and I am in touch with both." In this regard, Stylebender, which is set to open theatrically in New Zealand and Australia in late August, could be a game changer. It goes beyond a traditional sports documentary, going further than news headlines and social media posts to present a unique perspective on a truly magnetic and complex personality. It's only a matter of time before a streaming platform does, indeed, snap it up.
OkayAfrica spoke to McIntosh via Zoom about finding her way into Adesanya's zany headspace and breaking down his complicated personality for a global audience.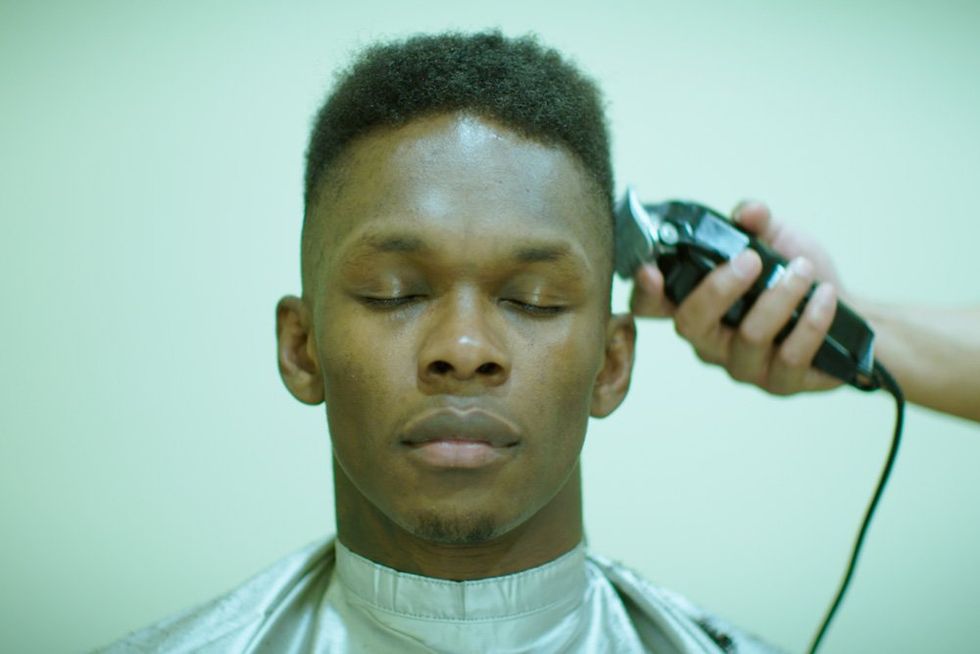 Israel Adesanya, aka Stylebender, allows director Zoe McIntosh to go beyond the news headlines in her documentary.Photo courtesy Fluro Black Productions.
The interview below has been edited for length and clarity.
How do you ensure you are presenting a picture that does justice to this person whom the world feels some claim to?

That's a big question but I think, firstly, when I came on board in 2019, Israel wasn't such a superstar, even though he was pretty well known. Now, there is so much noise about him. I knew that this documentary had to be different and revealing about his character, and new in fresh ways or it wouldn't stand out. It was really important that I captured all facets of his character and really go deep with him in terms of showing his vulnerability, his fears and struggles especially around stepping up into that new level of fame.
Talk about how you came to this project. You don't seem like the obvious fit at first glance?
I already knew about him in New Zealand. I was reading this glossy magazine article, and he was not only visually arresting — his style and the fighting moves that were photographed – but he was talking about being in touch with his feminine side, and being vulnerable and not being afraid to explore those aspects of himself. And to me that immediate contrast of a brutal fighter in a very macho world also talking about his femininity was absolutely intriguing. It so happened that that week producer Fraser Brown had hit me up asking if I was interested in directing this film on Israel, and I kind of leapt at the chance just because I already had some info about him.
But it wasn't until I met up with Israel for dinner, just me one on one and I got a sense of his character, his charisma and his flaws and his eagerness to make a film that wasn't just a sports documentary. It was really important for me that it was visually interesting, and explored his dance, as well as the fighting and was really deep and revealing of his character.
How did you communicate your vision for the film in the way that he understands it on a granular level?

Right from the get-go, I said to him, 'I do not want to make a usual fight film,' so we were having conversations about how to make it different. The biggest one for me was when I found out he went to see a therapist. That kind of shifted gears for me, and I was like, 'Now, we've got a film!' And the fact that he was open to that was amazing. How I work is I usually do a lot of visual research and then I'll lay it up scene for scene. In the opening scene, for example, we see him doing affirmations in the mirror or him lying in the bath with the flowers. I drew that out so I could sit down with him and share those ideas, and make sure there is going to be an authentic representation of him, and he was on board with it.
Was he game for everything or were there times he developed cold feet?
I am sure there were times like that, but he never expressed that to me. Being followed by cameras is intense. It's never happened to me, but I do it and it is intense, and I can see the challenges it puts on people. But Izzy was lucky to have a dear friend, Jeff Sainlar, who was filming for many years with him and he helped me with this project. I also had access to all this archive footage that Jeff had shot. I won't say Izzy loved cameras all the time, but it was remarkable how comfortable he was, and I think he forgot about us being there a lot of times.
When it came to the more stylized pieces like the dances and stuff, I had shown him those visual mood boards and to his credit he was very trusting and very up for my aesthetic vision of it. The cameras love him. I find a lot of performance to his work, as a dancer and even as a fighter. Absolutely, I would agree that he was a treasure as a subject matter for a documentary maker because he allowed me to show all sides of his character. Often you get subjects that hold back and don't want to be seen as ugly or cruel or unreasonable. It is a real testament to him, but it also makes the film what it is, and I think it is really good because of that.
We have to talk about the therapy sessions. What were those conversations like going in?

Maybe it is worth prefacing to give you an understanding because I think it speaks to the level of trust that was in that room. When I found out he saw a therapist, I went and did a four-day workshop with her, which was two and a half hours away from where I live, and I explored bits of my personality, shed some tears and connected with [her] in a way that was real. If I hadn't done that, I am not sure Izzy or [she] would've let me come on board so easily. They had seen that I was prepared to be vulnerable, and I was also able to understand her technique and style in a way that I could connect with Izzy on a deeper level.
So that is how it started, and I said to Israel, 'Look, how do you feel about me filming some of these sessions? I'll keep it lo-fi.' When doing the shoot, I made sure we did not have a lot of people in the room. With the caravan I would set it up and have the sound going in then I would be completely outside so what you are watching is a genuine therapy session and not some manipulated thing. It was super important to me that it wasn't contrived because that kind of stuff just makes me cringe.
Is he the same person today that you started filming in 2019?
I would say yes and no. I almost wonder if he's come a little bit back to himself; to his younger, curious, playful self. I think he is in a really good space. Obviously, he's leveled up, a superstar now and is more experienced in the UFC and his relationship with Eugene [has] grown, and is probably deeper because of this film. He is absolutely changed but I think he's always going to be that young boy inside of him.