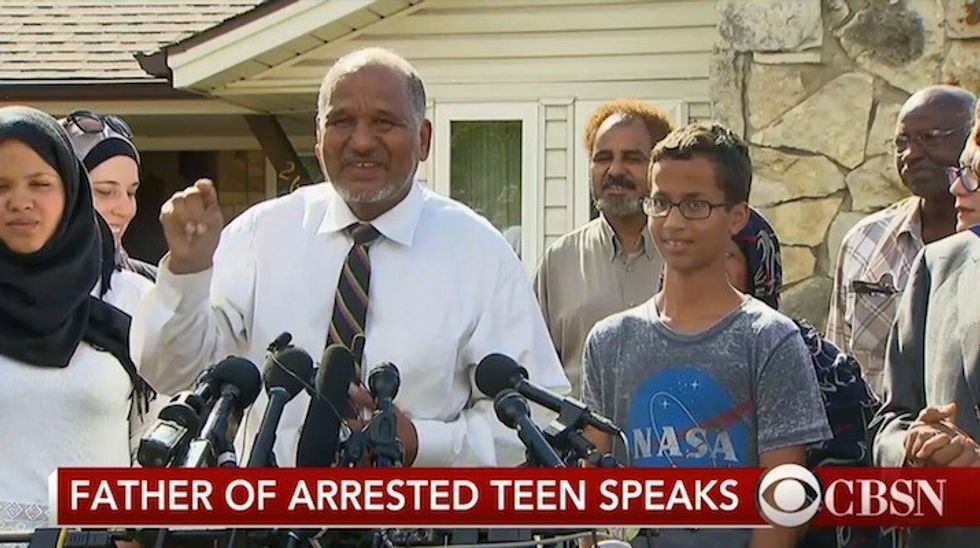 ---
Screenshot from CBS News
If you've been on social media today, you may be familiar with the hashtag #IStandWithAhmed.
The story began when Ahmed Mohamed, a 14-year-old Sudanese-American high school student, was arrested on Monday after bringing a homemade digital clock (which he made over the weekend from a pencil case) to his school in Irving, Texas. "They arrested me and told me I committed a crime of a hoax bomb - a fake bomb," he told WFAA. "It was the first time I brought an invention to school to show a teacher," he added.
"He just wants to invent good things for mankind," Ahmed's father said to the Dallas Morning News. "But because his name is Mohamed and because of Sept. 11, I think my son got mistreated."
Barack Obama, Mark Zuckerberg, Hillary Clinton and NASA have all showed their support for Ahmed. Earlier today, the President invited him to the White House.
Ahmed shared the perfect response not long after. "Thank you for your support! I really didn't think people would care about a muslim boy," he tweeted from an account that was set up earlier today.
Incidentally, Ahmed's family is no stranger to media attention.
The ninth grader is the son of Mohamed Elhassan Mohamed, a Sudanese immigrant who has made headlines of his own over the years. A February 2015 profile in the North Dallas Gazette details the elder Mohamed's activities.
Born in Sudan in 1961, Mohamed, a former customs worker at Khartoum International Airport, earned a degree in philosophy from Cairo University in Khartoum before emigrating to the U.S. "Once I realized my dream was bigger than what Sudan had to offer I immigrated to America in the mid-1980's," he told the North Dallas Gazette. In that same interview, Mohamed shared that upon arrival in the U.S.– where he says his degree was not accepted– he initially sold hot dogs, candy, and newspapers in Manhattan. "I realized this wasn't enough for me, and I packed my bag and moved to Dallas, Texas y'all," he told the paper. In Texas, he started out as a pizza delivery man before becoming a taxi driver and ultimately launching his own business ventures– he owns a computer repair shop in Irving, Texas (perhaps where his son gets his tech acuity from), a cab company called Jet Taxi, a medical emergency transport company called Paradise Prime Investments, and the solar energy business AlSufi International in Sudan. He also served as self-elected president of the small Sufi Muslim AlSufi center in Irving.
Mohamed has also run for president of Sudan on two separate occasions. "When I went for the elections in 2010 they were rigid," he told the North Dallas Gazette. "When I was there my country was worse than I had left it. I saw people starve, and babies, die, and women cry in Darfur. No peace. No justice. So I am back to save my Sudan, so help me God. I'm hope for my country to become great, and to reestablish good connections with America. My country is going through economic hardship because of the embargo, and I would like to lift it."
Mohamed's 2010 presidential campaign bio
He'd run again in 2015 on a National Reform Party ticket. An April 2015 Bloomberg report referred to the Texan as having "the most ambitious agenda" of the incumbent President Umar al-Bashir's competitors. The article mentions that the would-be Sudanese president pledged that within 100 days of being elected he would negotiate the lifting of sanctions the U.S. imposed in the late 1990s because of alleged sponsorship of terrorism.
Neither Mohamed nor his party would end up appearing on the ballot.
Mohamed speaks in a 2010 presidential campaign video
Aside from his presidential bids, Mohamed also made headlines for his bizarre role in Rev. Terry Jones' incendiary Quran trial. In 2012, when the Florida pastor made good on his threat to burn a Quran in his Gainesville church and put the Quran on "trial," Mohamed, who refers to himself as a sheik, was apparently the one Muslim willing to play along as the defense in the mock trial. "[The church] put an ad on their channel: 'Whoever feels in himself he has the power to defend Quran is welcome,'" he told the Dallas Observer.
Muslim leaders in Texas, meanwhile, doubted his claims to religious and scholarly leadership. "This so-called leader, we have never heard of this person," Imam Zia ul Haque Sheikh, head of the Islamic Center of Irving, told the Seattle Times. "I believe the whole thing is made up." In that same interview, Mohamed, who refers to himself as a sheikh, elaborated on his motivations for getting involved with Jones. "He said he agreed to serve as the defense attorney at Jones' mock trial because the Quran teaches that Muslims should engage in peaceful dialogue with Christians," the Seattle Times' Annie Gowen wrote. "But there was also a more pragmatic reason. It was spring break and he wanted to take his wife and five kids to Disney World: to 'kill two birds with one stone,' as he put it." He also claims he didn't know the trial– in which the Quran was "found guilty" of "crimes against humanity"– would result in the Quran actually being set on fire. According to the Seattle Times, some of Mohamed's small group of followers asked that he no longer lead prayers, while others refused to drive for his taxi company.
He told the Dallas Observer that he appreciated Jones for giving him the opportunity to defend the Quran on Sufi terms. "I admire Terry Jones for doing that," he said. "From my heart, I feel very OK. But I have some people who don't like that from my Muslim brothers. I see their faces, they don't want me to go and talk. But this is my opinion. I'm not living in Sudan, or Saudi Arabia. I'm living in a free land."
Whether or not the Mohamed family is living in a "free land" is up for debate. But this week, at least, they're doing it on primetime TV.
**An earlier version of this article was titled "The Bizarre Backstory Behind #IStandWithAhmed's 2-Time Sudanese Presidential Candidate Father."