Gbais Obou Yves Fredy better known as Peintre Obou is an Ivorian artist whose work is centered around the political-military crisis in his home. To date, his career has been an exploration of his passion for the human condition and the traumas he has experienced as a result of human-orchestrated disasters. He goes as far as highlighting life in the slums and the individuals who opened their arms to him in the lowly communes of Abidjan. He distinctively distorts the faces of his subjects with masks and places vibrant colors upon their bodies as he weaves tales of war, trauma, suffering, and oppression.

Last summer, the Ivorian commune of Abobo underwent renovation in a project titled, Abobo E Zo commissioned by the Minister Hamed Bakayoko. Not only were downtrodden areas within the community rehabilitated and sanitized but multiple buildings around the populous commune were painted to the delight of residents. It was street art set on enlightening a disadvantaged community piloted by Obou with help from hundreds of crafty volunteers.
This interview was conducted in French and has been translated and edited for length and clarity.
---
In your youth, your older sister would notice your passion for drawing and painting and take you to visit an art studio at Man's modern high school, where your father taught. When did you begin making art & for what reasons?
My sister studied at the school and my father was a math professor there. My father had friends who were plasticiens therefore it was easy for me to join the atelier and to begin painting at the school. My sister allowed me to discover this universe that had fascinated me since I was a child.
I was fond of art at a very young age, however, it wasn't until after the post-electoral crisis of 2002 that I decided to make it a future career. I had this deep desire to paint what I saw like I had done in my youth in Man. Post obtaining my BPC diploma, my sister, once again supporting me, paid the fees associated with my entry exam to get into the lycée d'enseignement artistique d'abidjan. After receiving my baccalauréat, I went on to study at l'ecole nationale des Beaux Arts d'abidjan.
Image courtesy of Peintre Obou.
In 2004, you'd find yourself in Abidjan due to a prolonged socio-political crisis that ravaged the country. For 4 years, you studied at Abidjan's Beaux Arts. What was that experience like? Furthermore, how would you describe the art scene in Cote d'Ivoire?
Similar to other Beaux Arts schools, Beaux Artsd'Abidjan isn't a place where you go to find a theme or a story to tell. There they teach you technique and how to structure your work. It was there that my professors' critiques pushed me to dig, to research, to look, and to find. I was pushed to return to my roots in Man and ask myself, 'What was I really passionate about?' 'What could I take to add to my work?' It was here that I discovered the mask...
The art scene comprises the old school, the new school, and the younger generation. I would say I am part of the younger generation, more recent graduates of Beaux Arts. The older generation is comprised of people found in larger collections throughout the world. These people motivate us. Just seeing them at their respective levels leaves us with no other option but to work hard. The art scene is going well. Things have changed. People are interested in art. Art is now being proposed to the citizens of the nation. That brings me great joy. For example, the project Abobo E Zo allows me to see my paintings in the streets. These works are open for viewing by a broad audience. It's a big step and if it can continue like this more and more people will have a love for art.
You are noted as being the type of art student who despite mastering proper techniques went against the grain. How would you describe your creative process?
Through schooling, I learned a variety of academic techniques. I got to a point where I questioned myself on the following, 'Would someone who has lived through and seen all of these atrocities and someone who has lived in a slum be painting beautiful flower pots or beautiful women sitting atop a couch?' My answer was, 'No, I have to be a realist.' It was in this research that I realized I could gain inspiration from the mask. The mask is ugly but beautiful at the same time. My inspiration comes from finding beauty in things deemed ugly. I paint masked characters that aren't necessarily beautiful but that I find beautiful and expressive.
Image courtesy of Peintre Obou.
Where are you based now?
I am based in Berlin, presently. I, recently, got married in December. There's an Obou story behind that, too: a love story. (In the wedding photo posted on instagram, attendees all wear Obou-style masks because the world is masked. We couldn't gather for long so it was a good way to assemble, in an artistic manner, without getting apprehended by the police. Even the police officers who looked on were happy to see this scene. It was both an oeuvre and a souvenir of a moment we all spent together. Art, yet again, played a role in this unique photo
Your work continuously highlights the message that there is beauty found in things deemed ugly. A style referred to as BRAID ART. Tell me about this style. What other themes do you cover?
BRAID ART is a term we coined at Beaux Arts. When someone made a drawing we deemed ugly, we said it was BRAID. When the LMD (licence-master-doctorat) system was instituted at Beaux Arts, we were disheartened by having to take a number of subjects we didn't need like accounting. An artist doesn't necessarily need accounting to know how many works he sold; an artist's job is to create. They were unnecessary subjects for us. It was important for us to create a movement that was opposed to this and that allowed our works to mature so we created BRAID ART. Not everyone adhered but it is a movement attributed to me. I wanted it to be a large scale movement that would allow many to express themselves through it but this wasn't the case, unfortunately.
BRAID ART is again focused on this idea of finding beauty in the ugly. When the LMD system was introduced, people didn't have time to draw because there were so many subjects to focus on so their drawings were BRAID. We had gone from five hours to an hour or two of drawing. You can't conceive something great in such time. The idea was to create art within this small time frame—to find art in these ugly drawings.
"BRAID ART is again focused on this idea of finding beauty in the ugly."
My principal theme is the human condition. I lived in a sort of slum and there I knew many moments of joy and warmth and it was important for my work to incorporate this fact. It's work that displays numerous people assembled in a space. It's really the condition of the people in Abidjan, my city. The aforementioned motivates me every day because there's always a new story to tell. I can never run out of inspiration.
You are of Dan origin and have even been called a Dan ambassador. (The Dan are an ethnic group found in northwestern Cote d'Ivoire) Your subjects often dawn the distinct masks of your people. Tell me about your relationship with Dan culture. Where else do you draw inspiration?
As previously mentioned, my discovery of the mask was due to professors' critiques. They often stated, "Your work is lovely but we don't see you in it. We can not see who you are and where you are from. Dig deeper. Go do more research." I found myself in Man. I had left Man in 2004 and revisited in 2016 or 2017. It had been a number of years. I was met with a number of souvenirs. I had a cousin in Man who sent me to a place I used to enjoy going with my uncle, who was a mask sculptor. When I arrived there, I was overcome with emotion. It felt fated. It was where I had needed to go. I was offered a mask and they stated, "You are our ambassador. You'll come here with foreigners to take videos." Upon wearing the mask, my vision changed. I now wear it everywhere: in Paris, in Berlin. It has voyaged with me on my journey. My mission isn't finished yet. There's still a ways to go.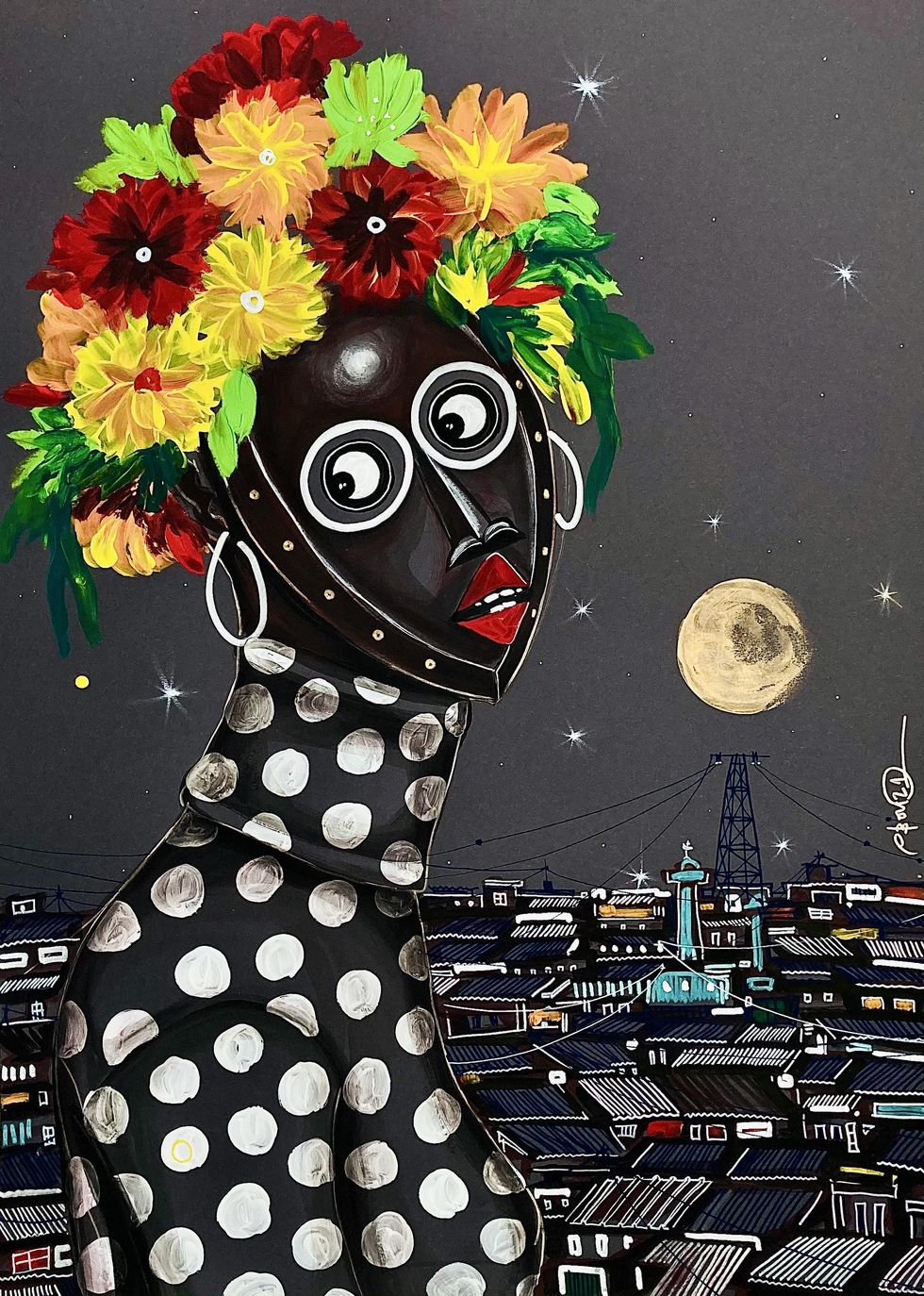 Image courtesy of Peintre Obou.
Tell me about the 2018 group exhibition called Une Toile Pour Sauver L'enfant in Abidjan.
Une Toile Pour Sauver L'enfant was one of my first expositions and one in which a percentage of the proceeds went to the production of 3,500,000 illustrated manuals on the usefulness of washing your hands regularly as well as a reminder of the basic rules of hygiene to be distributed free of charge to millions of elementary school children throughout Côte d'Ivoire.
Tell me about the project Abobo E Zo.
This is my favorite project to date. I proposed it to a friend who worked at the Abobo city or town hall and she presented it to the mayor who was really fond of it. The project was presented around the time of the Abidjan Market for the Performing Arts or MASA and I had just come home from Berlin to attend. Minister Hamed Bakayoko had purchased one of my pieces at the LouiSimone Guirandou Gallery; he had built an office in his home, where he would display these works, and he had invited the artists of the works he had purchased over. I was the youngest artist he purchased work from. I went to his home and felt rather out of place surrounded by men much older than me. As I ate, he came and sat next to me and spoke, "You're the young Obou, right? Your work is incredible. You're telling the country's story." He asked me about my projects and I began to describe Abobo E Zo. I mentioned seeing large frescoes on buildings in Berlin and wondered if the same was possible in Abidjan. I went on to say I had seen small street art scattered all over Abidjan but I wanted to create something bigger that represents something more. He listened attentively and said, "We'll see." All seemed forgotten. Time went on and campaigning was about to start so the need for renovations and creating newness came about. A project that changed a commune was needed. I was contacted to execute this project. I was so excited to take on this challenge atop large surfaces!
We began conceptualizing. For Abobo E Zo I wanted to include both vibrant colors and words representative of the commune. Until this point, Abobo was often attributed with war and crisis. I quickly coined Abobo La Joie (Abobo Joy). I created 5 frescoes: 3 large frescoes and 2 long vertical walls. I worked in collaboration with a dear friend and a number of students from Beaux Arts as this was a large undertaking. We informed the students that though the project was unpaid they were partaking in something impactful—it was the first time artists were coming together to create such work in a commune of Abidjan.
It was important for us to use words in these works because the people who live and work along this road are balenceurs (young people, typically found hanging on to the back of mini-cars, tasked with both collecting passenger tickets and attracting attention to the mini cars) and pousseurs de brouettes (wheelbarrow pushers). We incorporated words in nouchi (ivorian slang) so they could see themselves in the works. When they see phrases like Abobo, c'est la base (Abobo is the foundation) or Les kpata mousso d'Abobo (The most beautiful women in Abobo) they feel integrated in the works. It was also a way for people who don't understand art to like and potentially understand it.
I'm very proud of the result. Today, people pride themselves on telling me they saw the works. I think it's also become a touristic spot as I often get phone calls asking me where to find the works. It's changed the commune and that's very important to me.
Let's talk about your musical adventure.
JE GO is my slogan. It is a way to show who I am outside a frame hung in a gallery. It's a video display of my work. In it, I'm dawning the mask I'm known for. It's engaging as it's Cameroonian music that I've put an Ivorian twist on. I put myself in the shoes of a youth in my commune, who has always wanted to go to Europe because it's deemed El Dorado. Having lived in Europe, I know that it isn't El Dorado. You can make something of yourself in your homeland. It was important for me to sing this song. The media is full of stories of people dying on water in attempts to go to Europe but we consistently ignore what pushes them to take such risks. It's important to examine what problems lead to them wanting to go; if they have what they need at home, they won't want to go. I didn't want to show a particular person so that multiple people could see themselves in the video.
OBOU - JE GO (Clip Officiel)www.youtube.com
Music is something I am passionate about. "QUI TA DIT" was another song I made with friends. It was nostalgic and we went back to my old neighborhood and we, evidently, donned masks.
Are you presently working on anything?
I'm working on an exposition that's as uncertain as the times we're living in. I consider this a period of rest. Abidjan is the place I am able to work on projects without having to ask for authorization from anyone. I can creately freely. I can make videos. In Berlin, I am often resting and working on expositions. Abidjan is for all my follies.
Audrey Lang is a freelance writer whose content aims to connect a global audience to the African continent.