News
Jay-Z In Africa — Plans To Play Seven Cities Sadly, Not True
Jay-Z in Africa will sadly not be coming to fruition at this time.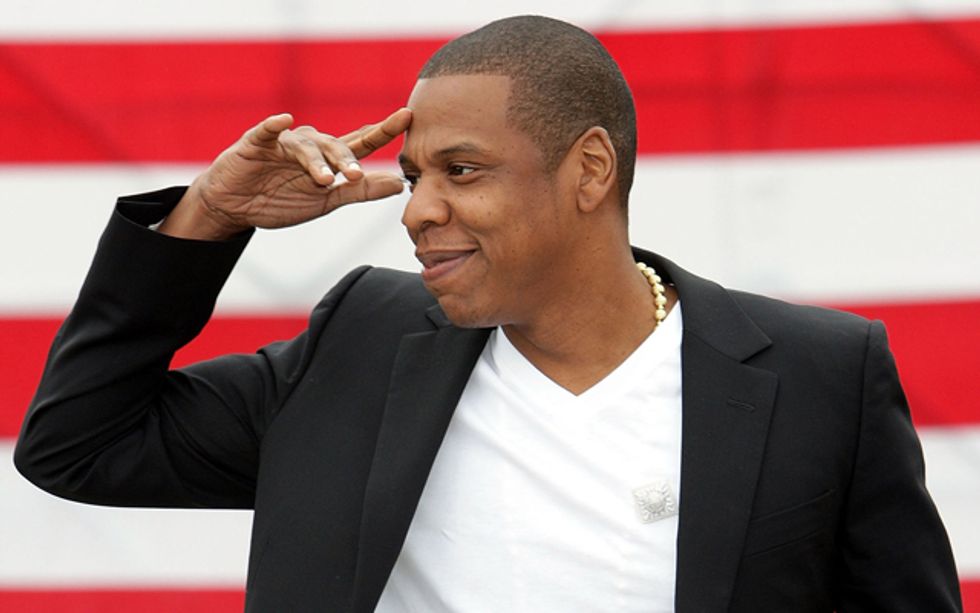 ---
UPDATE: Jay-Z in Africa? It now appears that a bunch of outlets were erroneously posting details from Jay-Z's 2006 Tour, linking to a Billboard article from August of that year (which mysteriously lacks a time-stamp). After some confused reaction on twitter, Okayplayer and Okayafrica have confirmed with sources close to Hov (specifically dream hampton) that this is indeed old info and no new dates for Jay-Z in Africa have been set for 2013. Sorry for the fake-out!
Jay-Z has just announced a seven-week world tour to spread awareness about the globe's water crisis. The tour kicks off Sept. 9 in Poland, with Jay making his way through Europe, Africa, Asia and finishing the shows off in Australia — no Cuba this time. Within those dates he'll be playing concerts in seven cities on the continent: Dar es Salaam, Accra, Lagos, Luanda, Cape Town, Durban, and Johannesburg. See the full Jay-Z world tour dates below.
JAY-Z WORLD TOUR DATES
Sept. 9: Krakow, Poland (Coca-Cola SW Live Festival)
Sept. 10: Bratislava, Slovakia (Incheba)
Sept. 15: Amsterdam (Heineken Music Hall)
Sept. 16: Germany (TBA)
Sept. 18: Istanbul (Refresh the Venue)
Sept. 19: Athens (Olympic Arena)
Sept. 21: Manchester, England (Evening News Arena)
Sept. 22: Glasgow (SECC)
Sept. 23: Birmingham, England (National Indoor Arena)
Sept. 24: London (Wembley Arena)
Sept. 26: Dublin (the Point)
Sept. 27: London (Royal Albert Hall)
Sept. 29: Paris (Le Zenith)
Sept. 30: Milan (Fiera di Milano)
Oct. 2: Barcelona (Teatro Heineken)
Oct. 4: Dar es Salaam, Tanzania (Diamond Jubilee)
Oct. 6: Accra, Ghana (Accra Conference Center)
Oct. 7: Lagos, Nigeria (Ocean View)
Oct. 9: Luanda, Angola (Cine Karl Max)
Oct. 11: Cape Town, South Africa (Belleville Velodrome)
Oct. 13: Durban, South Africa (ABSA Stadium Outer Fields)
Oct. 14: Johannesburg (Coca Cola Dome)
Oct. 17: Hong Kong (TBA)
Oct. 18: Bangkok, Thailand (BEC Tero Hall)
Oct. 20: Seoul, Korea (Walker Hill Gayagum Concert Hall)
Oct. 21: Taipei, Taiwan (Taipei Dome)
Oct. 23: Singapore, Singapore (Suntec City Concert Hall)
Oct. 25: Sydney (Entertainment Centre)
Oct. 27: Brisbane, Australia (Entertainment Centre)
Oct. 28: Melbourne (Rod Laver Arena)