This page contains content sponsored by Hennessy.
Success stories in professional sports often transcend borders, as players' impact extends far beyond their on-court achievements — post-career choices shaping their legacy as global symbols. When they become symbols, often for charity and general positivity, they end up impacting people's lives - sometimes on their own, other times with aid.

As part of Henessy's ongoing commitment to community development and outreach, the brand launched a global initiative called In The Paint. In this initiative, they partnered with two-time NBA All-Star, Joakim Noah — a third-generation athlete, and a revered legend in the basketball realm — to breathe life into rundown and disused courts.
Joakim is no stranger to charity and outreach programmes as his foundation, Noah's Arc, has been working towards giving children various opportunities to increase their awareness and consciousness of their capacity to positively influence both their community and themselves since 2010.
Launched in 2021, Hennessy's In the Paint is a global initiative. As part of its agreement with the NBA, the premier cognac brand Hennessy launched this project as a corporate social responsibility programme that combines the worlds of basketball and art to create dynamic environments that inspire togetherness and positivity.
This project, which is dedicated to community participation and rehabilitation, works with nearby artists to give abandoned basketball courts a new lease on life. Painted by Osa Seven in Nigeria, these courts are turned into vibrant paintings that represent the various groups and cultures who come together to appreciate the arts and sports.
At the heart of this collaboration is the desire to nurture a facet of the community which in turn spills over to other aspects. As of October 2023, the programme includes courts around the world from Ghana, South Africa, Tanzania, Nigeria, Barbados, Hong Kong, and Mexico. Upcoming courts are planned in Shanghai, Congo, Puerto Rico, Turks and Caicos and more.
OkayAfrica sat down with Joakim Noah to talk about the story behind an extraordinary collaboration. what inspires him, and the importance of art in sports.
The interview below has been edited and condensed for length and clarity.
OkayAfrica: Can you tell us about the inspiration behind the initiative and how it all came together?
Joakim: Yeah. I mean, this initiative and working with Hennessy, is something I'm very proud of. The relationship just happened very organically and a lot of my philanthropy work is basketball and art. So when the connection happened, it was just an easy partnership because the synergies were pretty much the same.
How do you believe that refurbished basketball courts will impact local communities here in Nigeria and Africa at large?
You know, sports is the ultimate unifier. It unifies the people so no matter where you come from, no matter what you're going through, it's a great way to bring the community together. I think that basketball is still in the early stages in Africa. We still have ways to go in terms of infrastructure, but it's growing and that's why this partnership is important.
I really feel like we have ways to go and the more we can highlight basketball, I think, there's a real opportunity for kids to have more opportunities with this game. So I'm really excited about refurbishing these courts, bringing the community together, and putting an eye on basketball because the opportunities are unlimited here on the continent.
What role do you see art playing in this initiative? And how do you think it's going to enhance the overall experience of the players and everyone involved?
Just having that kind of beautiful art on the courts, it just highlights the work of beautiful artists. Art is something that really shows what the community is about. It [art] shows the style of the community we're working in. This is my first time in Nigeria and I'm just really excited to get to the court. And, you know, just see some of the art.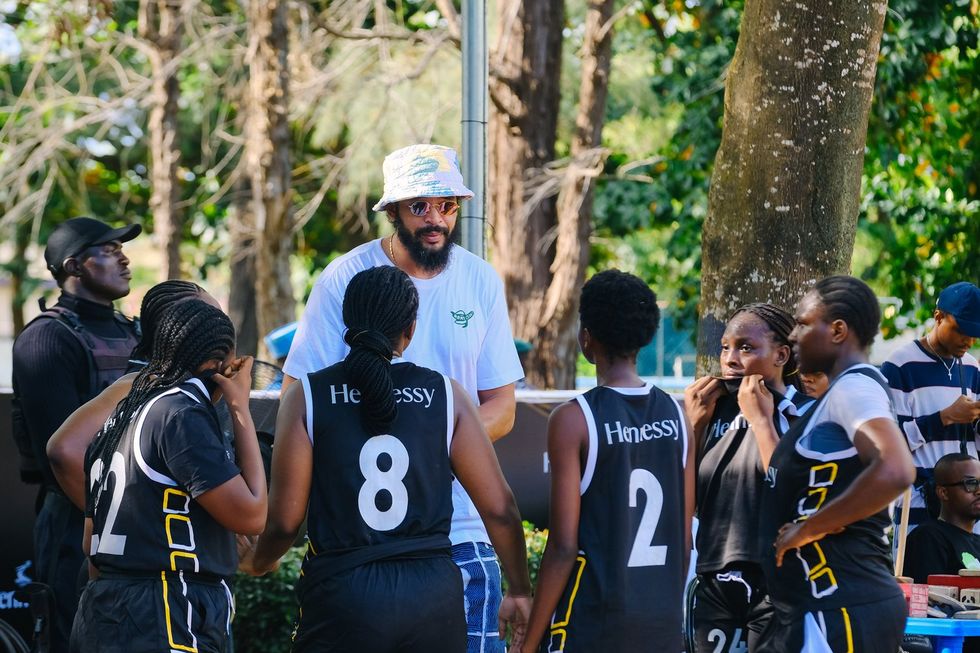 Joakim Noah motivating hopefuls during the Hennessy 'In the Paint court unveiling.Photo by 3188 Studios.
Mentoring young players is a crucial aspect of this initiative, especially for you. This is something you've done with your foundation. So could you just tell us a bit about what you plan to do with young players here for this initiative?

Mentoring happens very organically, and we'll see who's on the court. We'll see who's receptive to a style of coaching and meet everyone where they are [with their skills]. I played 15 years in the NBA so I've had a lot of experience when it comes to basketball. So if this is something that some of the people are interested in, then I'm here for it. This is what I want to do. This is what I love doing, mentoring kids.
Are there any specific basketball skills or life skills that you hope you can instill in young players through your mentorship?
I think that when you bring people from the community and they're playing basketball, there's a lot of life lessons that come to the game. It's all about collaboration, right? And I think that these are life lessons that you can learn, that happen during the game, but also outside the game as well. So, the values that you get while you're playing basketball can help you in your life.
An aerial view of a Osa Seven's graffiti mural on a basketball court in Victoria Island, Lagos.Photo by 3188 Studios.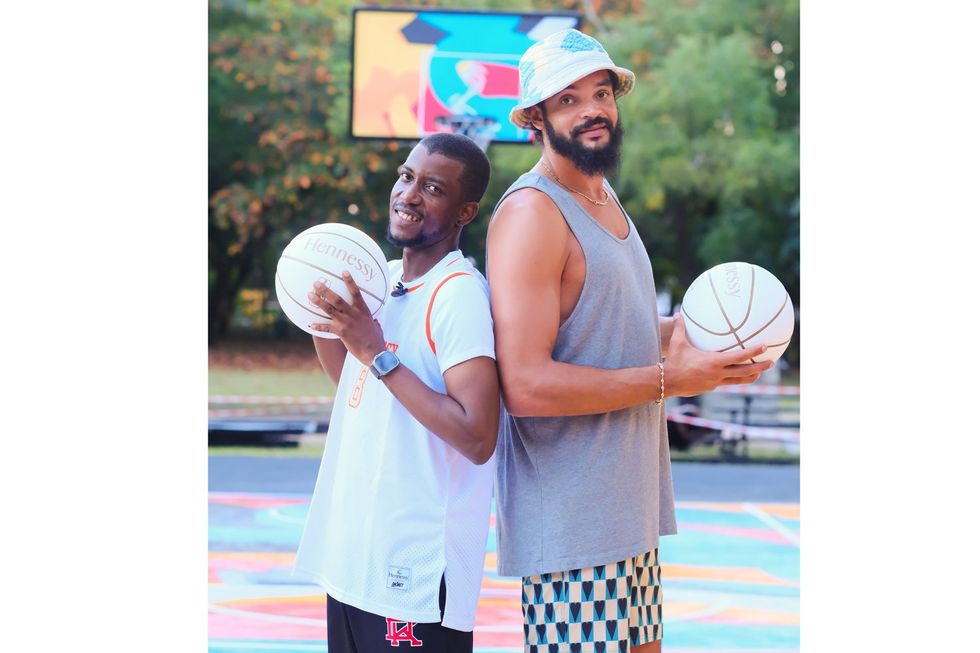 Nigerian artist Osa Seven and Joakim Noah posing together during the Hennessy 'In the Paint' court unveilingPhoto by 3188 Studios.
Is there any way that people can get involved in this sport or support this initiative, both from everyday people to other celebrities?

I think we're blessed to have a brand like Hennessy that puts the time and effort into making these beautiful courts. So, I think that's automatically going to make a difference. It's going to be the main highlight, the art, the court, and how it can elevate the community it's in. And I think that the more that we do it, the more visibility it gets, and the more people want to be involved.
How is your personal connection to basketball and your experience being the son of a world class athlete? How has that influenced your desire to support young players and improve the basketball infrastructure in underserved areas?
I think the values [of any athlete] are the same. The work ethic is the same. Being able to see my father not just compete but train was inspiring to me. What it takes - the training and the sacrifices that it takes to be a champion. You know, those are things that were instilled in me at a very young age and one of the reasons why I was able to have a career at the highest level.
So those are experiences and things that I try to share with young players who have those dreams and those ambitions to play at the highest level. But this is mainly about bringing the community together. Social work has also been a big part of my education, so to be able to work with a brand like Hennessy and build together was a no-brainer.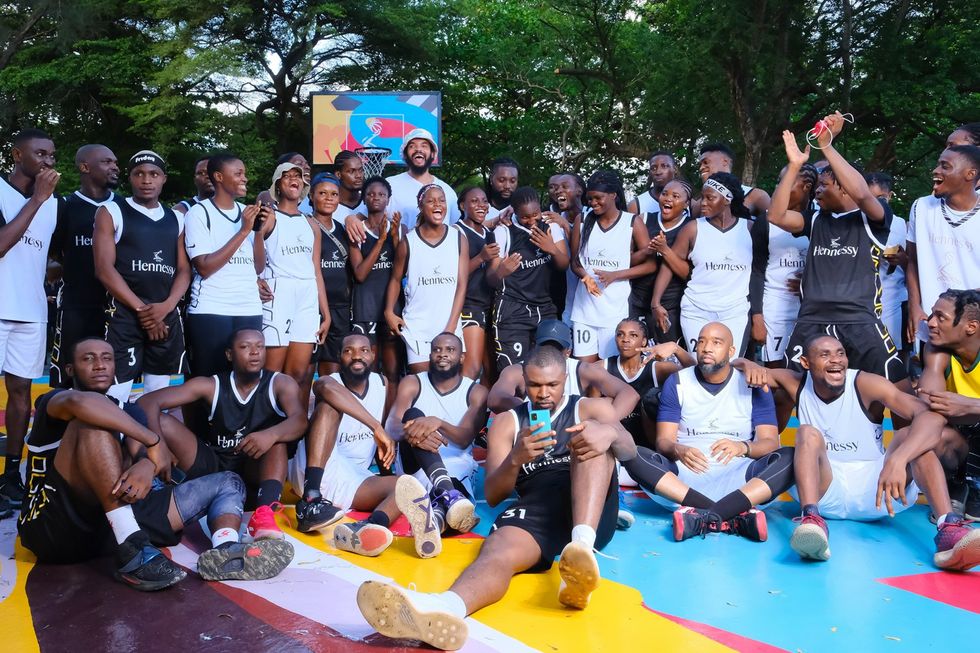 Joakim Noah in a group photo with all the players during the Hennessy 'In The Paint' court unveilingPhoto by 3188 Studios.
Do you have any specific messages or advice that you'd like to give to aspiring basketball players?

I would just tell them just to aim high. We have to change the mindset a little bit for young athletes on the continent. A lot of times parents are against kids having big dreams of becoming athletes, but we have to understand that it's not just about being an athlete but also the values that you can learn from the game. These are becoming big sports and becoming economic vehicles for not just the players, but everything that's going on around.
What do you hope that this initiative and partnership with Hennessy, is going to do for communities and young players that it's designed to help?
This initiative aims to touch people's lives positively. This kind of help in a young player's life can't be overthought or overlooked. I know what my values are and I know what has to be done to play basketball at the highest level. But, I also understand the power of community, the power of art, and the power of expression. These are powerful tools on the path to success and I'm just very excited to be a part of it.