It was during a school trip to Broadway that Jocelyn Bioh first felt the magic that comes from being in a darkened room with others, taking in a show, listening to the music, watching the dancing. A production of George C. Wolfe's Jelly's Last Jam, the musical review, had her enraptured, she tells OkayAfrica. "I just remember being so wowed by it all; by the lights and the cool costumes, the incredible singing and the dancing – Gregory Hines was in it. And I couldn't believe I was at a Broadway show." Jelly's Last Jam was the Ghanaian American's first glimpse of a future – her future – in the theater.
But it wasn't as if a clear path set itself out from that moment. Bioh's parents, who emigrated from Ghana in the late '60s, had the customary hopes for her to follow a more traditional career path of doctor or engineer. That Broadway encounter, however, set in motion the steps that would lead to where she is today: returning to Broadway, all these years later, this time with her name in lights.
Initially, Bioh thought she'd be a dancer, but after studying English and Theatre at Ohio State University, she earned her MFA in Playwriting, and began accruing acting credits in plays, including the Tony-winning The Curious Incident of the Dog in the Night-Time. It was while in the ensemble of Curious Incident, a decade ago, that Bioh became determined to write and create her own shows. She wanted to expand the kinds of roles being offered to Black women, and share a wider range of stories written for the stage about African women.
First, she wrote and staged the Off-Broadway show, School Girls; Or, The African Mean Girls Play, in 2017; then came Nollywood Dreams, about a young woman with dreams of being a Nigerian movie star, followed by the musical Goddess, about the African goddess of music, Marimba, at the Berkeley Repertory Theatre. Now, October brings with it the debut of Jaja's African Hair Braiding, Bioh's sensational, heart-stirring comedic tale set in a hair braiding shop over the course of a day.
Directed by Whitney White, with Tarji P. Henson and LaChanze among its producers, Jaja is currently in previews and opens at the Samuel J. Friedman Theatre on October 3rd.
Bioh spoke to OkayAfrica about why she wanted to bring this story, and this hair-braiding shop, to the stage.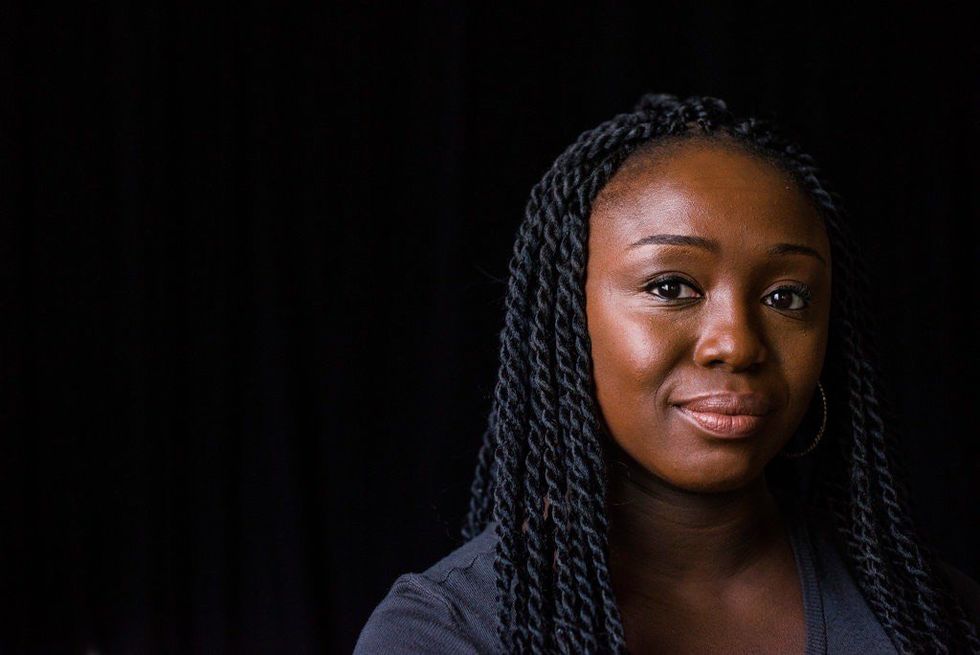 Jocelyn Bioh is making her Broadway debut as a playwright with "Jaja's African Hair Braiding."Photo by Joshua Bright.
The interview has been edited for length and clarity.
From acting in the ensemble of The Curious Incident of the Dog in 2014 to now having your own show on Broadway – how would you describe the path that got you here?
A roller coaster [chuckles]. Truly up and down, even within what I'm sure people would now deem as like the pinnacle of success in terms of theater. There's still peaks and valleys up there, as well. I'm somebody who pushes myself a lot. I have a lot of lofty goals that have ended up becoming real ones. I was very persistent. That's a key thing to have in this business. Because people fall away. You kind of all start off on the same journey: the gun goes off, you start running the race and people just naturally kind of fall off, for one reason or another. And I do find that the perseverance to keep pushing will definitely get you there.
I'm not somebody who comes from wealth or access, even though I grew up in New York, and I never even saw a Broadway show until my school took me to see one. It wasn't anything that my parents could afford. So this was all an incredible amount of hard work. That's the lofty answer, the sentimental answer, to your question. But there's obviously little things that have happened over the course – of just getting a good agent, of wanting to write stories that centered African people, comedic stories that centered African people, and Black people. And really, being very pushy about that being where my voice lived, and wanting people to just give me a chance.
Africa and comedy are not synonymous when it comes to storytelling, so there are many people who were trepidatious about producing my work. What we're coming to find, even in these first few previews of Jaja, which have been really successful and full of really loving audiences, is that everyone loves an excuse to go and laugh, and have a good time. And if you walk away having felt something even more emotionally, heartwarming or heart-wrenching, then that's even better. But we should never underestimate one's want to have a good time and to laugh with a group of people.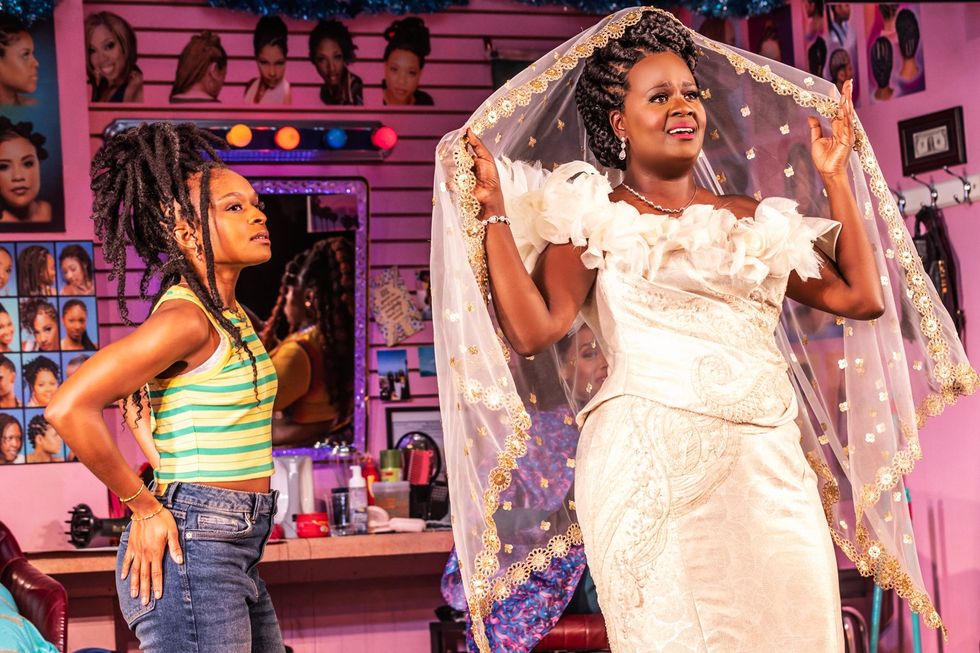 Somi Kakoma plays Jaja in Jocelyn Bioh's Broadway show, alongside Dominique Thorne, who plays her daughter, Marie.Photo by Matthew Murphy.
You strike a good balance within that, though, because there's chuckle-out-loud laughter, but then there are also hushed moments where we're wiping away tears, especially when it comes to talking about immigration. How do you strike that balance? What's your process?

I think it's all just naturally where my voice lives. There's a quote that I kind of have gotten by, for most of my writing career, which is that comedy is just a funny way of being serious. Anybody who lives the life that we live, whether it's in the entertainment industry, or in business, finance, whatever it is, there are some times where those everyday things that happen are stranger than fiction, and they're so funny. And I feel like leaning into the truth is actually why people like my work. I'm never trying to make a meal out of something. I hope that when I write these character-driven narratives that I'm leaning so deep into who this character is that you can't help but laugh because people recognize either themselves, their mothers, their fathers, co-workers, friends, whomever, in the truth of who these people are.
That is always my center of gravity, leaning into the truth. I feel like I have a rich understanding of just how funny that truth is. And then there's a moment where it's not. It's important in a comedy that laughs are not just frivolous, that you're also letting people fall in love with these characters, so that when the truth of something that happens to them, which is on the heartbreaking side of things, hits you, it taps into the emotional core that we as humans, I hope, all feel – that empathy, that sympathy that is severely lacking in most areas of our lives.
We pass by things, [read] news articles, all the time about something really tragic and kind of keep going. In the theater, you are in a dark room with hundreds of other people sharing the story of these characters, their stories. You have nowhere to go except your own feelings. That's an important responsibility for any writer who really understands, and loves, their craft.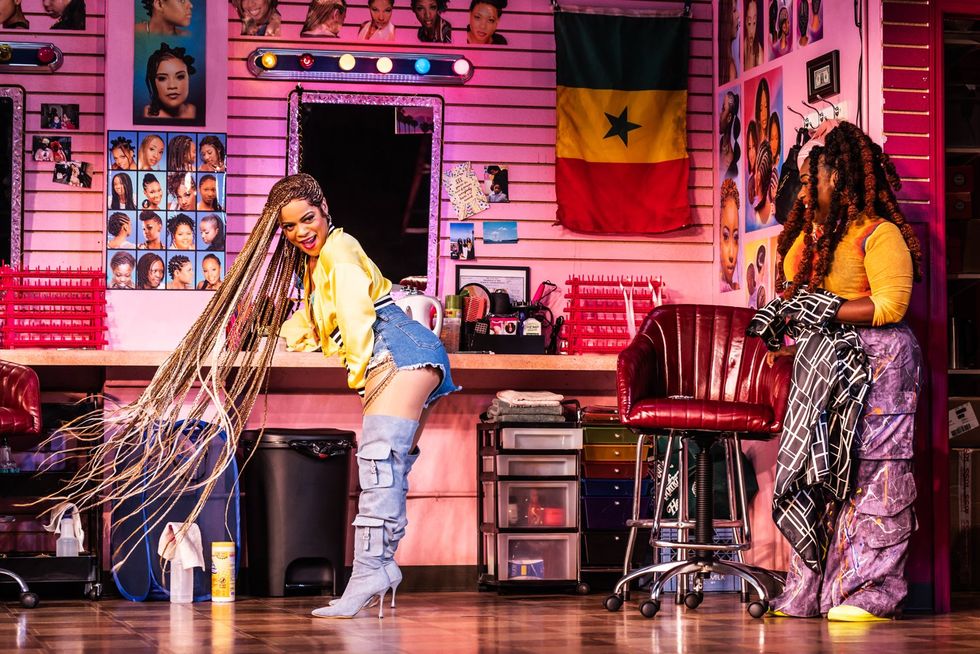 Kalyne Coleman and Maechi Aharanwa in "Jaja's African Hair Braiding."Photo by Matthew Murphy.
There are films and shows set in a barbershop, so it's great to see one set in a hair braiding salon. Also, you have characters from different African countries, how did you go about creating them – are they composites of people you've met?

They are definitely composite, amalgams, of tons of women that I've known and met over the years. I've been going to a hair braiding salon since I was four or five years old. And I still do. They're just an incredible group of women. They work so hard; they're usually putting in 12 to 13 hour days on their feet braiding people's hair, day in and day out with rarely a day off. That's a little different than a barber shop or even a hair salon. A hair braiding salon is so specific. I was born and raised in New York, so I feel like it's very specific to New York, but there are tons of communities like this and shops like this all over the world. I wanted to be able to highlight these women, highlight their stories, highlight who they are.
Them being from different countries is important. That's a part of the play that I'm fudging a little bit in terms of the truth of it. In a lot of hair braiding shops, usually the women are from one particular country, most times Senegal or a West African country where they all speak close to the same language, usually Wolof or something. My hair braiding salon that I currently go to, there are actually a mix of women from various countries, which is rare. I would say most of the time they've been from Senegal.
There's not usually an opportunity to highlight so many different cultures in one play, or one show. Usually you're focusing on a particular group of people just based on the setting, but I had a rich opportunity to be able to do that here, so nearly every braider in the shop is from a different country in West Africa. And they're all representatives of a hair braiding lady I've had: I've had a hair braiding lady from Ghana, from Nigeria, from Sierra Leone, from Senegal. So I wanted to be able to put all of that into play. It's exciting.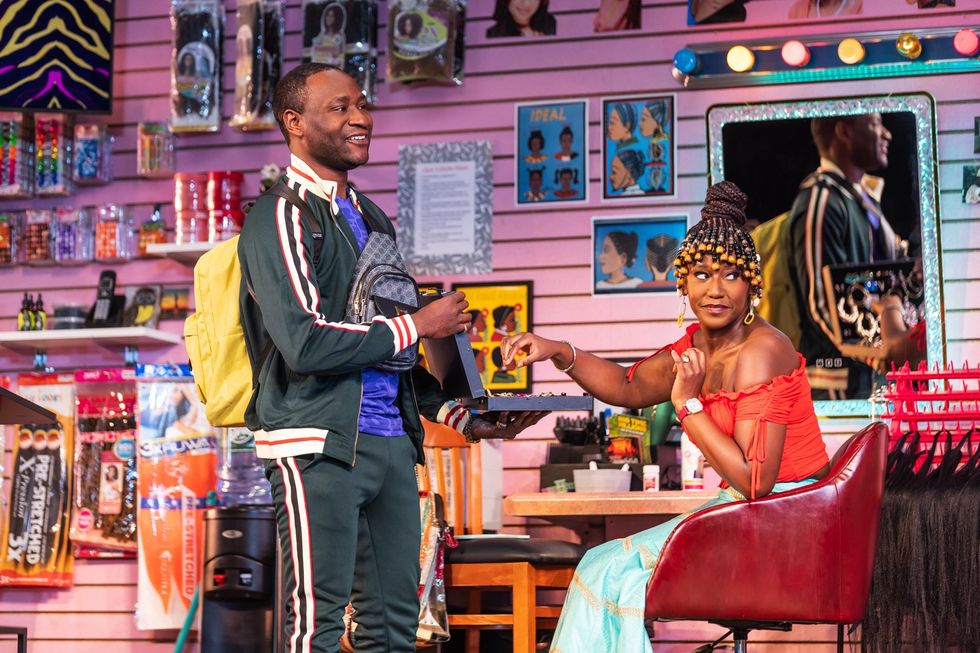 Michael Oloyede and Nana Mensah are part of the cast that brings Jaja's Hair Braiding to life on stage.Photo by Matthew Murphy.
The audience gets to see the hair being done, almost in real-time. That must be a lot of hair to go through…?

The wig design in this show, as you saw, is incredibly intricate, and also should feel magical. I said it very early on, the wigs in the show should feel like a magic trick that people are like, 'Wait, how did they…?' Every scene in the show is a timestamp of the day, and so it should feel like we've moved on, and it's 2:30 pm but it's only been in reality a minute, so how did half of her hair get braided? Our wig designer Nikiya Mathis and her team did an incredible job and they make you feel that magic. Even though the play is 90 minutes, you walk out having felt like you were in the shop all day.
This cast is fantastic, from Nana Mensah to Somi to Dominique Thorne. Do you have a kinship there, with someone like Nana, who is also Ghanaian, and who you've worked with before, that maybe helps you develop an understanding together of what it is you're all doing?
100 percent, yes. I'm an actress as well. So coming up in theater, many of the actresses who are in this play are people who were my castmates in a play. Some of them, I just admired their work from afar. Some of them, I just met when we worked on this production. And then there's people like Nana, like Maechi [Aharanwa, who plays Ndidi], like Zenzi [Williams, who plays Bea], who I've worked with and known for many, many years, and kind of knew, for the most part, this is the role that that would really fit them.
Nana, in particular, worked on another play of mine, Nollywood Dreams, for almost eight or nine years before we finally got it produced. So she's really special to me. She's also really one of my closest friends, but I knew that this part was perfect for her.
There are some people who I'd never met before, like Brittany Adebumola, who plays Miriam, and has that story about how she came to America and – I don't want to spoil it for the people who are going to read – a beautiful story, and she's an incredible actress that I would not have met had it not been for our casting directors inviting her into our casting process.
This moment of being on Broadway is, in itself, something to be proud of, but what are you most proud of in your career so far?
I'm most proud of the fact that I never gave up so many times that I wanted to. There were so many times that it was easier to just do that. Now I find myself coming from having a nice dinner, and I'm walking up to the theater and there's a line of people outside of a Broadway marquee that says Jaja's African Hair Braiding, and they're sitting in the theater, and they're laughing for a good while, and afterwards they want to meet me. Then I go home and I have this beautiful new family that's budding, and it's a world away from any realm of possibility I thought I would ever have in my life. And that's all because I kept my faith in God and what his plan was for me, and kept faith in myself and my talent. It was a rough road, but none of that would have happened if I hadn't given up.