Burkinabé Rapper Joey Le Soldat & Max Le Daron's 'Sin Logba'
Burkinabé rapper Joey Le Soldat and Belgian DJ/Producer Max Le Daron pay tribute to fallen African freedom fighters in "Sin Logba."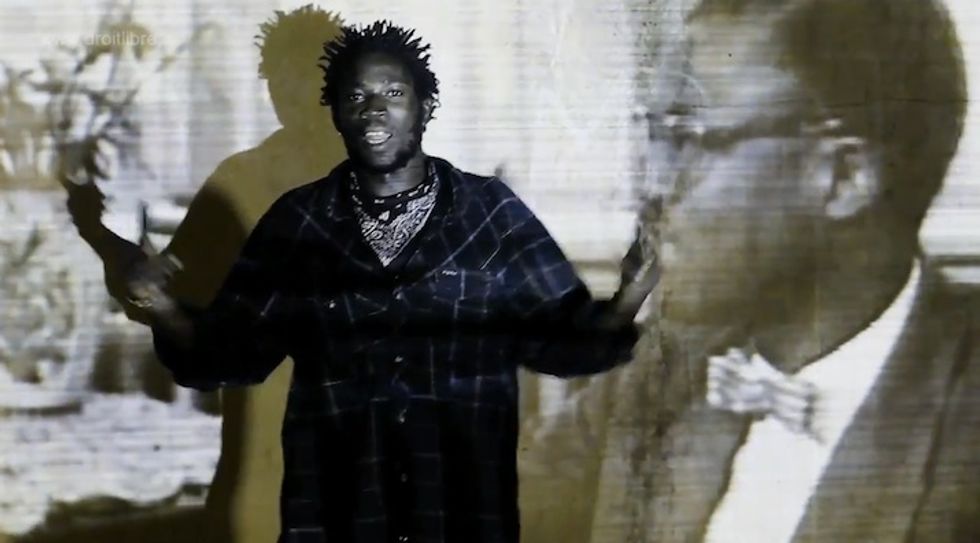 ---
The music video for "Sin Logba" by Burkinabé rapper Joey Le Soldat and Belgian producer/DJ Max Le Daron is both a strikingly inventive visual piece and an impassioned elegy. Taken from the duo's 2014 EP of the same name, "Sin Logba" is a dance track with a serious topic: the deaths of several African men who fought for freedom in their respective countries. Directed by Gideon Vink, the video honors such fallen names as Burkina Faso revolutionary leader & president Thomas Sankara and journalist Norbert Zongo as Le Soldat fiercely raps (in Mooré, a regional Burkinabé language) about their sacrifice and rebellion. Over an anxious blend of quick drums and streaky strings, Le Soldat interposes his face on a spinning record and dances while painter/graffeur Deris Deris makes spray-paint murals of the deceased. Speaking about the video, Le Daron reveals that "This tune has been used as the soundtrack of the revolution that took part in Burkina Faso a couple of months ago." Check out the "Sin Logba" video below and read the English translation of the song's lyrics over at the Bandcamp page for Joey le Soldat and Max le Daron's Sin Logba EP.