Film
John Ridley's 'Guerrilla' Gets Slammed for the Absence of Black Women in the Series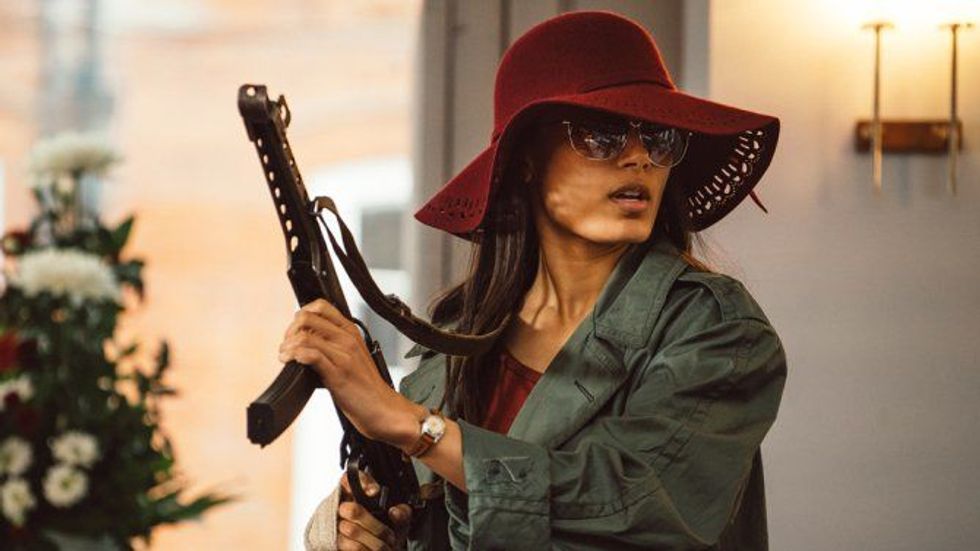 John Ridley's new series set to premiere on April 16 has been receiving heated criticism that black women are being erased from the series.
Guerrilla, a six-part series written and directed by John Ridley (screenwriter for 12 Years A Slave) based on Britain's Black Power movement of the 1970s, is set to premiere on Showtime April 16. The series tells the story of a politically active interracial couple whose relationship and values are tested when they liberate a political prisoner and form a radical underground cell in London.
---
Ridley initially intended to have San Francisco be the backdrop of the drama, according to The Guardian.
"My initial reaction was that my story just didn't feel like a British story," Ridley says in his interview with The Guardian. "But after speaking with Darcus [Howe], Farrukh [Dhondy] and Neil [Kenlock], I began to see that there were elements that were very, very similar. The struggles, the small indignities, the sense of a collective working together. As an American we tend to look at the UK as being so progressive and elevated with Windrush, and that is true to an extent, but beneath that there were troubles, issues, disregard and disenfranchisement."
Ridley and the actors starring in the film—Idris Elba (who's also an executive producer of the series), Babou Ceesay and Freida Pinto—have been promoting the series as of late with pressers and attending screenings, but at the premiere held in London on April 6, the Q&A portion of the program was a tense moment of attendees addressing their concerns of the series, especially the perceived erasure of black women from the storyline.
Ridley was asked repeatedly as to why he decided to make the main protagonist an Asian woman, as well as why there are so few black women in the episode, especially knowing the many black women who were at the forefront of the movement including Althea Jones-LeCointe, Barbara Beese and Olive Morris. Only one black actress—Zawe Ashton—is included in the cast credits, who plays Omega, "a strong, respected leader in the black community, but doesn't believe her opinions will be taken seriously by the white establishment," according to Showtime. "She enlists Kent to represent the moderate, considered side of the movement to the press, and does her best to keep him in line."
Watch the Q&A in the three clips below:
#Guerrillahttps://t.co/iva8nnAjJt

— Melanin Millennials (@MelaninMille) April 6, 2017
Can't send the whole thing but here's the second question that got the debate started at the #Guerrilla screening. pic.twitter.com/pYsoCVel4x

— Melanin Millennials (@MelaninMille) April 7, 2017
Part 2 of the #Guerrilla Q&A see the previous tweet for the question. pic.twitter.com/BslAnAbhHs

— Melanin Millennials (@MelaninMille) April 7, 2017
Although it does not appear that the women who took Ridley to task were unaccepting of his answers, it instead seems like he was getting defensive instead of actually answering their valid questions. Reactions on social media also show that they're not really buying it either:
@SHO_Guerrilla#boycott#Guerrilla racist erasure of #blackpanther black women pic.twitter.com/JBmVX02nwP

— Dallas Harrison (@dallas90210) April 8, 2017
Another picture from Neil Kenlock's collection... Black women always in the struggle, front and center!! #Guerrilla#boycottpic.twitter.com/l51OEt1sfk

— M. Hyacinth Gaynair (@blkatlanticCDN) April 9, 2017
Hard enough for black women to have an ounce of representation, but to be erased from your own movement is summin else #Guerrillapic.twitter.com/Mffv4VBtT6

— malcontent ms. (@malcontentms) April 8, 2017
Not only did #guerrilla erase Black women from the Black Power Movement - which wouldn't exist without them - it portrayed them as traitors.

— Eric (@Chiux123) April 8, 2017
It may be too early to deduce the intent of the erasure of black women from this series just from episode one, but first impressions matter. Hopefully we'll see the much needed and accurate representation of black women leaders as the series continues.