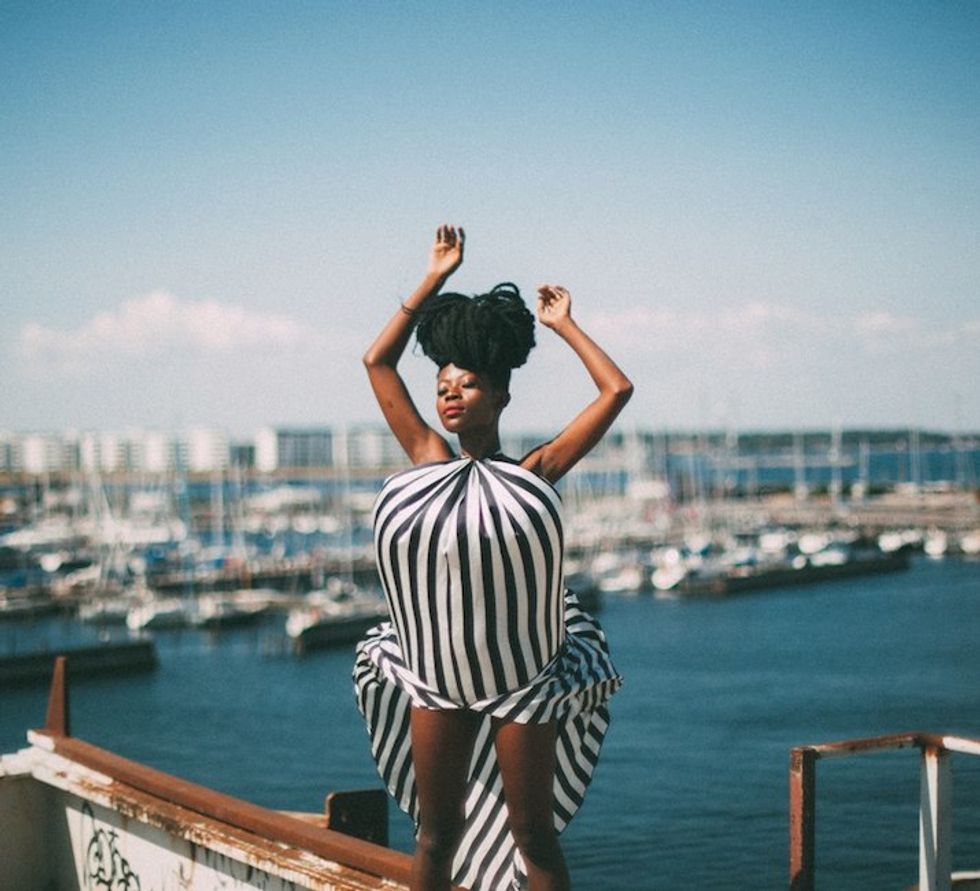 ---
Photo: Nordic Noir Photography
We were first captivated by the hypnotic vocals of Ghanaian afro-soul and jazz singerJojo Abot after she released the spellbinding video for "Hex" last summer. The heartwrenchingly cinematic clip introduced us to the vulnerable yet willful nature of Abot's songwriting and it hinted at even greater things to come from the budding songstress. A little over a year later Abot has resurfaced with news of her soon-to-be-released debut EP 'Fyfya Woto,' from which she recently previewed two phenomenal tracks "Lom Vava" and "Aim Straight." Abot's is a familiar face within Ghana's independent creative scene and in addition to her musical prowess, she moonlights as an actress, model and stylist. For the multi-faceted artist who feels most at home behind the microphone, this debut EP is her first cohesive body of work and we were excited to delve deeper into Jojo Abot's world for our First Look Friday series. Read on for our Q&A with the rising songbird.
________________________________________________________________________________________________________
OKA: Can you give us the back story on the title of your record?
Jojo Abot:Fyfya Woto is based on my grandmother's middle name which I have loved for years. As an Ewe woman coming from a family of interconnected unique and powerful women, I have often times wondered about the lives of women in my family from one generation to the next. I've always been fascinated by the traits and convictions that bind us but even more so, I find that the core challenges and realities of being a woman somehow manage to remain the same. Fyfya Woto means it has just been invented. It speaks of something newly discovered. I believe in order for something to be discovered, it must first exist. Fyfya Woto exists in every one of us- in fragments and [as a] whole and it is what binds us as a family and as women. [My grandmother's] fighting spirit and desire to live a life that breaks the cycle is what inspired this record's title and story.
OKA: How long did it take you to conceive and develop Fyfya Woto?
Jojo Abot:Fyfya Woto has always existed as I said. The decision to tell this portion of her story in song however had to happen within two months. I had six studio sessions, lasting between six to ten hours each, within which to write and record each song. That was the challenge in reality. At a rate of one song per session we finished the project in less than 2 months.
OKA: What was your creative process as you put the EP together?
Jojo Abot: It became a very seamless process for me once I accepted the fact that what I was considering to be writer's block at the time was actually an opportunity for me to be inspired to communicate in a different way. My producer Jonas Rendbo and I simply fed off of each other's energy. We tapped tables and made sounds and somehow it came together. Each track on the EP has a different vibe and that was our way of exploring different themes and sounds. We just decided to have fun with it since it was our first opportunity to create something whole together considering the fact that he is from Copenhagen and I had come in from Accra very much Ghanaian. We met each other half way artistically and brought in our own individual essence to create a fusion we could be proud of.
OKA: Is there an overarching message that weaves through the songs on Fyfya Woto?
Jojo Abot: A woman's right to choose. This EP acknowledges the burdens and expectations placed on us culturally and traditionally but to an even greater extent, it acknowledges our right as women to choose and to seek happiness in every aspect of our lives.
OKA: You previewed two fantastic singles off the forthcoming EP. Can you tell us what to expect from the full body of work?
Jojo Abot: In all of the tracks we've maintained my signature electronic and afrobeat elements but each song stands on its own with a unique portion of the story. Expect diverse language, harmonies and rhythms. Expect to meet someone new.
OKA: Who are your musical influences?
Jojo Abot: For this particular project: Thandiswa Mazwai, Savage Rose, Seeed, Lucky Dube, and Simphiwe Dana
OKA: You used to live in Brooklyn before heading back home to Ghana to launch your music career. What prompted the move? And how easy or difficult was it to get your foot in the door?
Jojo Abot: I never officially "moved" back home. I still haven't really packed up and moved. I went to Ghana for my grandmother's 95th birthday and never left. I fell in love with Ghana and really just wanted to take the opportunity to explore  my newly discovered interest in art and music. I don't believe that I have gotten my foot in the door necessarily either. For me, the last three years were my incubation period. The journey has only just begun.
Photo: Miggified
OKA: What has your experience within Ghana's creative community been like since you arrived?
Jojo Abot: I owe my decision to stay in Ghana to the amazing and inspiring network of Ghanaian creatives I met when I got back home. Creatives like Gyedu-Blay Ambolley, Ebo Taylor, M3NSA, King Ayisoba, Serge Attukwei, JaHWi, Wanlov, Kyekyeku, Kofi Ansah, Ofie Kodjoe, Nii Obodai, Sir Black, Seton Nicholas, Kobby Graham, Chief Moomen and Kwame Yeboah among others really made me believe that it was possible to find myself in this space as an artist. I stumbled upon a truly powerful underground movement that provoked me in a positive way and I am forever grateful to Ghana for giving me the space and people I needed to blossom.
OKA: Can you tell us a little bit more about your other creative pursuits?
Jojo Abot: It's been very exciting discovering the many ways in which we are able to express ourselves as individuals. I've developed a growing interest in styling, photography and film and so through my work as the Art Director of Vintage Gh, I am able to experiment and create. Having the opportunity to be the stylist for An African City was a wonderful experience so I look forward to styling other productions in the near future.  I'm currently collaborating with photographers, musicians and videographers on various projects in Ghana and Denmark.
OKA: You also played the lead in Akosua Adoma Owusu's brilliant short film Kwaku Ananse. How did that collaboration come about? What was your experience like working on the film?
Jojo Abot: I went back to New York in July 2012 to finally pack up and officially move back to Ghana. While in the middle of that process, I received a message from Akosua Adoma Owusu asking if I would play the role. I was given days to give an answer and head back to Ghana to begin filming. The decision was obvious and easy. Being part of a project alongside living legends Koo Nimo and Grace Omaboe was reason enough to drop everything and head for the hills. It was a wonderful and memorable learning experience. I'm forever grateful.
OKA: When can we expect Fyfya Woto?
Jojo Abot: We are yet to set a release date for the EP. In the meantime, we do look forward to releasing the video for "Lom Vava" next month.
OKA: You're stranded alone on a desert island. Name three items you couldn't survive without.
Jojo Abot: Ewe Bible (gotta keep my vocabulary sharp!), shea butter, Atsimevu (traditional Ewe drum)
Follow Abot on soundcloud, facebook, and twitter.