Over the last few years, South African hip-hop's overall prominence has slowed down — mostly because of amapiano's tight grip on the market. As a result, most mainstream rappers have had to be innovative and incorporate the log drum into their tracks. One hip-hop artist who exemplifies and has executed this approach without neglecting his core artistry is Kwesta. The MC, who for a large part of the 2010s dubbed himself "Da King of African Rap," has kept up with the times and his recent team up with Kabza De Small is a testament to this. As a rapper, who often dovetails into authentic, South African-birthed sounds, his decision to join forces with Kabza is not much of an anomaly.

Like Kwesta with South African hip-hop, Kabza is a towering and key figure within amapiano. For the past three years, the pioneering producer/DJ has remained a stalwart and has been one of the most streamed South African artists across all genres. As a solo act or together withDJ Maphorisa as Scorpion Kings, he has released genre-defining chart-topping amapiano tracks and projects. Through his label, Piano Hub, Kabza has also been instrumental in the careers of other artists including Kelvin Momo, Young Stunna and Mdu aka TRP.
The timely creative union of Kwesta and Kabza De Small dates back to 2020, amidst the peak of the pandemic when they had an encounter during a shoot for Channel 0's Lockdown House Party show. As Kwesta tells it, Kabza was the one that initially suggested that they work together. At the time, the super producer had put out the first instalment of his Pretty Girls Love Amapiano album series and was gearing up for the release of the groundbreaking, I Am the King Of Amapiano: Sweet and Dust. From then, both their individual careers went on in their own unrelated ways: Kwesta released g.o.d Guluva in 2021 and Kabza put out multiple projects like 2021's Rumble in the Jungle,Pretty Girls Love Amapiano 3 and 2022's Scorpion Kings Live Sun Arena and KOA II Part 1, until they hit each other up via DMs on social media.
---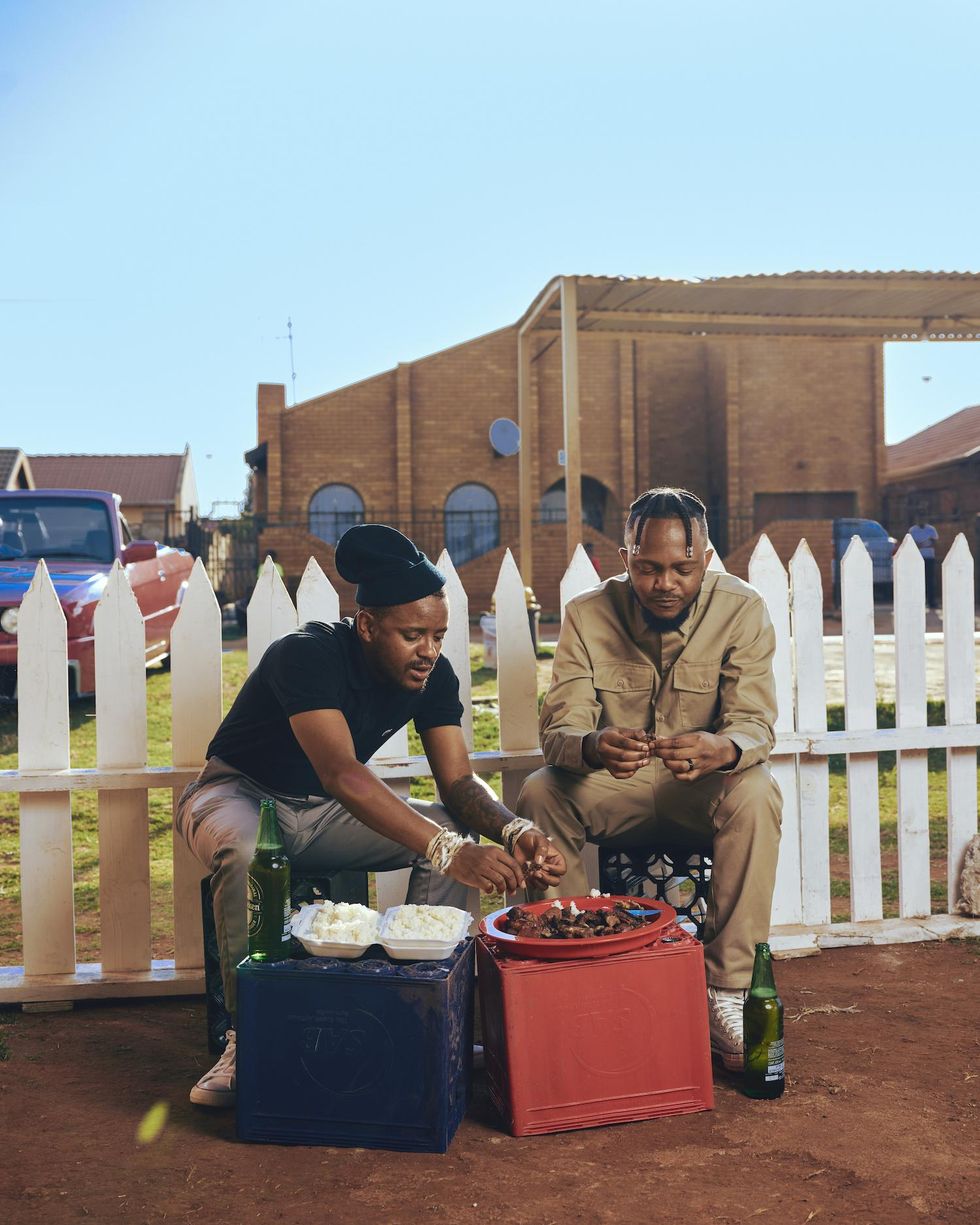 Kabza de Small and Kwesta.Image courtesy of the artists.
A refreshing steer away from the norm
The prospect of the two working on music together came almost two years later. In a March 2022 Instagram Live, Kabza teased multiple tracks with vocals from Kwesta (as he does with most of his unreleased work). Kabza's pinned comment during the stream read, "EP dropping soon". The music that played was distinguishable and recognisably kwaito-leaning, while Kwesta could be seen vibing and sporting an ispoti (buckle hat), a staple in pantsula fashion, in the background.
Today, kwaito is not anywhere near at the level it was in the 1990s and early 2000s, but the genre's impact has spanned over a decade. Kabza has, in many occurrences, spoken about the influence kwaito has had on amapiano. And for a rapper like Kwesta, whose delivery and beat selection often tilts towards kwaito, the genre's sensibilities are omnipresent in his music.Their joint album, Speak N Vrostaan is kwaito-rooted, in both the instrumentals and delivery of the vocals, as well as the overarching feel and mood. Countless kwaito lyric references permeate throughout the LP, with Trompies, TKZee, Mandoza, and Kabelo being the most obvious.
In addition to being behind a majority of the album's production, Kabza's vocalist alter-ego Papta Mancane, (who as a pseudonym debuted on Pervader's "City Dreams"), makes an appearance throughout the project. The moniker stems from how Piano Hub signees such as Masterpiece YVK and Young Stunna sometimes refer to Kabza as their father or papi, which Papta is then a play of, and "mancane" translates to "small." The treasured amapiano maven has previously contributed vocals on significant amounts of songs but, most noticeably, on DJ Stokie's "Superman" and Mr JazziQ's "Woza." His vocal contributions are usually mumbles and minimal, but on Speak N Vrostaan, Kabza was precise and he applied himself extensively as Papta Mancane.
On the R&B-tinged, Kabza-produced "Emathandweni," Kwesta makes room for vulnerability as he denounces rumors about his marriage and his alleged infidelity, while reassuring his wife. The closer "One on One," leans towards traditional hip hop. The lyricist starts his verse on the TOSS and Pervader-featuring track with the lines: "I'm an OG now, who knew? / I don't even know who new / 2022, still the go-to dude / Jha, wu2022 still the GOAT, ningambuzi." Last year, Kwesta delivered standout verses on Nomfundo Moh's "Sibaningi" and Spikiri's "Tana La!" These two guest features show the pliability of Kwesta's approach to rapping, as one is Afropop and the other is kwaito.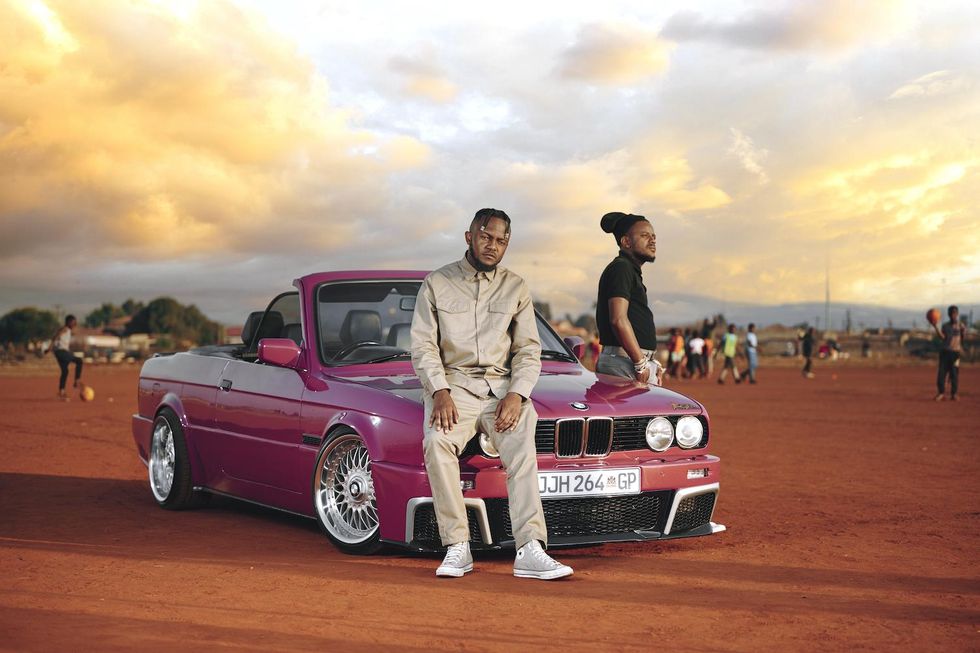 Kabza de Small and Kwesta.Image courtesy of the artists.
An ode to the township from a hood-raised lyricist and producer
The hood remains embedded in Kwesta's artistic DNA. He has carried the grit of the hood in his pen and sound throughout, from early joints like 2014's "Thul' Ujaive" to the 2016 career-elevating, Cassper Nyovest-assisted "Ngud." From then, Kwesta, with the help of producer Makwa, would employ the same template in his singles: The Wale-featuring "Spirit" (2017), 2018's "Vur Vai" and 2020's "Njandini." Makwa was called upon again for the sessions of Speak N Vrostaan to mix and master the album. Along with being credited as a producer on "Sghubhu s'kaKabza," his infamous tag ("ngathi sisebenzis' umuthibaba" — as voiced by Mampintsha of Durban Kwaito spearheading group Big Nuz, who recently passed away) can also be heard at the beginning of "Umngani".
The album is almost entirely for ikasi (the hood). After the intro and whistles on the album opener "Abu Dhabi," Kwesta kicks off the project with the lines: "deep vel' ekasi, awuth' yam, yi-speak n vrostaan mawungazi" ("deep down in the hood, my guy, it's speak and vrostaan, if you didn't know"). Vrostaan is 'understand' in Afrikaans and tsotsi taal, South African township lingo. "This is an album for the people. The title is really about wanting what we're saving to be fully understood by them," Kwesta says on the album liners on Apple Music.
On the Professor-featuring track, he mentions all the negative daily occurrences that plague ikasi but urges that the people of the hood to enjoy themselves today and forget about diseases, poverty, hunger, and crime. "Ngifuna ukuba light namhlanje. Ngi-enjoy(e) ngibe-right namhlanje. 'khe ngikhohlwe just kayi-one" ("I want to be light today, be alright and forget just this once"), he raps on the refrain. These resonant lines emit on most parts of the fun-filled and light-hearted album. Kwesta pronounces and likens the album as "a new way to interpret the hood."
The messaging on the album is relatable, especially to South Africans that grew up in the township during the apex of the kwaito era, between the mid-90s-to-mid-2000s . On "Huzet" which is tsotsitaal for the salutation "how's it," Kwesta begins his verse with the lines: "Straight from ekasi lam, ekasi, ekasi lethu, ikasi labo / Amakas' ayafana" ("straight from my hood, your hood, our hood, their hood / all hoods are the same"). The FKA Mash co-produced track also features like-minded rapper Ma-E, who is fondly known as the 'Township Counsellor' because of his knack for hood-centric themes.

The Katlehong-raised MC describes "Is'pantsula" — which Kabza noted as one of his favorites — as an ode to Trompies. "If you listen to some of Spikiri's stuff, especially "Ngeke Balunge" [his 2011 hit], I think you can pick that up. The inspiration for the groove and style of beat was taken from that. For me, Trompies popularised being pantsula, having absolute confidence, being who you are, and screaming it out to the world." As part of their visual aesthetics for the album, Kwesta and Kabza have been wearing Dickies two-pieces and Converse All-Stars, which is clothing synonymous with amapantsula. Kwesta mentions the All Star and Dickies combo a few times on the effort and, on another Instagram Live preceding the album's release, Kabza warned: "Nina niyadlala, nicabanga ukuthi lamaDickies siwagqokeleni? Huh?" ("y'all are playing, what do you think we're wearing these Dickies for?").
Speak N Vrostaan rests comfortably at the intersection of amapiano and South African hip hop. It's a perfect marriage and convergence of the two sounds, a sweet spot, as it strikes a balance between the genres for the enjoyment of fans of both artists. It's a revert back to kwaito for the highly talented amapiano producer and the lyricist whose kasi rap beginnings have always seeped through. "We wanted to use the two elements together and find a hybrid and an in-between that represents both sides really well and speaks to the same people that these two genres spoke to, that we grew up amongst, the people we understand," shared Kwesta on Apple Music's Africa Now.