Popular
"All The Stars" Is An Afrofuturistic Voyage Back To Our Roots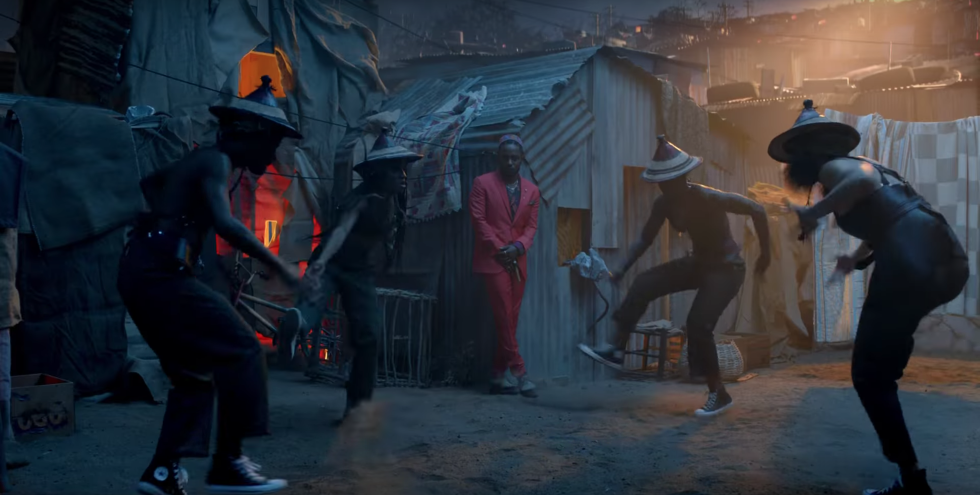 Screen shot from "All the Stars"
Kendrick Lamar and SZA's "All the Stars" video illustrates a journey through blackness, with a heavenly essence.
---
Blackness is a journey. At first, degraded and discriminated against by society, and sometimes ourselves. Then, monetized and appropriated by whiteness±—the same entity that marginalized it—as if it can be boiled down to a science instead of the supernatural that it is. Finally, embraced, reclaimed and realized, by us, the keepers of its true powers and force.
---
Reaching this destination is no easy excursion, and was much more challenging for those before us, but as conversations on racism, inclusivity and social justice become more prominent, I dream our future black children will reach their peace easier, and sooner, than we.

Kendrick Lamar and SZA's new music video for "All the Stars," the lead single from the Black Panther soundtrack, illustrates one narrative of voyaging through blackness, but with an empyreal essence. Here, blackness is rectifying the demarcation between African-American and African by crossing a spiritual bridge leading to afrocentric, afrofuturistic dimensions. The chimerical fable breathes life into a communal dream we imagine while awake and with eyes shut: what is home, and what will I find once I'm there?
Each scene in "All the Stars" imagines Lamar in distant yet familiar African landscapes, edging closer to divine truth.
First, by boat: an ocean of arms carry him on his solitary arc, like a lonely Noah determined to salvage what's left of the culture. He communes with small children in red caps like small Igbo chiefs, who surround a towering idol of a black woman's graceful gold head. He sits achingly pretty with Congolese Sapeur fashionistos, then strolls through a ghostly, sublime forest with a pack of black panthers guarding him. This scene in particular embodies so much: Black Panther, the king and hero, and the Black Panther movement, a force of persistent freedom fighting and black elevation.
The ear-grabbing hook further rouses us into contemplation of destiny, discovery and determination. "Maybe the night and my dreams might let me know...all the stars are closer," SZA chants, while twirling gleefully in a sky drowning in stars, a visual manifestation of black girl magic.
She acts as Lamar's spirit guide, dancing, swaying and stunning while traveling parallel to Lamar's pilgrimage. Her landscapes are even more ethereal and untouchable, as she is often the only one moving in her scenes, or staying patiently still as the environment comes to life around her—the way ancestral spirits go unnoticed as they protectively float around you.
Notice the women in this music video are all gigantic goddesses. They pose stoically, like all knowing totems, as Lamar winds in and out of them. Their attire, intricate golden suits, glimmering braids and geometric afros, are direct callbacks to the visions of Lina Iris Viktor. When Lamar finally meets his makers—more gigantic black goddesses, this time reminiscent of Egyptian deities—he stands confidently in their presence, as SZA watches on in approval. He made it.
The idea of returning to one's roots encompasses embarking on a voyage back to a land filled with as much marvel and enchantment as clarity and truth. Africa. The shape and outline of this content alone fills us with hope and endearment, even if we're unsure of where we land. It's our infinite destination, despite whether or not we arrive.