Born in Nairobi's sprawling urban slums, David Ochieng, aka Avido, is a rising fashion designer whose work fuses African prints with modern, breezy tailoring. His label, Lookslike Avido, is commercial enough, with even an option to have clothes customized on the website. More than that, the label has a painstaking dedication to Kibera, the community Ochieng comes from.
His foray into fashion wasn't easy. The firstborn in the family of four, Ochieng's childhood was marred with difficulties. His mother was the sole breadwinner. She would do laundry for other people, and took odd jobs just to support him and his siblings. Lack of school fees worsened his situation. Eventually, he dropped out of school in form one.
Photo Credit: David Avido Ochieng
Later, he would move from one construction site to the other looking for odd jobs to support his mother and his siblings. He found solace in new the friends he made. But, unfortunately, most of those friends had tragic ends: some started abusing drugs, others were killed, and a good amount started engaging in crime.

The fate of most of his friends made Ochieng do soul searching. He would find open and secluded places and practice unspoken words. He also relocated from Silangi to the Olympic area.This, according to Ochieng, was his way of confronting his demons and starting a new life.
"I didn't know whom to confide in. You would confide in someone and then they start telling people about your problems," Ochieng told OkayAfrica. "So, I started speaking to nature. I would talk to myself to the extent of reciting my problems, through that, I was able to join a dance crew. We practiced daily in Kibera at a place called Olympic offering spoken word performance at weddings, political rallies and other events. Many young people here are desperate. Most of them are losing their lives to drugs and crime."
The dance crew would dress up in hip clothing and donned dreadlocks. Little did they know that their new found hobby wouldn't last for long. The dancing crew was mistaken for thugs leading to some being killed. As a result, his mother urged him to take a different path. One day, she gave him two of the five dollars she earned at work. He decided to invest the money into fabrics and sewing thread. That is when his life turned around and he officially launched his fashion design career, with Avido Fashion House debuting in 2018.
"I was inspired by my dance crew. I would do sketches for our costumes. That is when I realized that as much as I was expressing myself through dance and spoken word, I felt like I could express myself more through colors," Ochieng said. "I realized that showing an individual's journey through fabrics while showing life lessons, and struggles is breathtaking. In essence, dancing pushed me into fashion.
"Fashion has enabled me to discover myself, and understand life in a deeper way," Ochieng continued. "In addition, fashion has become my therapy as a way of healing from my childhood trauma."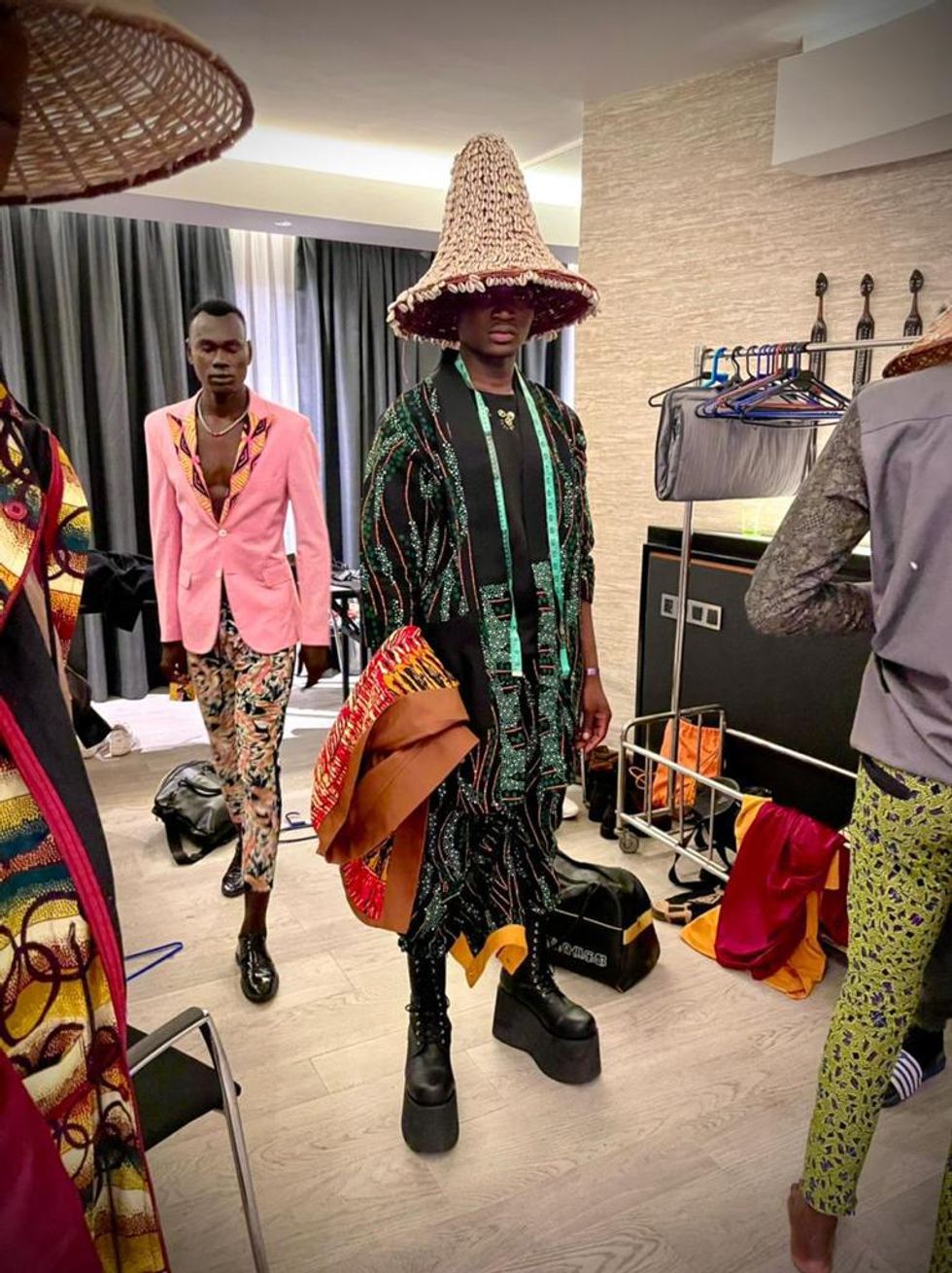 Photo Credit: David Avido Ochieng
Today, Ochieng is one of the leading fashion designers in Kenya. He says that the streets of Kibera inspire his creativity. He also believes that Africa is very colorful and he wants the world to see that it is not only crime that is rampant in urban slums.

"I am trying to show people the greatness in Kibera. I am not the only one talented here because I know there are some people who are more talented and way better than me, but they don't get the opportunities to share it out," Ochieng said. "What I am trying to share is the positivity, and hope we have here through the fabrics so that I don't forget about my roots."
Through his vocational training program that he began, Ochieng equips young mothers and those with hearing disability with tailoring skills. He believes that when you empower a woman, you are building the whole nation. He has started mentoring fifteen trained women — eight have hearing disability while seven are young mothers.
Aside from the vocational training, he has taken upon himself to pay school fees of the bright pupils in his community. He mostly targets the orphans whose parents succumbed to HIV/AIDs virus. He says these students, if not helped, might end up on the streets and succumb to peer pressure resulting in mistaken identities and even lose their lives.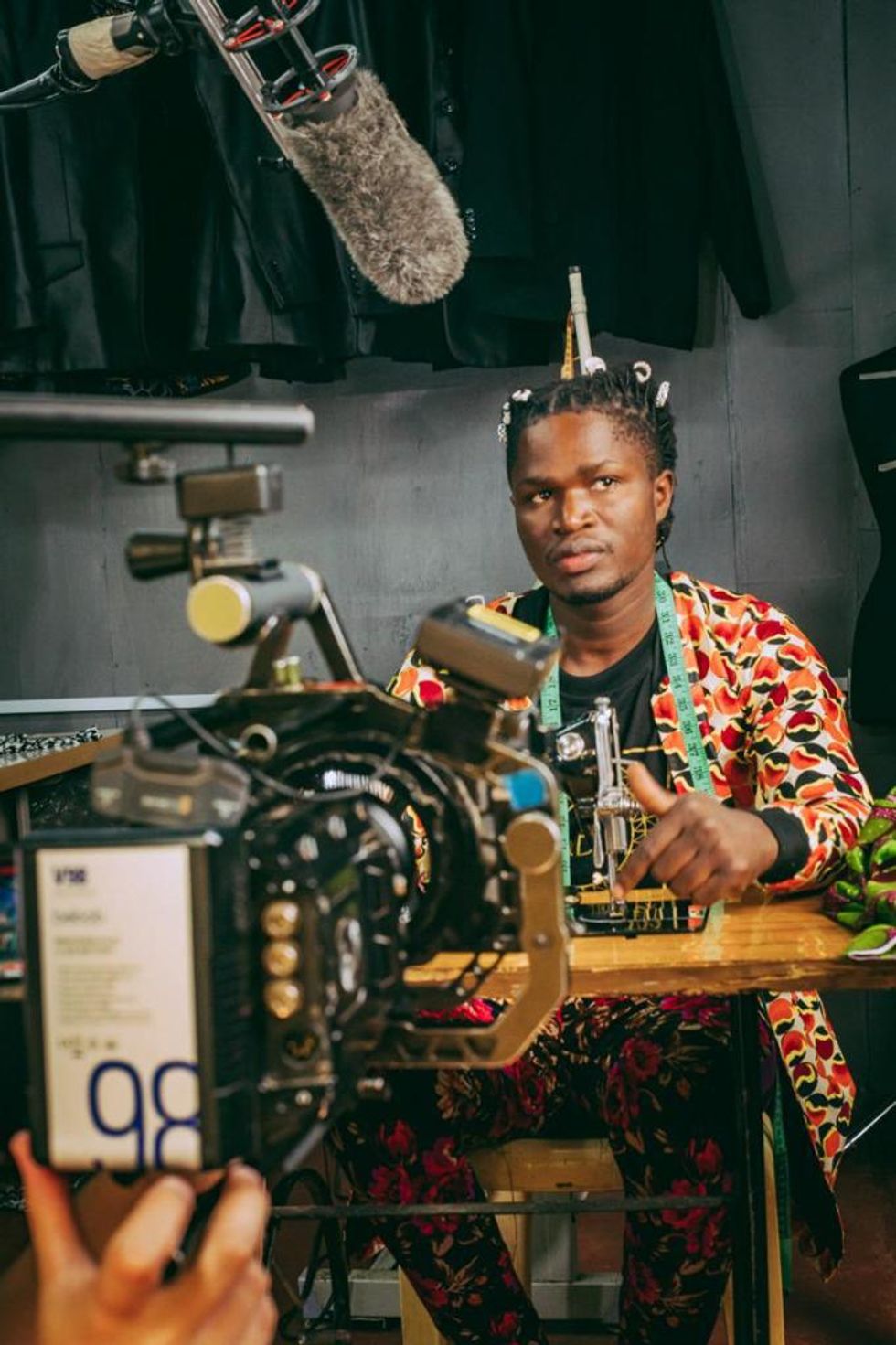 Photo Credit: David Avido Ochieng
"I wanted someone to pay for my school fees, but no one came through. For me, paying school fees to the needy is a form of therapy," Ochieng said. "I feel like I am healing the younger me."
He also makes school uniforms for needy students in Kibera. So far, Ochieng distributed 786 uniforms to pupils in different schools. The process begins with the identification of the beneficiaries, where he randomly visits schools and spots those pupils with tattered uniforms and gives them new ones.
Filled with gratitude, Ochieng recalls the very first person he designed clothes for — the late Ken Okoth who was his area member of parliament. He wore his clothes to the parliament attracting celebrities and other politicians to his work.

Afterwards, legendary reggae artist Don Carlos came to perform in Nairobi, and David approached the event's organizer to allow him make a custom shirt for the artist. When Carlos saw the shirt, he was thrilled and promised Ochieng a partnership to promote his work in the Caribbean. Through that encounter, Ochieng has been able to work with artists like Romain Virgo, Usain Bolt, Bruno Mars, Ghanaian Stallion, Tarrus Riley, Connie, Inge-Lise Nielsen, Everton Blendah, and more. His biggest moment came when was featured in Beyoncé's album Black King which established his business.
Today, Ochieng's clothes are worn all over the world over, from Africa to Europe, including the U.S. and the Caribbean. But, for him, African identity is what matters most, and it is reflected in his work and designs.