Living in an informal settlement is reality for more than 1.5 million people in Nairobi, according to a recent census, and that figure is set to rise, owing to the brunt of the COVID-19 pandemic that continues to ravage Kenya. Despite the poverty, pollution and insecurity, creativity continues to thrive, as people defy struggles and bust stereotypes of being poor and powerless. And it's in the urban slums nestled deep in the heart of Nairobi's industrial area where Kenya's renowned artists and art centers, including Mukuru Art Club, Wajukuu Art Center and Art Boyz, among others, can be found.
Adam Masava, a prolific and self-taught artist, born and raised in the heart of Mukuru Fuata Nyayo, has built a career around improving the living conditions of his fellow slum-dwellers with a state-of-the-art center, popularly known as Mukuru Art Club. It was established in 2008 as a way of giving back to the community, a place where kids as young as eight are enrolled to learn art, and older ones are mentored.
---
His love and passion for art began at a tender age, and today, Masava is on a mission to change his community through it. He believes art has been instrumental in changing the lives of many around him, especially the artists, as it gives them a sense of purpose and expression in the sprawling informal settlement. "The club has helped many artists in the community," Masava tells OkayAfrica. "We don't charge any artist fees. When they pass our selection criteria [which entails showing samples of their work], they automatically become members. So, they can come and work from here without any disruptions, there is space, and they are always sure of the safety of their paintings. Additionally, we help our artists to market their pieces once they perfect their work, and make a living out of it."
So far, Mukuru Art Club has forty artists, and it has started attracting artists from the suburbs of Nairobi, bridging the gap between the poor and the rich. "When artists from different backgrounds integrate, they start thinking as creatives, without stigmatization. The interaction amongst artists from the suburbs and slums has enabled them to learn from each other, and [been] an eye opener for the artists from the suburbs that we from slums are just human beings like them and very good people," he says.
Besides nurturing their talent, Masava has taken on the responsibility of ensuring that the artists spend the money they earn wisely. He adds that the majority of artists are very young and require proper guidance in order to avoid getting into trouble in the slums. "For our members who are between the ages of 15 and 17 years old, we encourage them to do a three-month shopping trip for their parents, relieving them of stress, and some money we save for their school fees. We avoid giving all the money to parents, as they may use it all and forget that the young ones need to go to school. We have ten artists who have paid their school fees through art, and at the moment, they are paying school fees for their younger [family members]."
Older children are encouraged to open two bank accounts, one savings and one current, which Masava and his team provide guidance on, too. "We are molding them to become responsible businessmen," he says.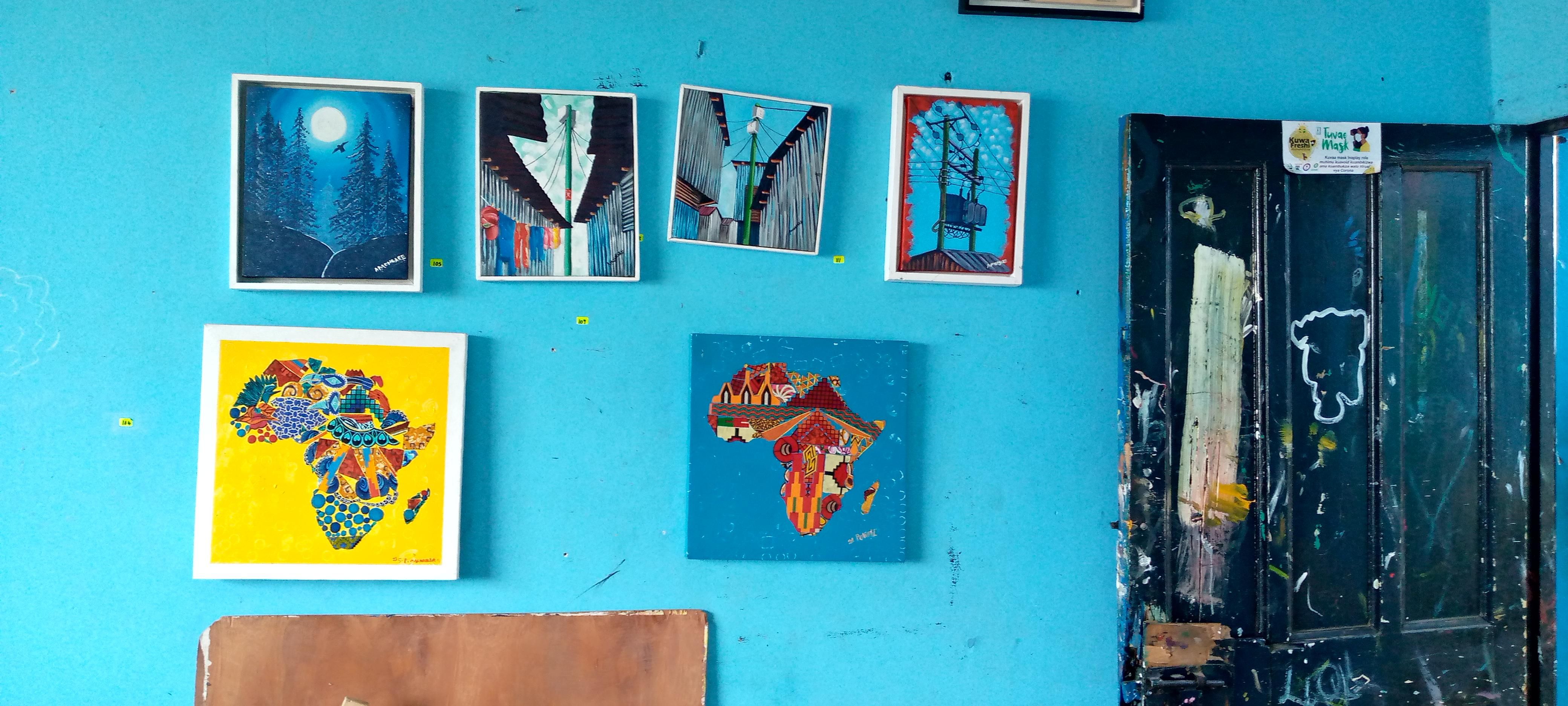 Paintings made by residents inside the Mukuru Art Club.Photo: Elizabeth Okwach
The club also tries to attract potential art-buyers into their space, which acts as a workshop where finished works are displayed, as well as ones that are still being created. Before COVID hit the country, they would hold three exhibitions a year, but also exhibit in big galleries for visibility purposes. But, today, things have changed, although Masava has not lost hope of returning to exhibitions in the near future.
"Not all art lovers or collectors will come to this place because of stereotypes," he says. "But for those who come, they get to know that the area is peaceful, people are hardworking, and generally get a good experience that changes their mindset."
Masava, who rose to fame when he won a competition organized by Kiwi shoe polish while at primary school, has continued to develop his own unique style over the years. He uses his experience and skills to help teach other budding young artists in the area, with the program having benefitted over 1000 kids since its inception.
A number of artists have come up through the ranks of Mukuru Art Club, like James Mutugi Wangeci, a 39 year-old ex-convict. He turned to the club, after serving two years in remand and ten years in prison for a petty crime he committed back in 2008. So far, Wangeci has sold over fifteen pieces since his release in 2020. The club has given him an opportunity to express what life is like in prison through art.
"My work is all about prison life and crime," he tells OkayAfrica. "This is because before one gets into prison, he or she must have committed a crime. I would like to share my story with the world, and the only way to do that is through art. Here, I am not discriminated against, as we work as brothers. Also, when I run out of ideas, my colleagues and Adam, who is my mentor, guide me."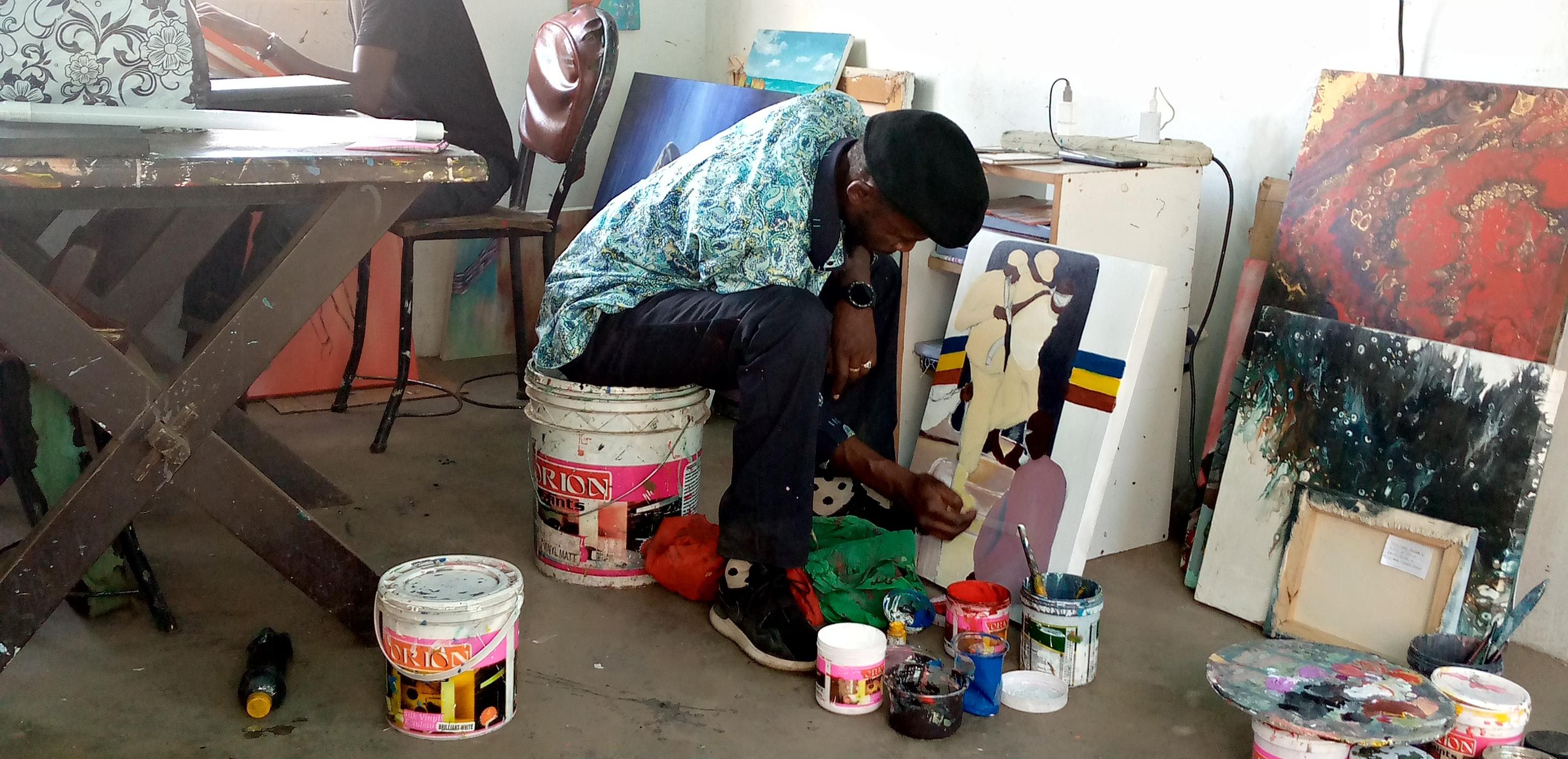 James Mutugi Wangeci, one of the many people who've benefitted from Mukuru Art Club, at work.Photo: Elizabeth Okwach
Wangeci reiterates the importance of art in the community and the role it has played in shaping young ones to shun crime, as well as its therapeutic benefits. Alex Mwari, a 17- year-old student, joined the art club in 2014. At the time, he was not doing art full-time. He would idle in the slums with his friends, something that angered his mother a lot.
"I saw a post on Facebook put out by Mukuru Art Club looking for talented artists," Mwari says. "I came with samples of my work. Thereafter, I was considered, and I started learning the following day."
According to Mwari, he perfected his art skills at Mukuru Art Club, since art classes were not being offered at his school. He sold his first painting at $50, and after leaving the club and then returning again, is focused on becoming more responsible with his work. "The money I get from selling my art pieces, I pay my school fees, rent, and also I do shopping for my mother. The club has really helped me because some of my friends who I used to hang out with are on drugs, some have been killed by mob justice, and others are in prisons," he tells OkayAfrica.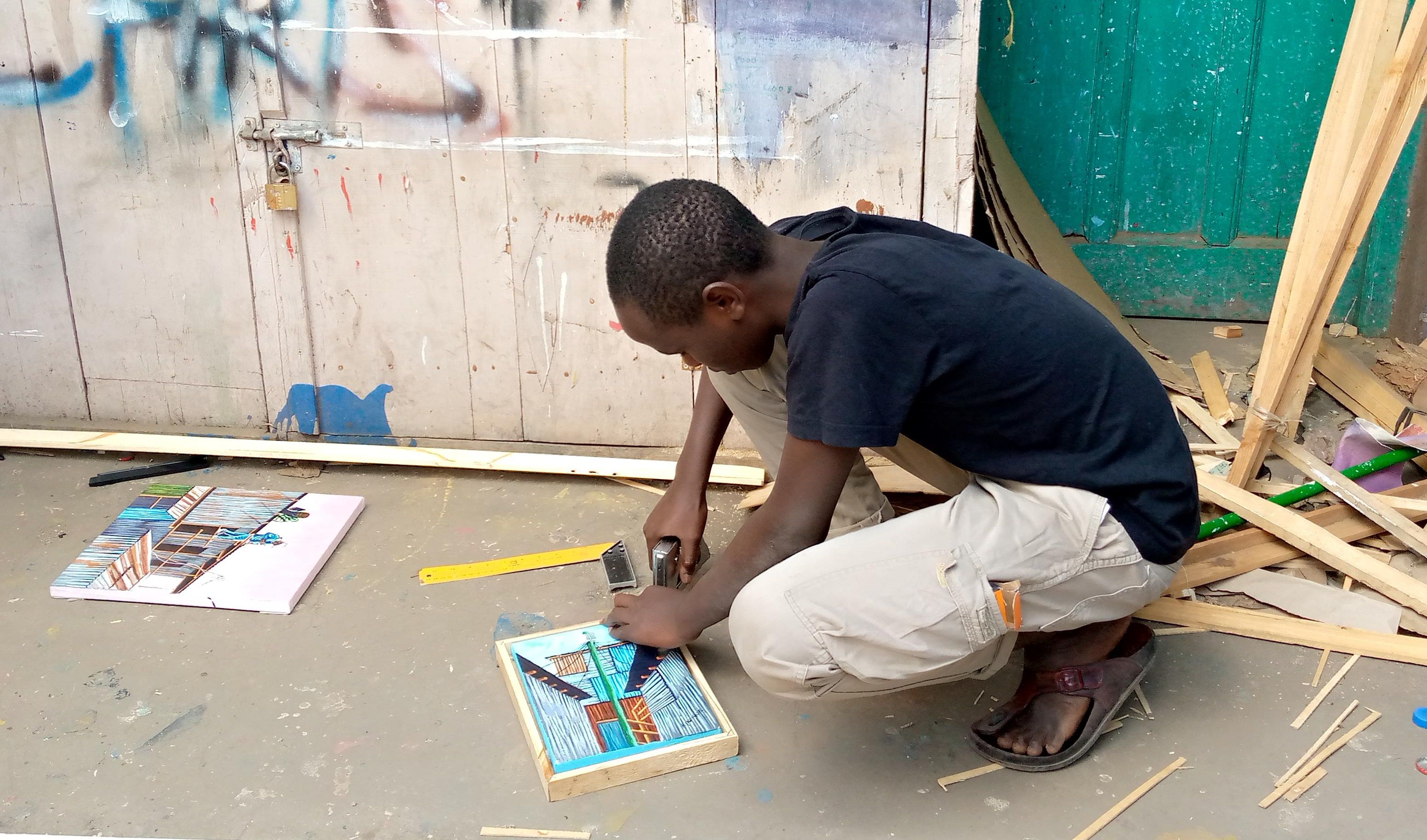 17- year-old student Alex Mwari, joined Mukuru Art Club in 2014, and has honed his skills there.Photo: Elizabeth Okwach
Mwari's art chronicles his life journey, growing up in the Mukuru slums and the way of life there. A piece of his art is in one of the iconic galleries in Kenya, One Off Gallery in Runda, and he's also preparing for an exhibition scheduled for March in Nairobi.
The center is appreciated in the community, and Masava says parents trust him, given his track record. He adds that they receive an overwhelming response when a call is put out for new artists to join the club. "My work speaks for itself, and also how the young artists are thriving in the community, as some are paying their [own] school fees," he says. "Our club has enabled many parents to learn that when you work on talent, it can inspire others."