In a scene from the theater play, I Know My Rights, which premiered last month at the Kenya Cultural Center's Ukumbi Mdogo, a young man sits on a pavement in unidentified location in the city, just a few minutes before curfew time. Policemen approach him, and he makes the mistake of talking back at them, shouting about his rights. Not amused by the man's reproach, the policemen descend on him with kicks and blows leaving him unconscious.

It's a horrific scene, and unpleasant to watch, but it is a reality for many young people across the country who encounter similar situations. It's also not the only violent scene in the play, co-written by Teddy Munene and Saumu Kombo, young scriptwriters at Millaz Production. In another, a policeman pulls out a gun and shoots the young man between his eyes, killing him on the spot. It is revealed that the young man had founded an organization to uplift people from poverty, but had been sold out to the cops by his co-founder, for money.
---
With its brutality and realism, the play is of a kind that has hardly been seen before in Kenyan theaters. I Know My Rights is all about the injustices, and Kenya's modern culture, where the issue of gun violence is no longer a Hollywood originality. In response to the COVID-19 pandemic, President Uhuru Kenyatta, in March 2020, implemented a government plan for a nationwide dusk-to-dawn curfew, which police enforced in a chaotic and violent manner from the start. Human rights organizations and civil society groups have regularly condemned the use of violence by Kenyan police -- not just when enforcing curfews, but at all times -- and young men living in urban informal settlements are often victims of police killings.
OkayAfrica spoke to Xavier Jerry Nato, founder of Millaz Production, which staged the production, about the power of art to address these issues.
Interview has been edited and condensed for clarity.
When did you know you wanted to become a playwright?
I started writing plays/scripts as soon as I joined secondary school. Our high school drama teacher had just transferred to another school. We needed someone to fill in the gap as a scriptwriter. I took up the challenge and it was a learning experience, but I did so well at the first juncture, and this inspired me to keep on writing and writing. Since then, I have never looked back. Currently, I have been doing stage plays and scripts for television shows. I have played a huge role in major television shows in the country, both as an actor and as a scriptwriter. I have done scripts for my own shows on Youtube too.
The production I Know My Rights sees the playwrights speak bluntly about the injustices happening today in Kenya - how did it come about?
I Know My Rights was co-scripted by Teddy Munene and Saumu Kombo from the company I founded. The play came from their hearts. I Know my Rights revolves around our lives. It is something they really felt because we have had experiences at Millaz Production whereby when we leave rehearsals at night and everyone goes their way, most of the young people go through a lot with police when they go to board a bus home. They get home in the wee hours of the night, they are stopped by the police. They are harassed, especially when one lacks an identification card, and he or she is told to sit on the ground having handcuffs on.
So, this is something that Saumu and Teddy have experienced personally and they felt it was time they expressed it artistically. It is also something that many youths go through especially when they walk in Nairobi's downtown area at night, not so late, but as early as 9pm. Young people from the up country are the most affected. In fact, the policemen know very well that they are travelers, but not criminals. They still go ahead and harass them, leaving them psychologically traumatized. This really inspired my colleagues to write about it, and they did not shield anything. They had to [share] it, raw as it was.
How do you feel about this new generation of scriptwriters?
My feelings about being in this generation is that it is quite sad because with the growth Kenya has had democratically and the promulgation of the new constitution, whereby we know the bills of rights, and our rights, police are supposed to protect us. But, it is so sad that, to date, we have to express ourselves artistically to talk about something that should have been history. You know those days, people would see policemen and run away. We are supposed to be in a generation where when one sees a policeman, he or she should feel safe. The police are supposed to be our friends. It is so sad that even today we still have extrajudicial killings. So, I am not proud to be in this generation, but, still, I am.
I have a responsibility as an artist to speak about it. I am happy that the young people running Millaz Production have expressed themselves, and I wish that the play would have gone further than the Kenya National Theatre because there are some people who have to watch what's going on with today's generation; something that shouldn't be here today.
How do you deal with any pressure there might be to censor your work?
There is so much going on in this country to talk about and to express. But, again, our society does not really allow us or probably give us the comfort to express ourselves. So the censorship probably partly is the responsibility whereby you know this might land in the wrong hands, and in this case, children assuming that I Know My Rights is a film. Then a child of a certain age watches that piece, I am sure this child would be traumatized and even be more afraid of the policemen. So, censorship, at some point, is important as a writer. You can cover up, but at times, you let it go, and let the society judge you, but at the end of the day you have expressed yourself.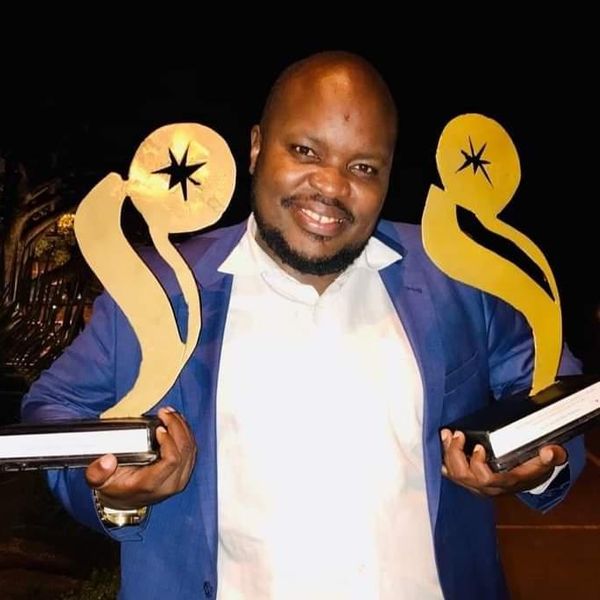 "There is so much going on in this country to talk about and to express," says playwright Xavier Jerry Nato Photo: Jonah Njoroge
What are your hopes for the future, as a producer and scriptwriter?
Hopes for production are there, as things are getting better with time. What we are experiencing as stage artists today is a bit different from a few years back. This is in terms of compensation and conditions. In a few years' time, art will be at a very comfortable place for artists in this country. We shall have better content. As you can see, people are really improving, like the Kenya Film Classification Board sponsorships, and DSTV coming through. I hope local television stations, together with producers, will come through to buy content, buy ideas, so that we can make production in this country grow further because we are supposed to be even more [ahead] than what we are today.
I think it is our responsibility right now as artists who are trying to be producers -- since we have experienced the life of an actor, and we know the difficulties that are there -- to improve on what the people who were there before us had. The industry will grow further. We have a bigger responsibility for art in this country.

What advice would you give to other youngsters who would like to join the industry?
I would like to urge young people to join the industry, that is what I can say. Because after us, we also need to have people who will stay on. We are trying to mentor people. We are trying to push guys to create content. For instance, I had to take a step back and allow the young people at Millaz Production to continue expressing themselves. We would want them probably to follow what we have been doing, like, 10- 20 years ago. So, to the young people we are asking you to come and try to write those plays, however bad they might be, we shall criticize them and you will grow to become better people in the future. So, let us try and keep the industry growing and growing.