The Artist is Present: A Conversation With Kenyan Singer Victoria Kimani
Kenya's Victoria Kimani discusses working with Tekno, her misunderstood sexuality and dealing with the haters. Read our conversation here.
DIASPORA—In our new series, "The Artist is Present", we revel in and get to know the minds behind Africa's creative world in fashion, art, music prose and more. We dive below the surface with African artists to talk about their process and purpose.
---
Last week we were at the London edition of One Africa Festival hanging out backstage with some of Africa's biggest artists. Below, we talk to Kenya's rising star Victoria Kimani about her debut album, her creative process and the music business.
OkayAfrica: Every time we spot you on social media you're surrounded by friends and family. How important are they to your success?
Victoria Kimani: It's so good to have family and friends wherever I go. I think that's what keeps me balanced because every city I go to I have people I'm looking forward to seeing and who know how to make me feel like what I'm doing is natural. It's funny because when I go back home to Kenya, my roommate is always like 'alright, the local time is this, this is where you're at, the temperature is this…' because sometimes I get so confused so they kind of help me to cope. I'm blessed to have friends almost everywhere I go.
OKA: That's quite a support team. But does it ever overwhelm you? Does travel ever hamper your artistic expression?
VK: Never! It actually enhances it. I get inspired by travel, by seeing new things and by learning other people's experiences. So for me, travel is such an important part of my career.
OKA: Sounds like it's a key ingredient of your music. We're fascinated by the way your songs come about. Do you write them yourself?
VK: Yes, I write every single one of them. I mean, there are songs I have co-written like one of my biggest songs—"Show." I would never commission anyone to write my songs because I have a lot of my own taste and style in what I want to say and how I want to say it. If I put all that energy into someone else, it's like I'm stripping myself as an artist. That said, I do like to collaborate with other artists. I was in the studio with Tekno when we wrote "Show" together. I have a new single which I co-wrote with MC Galaxy.
OKA: Well, it's clearly paying off. Your debut album, Safari is getting global radio play and we love your video with Sakordie.
VK: Oh thank you! That means a lot to me that you've said that.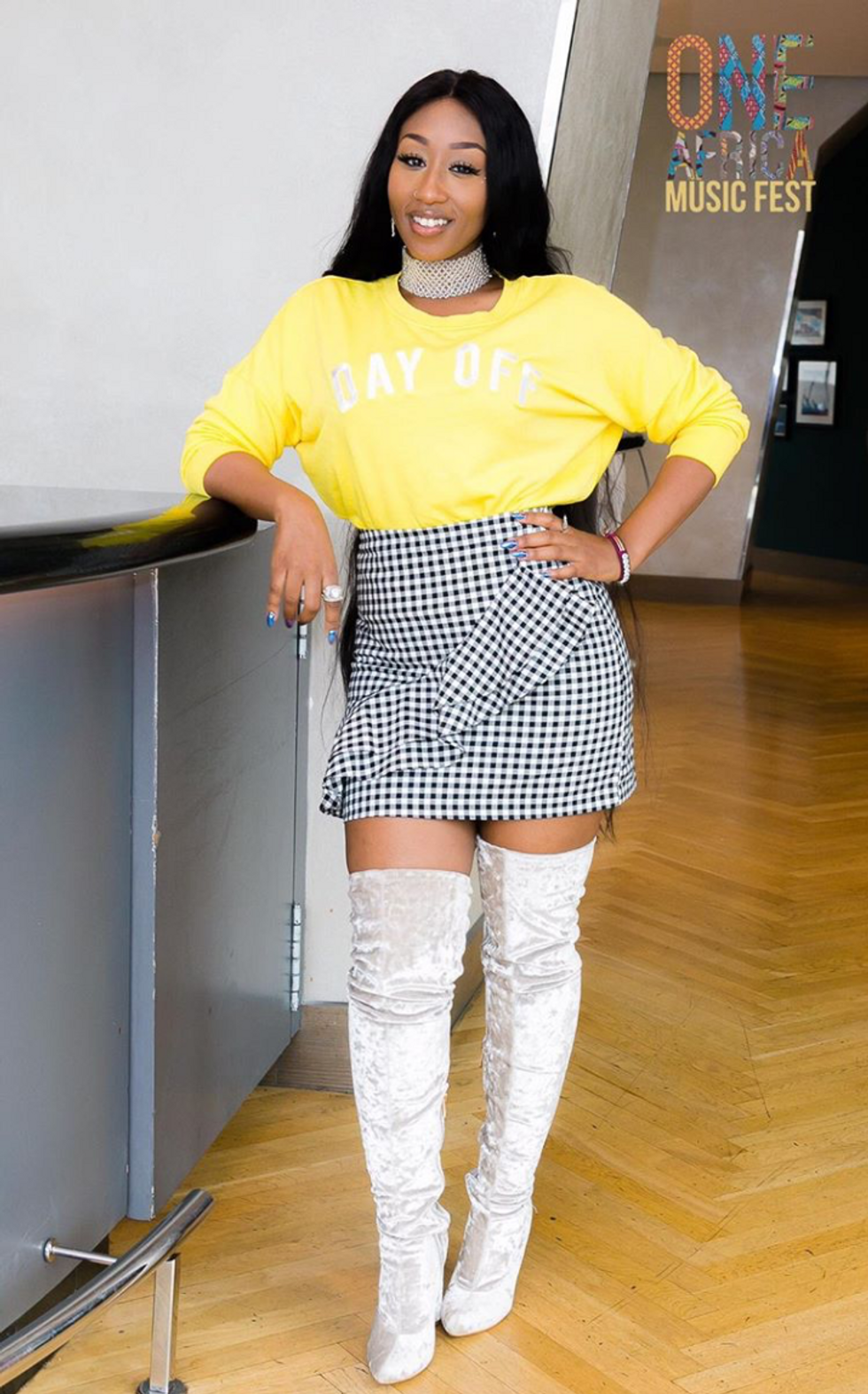 Courtesy of Victoria Kimani
OKA: And more than just a party album, Safari includes interludes from iconic women like Brenda Fassie and Nina Simone. Why is it important to amplify those voices?
VK: (Takes a deep breath, then exhales) These are women that I look up to, I mean I look up to every woman who is doing her thing unapologetically but more specifically I thought it was really interesting how Nina Simone had such a close friendship with Miriam Makeba and I think unity among women both in the music industry and in life, in general, is very important. It's very inspiring. One of the things I do in my spare time is that I like to watch old interviews because sometimes I tend to feel that I'm going through this alone and it's good to know someone has been here before I have and paved the way for me and I can actually feed off the energy that they once had.
Same thing with Brenda Fassie—she has always been so unapologetic. In her time, they called her the Madonna of the townships, they thought she was wild, her style was crazy and I can relate to that now. There are a few people who has said my style is crazy but I love her and I look up to both of them.
OKA: Speaking of style—you face a lot of backlash for the sexuality in your music videos including some of your fashion choices. How do you handle it?
VK: (Smiles) I've been getting that since I was a teenager. I remember just wearing the simplest thing and it just looked sexual probably because of my body shape. I can wear the same shorts the skinny girl next to me is wearing but I'm thicker so it looks more dramatic but I just wear what is comfortable for me. It's not like I'm intentionally going out off my way to be sexy.
OKA: Songs like "All the Way" and "Do What You Do" are about treating your man right. Do they reveal the way you are in a real relationship?
VK: Sometimes I write from personal experiences, sometimes from something I had once. Sometimes I fantasise about something or maybe I see a relationship that inspires me and I think wow, that's beautiful. I really pull inspirations from many places and also sometimes I write about things I want.
OKA: There's so much hate online these days. At some point it must get to you? Do you read everything people write about you?
VK: I do read it all. I don't let it affect me but I think it's important not to take both negative and positive criticisms too seriously. I mean, I appreciate the opinions. I'm able to take constructive criticism and make changes. And if it's not constructive, I just leave it.
OKA: Did you feel like you were saying something to the haters when you wrote "Show"?
VK: Not at all. I usually don't think along those lines when making my music. For the album, I wanted to make a body of work that showcases my vocal ability, my versatility—and the single was about wanting to make people dance. For "Show", I told Tekno, we really need a jam for the club.
OKA: Was that your main goal for "Safari"—getting people to dance?
VK: For me, it was important to have the respect of the music listener, the music connoisseur—there are people who want to hear word play and arrangements, vocals and harmonies. They want to see that you really made the effort and that's really what I was going for on my debut album.
OKA: Music connoisseurs will certainly recognise Angelique Kidjo's "Wombo Lombo" in the song "All The Way." Why did you choose to sample that song?
Victoria: I grew up on "Wombo Lombo" so when I had the idea to remake it I was like, you know what, I don't know how long it's going to take for us to clear it but I'm going to record the song. After recording it, it took us almost three months to get the clearance to legally put it out. It's an honour because she is a living legend. It took me a while to learn to pronounce the words in the song correctly—my producer is Yoruba and if I pronounced one word incorrectly, he would make us do the whole thing again. It took forever, trust me but I had people around that helped me, even the taxi driver. I played it for a lot of people before I had the confidence to put it out.
OKA: Your birthday's in 2 months—any plans?
VK: I don't have any plans yet—I usually don't really plan my birthdays. Last year, I had a really good birthday that my friends put it together in South Africa but I haven't really thought what to do this year.
OKA: Okay, we'll be watching for the photos. Thank you so much for your time!
VK: Thanks for having me.