Around 5 years ago, alarmed by the increase in grisly road accidents between bikers and vehicles, a group of seven women bikers from Kenya established a club with the aim of making Nairobi's motorcycling community safer and more inclusive. So far, the group, popularly known as the Throttle Queens, has not only encouraged other women to get on the bike, but it's also become an extension of the founders' own personal – and collective – freedom.
Since forming, the Throttle Queens have attracted much attention for their moves. Their adventures on the road have seen them become the subject of an Al Jazeera short film, directed by filmmaker Joan Kabagu, which is airing on the channel until January 4th 2022. They've completed a number of trips, the furthest being when they rode more than 1,100 kilometers, or about 683 miles, over three days to Kigali, Rwanda's capital in April 2019, in an effort to sensitize road users on the importance of road sharing.
"We believe in sisterhood and empowerment among women riders," Ciku Mbithi, Throttle Queens co-founder, told
OkayAfrica. "
We felt that our needs as women were not being fully met by the wider motorcycle community.
---
Mbithi, who is a mother and managing director of a private tour and travel firm when she's not motorcycling, wanted to bring like-minded women together. "We also wanted to ride and be impactful in the lives of others while still having fun. We saw the need to have a club that would redefine what being a lady biker is all about," she says. "After sharing the idea of forming a ladies-only group with the members, Throttle Queens was 'born' in 2017."
A key player in the formation of Kenya's first private motorcycling club, Mbithi got the motorcycling bug during Kenya's 2012 elections when her company was, at the time, managing transport requirements for election observers, and could only meet deadlines using motorcycle riders. Owing to her passion for adventure riding, she started motorcycling, and has been to most corners of Kenya, and some neighbouring countries including Uganda, Tanzania and Rwanda.
She emphasizes that the club, consisting of seven women – a nutritionist, the CEO of a children's entertainment company, a human resource manager and a transformational digital consultant – is at the forefront of upholding a safe-riding attitude and behavior at all times, no matter the distance. Their slogan is, "All The Gear All The Time."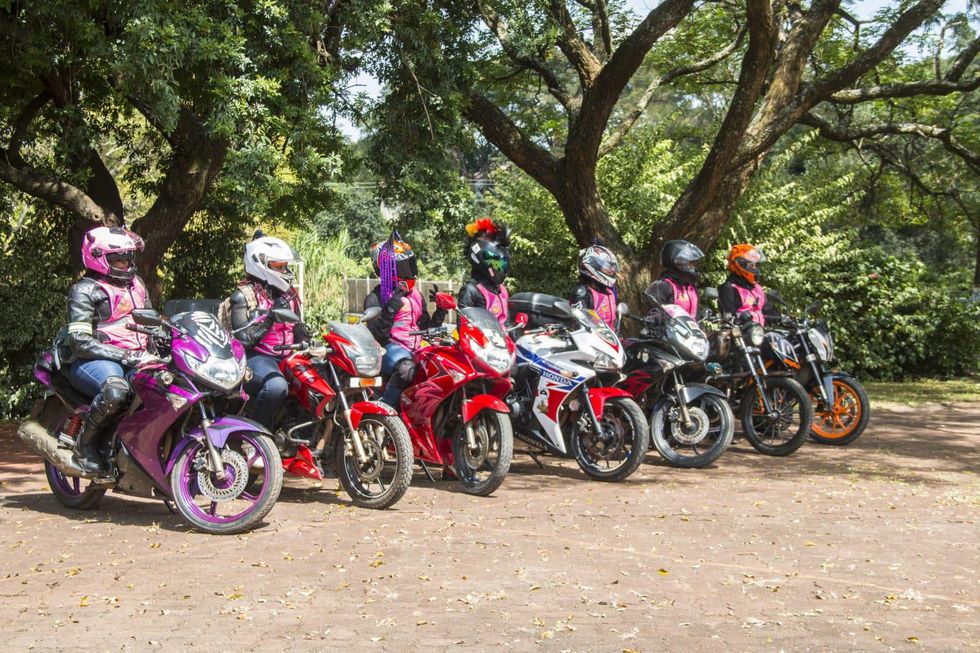 The Throttle Queens, formed in 2017 to sensitize road users on the importance of road-sharing and to empower women to follow their dreams, pose for a photo during one of their trips in Kenya's capital Nairobi.Photo: Donpaul Kamau
The group has joined other platforms that create awareness about the diversity women's contribution brings to the motorcycling arena in Kenya. "I currently sit on the committee that makes up the leadership of the Private Bikers Association of Kenya, a legally registered entity," says Mbithi.
"[Through that association] we also provide a mentorship system for collective biker etiquette, independent of personal interest besides uniting, educating, supporting and celebrating women who ride and those interested in motorcycling."
Besides Mbithi, other Throttle Queens bikers include Victoria Musyoki, who is also a co-founder, Aisha Mohamed, Wanjiku Njenga, Mariella, Njeri Mwangi and Rhoda Omenya.
Like Mbithi, Musyoki reiterates their initial desire to fill the need for a club that would demystify the stereotypes of lady bikers, and one that would inspire young women to do what it takes to be the best versions of themselves. Musyoki, who followed in her mother's foot-steps, says her love for adventure and having a second child inspired her to start riding the motorcycle. "My mother is a biker since 2004. She was surprised that I had taken up the sport knowing how fearful I was growing up," Musyoki adds.
For the 35-year-old, the most beautiful moments so far have been when she joined South African bikers on a 1000kms-day ride through three provinces of Gauteng, Mpumalanga and Limpopo.
The Throttle Queens plan to continue their affiliation with the Akili Dada Mentorship program. The members, who are each unique with different styles, bikes and backgrounds, also provide mentorship on a private basis to young ladies who may be disadvantaged. The group also prides itself on the fact that individual members have continued to represent them in diverse groups within the motorcycling world, such as sisterhood-based ones and other bike-type specific groups. They had hoped to expand even bigger, however, with the new variant of COVID-19, they have decided to limit their next moves to the East African region.
"We had planned on a continental ride through 10 African countries for the later part of 2022. However, with the emergence of new COVID variants, the most recent being Omicron, we may have to limit it to doing a circuit in the five East African Countries," says Mbithi.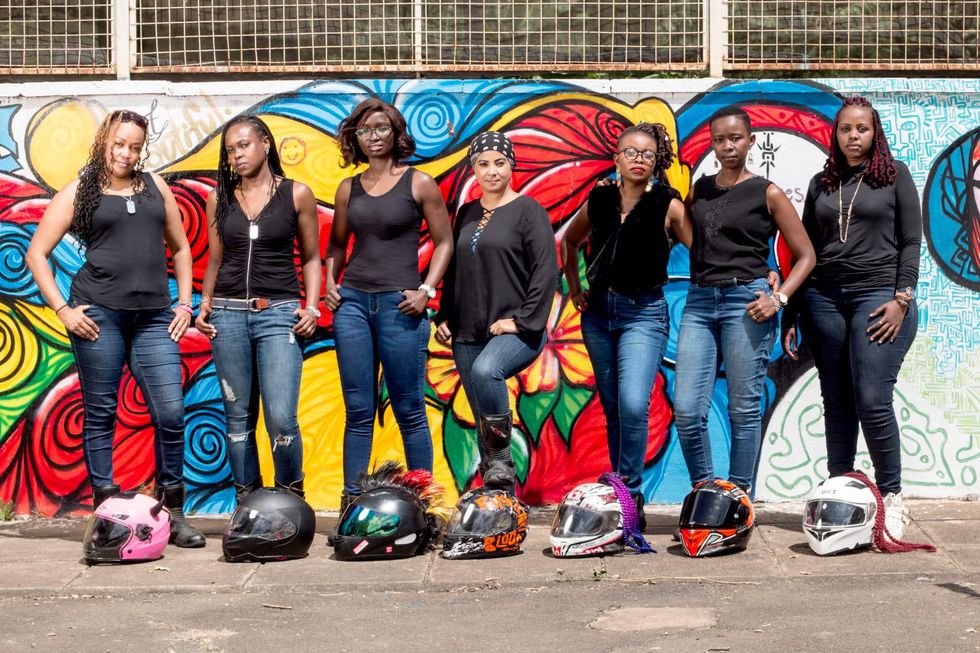 The Throttle Queens also host mentorship programs for young girls, in the hopes of sharing their love of riding.Photo: Donpaul Kamau
She suggests fans of their antics follow them on social media to keep up with their next moves. "We always chronicle our trips with as much information as possible for those wishing to do similar trips or those who travel with us in spirit," says Mbithi. "Our monthly day ride and quarterly overnight rides will also continue to diverse venues and purposes."
Along the way, the queens hope to inspire young women to do what it takes to be the best versions of themselves and to believe that when women support each other, incredible things happen.
"I would like to encourage the ladies that have always wanted to ride, get out of your comfort zone and go for it. The thing that holds us back from achieving what we want is fear, fear of the unknown. You can do this, you are unstoppable," fellow member Njenga says, before adding their all-important safety message. "There is a need to be aware when on the road and be intentional on sharing the road with every user from pedestrians, cyclists to the drivers."
Beyond that, as the women of the Throttle Queens continue to share their advice and knowledge with others, they also become more fulfilled by the art of motorcycle riding. "The benefits of motorcycling are so much more than most of us imagine," says Musyoki. "I have learnt to overcome my biggest fears through biking, to stretch my limits and to think of solutions in every area of my life through biking. It can do the same for you."