Netflix South Africa seems to be on a mission to dominate international screens. With two successful original shows under their belt so far, (RIP Queen Sono) and credit for giving birth to a plethora of fresh and talented new African faces, the global movie, and television giant seems to have found a comfortable home in the Southern African hub.
One talent that has sparked life into the Netflix television scene is South African actress Khosi Ngema. The 21-year-old newcomer plays Fikile Bhele on Netflix South Africa's original series Blood & Water. The teen drama, written and directed by Nosipho Dumisa, follows the life of high school student Puleng Khumalo (played by lead actress Ama Qamata) as she searches for her long-lost sister. Puleng attends Parkhurst College in the hopes to get close to popular student Fikile Bhele as she believes that she's her abducted sister as they share the same birthday and other too-good-to-be-true similarities along the way.
We spoke to the model and singer about newfound fame, the adoration from the likes of American actress Gabrielle Union and how Blood & Water provides an escape from reality for many young South Africans.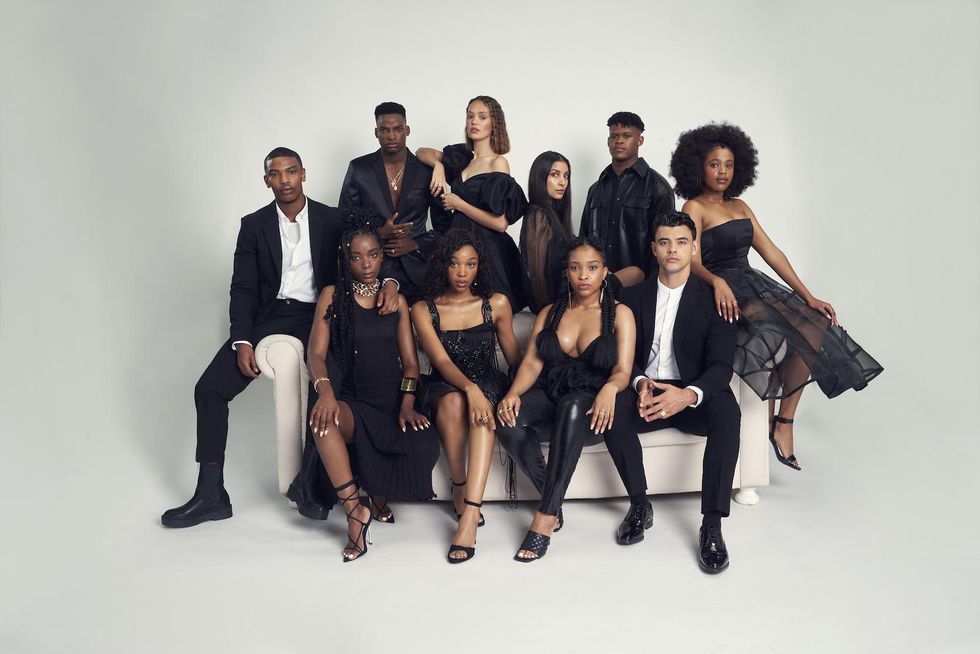 Photo Courtesy of Netflix
Your breakout role just happens to be on a Netflix show that is also the first-ever African original series to be ranked first on Netflix in 10 countries including the US. How does that feel?

Insane. I still can't wrap my head around it. I'm just going with the flow, I'm just like, "Oh, we're number one. Okay. That's cool. That's nice." Yeah, it's insane.
How are you processing all of it?
Just taking it one step at a time. I'm just glad that people are able to watch the show on a global scale and enjoy it. That's all that matters to me. I just want to keep doing it. I'm adjusting to the whole social aspect of it, like social media and interviews and stuff, but it's been cool.
And the cast, you guys are all really young and relatively new on the scene. Does having that support and common ground help at all?
Definitely. I remember in season one, Ama (Qamata) and I were like, "Okay, we're in this together." Because we're both new and this thing is huge, but we just held each other through it. So that's definitely been the theme throughout even now.
Fans are losing their minds, already eager for what's next. Why do you think people resonate so well with the show?
I think people resonate with Blood & Water because, number one, it's a young adult series. So, the youth and young adults, and even older people can relate to it because you're watching these teenagers navigate life. I also think it's refreshing because, for the first time, I guess in South Africa I'd say, it's just a story about teenagers and just people living. They're going through this crazy thing, human trafficking, and not so much about the struggle. And as much as that's important to highlight, I feel like it's just showing people being people. It's an escape from our usually sad reality here.
Photo Courtesy of Netflix
Your character, Fikile, has become a fan favorite. The girls are loving Fiks. Why do you think people relate to her so much?
I think it's because she's just this girl who's trying to bold her identity, trying to show everyone that she's a person despite everything they've already concluded about her. I'm not going to lie, at first, she is a bit out of touch with reality, before everything. But I feel like now she's coming to, she sees how she affects the world around her. She sees that there's actually life beyond what she knows, which is great. It shows growth, especially at that age. But yeah, I think she's growing and learning.
How much of Fikile do you see in yourself and vice versa?
At first? Not a lot, because we're like opposites in terms of our social standing. In high school, she's super popular and I wasn't. She's a party girl and popular, but I feel like now in season two, I found a point where we both meet because obviously in order to portray her, I have to dig within myself to find her. So I feel like now we do meet. It's just our experiences are completely different, but just the feeling that she experiences, I feel like I have in my own way. But we're different.
Gabriel Union recently shouted you out on social media. How are you processing all the attention and love from industry veterans?
Someone told me, "You're too calm. Why are you so calm?" But inside, I'm screaming. I think it's nice, the recognition is really nice. It's like well done, you did something, but I just try not to let that phase me. It's a huge deal. I'm still like, "Oh my gosh, what?" But I just try to let it ground me. Just let it push me, find inspiration because these are the people that inspire me.
Today\u2019s #WCW is the immensely talented @Khosi_Ngema_ . She plays Fikile Bhele on Netflix\u2019s series Blood & Water (if you haven\u2019t watched season 1, RUN DON\u2019T WALK! Season 2 just started, and we are already deep). Khosi is only 21 years old and is already killing the game.pic.twitter.com/QjGgWPBUXa

— Gabrielle Union (@Gabrielle Union) 1632940164
Is there anything else you're working on right now that you want fans to know about, or people are interested in?
At the moment, nothing too crazy. I am working on music, but I can't really say anything. I'm still having fun and reeling from success from the show. People keep asking what's next but I'm just trying to enjoy this moment. And I don't want to do too many things and peak too soon. I'm here for the long ride.
You can watch season two of Blood & Water on Netflix.