Kingsley Ibenechemakes deep, expansive tunes through the vehicle of soul music—bridging the gap between R&B and Afropop. Born Kingsley Ugumba Ibeneche to Igbo parents from the Udo and Obizi villages, the first-generation New Jersey native spent most summers as child shuttling between the east coast and Nigeria. It's during these trips when this rising artist first made lasting connections with this heritage.
"We come from a heavy line of artists, philosophers, and all around rebels," Kingsley reflected in an interview with OkayAfrica, "I have fond memories of going to Nigerian gatherings and seeing all the colorful garbs, hearing the traditional Nigerian highlife and African music play, and seeing all of our parents dance until the sun came out." The magic of these experiences was echoed through the rituals of his community's Nigerian-American church, where gospel music knows few limits. Kingsley's 2017 debut release CHi is a clear product of this spiritually grounded upbringing, championing the sacred-secular origins of R&B.
---
Kingsley Ibeneche - Sanctuary (Official Music Video)youtu.be
On the singer-songwriter's second effort, Realms, the Philadelphia-based musician delves into experimental soul with a sound that summons his African roots. Realms boasts a level of sophistication and technical prowess that's presented with ease and grace, speaking to the artist's personal and professional modesty. Paying homage to the buttery grooves of D'Angelo's Voodoo and the Terrace Martin-assisted progressive jazz productions of Kendrick Lamar, Kingsley's style is at once challenging and provocative.

Kingsley also took inspiration from the Nigerian pop music his family played at home to craft the Afrofusion workouts of Realms. "You could always hear chants of Chief Stephen Osita Osadebe, Oliver de Coque, P-Square," said Kingsley, explaining how the sounds of his childhood spill into the new music. "Those same chants I used as inspiration for this project."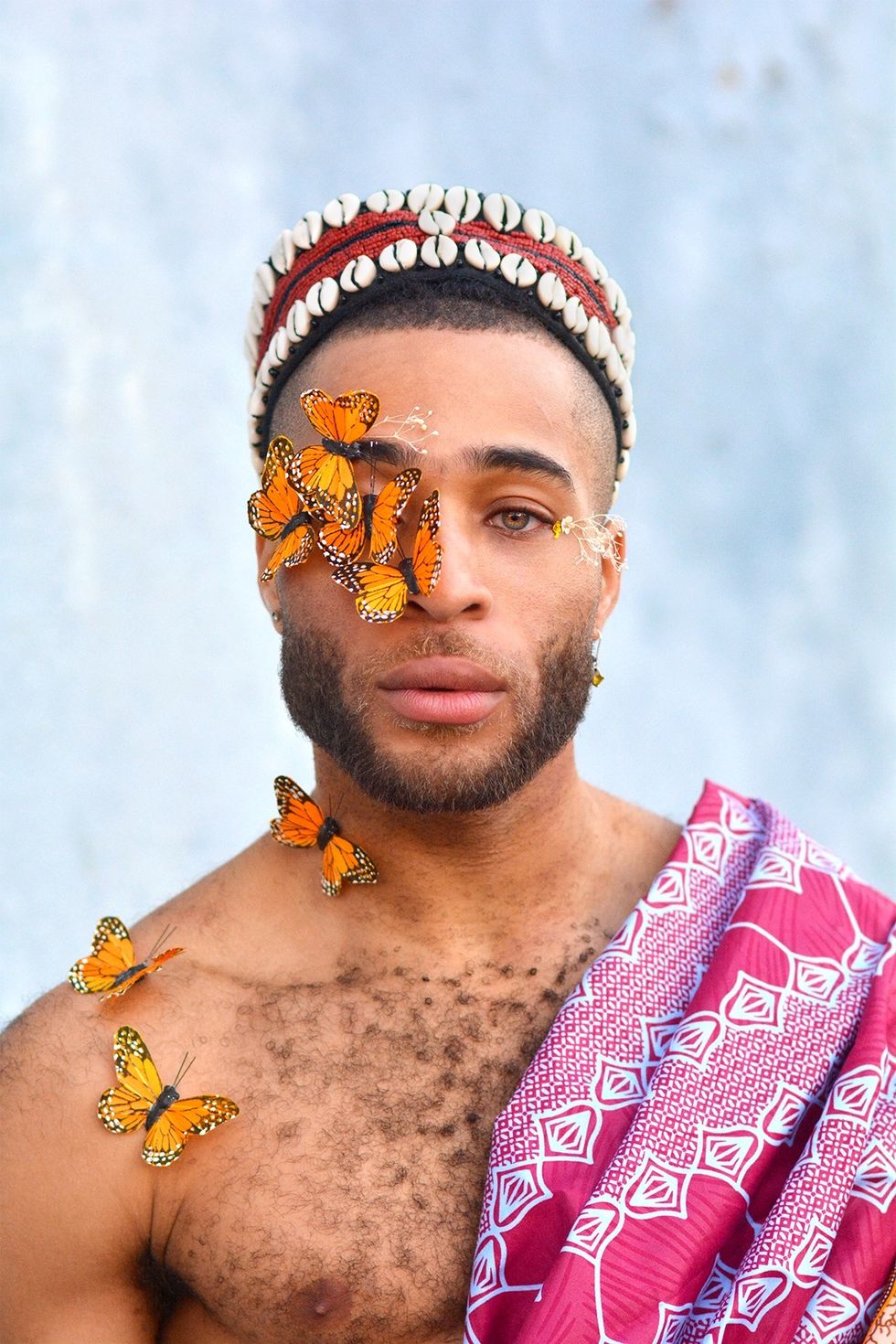 Photo: Marcus Branch. Courtesy of Kingsley Ibeneche.
The ethereal, ever-changing soundscape of Realms was expertly crafted by executive producer Lee Clarke, who composes surreal and futuristic worlds on these six songs. With Kinglsey's mesmeric voice leading the way, it's easy enough to gleam over these sophisticated productions, but Clarke's subtleties make themselves known upon multiple listens. Boom bap ("Sanctuary"), free jazz ("Loud"), Nigerian highlife ("To The Citadel"), post-dubstep and rap ("The Sound") collide with spectacular results on the new Astro Nautico EP.

Along with Clarke, Kingsley enlists a host of underground Philly talents to lend vocals and additional instrumentation to Realms. Devin Farrell and Pontiac laid down vocal melodies, while Kevin Ripley performed drums and Jarrett Gilgore contributed a pair of fiery saxophone solos. The five featured musicians comprise Kingsley Ibeneche's live band, The Dirty Dieties, who help bring the music of Realms to life.
Performed live, the music of Kingsley Ibeneche takes shape as a soul opera, where theatre and musical performance meet to form an ambitious new medium. Aside from songwriting, Kingsley is also an accomplished dance performer, having graced the MTV VMAs and Saturday Night Live stages with the likes of Travis Scott and James Blake. Debuting in Philadelphia this spring, the live show promises to include movement, monologue, constructed sets, lighting design and projection. "My live show isn't far from a movie," described Kingsley. "I make sure to always have dancers to move with me in free expression. I sometimes call upon the audience to participate in movement. I love to have the communal feel of the village."