With the globe-trotting anthology Star Wars: Visions, Disney shared a statement of intent to bring animation from studios on almost every continent to their millions of Disney+ subscribers. Following in these footsteps is Kizazi Moto: Generation Fire, which takes advantage of the anthology format to bring together African sci-fi and magical realism stories. Executive produced by Oscar-winning director Peter Ramsey (Spider-Man: Into The Spider-Verse), Anthony Silverston of Cape Town-based Triggerfish Animation, and Tendayi Nyeke, Kizazi Moto taps into the animated skills of studios in Egypt, Kenya, Nigeria, South Africa, Uganda and Zimbabwe, putting futuristic and fantastical spins on stories from their cultures.
What flows from the screen during Kizazi Moto is the joy of freedom of expression. The short films take on various art styles and experiment with what this medium can achieve. Watching Kizazi Moto is to be treated to half-human racecar drivers, trips to a bureaucratic ancestral plane and an alternate-reality uncolonised Zimbabwe. Meanwhile, CGI, hand-drawn 2D and stop motion art styles exist in harmony within the season but also within the same film.
Nyeke spoke to OkayAfrica about the difficulties of having shows like this made. "My job is to develop new ideas and pitch them, and one of the things that is the hardest is having the world understand you," she says. "I speak a different language when speaking to partners that operate in other territories, whereas when you're making local content, there's a little less explaining that you might have to do."
Kizazi Moto: Generation Fire | Official Trailer | Disney+www.youtube.com
Creative vision mixed with cultural specificity

Kizazi Moto does not operate like a show that is beholden to American shareholders. This omits the need for heavy exposition or for whitewashing, compromises that would usually need to be made in order to create something on this scale.
The directors of the shorts give credit to the producing team of Ramsey, Silverston and Nyeke for nurturing their visions. Tshepo Moche directed "First Totem Problems," a gorgeous and funny South African Hanna Barbera-style story about a coming-of-age teen who must navigate the ancestral plane to receive her totem, a sign of adulthood. She describes the executive producers as "very safe places to just be, even outside of the anthology and the work we were doing."
In Ramsey, who was the first African American filmmaker to be nominated for – and to win – a Best Animated Feature Oscar, Moche found an invaluable resource. "He wasn't necessarily coming from that executive producer professional space, but from more a, 'I've existed in this industry in a certain way, I've had this journey. So I'm going to also give you the little things that I might not have gotten or wanted to have when I was journeying and growing up in the industry.'"
Ng'endo Mukii, the Kenyan director of the experimental "Enkai," echoes this sentiment. Her short picks up visual language from stop motion, CGI and 2D animation to communicate this world-hopping story that interrogates what it means to have the power of creation and destruction and how much a god should interact with the wills of humanity. Mukii took the lessons from Ramsey, Nyeke and Silverston and applied them to her direction. "I think that really taught me how to interact also with my crew, and my team and to share that same sort of grace that they were giving us in developing our stories and, and bringing them to life."
The joy of Kizazi Moto is the realization of creative vision as well as its cultural specificity. Each director was able to implement stories that revolve around the mythology and landmarks of their countries of origin, while packing the frames with smaller Easter eggs.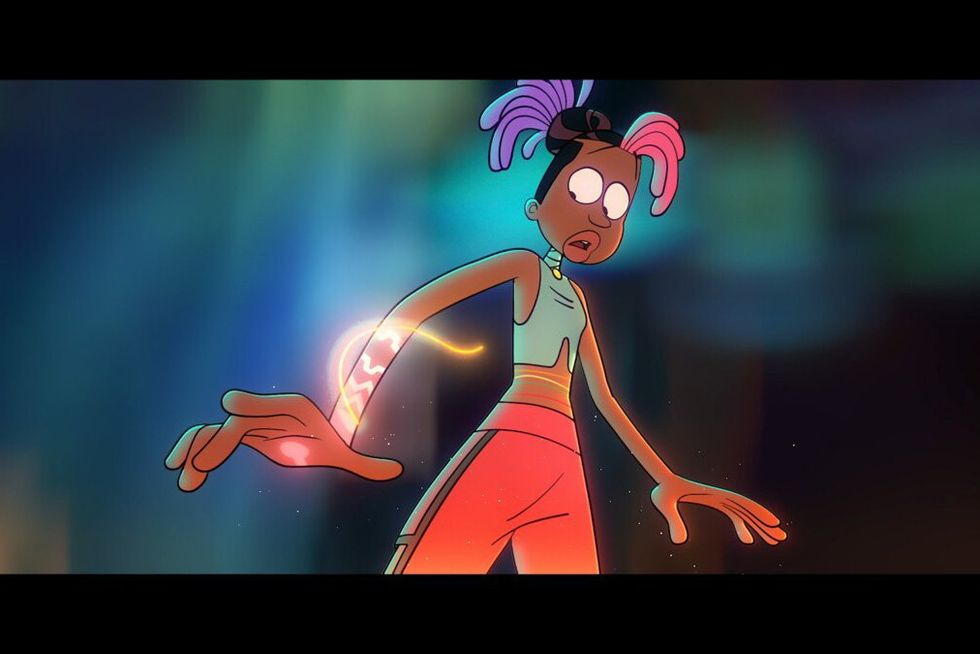 An image from the animated episode "First Totem Problems."Photo courtesy Disney.
One of the richest sources of background details is Tafadzwa Hove's "Mukudzei" where a fame-hungry Zimbabwean boy is transported to an alternate reality where his home country was never colonized. Along the way, he is helped by a girl who made the same journey as a child, and is antagonized by a great metallic eagle. This alternate world allowed Hove to invert the depiction of Zimbabwe in our reality.

"Normally, you see posters saying things like, 'Give money to Africa.' So in our futuristic version of Zimbabwe, it's the opposite. It's like, 'Give money to Canada!' It was almost taken out, but we fought for it," Hove told OkayAfrica. "The second [detail] is on the inside of the eagle's wings. You see all these totems from Great Zimbabwe. They're almost 800 years old, so that's pretty cool."
Moche and Mukii's shorts are also filled to the brim with glistening references. "Enkai" features a Kenyan Mugomo tree, sacred to Kikuyu people, which holds these different worlds together, representing its bridging of the physical and spiritual. "First Totem Problems" finds its Easter eggs in character names. Sheba, the name of the main character, means "look," a manifestation of how this character begs to be seen.
Creating characters that feel tangible
An anthology full of varying art styles makes for an electrifying experience, and comes from each animation house being encouraged to lean into their own sensibilities, rather than conforming to a singular style. The season's final episode, "Hatima," is a hand-drawn underwater odyssey that Nyeke says was initially planned to look very different. "I know they wanted to do it as a CG film at the beginning, but the designs were so striking and just so beautiful in 2D," she says. "So that was the only one where we were like, 'Rethink this because we're going to miss out on some of the really cool things you developed.'"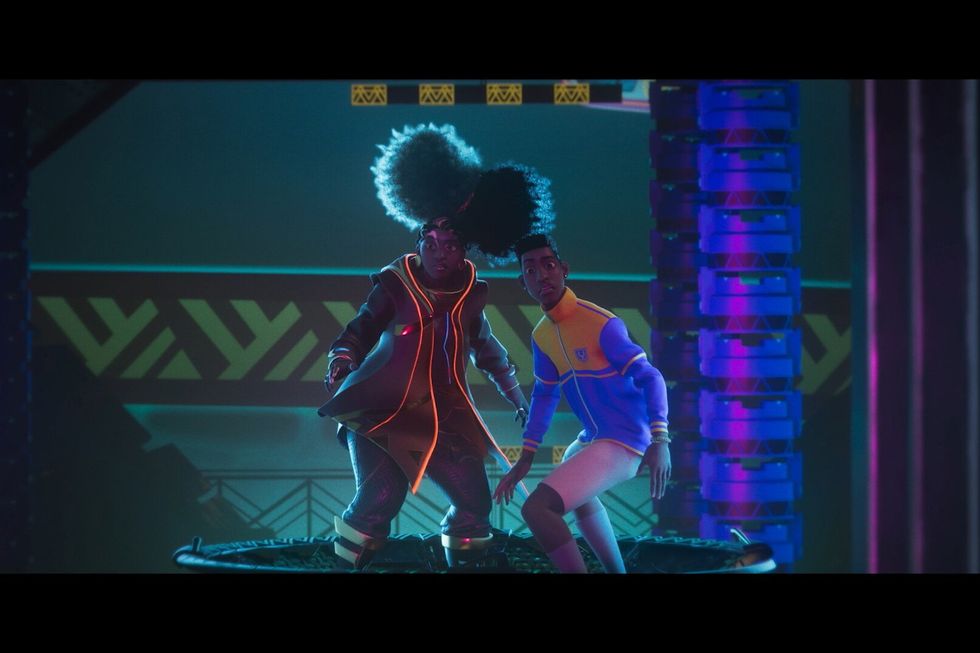 An image from the animated episode "Mukudzei."Photo courtesy Disney.
Core to understanding the different animation styles of "Enkai" and "Mukudzei" is the idea of animating on the ones and twos. Traditional 2D sees artists animate on the twos, meaning every two frames, the characters' positions will move. This is because 2D animation is labor-intensive, and the audience cannot perceive two consecutive identical frames. With the advent of CG, animating on the ones, or on every frame, became a possibility and consequently the norm.

For "Mukudzei," Hove wanted to animate on the twos, as "we always knew that we wanted performances to be a big part of our film, because it's a relational film," he says. "You've got to be with the characters; the characters have got to feel tangible. You've got to feel their pain, you've got to feel their optimism. So we worked on twos, because simply that would exaggerate the performances and give us something that I think would lend itself towards the theme of the film."
Mukii's approach was more experimental for "Enkai." "I worked in CGI, I worked in 2D animation and in stop motion. One of the things that we really struggled with was how to make these different mediums blend together. So we decided to work on threes, so that we could be able to pull all of the different spaces together," says Mukii, emphasizing the difficulties that came with animating this way. "That was really a difficult practice in terms of lip-syncing, trying to put the shapes at the right frame, having this stepping motion, that I found so beautiful, but in CGI, people are not used to seeing that. Being on threes allowed for smoother transitions between the stop motion world and the CG world."
An image from the animated episode "Hatima."Photo courtesy of Disney.
This dedicated effort, together with the diaspora of styles and approaches, came to a head at the Annecy Animated Film Festival in France, where whole episodes were screened to the public for the first time. Seeing the response from people outside of their creative bubble, but also outside of Africa, was a freeing experience for Nyeke. "To have a predominantly European audience [at] our premiere, absolutely pumped when the films ended, and super engaged… I ululated in France, and people looked at me funny. We can just be who we are, anywhere in the world, [and] people can connect."

Nyeke's exuberance matches that which beams from every frame of Kizazi Moto: Generation Fire. The show is lively, vibrant, and emotional, and challenges the norms of Hollywood and mainstream animation from the standpoints of both filmmaking techniques and representation. Kizazi Moto: Generation Fire brings more voices, along with new stories and new ways of telling them, to a bigger audience, making it one of the most vital shows of the year.
Kizazi Moto: Generation Fire releases on Disney+ on July 5th.