"This is the day the lord has made. I will rejoice," speak the words in Klein 's "Marks of Worship." It's a sermon that serves as the backdrop to Klein's lead music video from her album Only .
---
In a video directed by Akinola Davies Jr. , the two creatives craft a masterpiece depicting the strains of religion and culture as Klein's Nigerian upbringings are brought to life.
Amidst a backdrop of orange and blue, extravagant dinner parties and family, Klein stares at the screen blankly, a member of her world and an alien all the same. She sips champagne as she blankly pierces the camera. And ever so frequently, as the world pauses around her, you catch her smile, you catch her dance, you catch her look away.
We recently caught up with the new artist to talk about her upbringing, her sound and the inspiration behind the piercing video and album.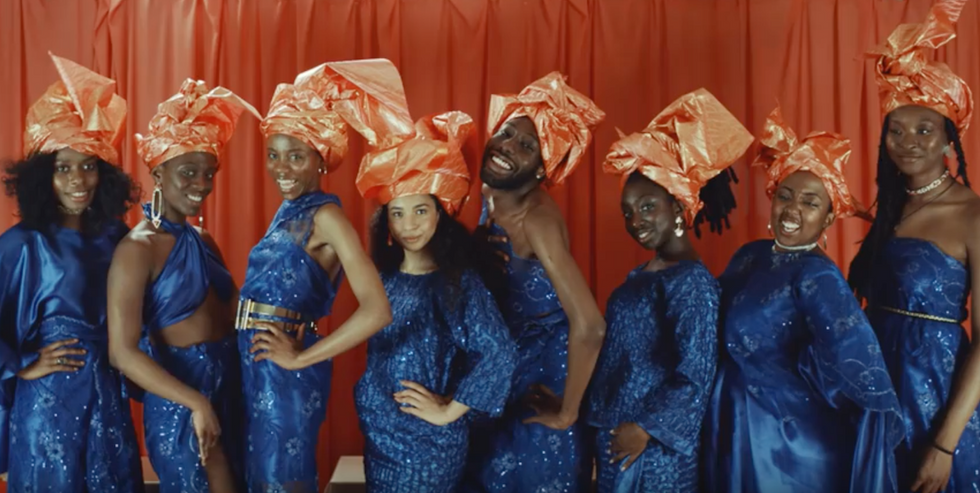 Screenshot from "Marks of Worship"
How did you come up with 'Klein' as your stage name?
I kind of wanted to give my name that sort of represented excellence and glam, something ridiculous but also very far removed from what I feel I am as well.
How would you describe your sound?
I would describe my music as 'Pop-Gospel-Movie-Guide.' I don't know, I say Gospel, but it changes.
Describe the message behind "Marks of Worship"? Why a spoken-word piece?
Basically, I made "Marks of Worship" as an interlude for my album, but it was quite long. I essentially made it for myself as something therapeutic for me, to the point that I didn't even want it to make the album because I didn't think it was anything. I wanted to replicate all the messages I get from my mum and her friends and my aunties telling me to give my life to God. Yeah, they're a bit crazy. I love them though, but they're completely different from me.
Your recently released music video for the song is powerful. Describe the vision and message you and Akinola Davies Jr. aimed to convey?
Akin basically wanted to do a video for "Marks of Worship" and I was like 'Really?' "Marks of Worship" is not even a song!' I'm not used to doing stuff, like doing a proper video. Normally I shoot stuff with my boyfriend in my room over a green screen, sort of like me in a hoodie. To the point where when Akin said we were going to shoot the video and I got there and it was a whole team, I was like 'Oh my god, I thought it was just going to be me and you.' The thing with the video [was that] I just wanted to make something that was really nice, me and my family and friends just having a great time and just being excellent, and that was it. We were listening to Rihanna and Vybz Kartel while we were shooting the video. (Laughs) It was kind of a mess.
In what ways have spirituality and tradition impacted you?
My dad's family were Muslims and my mum's family were Born Again Christians, so I kind of had a mixed balance. Actually, there was a point in my life [where] I was Muslim for two years because the mosque that we used to go to used to serve the sickest Jollof rice. I actually felt like shit for going into a religion just because the food was so lit. (Laughs) I would say I'm still spiritual. I feel like whenever I get into a mess, I start praying to all the Gods, which is pretty funny.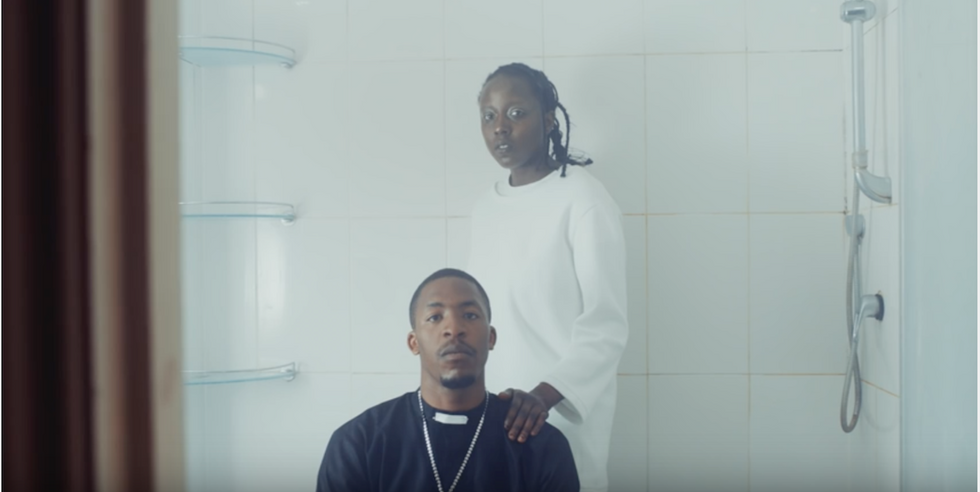 Screenshot from "Marks of Workship"
The diaspora can be heard strongly in your sound. We hear it in your Skepta and Brandy samples and the Nigerian influences found in "Marks of Worship," how has identity and the diaspora shaped you, your music, and your creativity?
I guess I started to make music because I wanted to make more, I wanted to make what I wanted to hear. I didn't feel like I was getting the perfect blend of what I wanted, especially with my songs anyway. I would have a noise track, but still have the same melody of a pop track and I like the idea of sort of fusing the two and getting you confused not sure of like, 'Wait. I should like this, but I don't, but I should . . . '
Born in London, based at times in LA and having lived in Surulere, you have traveled the world. How have these journeys guided your music and perception of the world?
Living in Nigeria was crazy. Going to parties with my dad and having his friends make up songs on the spot and go in and sing about us. I always found that pretty crazy. The idea of improvising and just going in. The Arabic party music scene in Nigeria is pretty strong.
How did Only come to fruition? Walk us through the creative process, the conception and the message you hope to convey.
I wanted to make this album for myself where I said exactly how I felt. It sounds really cheesy, but most of the songs, even the one's that sound like a love song or a hate song, have nothing to do with boys. Literally, most of the songs on Only are dedicated to myself, and me telling myself 'Okay Klein, you'll be okay. You'll be fine. You're pretty. You're sick. You're a douchebag, whatever. But get yourself together.' The whole work was a therapeutic thing, even the ones that are kind of ridiculous.