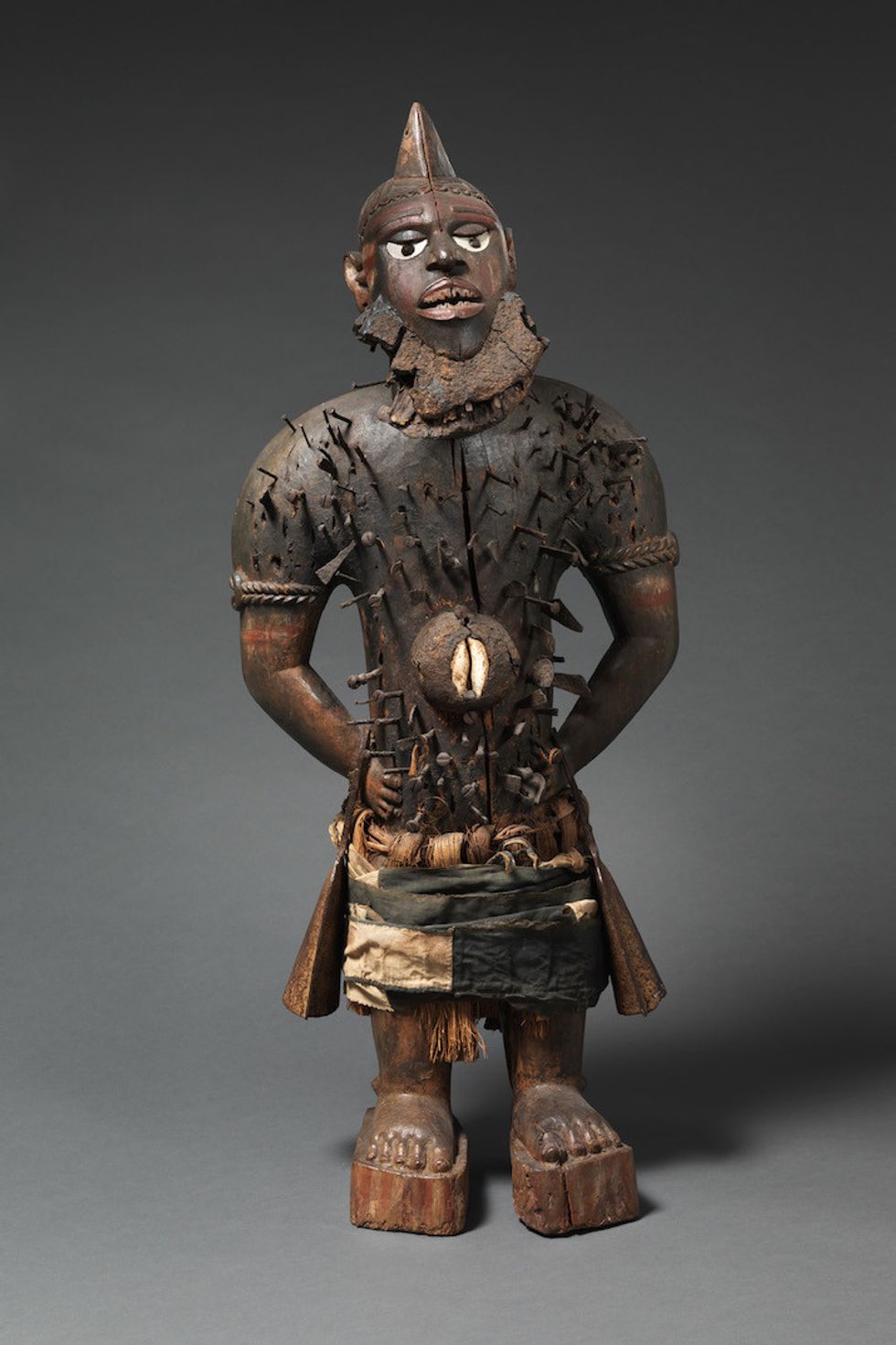 ---
(1) All images courtesy of The Metropolitan Museum Of Art (See below for image IDs)
Kongo: Power and Majesty is a new exhibition showcasing art objects and writings from the 15th century through the 20th century of what is now the Republic of the Congo, the DRC and Angola. Opening September 18 at The Metropolitan Museum of Art, the presentation will explore how elegant woodworkings, delicately woven textiles, as well as religious and political writings reflect a history of encounters between Central African and European leaders.
Curated by Alisa LaGamma, the exhibition was inspired by the recently-acquired, rare Mangaaka sculpture (shown above), a figure that once stood as a guardian for the Kongo community. "This exhibition of Kongo art, spanning half a millenia, culminates with the historic opportunity to view fifteen Mangaaka figures gathered from institutions in Belgium, France, Germany, Italy, the Netherlands, Switzerland, the United Kingdom, and the United States," says the Met's director, Thomas Campbell, in his foreword to the exhibition's catalogue. 
Altogether, the show will feature 146 works of Kongo artists drawn from more than 50 institutional and private collections across Europe and the United Sates. A preview of the show's catalogue, distributed by Yale University press, details the significance of some of the exhibition pieces: "Objects range from 15th-century 'mother-and-child' figures, which reflect a time when Europeans and their Christian motifs were viewed favorably, to fearsome Mangaaka, power figures that conveyed strength in the midst of the kingdom's dissolution."
Though most individual artists remain unidentified, the work of a few masters of Central Africa will be presented for the first time in this exhibition, including the Master of Kasadi, the Master of Makaya Vista, and the Master of Boma Vonde.
The Met will also be holding as series events in conjunction with the exhibition, including a panel in October featuring Congolese dancer-choreographer Faustin Linyekula as well as a conversation between photographic artist Jo Ractcliff, who has captured images of Angola, and author David Van Reybrouch, who has written extensively about the history of Congo. Ractcliff and Reybrouch will discuss emotional memory in art and the dominant structures of history within Central Africa.
Check out a preview of the works that will be on display below. Kongo: Power and Majesty is on view at The Metropolitan Museum of Art from September 18, 2015, to January 3, 2016.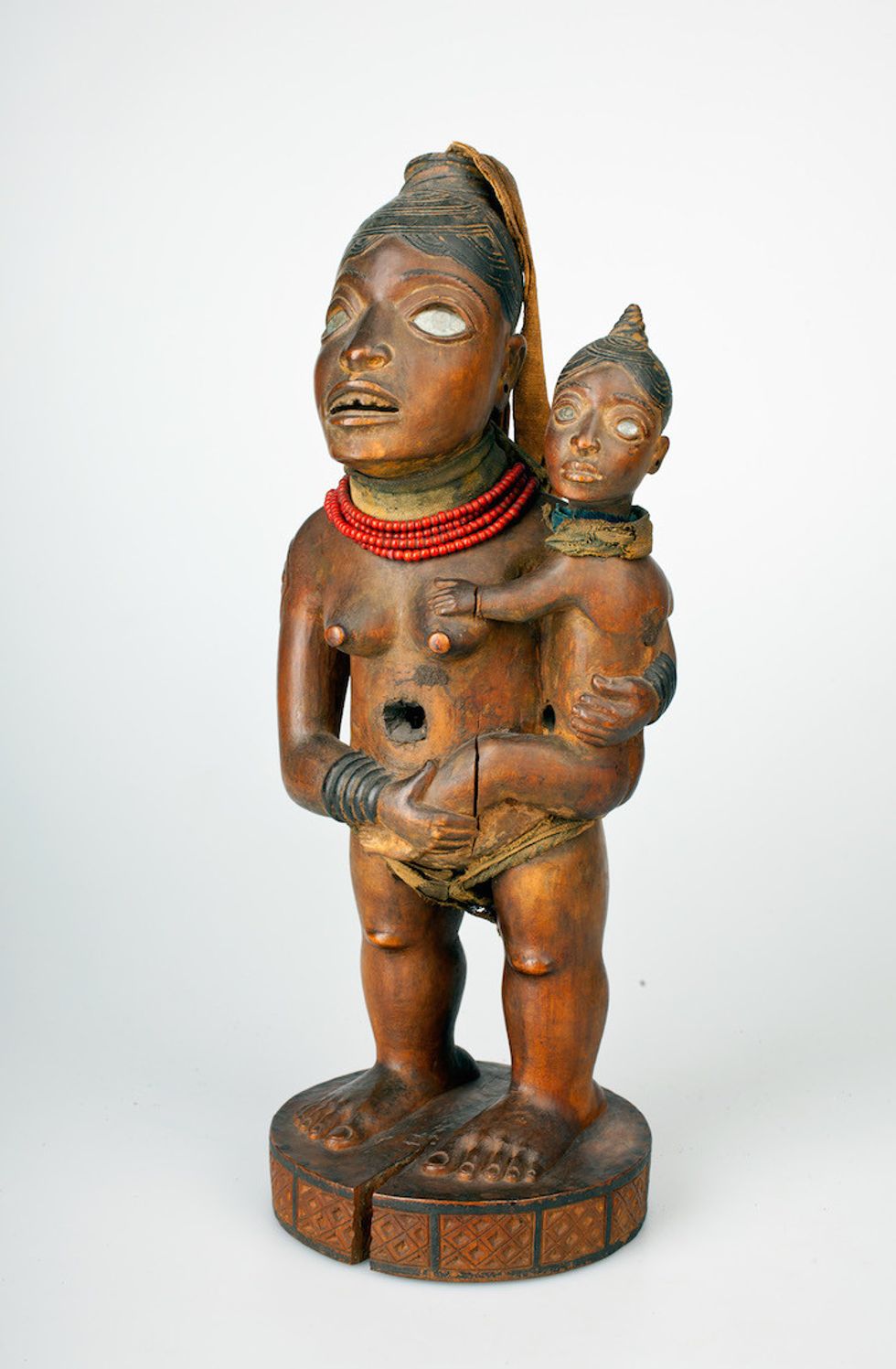 (2)
(3)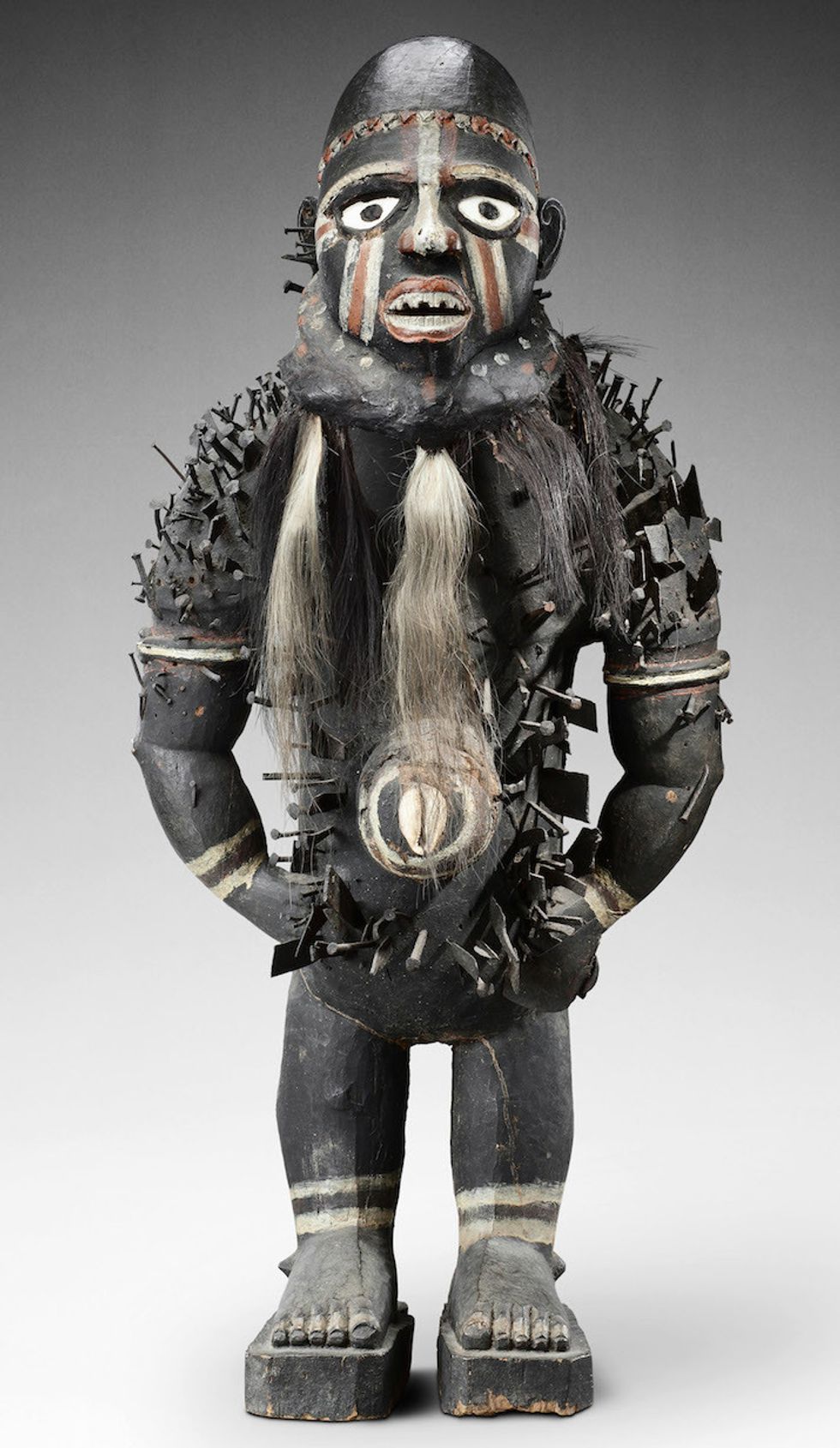 (4)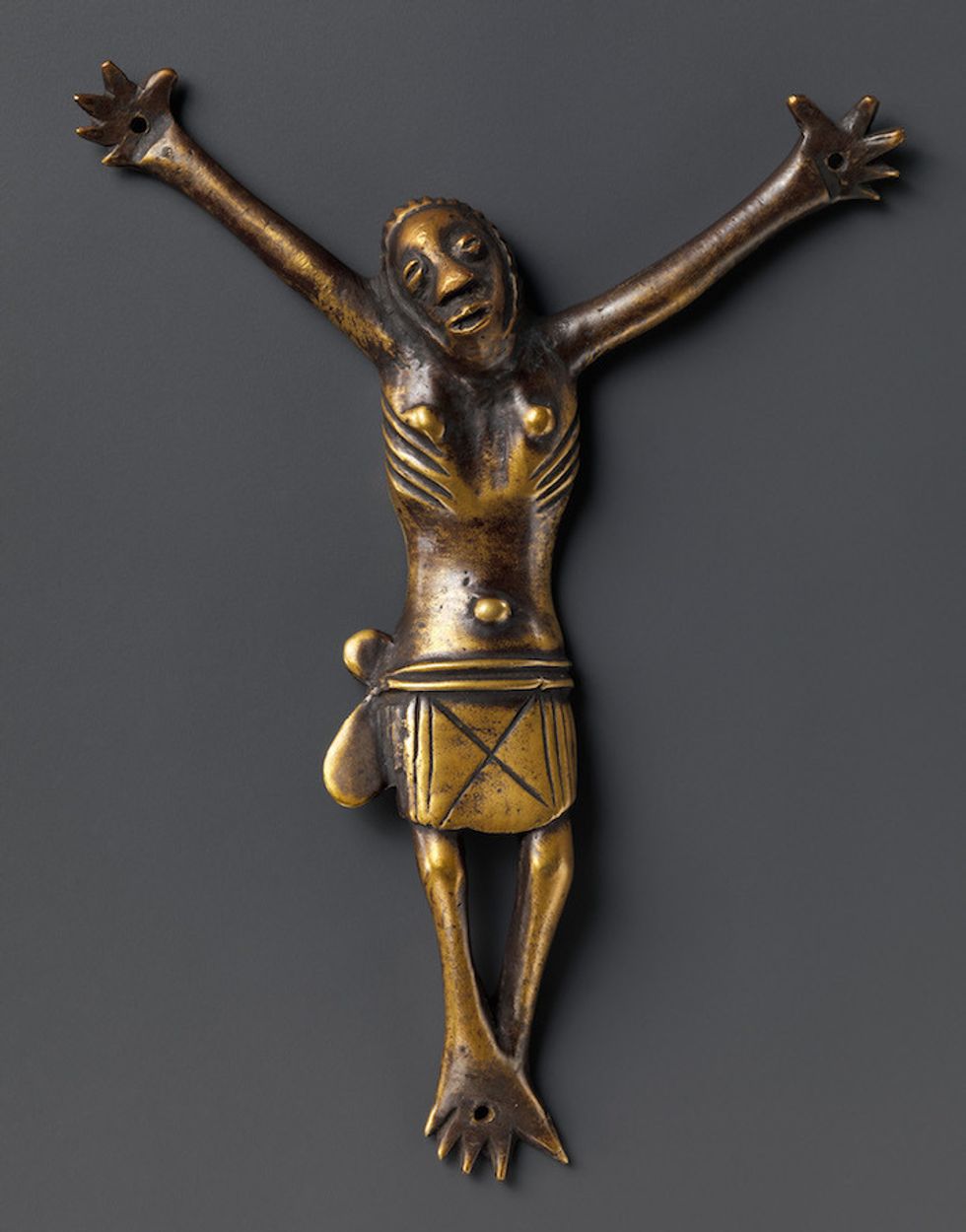 (5)
(6)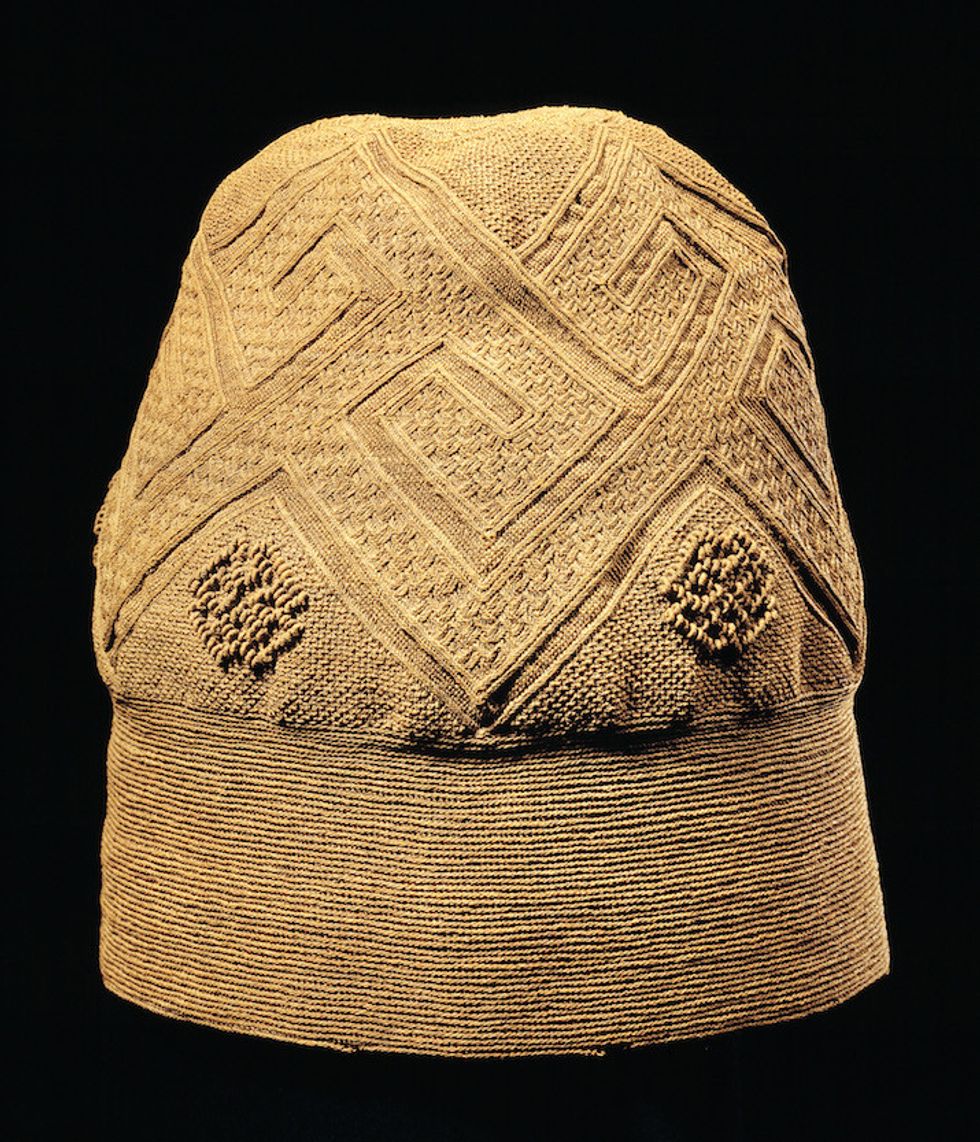 (7)
(8)
(9)
Fig. 169 Power Figure (Nkisi N'Kondi: Mangaaka). Kongo peoples, Yombe group, Chiloango River region, Democratic Republic of the Congo, Republic of the Congo, or Cabinda, Angola, 19th century, inventoried 1906. Wood, iron, resin, cowrie shell, animal hide and hair (monkey?), ceramic, plant fiber, textile, pigment. H. 441⁄8 in. (112 cm), W. 187⁄8 in. (48 cm), D. 141⁄8 in. (36 cm). MIBACT—Polo Museale del Lazio, Museo Preistorico Etnografico Luigi Pigorini, Rome (75909). Photo: Courtesy of The Metropolitan Museum of Art
Fig. 116 Power Figure: Standing Female with Child (Wife of Mabyaala?) (Nkisi). Kongo peoples; Vili group, Loango coast, Cabinda, Angola, 19th century, inventoried 1885. Wood, beads, glass, fiber, copper, resin, pigment. H. 151⁄4 in. (38.5 cm), W. 53⁄4 in. (14.6 cm), D. 51⁄2 in. (14 cm). Collection Nationaal Museum van Wereldculturen, Netherlands. Photo: © National Museum of World Cultures, Leiden
Fig. 135 Master of the Boma-Vonde Region, Power Figure: Seated Female Nursing Child (Nkisi). Kongo peoples; Yombe group, Democratic Republic of the Congo, Republic of the Congo, or Cabinda, Angola, 19th–early 20th century. Wood, metal, kaolin, glass. H. 111⁄8 in. (28.3 cm), W. 41⁄4 in. (10.8 cm), D. 41⁄4 in. (10.8 cm). Steven Kossak, The Kronos Collections, New York. Photo: Courtesy of The Metropolitan Museum of Art
Fig. 172 Power Figure (Nkisi N'Kondi: Mangaaka). Kongo peoples; Yombe group, Chiloango River region, Democratic Republic of the Congo, Republic of the Congo, or Cabinda, Angola, 19th century, inventoried 1906. Wood, iron, resin, cowrie shell, animal hide and hair (tail of colobus monkey?), ceramic, plant fiber, pigment. H. 413⁄4 in. (106 cm), W. 173⁄4 in. (45 cm), D. 173⁄8 in. (44 cm). Wereldmuseum, Rotterdam. Photo: © Wereldmuseum, Rotterdam, photograph by Studio R. Asselberghs / Frederic. Dehaen, Brussels
Fig. 7 Figure of Christ. Kongo peoples; Kongo Kingdom, Democratic Republic of the Congo, Republic of the Congo, or Angola, 18th–19th century. Brass (open-back cast), H 43⁄8 in. (11.1 cm), W. 41⁄2 in. (11.4 cm), D. 7⁄8 in. (2.2 cm). The Metropolitan Museum of Art, New York; Gift of Ernst Anspach, 1999. Photo: Courtesy of The Metropolitan Museum of Art
Fig. 128 Master of Kasadi Workshop, Mask (Nganga Diphomba). Kongo peoples; Yombe group, Kasadi village, near Tshela, Democratic Republic of the Congo, 19th–early 20th century, inventoried 1937, Wood (Ricinodendron heudelotii Baill.), pigments, hide, metal tacks. H. 113⁄8 in. (29 cm), W. 67⁄8 in. (17.5 cm), D. 51⁄2 in. (14 cm). Royal Museum for Central Africa, Tervuren, Belgium. Photo: © RMCA, Tervuren, photographs by R. Asselberghs
Fig. 84 Prestige Cap (Mpu). Kongo peoples; Kongo Kingdom, Democratic Republic of the Congo, Republic of the Congo, or Angola, 16th–17th century, inventoried 1674. Raffia or pineapple fiber. H. 71⁄8 in. (18 cm), Diam. 57⁄8 in. (15 cm). Nationalmuseet, Copenhagen. Photo: © The National Museum of Denmark, Ethnographic Collections
Fig. 66 Garment (Nkutu) Kongo peoples; Democratic Republic of the Congo, Republic of the Congo, or Angola, 19th century, inventoried 1853 Raffia. H. 311⁄8 in. (79 cm), W. 491⁄4 in. (125 cm) British Museum, London. Photo: © The Trustees of the British Museum
Power Figure (Nkisi N'Kondi: Mangaaka). Kongo peoples; Yombe group, Chiloango River region, Cabinda, Angola, 19th century, inventoried 1898. Wood, iron, resin, ceramic, plant fiber, textile, cowrie shell, animal hide and hair, pigment, H. 461⁄2 in. (118 cm), W. 181⁄8 in. (46 cm), D. 133⁄4 in. (35 cm). Manchester Museum, University of Manchester (0.9321/1)