Kwesta is undoubtedly South Africa's rapper of the moment.
His most-recent colossal hit single, "Spirit" featuring Wale, conquered the airwaves and has already penetrated far beyond his home country.
The multi award-winning rapper is currently working on his fourth album which will be the last in the Dakar series. After witnessing the kind of impact songs like "Spirit" and "N'gud" have had on the culture, one can't help but wonder what Kwesta has in store for us in his upcoming project.
---
A few weeks after dropping the visually stimulating music video for the song, Kwesta landed in Nairobi for the first time to headline the Africa Nouveau Festival.
We sat down with the charismatic rapper during the festival for a quick chat on his latest single, upcoming album and more.
How do you feel about headlining the Africa Nouveau festival?
That's the thing about it. I don't even look at it as headlining or anything like that. I've just been included in a movement that's already happening whether my name is there or not. But I do feel honored that I was invited to perform and I can't wait to try and at least connect with the people of Kenya musically.
A lot of us here in Kenya listen to a lot of South African rap music...
(Laughs) It's boring right?
No, no way. We listen to it even though we don't even know the meaning of the words. With a song like "Spirit" everyone can feel the energy it carries. For the sake of all of us who don't understand Zulu, what's the core message behind the song?
It's a fearlessness of being who you are and striving for what you want. It's the spirit of not giving up; it's the spirit of going out there and chasing. It's the spirit of not being defined by your surroundings. It speaks to the ghetto child who thinks that his dreams are bordered by the fact that he's in the ghetto or from the ghetto. So it's about pushing those boundaries and not losing the spirit. It's a very inspirational and aspirational song.
And I can understand why you can miss the language. I didn't want to make it sad because the ghetto child's story isn't always sad. It's just sometimes there's ghetto children who've made it out and by making it out I don't mean ran away from the hood, but have sort of made something of themselves given their surroundings so it's also a celebration of those who have done that.
How did the collaboration with Wale come about?

Crazy! So I was invited to perform in Texas and then I met some people that worked with him and told them that I'd be interested in doing something with him. Then I went back home. Yeah I just left that in the air. Then all of a sudden they started calling and emailing and saying that he was down to do it as long as I had a song. And I didn't have a song at that time so as soon as I got that I was like "oh damn yeah let me make a song" and I made "Spirit" and I sent it to him and the following day he sent back his verse.
Wow. Were you always a fan of his?
Yes, definitely. I've always been a fan. I've been a fan of his since… I don't know if he's still with MMG or not but since his first album I've always felt the poetic side of him. I've always connected with him. And the fact that he's also Nigerian to a certain point, that just made everything seem possible.
The music video for the song is truly a visual masterpiece.
Thank you.
A lot of people online have said that it captured the true essence of South Africa.
I wanted to keep the same thing that inspired the song by sort of reminding people of who we are generally as South Africans. I promise you everything in that video everybody knows about it but somehow forgets because we get caught up in the world. We get caught up doing all these things and we forget the things that make us who we are.
I literally recreated moments in everybody's childhood and everything like that because that's how everybody grew up. We grew up around the same sort of environments and things like that and I wanted to tip into to that and remind people of that in the spirit of being who we are still.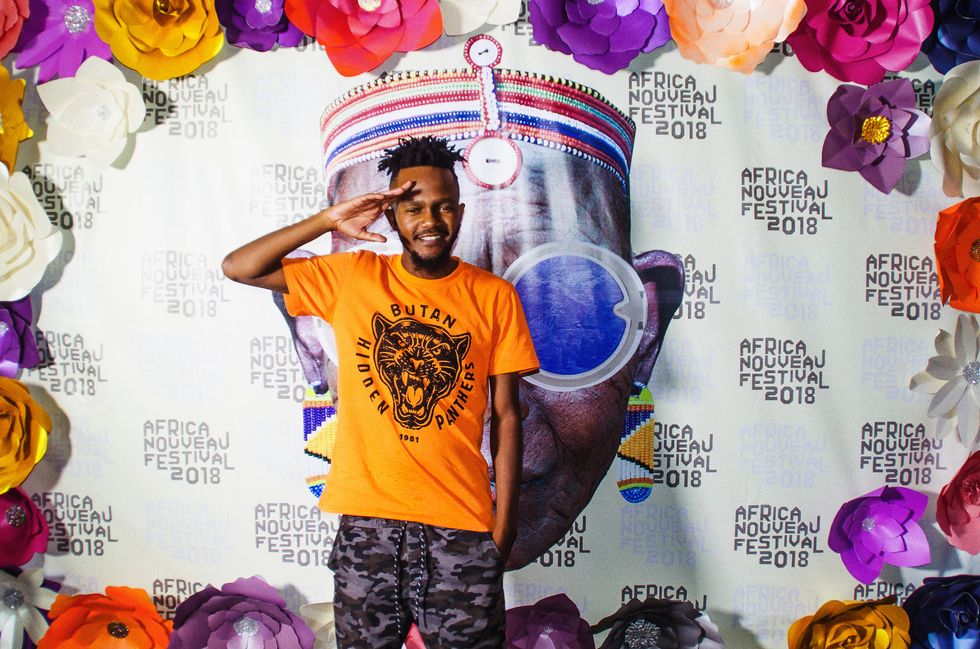 Photo: Idd Nashid.
Last year you were the most awarded artist at the South African Music Awards.

(Chuckles) Yeah yeah!
But anyone who knows your career knows you've been killing it for a long time. How does it feel to finally be getting all the love, respect and accolades to go with it?
It's great, it's humbling. I've been doing this music thing for ten years. This is my eleventh year now and for all that to happen in my tenth year was pretty monumental for me. But also it doesn't take away from everything I had to go through and learn the nine years prior. Cause I've always kind of been there but not quite and on the tenth year people just decided to listen. I didn't really change anything drastically in my music.
But with regard to the SAMAs, it was great walking up there six times to collect the trophies. It was amazing but the highlight of my career is the moments when they announce the nominees and as soon as they said Kwesta people just go "yeah of course he should get it." That was bigger for me than the actual win, just the fact that people wanted me to win.
You've worked Wale, and I heard that you have joints with Rick Ross and Tory Lanez as well coming out. What African acts are you excited to work with?
Yeah definitely, definitely. The whole thing about my next album is I don't want it to be just a South African project; I'm trying to make it a global project. So I'm definitely with Wale, Rick Ross and Tory Lanez and I'm planning on working on a song with Davido and Mr Eazi.
I'm literally taking every opportunity that presents itself for me to work with someone I'm a fan of regardless of where it is that you're from. And also, will still continue working with South African artists. But I'm trying to make it as global as possible and I'm trying to take it as far across the world as I can.
And since you're in Kenya I have to ask what Kenyan or East African acts do you mess with?
Unfortunately we don't get a lot of it on commercial radio that side. You'd have to go on the net. But I know Khaligraph Jones, Xtatic who raps, I know her. Well now I know Blinky Bill and hopefully we're going to work on something. Like I said, one of the purposes I'm here is to learn and find artists and try and collaborate. I even got a studio, a little thing at the hotel room; just in case something happens we can quickly do something.
Your fourth album is the last in the Dakar series. What should we look forward to and expect in this next album?
Stories. I keep my music about me and the people that I identify with and connect with. So there's a lot more of that, and a lot more of new experiences. I write about things I see and things I see people going through. And I don't see the same things everyday so that story will forever change. I'm not going through the same things I was going through last year. I'm not going through the same things I was going through ten years ago when I started, so it's just a constant documentation of my life as it grows and as it goes up and down, the rollercoaster that it is. But also within that, fun and entertainment because at the end of it, music has to be entertaining. With all the stories told I will not ever at least for any reason compromise the quality of the music and the ability to connect with people and try and entertain while telling these stories.
This festival features a lot of up and coming Kenyan talent as you've seen, what advice would you give any young African artists who are trying to get where you are right now?
Well, don't try and get where I am. Try and go further because that's also my outlook in life. Don't put yourself in a position where you end up living to become somebody else. So if you are from Kenya and you want to be a big artist in Africa just make sure that when you become that, you are always a Kenyan. You are always that person who's from Kenya. So don't lose yourself over what you're trying to attain.