La Même Gang is the collective that is shaping the new wave of urban music in Ghana. This enviable squad is made up of six creatives: Darkovibes, $pacely, Kiddblack, RJZ, Kwaku BS & Nxwrth.

The Accra-based supergroup is part of a new school of African artists who are navigating a shifting musical landscape on their own terms. By connecting with their fans organically on social media, as well as through live performances, La Même Gang has gained quite the dedicated following.
After topping charts with their first project, La Même Gang follows up with Linksters, a 2.0 version of the 2017 La Même Tape and a 20-track body of work functioning as an extension of the collective's personality. With two sides to the tape, there's something here for everyone.
---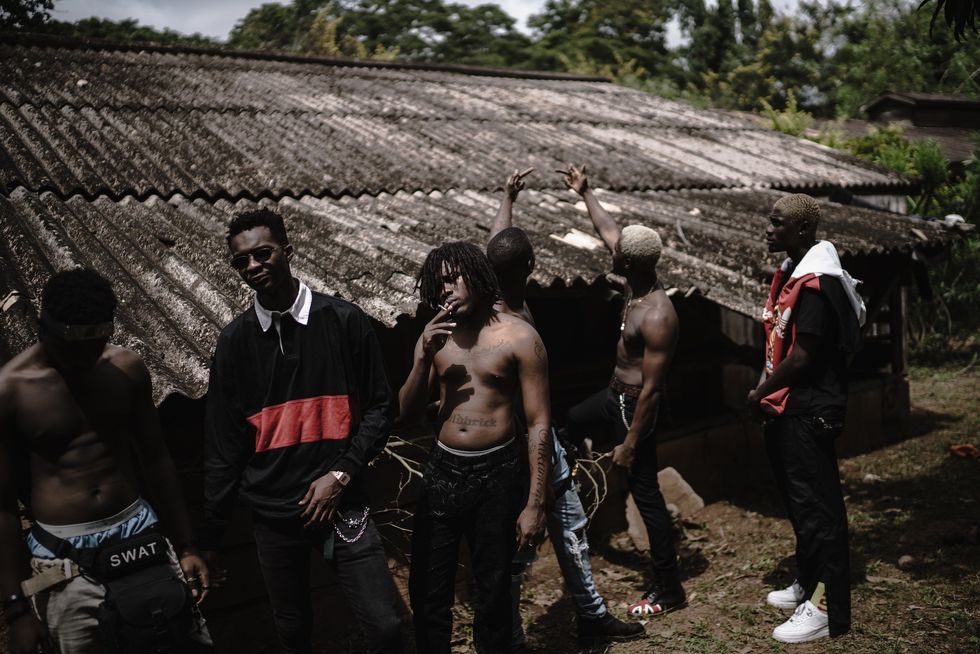 La Même Gang. Photo courtesy of the artists.
While they are individual powerhouses, the bond they share together in music has created a brotherhood that fosters each artist's growth, while still offering opportunities for collaboration. They share precious and emotional moments on their lead single "Stone Island"—an appreciative song to each other that explores brotherhood and oneness.

Other standout tracks include "Gold Coast," an ebullient love-letter to Ghanaian girls that enlists Nigerian vanguard act Odunsi the Engine and "Accra Stay by Plan," a dancehall-flavored rendition that addresses the hardships and hustles of Accra.

Darkovibes' vocals float effortlessly over the groovy and funkadelic Altra-Nova production on "Up/Down," we're loving the sing-song delivery and playful wordplay on Kwaku BS' verse, while RJZ's high-pitched, catchy chorus seals the deal.
La Même Gang - Stone Island (feat. Darkovibes, RJZ & Kiddblack)youtu.be
Linksters includes a diverse array of vocal features including Sarkodie, King Promise, Medikal, Kobla Jnr, Pappy Kojo, Odunsi the Engine and Odartei.

Musically, the tape features productions from noteworthy beatmakers like Nova, Kuvie, Zodiac, Killmatic, Eargasm and of course Nxwrth—the producer at the forefront of Ghana's buzzing trap scene and the mastermind behind the growling melodies in subversive trap bangers like "Bonjour" and "Terminator."
With Linksters, La Même Gang display their growth and versatility in a phenomenal way. By blending afrobeats and trap, the boys have served a thrilling musical experience for the die-hards as well as new listeners.
Stream Linksters below.