Lady Du is currently one of the hottest voices in amapiano. Born into a family of musicians, her father DJ Choc and uncle DJ Zan D are reputable deejays and producers. Lady Du, real name Dudu Ngwenya, first learned how to play at the tender age of nine. Since then and during her early adult life, she had been trying to get a successful break into the music industry. Though she made songs with renowned producers such as DJ Clock, DJ Mshega and DJ Maphorisa (back when he still did gqom) in 2013, 2014 and 2018 respectively, her breakthrough only came under a year ago through the track "Superstar", alongside revered amapiano deejay and producer Mr JazziQ.
Lady Du's musical journey speaks to her resilience, and her success can rightfully be attributed to her perseverance. On "Superstar", Lady Du sings about aspiring to superstardom, even going as far as mentioning some South African celebrities that she looks up to! Today, her name is listed among the very stars she once mentioned on the track. Since 2020, she has collaborated with heavyweights like Oskido, Cassper Nyovest, Khuli Chana, Focalistic, De Mthuda, Josiah De Disciple, Busta 929, DBN Gogo and many others. Her signature sultry voice, which sometimes resembles that of a baby, can also be heard on some of amapiano's biggest smash hits like "Umsebenzi Wethu", "Dakiwe", "Catalia", "Woza", "GUPTA" and more.
---
The collective success of the tracks she's featured on have catapulted her to household status, not only in South Africa but abroad too, as the world continues to check for amapiano. Earlier in the year, she appeared in a New York Times Square billboard as part of Spotify's African Heat campaign, a feat only a few South African artists have achieved. And there are also the viral social media dance videos soundtracked by the aforementioned hits.
Mr JazziQ – Superstar (feat. Lady Du)www.youtube.com
For her debut EP, which she's in the process of finalising, Lady Du has chosen to work with less established artists and producers so as to give them a platform. We caught up with the trailblazing vocalist to talk about her journey to stardom, her musical influences, and the global recognition of amapiano.

This interview has been slightly edited for clarity and length.
"More than anything, my brand is representative of ikasi (the hood)."
That's what I stand for, that's who I am. I try to represent struggling kids who are fighting against odds to reach a certain level of success. This is why I strive to be as transparent as I can because most times, as brands, we put on a front to hide the true struggles we often have to endure in the music industry. My brand is more aligned with kwaito. It's aligned with authenticity, understanding who I am, trying to break boundaries and not be stereotyped. So, I'd say I am an African kwaito queen!
"Featuring on Mr JazziQ's 'Superstar' made the music industry, finally, sit up and pay attention to me."
It's funny that I popped because of amapiano. When "Superstar" was released, I had been working with JazziQ for a while. We have a few deep house tracks that we released together! My dad and JazziQ's uncle are business partners so he's more of a brother to me. "Superstar" was actually the last song I had planned to do. I had so many scars from having previously tried to launch my music career and felt like it was time to give up. I now know some of the celebrities I sang about on "Superstar" personally. The funniest story is that on "Superstar" I mention my actor fiance Andile Maxaka, but we hadn't even met him when I wrote it. It's true what they say about speaking things into existence — I wrote the song two years ago and I only met Andile last year [chuckles].
"I believe that when performers pass on, their performance spirit and energy are reborn in someone else."
Most people say I remind them of the late kwaito musician Mshoza and that usually ignites something in me. Then someone recently said my rhyming reminds them of the late kasi rapper PRO. One other person once said I remind them of the late Mandoza based on how proudly I embrace my township heritage. Then based on my singing on "Umsebenzi Wethu" and my performances, some people say I remind them of the late Lebo Mathosa. So I thought to myself: 'If people can see that in me, let me pray that the late artists give me what people are seeing in me.' For instance on the track "Woza" which shout-outs Mandoza, Lebo Mathosa, PRO and Mshoza, we are inviting their spirits to come back to life via us. Mentioning their names is a form of reviving their legacies so people never forget about them.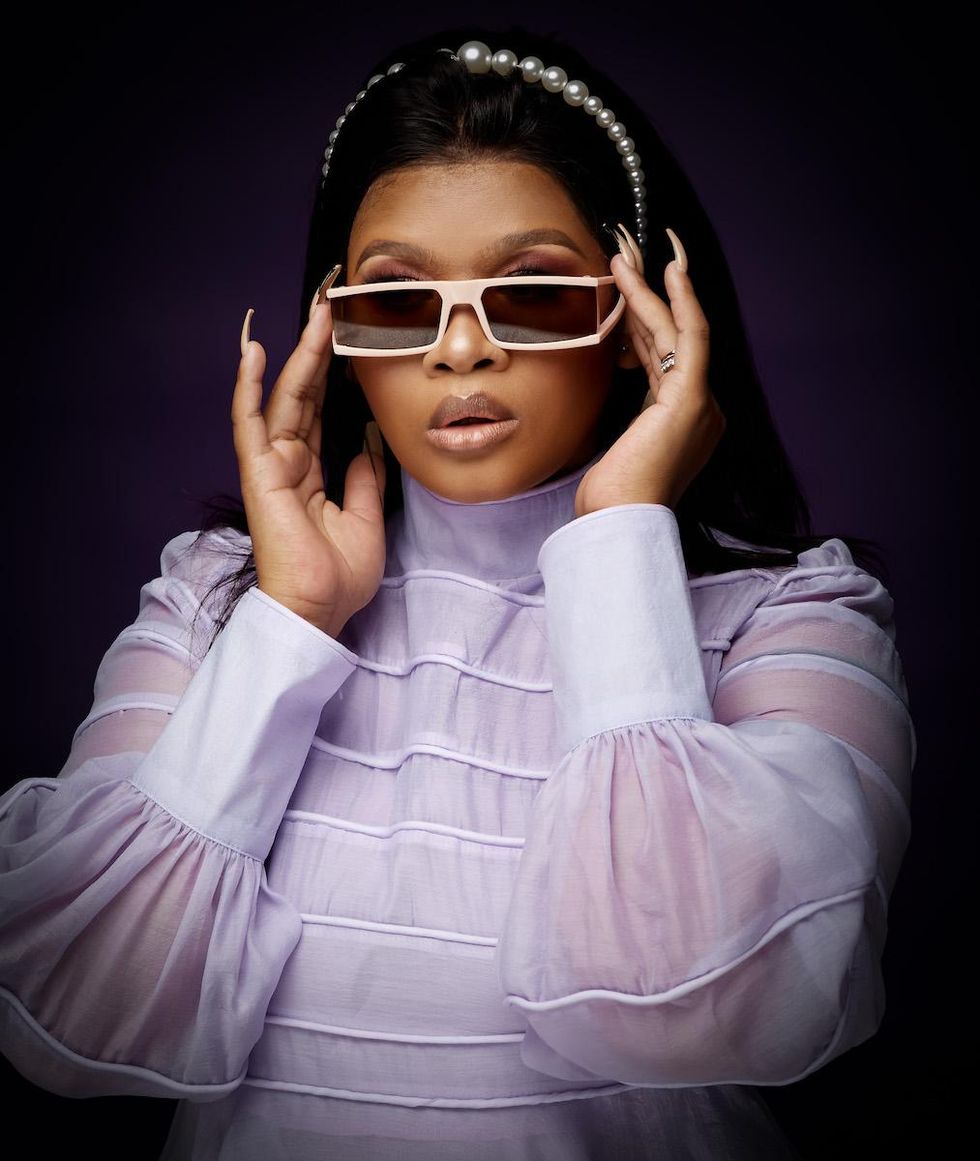 Image courtesy of artist.
"I was born into a deeply spiritual family so it's a way of life inherent in me."

I've never felt any reason to be embarrassed about my own spirituality, and embracing my ancestors. My beliefs should never offend someone that, for instance, doesn't believe in ancestors. We are all allowed to believe in different things. I was once very ignorant where African spirituality was concerned. This was until my family did umsebenzi (a traditional ceremony) for me. I left that ceremony and went straight to the studio. There, I felt an indescribable force operate within me — I've never sung like that before. What people don't know is that I was literally crying tears on "Umsebenzi Wethu". There are parts where it sounds like I missed a note, but that's only because I was crying silently. I felt a heavy weight leave my shoulders. On "Umsebenzi Wethu", I was thanking my ancestors for opening the doors to success because once I started embracing them wholeheartedly, I started making big moves in my career. Needless to say, the song sat at number one on South Africa's music charts!
"At the moment, amapiano has no gatekeepers — and that excites me!"
We're literally running the genre as we see fit. Nobody is dictating anything to us! There is none of that old-school way of doing things where you need to know someone in power for your song to be played on radio. At some point, my song was not playing on a particular radio station but now it's sitting at number one on that very radio station. How amazing?
"Amapiano crossing over to international markets means we're finally getting recognised for who we really are."
And it's about time! I feel like South Africans have always had the talent and flavour, but lacked connections and contacts. If the latter hadn't been an issue, then kwaito would have gone international. Amapiano, New Age kwaito if you may, is smashing boundaries at the moment! We're coming for everything they said we couldn't get.
My team and I are getting a lot of [international] enquiries right now but can't go abroad due to travel bans. But we are trying as much as we can to tour Africa first and get our crowd to understand the brand. And then when the rest of the world opens, obviously, we will be gone!