Popular
The Lagos Motorbike Taxi Drivers Who Survived Boko Haram
Photo: Aisha Salaudeen
Many displaced by the insurgency have found a new role as okada drivers in Lagos
Dressed in a sky blue shirt and grey sweatpants, John Thomas shows up on his motorbike. There are smears of dry sand and mud on the tyres and body of his bike, from a long day of transporting passengers around Lagos Island.

"The motorbike is a lifeline. I started riding full time when I moved to Lagos in 2015" he says. Thomas belongs to a clique with hundreds of other motorbikers who ride commercially around the Island in Lagos to earn a living. Lagos Island places like Obalende, CMS, Victoria Island, Lekki and Ajah overflow with men who operate their bikes like buses or trains, they pick passengers at a stop and drop them off at another stop for a fee. These motorbike taxis are known colloquially as "okadas."
---
What many of these men have in common is that they're Boko Haram survivors from the Northeast of the country. As economic migrants to the Southwest, many have had their families killed, means of livelihood taken and homes destroyed by the brutal insurgents who have been terrorising the region since 2009.
Insurgency in Nigeria's Northeast.
Boko Haram launched an insurgency against the Nigerian government ten years ago with the aim of creating an Islamic caliphate in West Africa. The conflict, which is predominantly in the Northeastern region of the country has left over 20,000 people dead and reportedly 2 million in Adamawa, Yobe and Borno state displaced. In 2017 alone, for example, the terrorist group launched 90 armed assaults and 59 suicide attacks—an increase from the previous year.
Outside the human cost of the Boko Haram insurgency, the abuse from the group have socio-economic implications. Commercial activities have drastically reduced because of the unprecedented attacks; shops, markets and even banks do not open regularly due to the fear of coordinated attacks. These continuous strikes on commercial areas and people have led to the migration of people to other parts of the country. John Thomas is one of such migrants.
In October 2014, his hometown, Mubi in Adamawa state—Northeast Nigeria—was seized by Boko Haram. Residents were killed and houses burnt as members of the sect engaged in a shootout with the military. "I was with my brother when Boko Haram struck. We had just finished our final exams at the Federal polytechnic where I was studying statistics and math and were debating whether or not to go home," Thomas recalls with sorrow.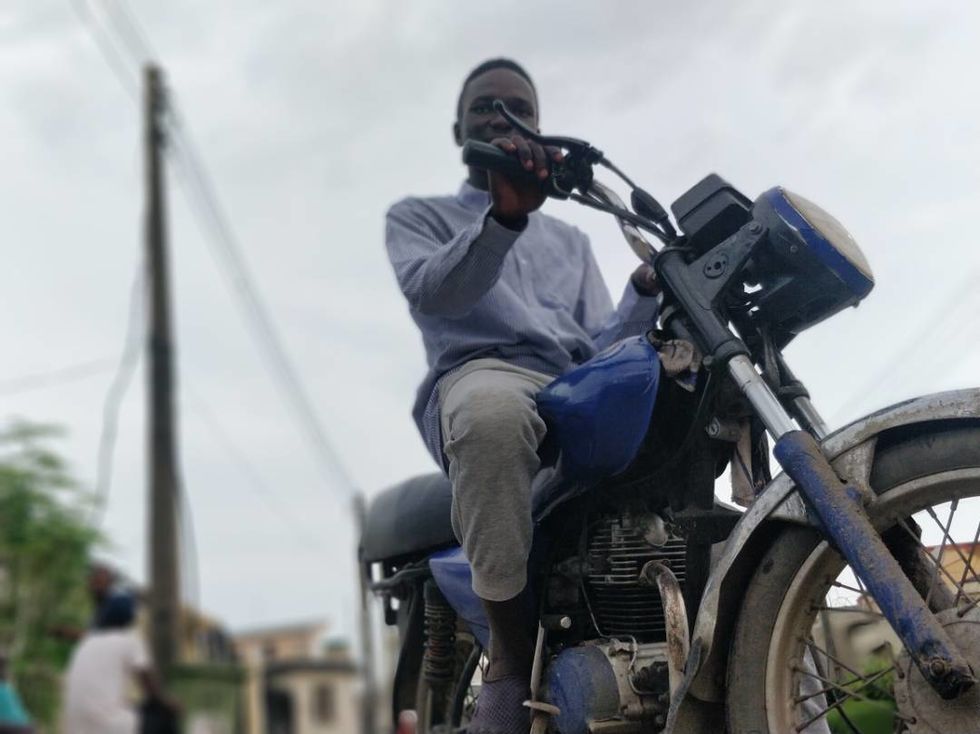 John Thomas on his motorbike taxiPhoto: Aisha Salaudeen
"It happened really fast. Boko haram had bombed the military base and killed many people. They blocked all the major roads making it difficult for people to escape. It was a very scary experience," he continues. Thomas managed to escape on his motorbike with his sister. "I only had N550 ($1.36) naira in my pocket, I wasn't sure where I was going to go. I just knew I couldn't stay in Mubi. I hopped on my motorbike with my sister at the back and took off" he adds. Thomas's brother was not so lucky, leaving his car behind, he fled to Cameroon on foot as he didn't have a motorbike to move with like his brother.
After the attack, business related activities drastically declined in Mubi. It was difficult to secure formal and informal jobs because various institutions and commercial centres had been destroyed. "As soon as I sorted school out I moved to Lagos without my family. I had to earn a living and that had become impossible in Mubi" he says. "I found out when I arrived that there was a large group of Northeasterners like myself, riding motorbikes for a living and since I had one, I joined them".
Motorbike Ecosystem
Motorbike riding on Lagos Island by migrants did not randomly start, it was a targeted plan at creating employment. While some men venture into informal work like sewing, gatekeeping and shoe repairing, those with little savings or motorbikes make moves to start over their lives legitimately by riding for a living. A fairly used motorbike costs around N40,000 ($110), the average Nigerian man fleeing a war zone will most likely be unable to afford this. The men usually cut deals with sellers to work around the price of the bikes.
Matthew Shafi, another motorbike rider from Borno state, recalls how he had to struggle to get one. "The motorbike seller here offered me a second hand one but with a condition—I had to split proceeds from my income picking passengers on the bike with him till I paid the full amount. It took me many months to pay off," he says. Shafi's deal is not peculiar, many of the riders on Lagos Island get their bikes through this more affordable means.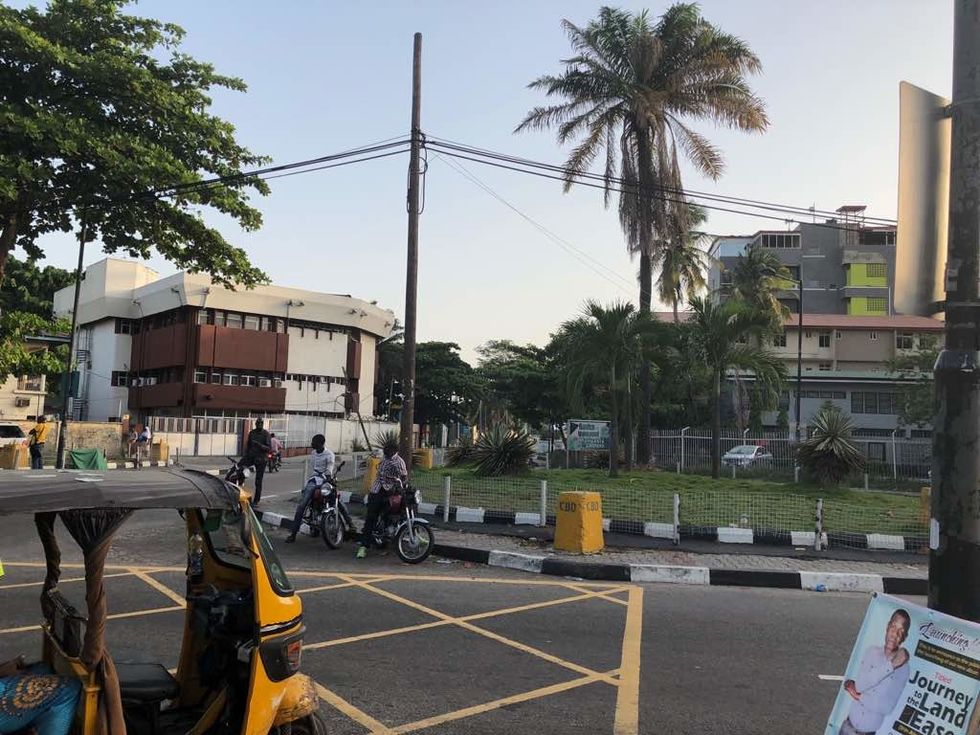 One of the many corners where okadas congregatePhoto: Aisha Salaudeen
The Motorbike riders charge and earn more on their trips than regular buses or commercial tricycles. Movement on a motorbike is usually faster, the riders can cut through traffic and reach places swiftly - hence, the increased fare price. How much a rider makes depends on the number of trips made in a day. It's simple economics, a rider who makes 10 trips around the Island in a day will likely get more money than one who makes only 5. "On a good day I make about N3000 ($8), that's about N21,000 ($58) in a week if I'm lucky" says Thomas on how much he earns from work.
While riding motorbikes in Lagos, away from the war torn Northeast seems to be a lifeline for many riders, it is one they'd rather not hang on to. Matthew Shafi, for example, says he wishes he had more money to send to his wife and five children back in Borno State. "I end up sending almost all the money I make to my wife in Chibok. I wish I didn't have to leave Borno in the first place, I had a tolerable life before Boko Haram destroyed everything".
Government Response
There's little the Federal Government of Nigeria can do about migrants to other parts of the country as it only recognises residents lodged in internally displaced persons (IDP) camps. There are many initiatives by the Government regarding Boko Haram but many of them cater to curtailing the crisis in the Northeast or getting internally displaced persons relief and empowerment.
The Presidential committee on the North East initiative (PCNI) in Nigeria, for example, was established by the President, Muhammadu Buhari. The idea is for the committee to oversee humanitarian relief and socio economic stabilization of the Northeast through programmes aimed at addressing the crisis that has enveloped the Northeast since 2009. However, none of their activities will reach migrants across the country.
The grievance of these survivors is not particularly about the response of the administration to their current plight but on the fact that the country failed to protect them at the initial stage - allowing the insurgents destroy their homes and properties.
"I wish those attacks didn't happen in the first place" says John Thomas.
It is, yet again, another case of citizens in a humanitarian crisis making the best out of a horrendous situation, providing for themselves through riding where the government has failed to do so.
Aisha Salaudeen is a Multimedia Journalist based in Lagos, Nigeria. Follow her on twitter here: @aishasalaudeen