Sunday School, the creative platform pushing the art of cultural storytelling, has released their latest photo series, Last Born. In the series, we follow two brothers and their strong bond as they navigate a new environment after immigrating to the States from the continent.
Josef Adamu, Sunday School's creative director, intended to highlight and focus on the younger brother who in turn looks up to his older brother in an aspirational way. With the brothers matching ensembles, symmetric posing and photography by Chicago-based Ghanaian photographer Lawrence Agyei, the end product is no less than elegant.
Agyei, who was born and raised in Italy, moved to the Chicago when he was 16 years old to pursue better opportunities and quality education. Once he won a school photography project during his senior year of high school, his teacher pushed him to pursue the art form seriously. Focusing on portrait photography, Agyei approaches his projects by trusting his intuition along with doing his homework via researching and watching documentaries.
Adamu also notes that this collaboration has been long overdue—but for good measure.
"I have always admired his film photography, and the way in which he captures subjects," Adamu says. "My goal with Sunday School involves telling stories in various spaces across the globe, and I was happy with this first effort in Chicago. The universe is literally our playscape as creatives, and we aim to showcase the beauty around the world, one project at a time."
We caught up with Agyei to learn a bit more about his creative approach for the series.
---
Antoinette Isama for OkayAfrica: How did you get involved in work with with Josef and Sunday School?
Lawrence Agyei: I've been close friends with Josef for about 5 years. We share the same beliefs when it comes to photography, design and just life in general. Our main focus is to tell stories that challenge the world we live in today. Since the beginning, we've wanted to collaborate on a project, but it was all about timing. Last Born was the project that we felt needed to happen, especially now.
How were you able to execute the vision of the concept while staying true to your aesthetic?
From the start, I knew that this project had to be photographed with a Mamiya RZ67, which is a medium format film camera. Shooting with the Mamiya film camera has allowed me to stay true to myself. Working with film requires a disciplined, considered approach. You can make all the decisions without the camera and then take a picture of it—that's how I was able to execute the project.
What's one thing you'd want viewers to take away from the series?
Last Born is a story about two brothers who have recently moved to the USA from Africa without their parents. The brothers are forced to start from scratch in a new environment, with the eldest brother being 25, and the younger brother, 10. The clear distinction between their age was meant to emphasize the parental role that the older brother had to step into.
With unity, perseverance and love, the brothers were able to overcome the struggles that many immigrants face when they move to a new country. I relate to this story because just like the two brothers, I had to start from scratch, so in a way, it felt like I was telling my story. With love, unity and perseverance, you will be able to overcome anything.
Take a look at our favorite shots from Last Born below, and view the full story here.
Photo by Lawrence Agyei.
Photo by Lawrence Agyei.
Photo by Lawrence Agyei.
Photo by Lawrence Agyei.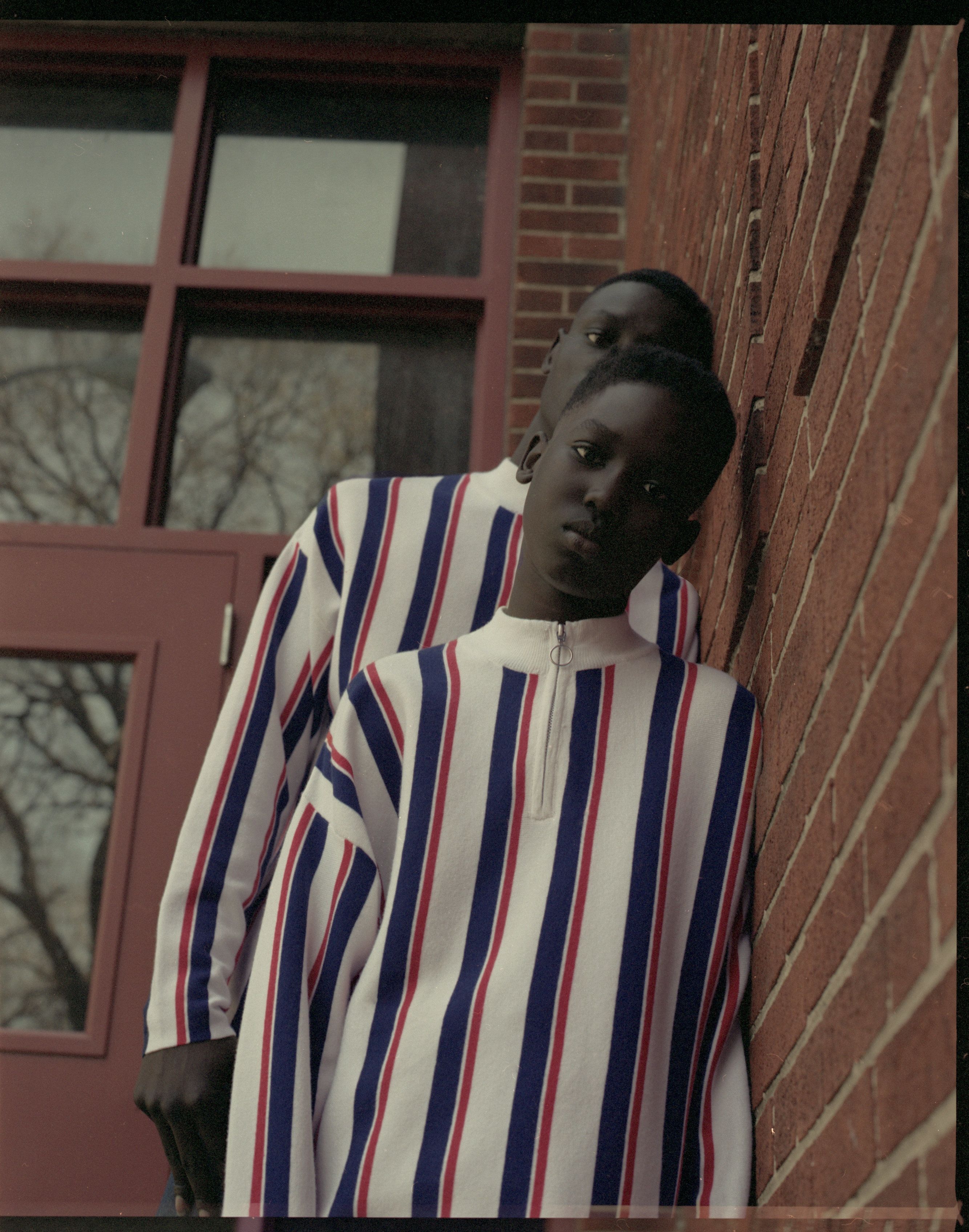 Photo by Lawrence Agyei.
Photo by Lawrence Agyei.
Photo by Lawrence Agyei.
Photo by Lawrence Agyei.
Photo by Lawrence Agyei.
Photo by Lawrence Agyei.
Credits
Models: Lino + Moses Wilson | Photography: Lawrence Agyei | Direction: Josef Adamu
BTS Videography: Darren Sanders Jr. | Styling: KJ | Styling Assistant: Ismael Lopez | Makeup: Annechellie Akuamah