London-based designer and illustrator Lewis Heriz has been creating vivid and colorful album artwork for the past seven years. His extensive output has been used by Soundway Records, Strut Records, Now-Again/Stones Throw, and Sofrito as covers for the likes of Quantic, Seu Jorge, Batida, Konkoma, and Ibibio Sound Machine, as well as compilations that include Kenya Special, Highlife On The Move, Tumbélé! and many more. This Thursday, Heriz's work will be celebrated at the Ace Hotel's Cover Club in London, a free event that puts the spotlight on the artists behind some of the most creative record covers. We spoke with Heriz below ahead of the event.
---
Okayafrica: How did you first get involved in designing album artwork? What cover of yours would you consider your first 'break'?
Lewis Heriz: It all came from the poster designing I was doing as part of my music promotion work in Nottingham and London around 07/08. Gradually the bands we were putting on — and the labels whose records we played — started asking me to work on their releases off the back of these posters. It was very gradual and organic, so quite hard to pinpoint a single break, but the first jobs for Soundway were instrumental in cementing my current career in music design. Those would be the Ghana Special and Tumbélé! compilations. Almost at the same time the first jobs with Now-Again records — Whitefield Brothers' Earthology and the Seu Jorge & Almaz project — happened, which were also very important. 2009 was quite a big year.
OKA: How did you get into designing album covers for African artists and releases?
LH: It's important to point out that the majority of my designs for releases related to the African diaspora have been compilations of old recordings rather than for new bands, so a lot of my artwork referenced the mid-20th century design associated with the music from that time. In my poster work for Sofrito, the task was to reflect the energy of the largely 60s & 70s dance music played at the nights, and the fact it's both old yet entirely relevant to the modern dancefloor. I think it was this approach to visually representing the relevance of the music to a modern global audience that helped me get work with the labels that were trying to do precisely that with their releases. There was a matching of intent. With the Soundway records, the conversation with Miles Cleret (Soundway label owner) was always, 'how do we push it forward, while still referencing the era in which the the music was produced?' When Soundway then started signing new artists, such as Batida, Konkoma & Ibibio Sound Machine, that aspect of looking forward made it easier to transition visually from a reissue label to a fully-fledged signing label.
OKA: How would you describe your aesthetic?
LH: I always try to match the visual with the music, so I try not to impose any particular aesthetic, or come at it with a specific direction before understanding where the music's coming from. Which makes it hard for me to answer this one! But a lot of what I do has an analogue feel, often looking (even if it isn't) hand-printed or hand-drawn, and I lean towards a limited but bold colour palette - I suppose this tends to make my work look older than it is, but as I said, I don't want it to look retro if possible. My love of modernist/mid-20th century art & design is a huge factor in what I do, yet I'm always trying to develop on from that in some way.
OKA: What are some of the main visual influences on your work? Who are other cover designers/illustrators you're influenced by?
LH: Honestly, I'm as much influenced by visuals I dislike than the ones I like! Because it's only through knowing what you don't like that you can properly distinguish the boundaries of your taste. In terms of the record covers, the main influences depend on the release and the specific brief. I try to keep an open mind, because very often the music is in some way connected with artwork that is incredibly inspiring and deserves to come through in the new design. This led me from Ghanaian record designs, through the Cuban poster artists of ICAIC and OSPAAAL, on to South Asian book cover designers whose names, in many cases, are lost to history... all of this research has had a huge impact. However I rarely go to professional designers or illustrators for inspiration. While I could list some of my favourite designers, that would be far less indicative of what inspires me than the way those not formally trained in visual art or design (I also fall in that category) modify and delineate their surroundings with colour, hand-painted signs, murals, clothing and so on - it's this public art that communicates a sense of collective self and belonging, as it's inextricably linked with place. That's what inspires me more than anything, especially for record covers of music from a specific place in the world.
OKA: What has been your favorite release to work on?
LH: I'm so lucky to have mostly worked on albums I absolutely love, so I could genuinely name pretty much any one and have a good reason for it — but I would definitely put Ondatrópica up there. It's such a triumphant celebration of Colombian music past and present, involving so many musical legends, and the playing across the board is often astonishing. I really think it's a modern classic, and it was a huge honour to produce the cover art for it. I'd really like to mention the Ghana Special set again though, because it was a love of Ghanaian & Nigerian music that set me in this direction in the first place. Again, it felt like a real honour to be packaging all this incredible music so that it could be heard by the wider audience it deserves.
OKA: List your top 5 album covers of all-time.
LH: You can't make me! This is an impossible task. But here are 5 I love for various reasons:
Ryco Jazz - Tu Bois Beaucoup (by Daniel Gargar): I'm a huge fan of Daniel Gargar's artwork. He created a large proportion of sleeves for the great label of Guadeloupe, Disques Debs, as well as being a recording musician. Out of all his covers, this is the one that probably excites me the most - I'm always drawn to the more abstract sleeve designs as, when done well, they can communicate the music in a more direct way. This is a fantastic example of that. I was alerted to his sleeves via Sofrito's Hugo Mendez who has a large collection of them.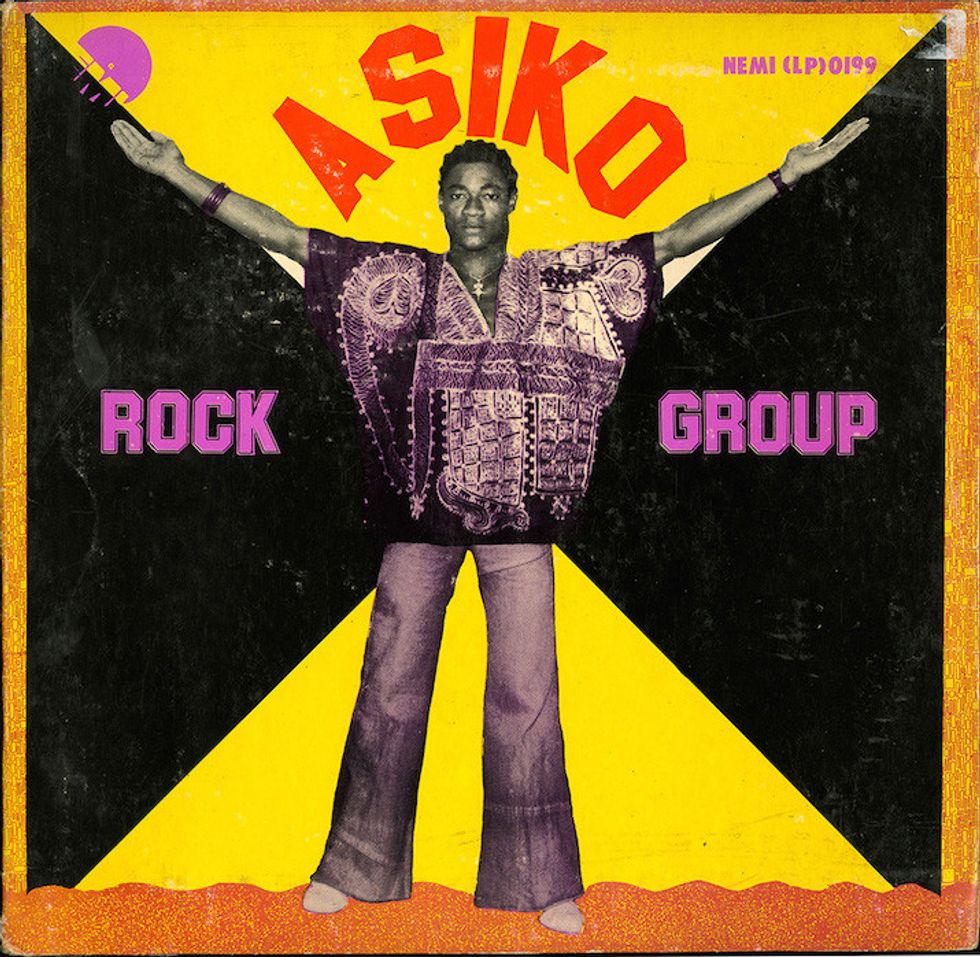 Asiko Rock Group - S/T (designer unknown): It doesn't get much more righteous than this. Asiko Rock Group played a kind of no-holds-barred Nigerian p-funk and psychedelic disco, and the sleeve is a declaration of boldness that matches the music perfectly. It's a lesson in design impact, but while the simplicity hits you first, it's the combination of that and the delicacy of the fabric design and border that makes it truly excellent.
Henri Guedon - Cosmozouk (Henri Guedon): I clearly have a thing for sleeves designed by musicians. Even better if the artwork is by the album's composer, as it makes the package an even more complete presentation of their artistic expression... I love this painting so much, and while the typography isn't what you'd expect it's somehow perfect. I had the honour of restoring this sleeve for the recent reissue on Superfly Records, so I've spent quite a lot of quality time admiring it.
Sun Ra - The Heliocentric Worlds of Sun Ra (Sun Ra): Another example of a musician having complete control over their visual language as well as the musical. His approach, as with his music, is one of spontaneity and improvisation, and that makes his sleeve designs among the most perfect in the jazz world for me. This is one of those ones that I can happily get lost in. It was also instrumental in inspiring my design for the In The Orbit of Ra compilation on Strut.
Kyeremateng Atwede & Kyeramateng Stars - I Go Die For You (Mike Owusu-Siaw) - There have been so many amazing Ghanaian record cover artists and designers - E. E. Lamptey, Samuel Buabin, Augustus Taylor, Mantsefio Bampoe (to name a fraction) are all incredibly inspiring. This one, by Mike Owusu-Siaw, is one of my all-time favourite covers, for an all-time favourite album. In the title track I Go Die For You, Atwede's declaration of love is about as raw and honest as it gets: 'I go die for you, I go die for you; Christie, I go die for you'. Owusu-Siaw's illustration beautifully captures the look of mutual adoration expressed in the vocals - it feels like we're privy to a moment of affection so private we ought to really look away.
Cover Club is an event that puts the spotlight on the people behind the most creative record covers. It takes place at Ace Hotel, London and is completely free. Find out more about Lewis Heriz from his website, Twitter, and Facebook.