---
Vintage clothing is one of the biggest trends worldwide, providing an inspirational model for new tendencies. One can witness in many current designers' signature a bold and strong reminder of past clothing structures, shapes, and patterns. It's our fashion heritage and we like the fact that one can update a classic style and bring something that we know back in a stronger way. Young Ghanaian designer Nina Barkers-Woode of Love April delivers a stunning collection combining patterns and a contemporary aesthetic with an 80s feel.
"This season we followed our natural instinct and creatively produced bold tribal prints. Our muse was that of historically illustrating African womanhood. Our motive was to not only harness the Love April woman's natural female form through dramatic tribal prints but to also uniquely contemporize the look and feel of each piece. Inspired by the world history generations of women and androgyny artworks, the Love April's collection plays on the mixture of masculinity and femininity." We had a little chat with Nina below.
*All pictures by Isofoe Amegavie
Introduce yourself.
I'm a young woman with a lot of ambition; my interest in the fashion industry started at a young age, with my family and just my environment. Living in Ghana you get exposed to the beauty of nature and different people, within Accra itself you intersect with people from all parts of the world and backgrounds as well as our own people. Our country and culture allows us to explore different tribes and view women and beauty in many different ways. I was also blessed to have the opportunity to travel, which has expanded my view of beauty of a women and different textures and styles. I started fashion school after trying my hand at political science in Legon. I started at Vogue Style School of Fashion and started my journey within the fashion industry. I started working and developing my brand and began Love April in 2011.
Love April operates as a designer and retailer of apparel and accessories for women in Ghana and internationally. It offers ready-to-wear clothes for women, leather goods, and accessories. It embodies today's woman with the marriage between sophistication and sexiness which allows her to step into the world, where ever that might be feeling and looking confident.
What materials are you using?
This season we wanted to personalize each piece; collaborating with local artists highly influenced our fabric choices. It was our pool of creative minds that inspired us to use unique tribal prints. We feel that each print and texture of fabric is different in their own way. Each individual tribal print is printed on chiffon fabric. This diversity welcomes an irreplaceable vintage feel to all our pieces.
Where do you seek inspiration?
Our inspiration comes from our everyday lives. From the women in our lives to our culture and history. Also, travelling in Ghana and touring so many diverse cultures worldwide as well has been an influential muse.
What is you brand?
Love April is a modern woman with a vintage feel.
How would you describe Love April's signature in one line?
Contemporary meets classic.
What is your favorite piece in the collection?
My favorite piece is the pre-collection is the grey trousers and the tribal deep-v top. I love that it's a mixture of masculinity and femininity.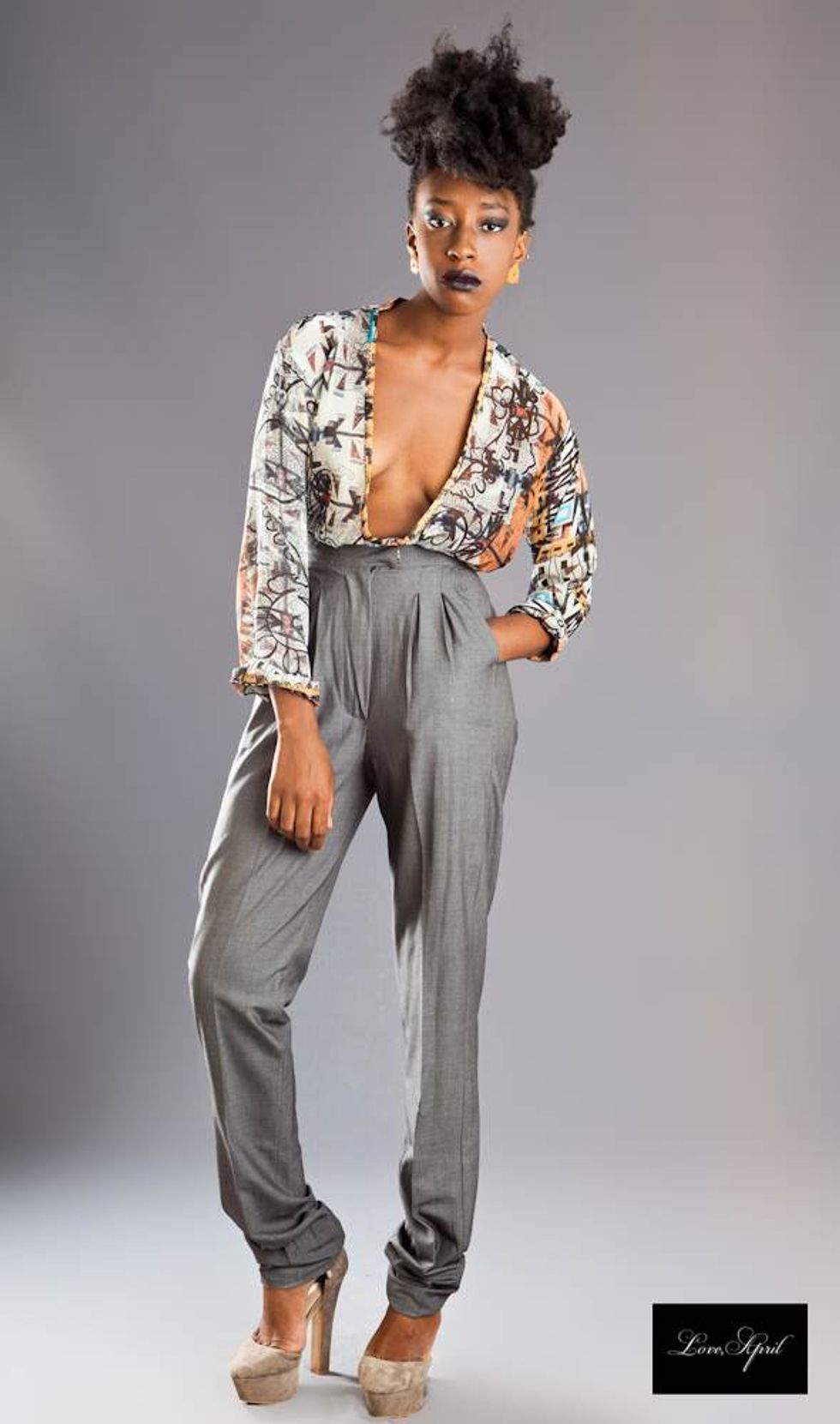 I think that the vintage inspiration in your designs is key. Do you think that your designs say something special?
I believe that anything that brings creativity, difference, originality, and authenticity is special. It just so happens that Love April encompasses all these virtues. So yes, of course we are special. We are special in our own unique way. The thing is we don't conform to popular trends. We try to stand out from the crowd. We do it in moderation which creates a classic vintage feel which can never be considered dated.
What is the distinction between style and fashion?
We consider style to be personalized. Style is subjective where as fashion is mainstream, trending Hollywood.
Which world leader has the most distinctive style?
Jackie O.
Tell us something about designing that most people don't know.
Creating that first initial design is the hardest part. Transferring from mind to reality may be simple but honestly it is a tedious and time consuming process. Also, as a fashion designer you are constantly tormented by thoughts of discouragement. You ask questions like, "Will the public like my new creation?" or "Is this design actually possible?" etc. We want others to see the vision we have but sometimes it doesn't always happen. What we conceptualize doesn't always come into fruition.
Which African singer or band would you like to see wearing one of your pieces?
Efya . Omawumi . Asa .
Stylistically, what is your favorite movie?
Single Man .
Today, we've had the emergence of many African fashion weeks in many countries. This evolution is the proof of the existence of an 'African fashion.' Should African designers be present in regular fashion weeks, is there any discrimination?
The existence of fashion is present in our continent. We have so much colour and creativity within our continent but we don't have the financial and international support that most of world renowned designers have at their disposal. We wouldn't call it discrimination. Rather, we'd call it distant opportunities.
What do you think of African fashion and its evolution?
African fashion focuses on the big flashy media surrounding events but doesn't give enough attention to the growth and develop of the new and upcoming designers. We have awesome ideas but we don`t have that creative hub to share those ideas. I think it has come a long way. We have grown to become independent and have learnt to deviate from popular trends. We try not to Europeanise our prints. Instead we try to be ourselves and keep our culture alive.
What are your hopes for African fashion?
Our hopes dwell in the development of the industry. We hope that eventually we can build a supportive hub for all creative minds including photographers, designers, P.R., stylists, make-up artists, etc. to collaborate and share their talents within that melting pot. In turn, this can create a snowball effect where you have not just one person helping another but a whole group of artists helping each other.
How does it feel to be featured in Prêt-À-Poundo today?
It feels dope to be able to get the support and recognition. We hope the readers feel the same way.
Describe Love April in one word.
Chameleon.
Okayafrica is ...
Diaspora.