For the second October issue in a row and a third time overall, Queen of Katwe star Lupita Nyong'o appears on the cover of Vogue magazine.
---
Nyong'o, wearing a sumptuous embroidered Chanel gown and complementary head wrap, looks like an autumn goddess in the portrait shot by Mario Testino.
As the editorial makes note, since the Kenyan actress burst onto the Hollywood scene, starring as slave Patsey in Steve McQueen's Oscar-winning picture 12 Years a Slave, there has been no stopping her.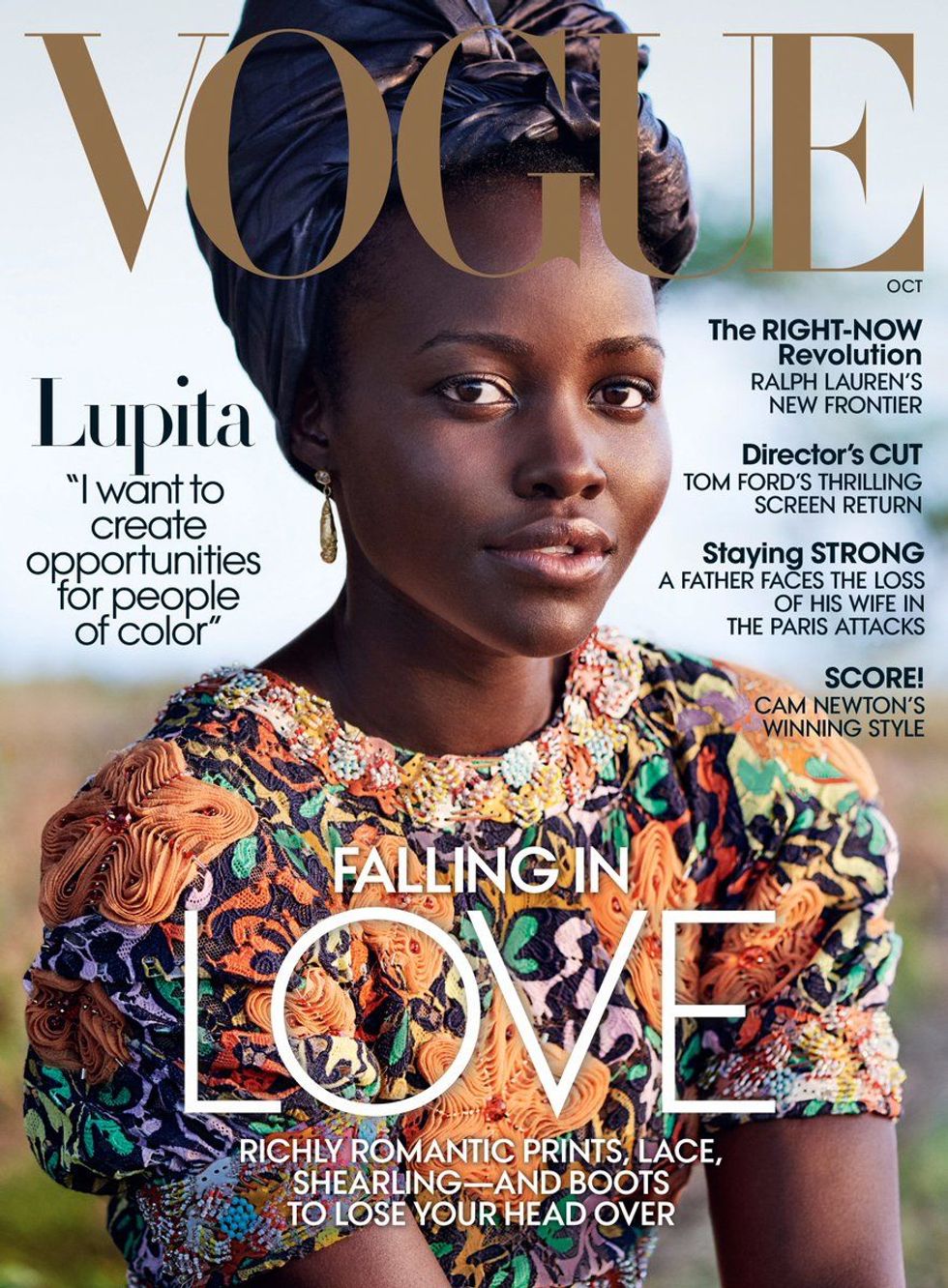 Mario Testino
Since 2014, the 31-year-old star has been on an epic roller coaster ride, snagging all kinds of accolades from an Academy Award for Best Supporting actress in said debut film to being named People Magazine's Most Beautiful Person to lining up many more acting roles, including starring in Danai Gurira's Broadway play Eclipsed, Star Wars: The Force Awakens, Disney's Queen of Katwe, hitting theaters September 23, Nakia in Marvel's Black Panther, and forthcoming film adaptation of Chimamanda Ngozi Adichie's best seller Americanah.
As you can see, girlfriend (in our heads) is mad busy. No wonder when Eclipsed closed in June, Nyong'o jetted off to Bali to chill.
On top of all this, Nyong'o has ripened into a fashion and beauty icon, solidified by her "sculptural exclamation," as Vogue puts it, at the Met Gala in May.
In her latest interview with Vogue, Nyong'o kindly invites us to experience her family's village in Kenya through her eyes, and those of journalist Elizabeth Rubin in addition to talking about her current role portraying Harriet, the mother of Phiona Mutesi who rises from a slum in Uganda to become her country's chess champion and a formidable international chessmaster.
"Five pages in I wrote my manager and agent with the words 'I must do this film," Nyong'o tells Vogue. "To play a mother of four in Uganda, a formidable mother who has so much working against her, was so compelling to me...The fact that it was based on a true story, an uplifting story out of Africa. Oh, my goodness, all my dreams were coming true in that script," she continues.
Nyong'o mentions how positioning herself to tell African stories happened organically saying, "Being able to use my platform to expand and diversify the African voice (pausing to arrive at the right words), I feel passionate about that. It feels intentional, meaningful."
Vogue's 2,000+ word feature includes nuggets from Indian-American director Mira Nair, who helms Queen of Katwe, and McQueen, that provide further insights on the breakout actress.
What's more, the photo spread of Nyong'o at home (and seemingly at peace) in Kenya, as seen in the portrait with her 96-year-old paternal grandmother Dorca, is absolutely mesmerizing. Lupita is giving life.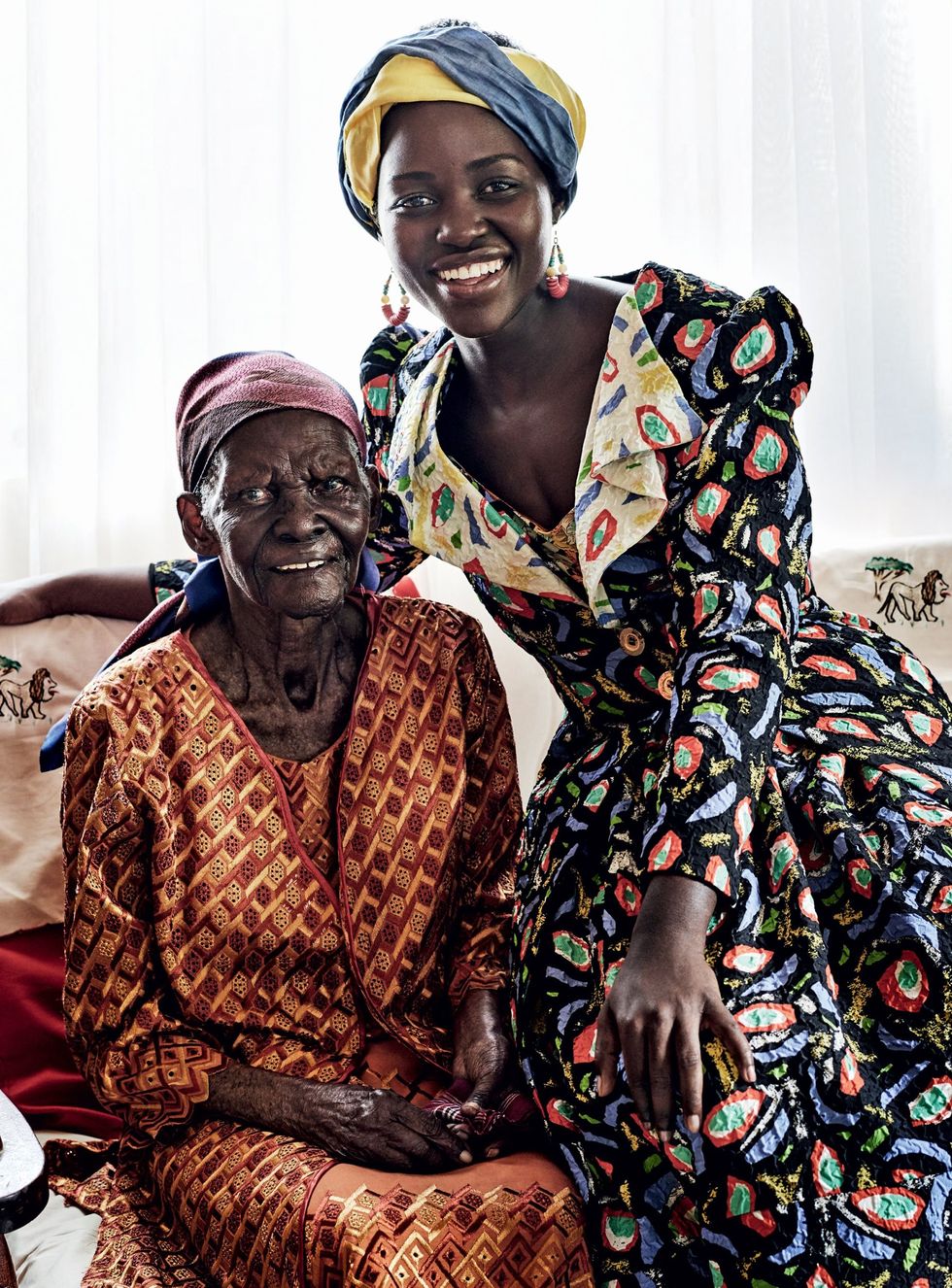 Mario Testino
Mario Testino
Mario Testino
Mario Testino